There's nothing more beautiful than a rose bush (or several) with large, beautiful blooms! But how do you make your roses grow bigger, organically? In this post we will be looking at how to position your roses for best growth, the best soil for bigger roses, secret garden tips for bigger flowers and more. We will show you how to make your roses grow bigger, organically –  perfect for gorgeous gardens or stunning bouquets, without any toxic chemicals whatsoever!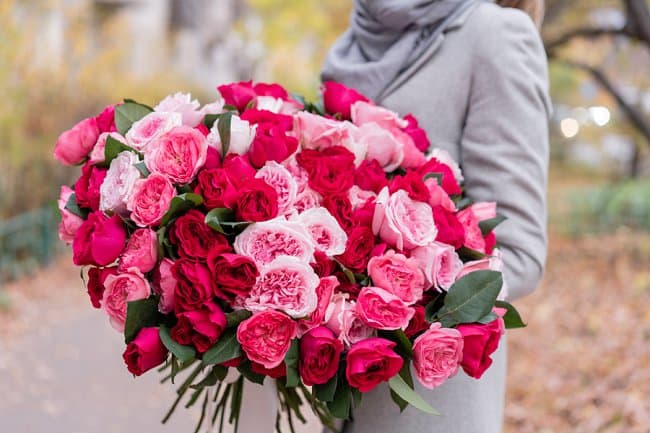 Disclosure: This post may contain affiliate links, which means that we may earn commission from qualifying purchases at no extra cost to you. Learn more.
While some rose bush varieties naturally give smaller blooms, there are a number of things you can do to maximize the size of those flower heads, all the while keeping your gardening organic and sustainable.
Why You Want To Grow Organic Roses In The First Place!
The way you treat the soil, the soil will treat your plants, and you need to make sure that it is full of nutrients and healthy for the best possible healthy roses.
Any inorganic or toxic substances that you use have a habit of lingering in the soil for years, interfering with nutrient absorption, contaminating the environment and ultimately ending up in the petals of flowers and in every bite of the fruits of your labor.
Over time, toxic soil loaded with pesticides and other residue could potentially cause health issues for animals, plants, children and anybody else nearby – not to mention potentially polluting the local water supply!
The Best Growing Conditions For Growing Bigger Roses
Aim to optimize your growing conditions where possible. The better conditions your roses have for growth, the bigger and happier they will be!
The Best Position For Your Roses
Take particular care in choosing the position for planting your roses. Remember that they require full sun for a minimum of 4 and maximum of 7 hours, require to be watered well and thrive in slightly acidic soil with good drainage.
The Best Soil For Your Roses
Yep, back to school! Ideally you'll want to test the acidity of your soil. There are several tests you can perform in order to make sure that the pH of your soil and drainage are up to standards for growing larger roses. 
Rose plant soil needs to be at pH 6 – 6.5, which is slightly acidic, and you can test your soil levels using a simple pH testing kit like this one here.
If, after testing, your soil tests as too alkaline (less acidic), there are easy recipes you can make at home to improve it and increase the acidity.
How To Use Vinegar For Growing Bigger Roses, Organically
Simple white vinegar from your kitchen can add a little kick of acidity to your soil. You can follow the recipe below,
Add 1 to 2 teaspoons of white vinegar to 1 liter of water.

Replace watering your rose plants with this solution once every 3 months OR

Add a few teaspoons around your soil at the base of the rose plant every 15 days.
Are Banana Peels Good For Growing Roses?
While banana peel on its own won't make a huge difference to the size of your roses, they will give your soil a big dose of potassium, which certainly helps grow bigger roses! However… they don't actually contain as much potassium as you'd think – in fact the skins themselves don't offer much more potassium than most other fruits and / or vegetables.
The best way to add banana peel to your soil is by adding it to your compost heap, which you can then use to create mulch or great compost to give richness to your soil.
How To Get Bigger Rose Blooms – Optimise Your Soil! 
In order to get bigger rose blooms from your rose plant, you should strive to make your own potting mix instead of just digging a hole in the ground and repotting your rose with the soil.
To your preferred potting mix, add 1 tablespoon of steamed bone meal powder. I'm vegetarian though so I hate this idea and instead I would use mycorrhizal fungi (beneficial fungi).
How To Test Soil Water For Repotting Roses

A good thing to do before you plant your rose is to also test the planting position for waterlogging. Dig a hole and fill it with water.
Return after two days have passed – if you notice that the water didn't infiltrate the ground, but rather is still pooled in the hole you digged, don't plant your roses there!
The soil will have the same physical properties whether your rose is planted there or not, and poolings of water serve to tell you that if you do plant there, rot and mold might be on your list of problems in the long run.
If you are planting your rose in a container instead of in the garden, choose a wide and deep container. Make sure not to choose a container that is too deep, as the rose will focus more on the production of the root system, rather than the flowers.
Can Roses Get Stressed? 
Just like human beings, the plants perform best when they are stress-free. Rose bushes, as pretty as they are, are not immune to stress. Keep your roses away from traffic, pollution and frequent movements of people and animals (this includes pets).
Roses might also be stressed if the sunlight is harsh and overwhelming during the peak of summer. Combat this by using green shade net to protect them from burning, while still making sure that they get enough sunlight for their needs.
Flowers consume most of the energy of the plant, so the importance of full sun cannot be overstated. Furthermore, roses in shade are much more likely to develop a variety of diseases, so with sunlight, balance is key.
Do not attempt to combat plant stress by fertilizing – make sure growing conditions are met properly and that the rose plant is watered sufficiently, otherwise fertilizing will not make a difference to the end result.
The goal is to create a happy, healthy rose plant which produces the biggest blooms possible! This is only possible when you optimise the growing conditions.
Best Rose Variety For Big Blooms
No matter what you attempt, some varieties of roses will only ever have small or scarce blooms, instead of the big beautiful ones we are aiming for.
Many varieties have been bred for years with the specific quality of yielding small bloom. If you want bigger, more gorgeous blooms, you will need to choose ones that are already bred for that!
Generally, a good choice for full and fragrant flower yield are hybrid tea rose varieties. It is also wise to choose reblooming varieties, which will flower multiple times per growing season. Choose descendants of heirloom roses instead of old roses themselves, as the capability of roses reblooming lessens with each passing year.
Old roses tend to also have smaller flowers, due to sheer amount of energy a rose has to focus into developing them.   Some lauded reblooming varieties bred by David Austin include:
The Poet's Wife (yellow)

Queen of Sweden (pink)

Darcey Bussell (red)

Port Sunlight (orange)
How To Make Roses Grow Bigger Using Fertilizer
Roses are heavy, voracious feeders that require a minimum of two yearly feedings with fertilizer, but are welcoming to feeding much more often than many other plants.
There are many good recipes that you can utilise to make roses grow bigger, without ever reaching for inorganic fertilizers.
When do I fertilize?
You don't want to fertilize too early, in order to prevent new growth from meeting frost, instead wait for after the last danger of frost has passed.
A general rule-of-thumb is to fertilize when roses are showing 10 to 12 centimetres of new growth.    Before using any fertilizer, make sure that the soil is watered well – not too dry and not dripping wet. Rake the soil before you apply the fertilizer or manure.
Choosing a fertilizer
Store-bought fertilizers
The fertilizer you use can be store-bought – keep in mind to look for brands that are blended for flowers and specify whether they are organic on the label or packaging.    Keep in mind to use a balanced formula of fertilizer.
The main ingredients of most fertilizers are similar and almost always feature phosphorus, nitrogen and potassium most prominently.    Phosphorus is important when it comes to the formation of flowers and development of strong roots and potassium helps stressed plants recover, especially if they're exposed to too much sunlight or if they're stricken with an illness.
While each of these elements gives their worthwhile contribution when used in right amounts and parts, too much phosphorus or potassium prevents nutrient absorption and too much nitrogen yields very lush foliage with no flowers and increases risk of bug infestation.
Therefore, be careful not to produce a counter-effect with fertilizing, as big flowers require a lot of nutrients and rely on the ability of the plant to absorb them easily and abundantly from the soil it is planted in.
The Best Homemade Fertilizer For Bigger Roses
For home remedies, gardeners absolutely swear by alfalfa meal or lucerne meal, which is a plant-based fertilizer.    Compost tea also works well, as tea leaves contain some amount of potassium, which is essential for abundant flowering.
You can use tea bags from Haven or Malibu Compost as easy and convenient sources of compost tea, or collect and compost your own if you are an avid tea drinker. Tea feedings should be done at least once at the beginning of spring and then once again in the beginning of fall. 
You may also crush up egg shells or flower seeds and add the dust onto the soil. Egg shells are a fantastic source of calcium, while flower seeds are rich in magnesium and nitrogen.
How do I apply fertilizer?
Spread the fertilizer thinly onto the soil in such a way that it is not pressed up against the base/trunk of the rose plant, but also isn't out of the reach of the dripline of the plant.
Top it off with 4 to 5 centimetres of compost, carefully as to not push it up against the trunk of the rose bush.   Organic fertilizers usually take longer to break down and work, but they also work slower, which is healthier for the plant. 
Fertilize 3 to 4 times per season, with about 2 months space between each fertilization. During the milder summer months, you can also choose to spray the foliage with a mist of diluted organic liquid fertilizer.
Plan to stop fertilizing by the end of August or beginning of September depending on your location – generally when first frost begins to form again.
Alfalfa meal fertilizer recipe
1 part rose and flower food (organic)

1 part alfalfa meal

½ part composted chicken manure or worm castings
Mix together and spread over the top of the soil.
Best Organic Fertilizer Recipe For Bigger Roses
This recipe will balance and stabilise your soil and dose your plant with all the vitamins and minerals needed for bigger blooms!
2 litres of water

2 banana peels (cut with scissors into small pieces)

1 and ½ teaspoon black tea

1 teaspoon ground coffee

1 teaspoon egg shell powder

3 teaspoons of yoghurt
Heat 2 litres of water in a pan to a simmer.

Add banana peels, black tea, ground coffee and egg shell powder. Stir well for 30 seconds.

Let the mixture cook for 5 minutes over medium flame.

After 5 minutes have passed, turn off the stove and allow the mixture to cool completely.

When the mixture has cooled, add yoghurt and stir well.

Keep the mixture in a dark and cold place overnight.

The following day, sieve the mixture into a wire mesh strainer into 10 litres of water and discard unbroken ingredients.

Give the mixture to your rose plants twice monthly, one cup of mixture per one rose plant.
How To Prune Your Roses For Bigger Blooms
An often neglected step in ensuring healthy rose plants is pruning.
For inexperienced folks new to gardening, hacking away with shears at a precious rose plant might look like plant cruelty, but it in fact works to amplify new growth and increase flowering.
For happy and healthy roses, pruning is as important as fertilizing, and helps with maintaining blooms.
When do I prune my roses?
If you live in a climate where you have a dormant season, you can start pruning your rose plant right before the spring growths start appearing.
When the bud eyes on the rose start turning pink and begin swelling, that is the ideal time for you to prune.   In warm climates, the kinds Florida or Southern California enjoy, you should prune around New Year's Eve, when the weather gets a little bit cooler.
It is very important to know your rose varieties. Different types of roses need different types of pruning. For example, some roses like climbers or ramblers should only be pruned AFTER blooming has passed and never when they are dormant.
Types Of Rose Bush Pruning
Pruning falls under three general categories: hard pruning, soft pruning and deadheading.   Hard pruning should be done early in spring, ideally by the end of February or beginning of March. It involves cutting down main canes of shrubs to allow regrowth.
Soft pruning is also sometimes called trimming and usually involves a gentler method of removal which sparks new growths, especially in rose bushes.
Deadheading refers to the removal of spent, faded, diseased or weak flowers in order to propagate the performance of the plant by allowing it to direct energy into better-looking or healthier flowers, as well as improving its appearance. This practice helps the plant know it's time to make new, stronger and healthier blooms.
Pest control
Last but not least, a due part in keeping your plant healthy has to do with keeping various pests away.   Examine your rose plant closely and often in order to be able to catch pests and insects in a timely fashion, before they start affecting the plant or spreading onto other plants in the vicinity. 
Remember to pay attention to the undersides of the leaves as well. Whiteflies, aphids, mealybugs and other insects like to make their home there.
Neem oil and liquid soap diluted in water is a good organic mixture which eliminates insects without harming your rose plant. For added protection, mix in clove oil or eucalyptus essential oil and lightly mist the roses.
Rose bush pests leech away the nutrients from your plant and so prevent those bigger blooms from forming. One of the best ways to grow bigger roses, organically, is to keep these bugs away! A brilliant way to do this is make your own at home DIY aphid spray, check out our kitchen recipe!
It takes minutes to make and uses basic pantry / kitchen ingredients – I have some to hand at all times! (It also works on tomato plants and any other plant you're trying to repel bugs from). Get the recipe here!