Most of us have heard the word hydroponics. It is a way of growing plants in a solution of water and nutrients. Of course, it's not quite as straightforward as just adding water to any plant, but plenty of beginner-friendly plants can be grown successfully using this minimalistic method. No soil is involved at all, so any vases, bottles, or interesting containers that you already have, could be your next planters.
Plants that grow in water include pothos, geranium, arrowhead vine, spider plant, lucky bamboo, impatiens, begonia, coleus, monstera and African violets. Liquid fertilizer must be added regularly. Many plants can be propagated from cuttings in plain water, including herbs like mint and rosemary.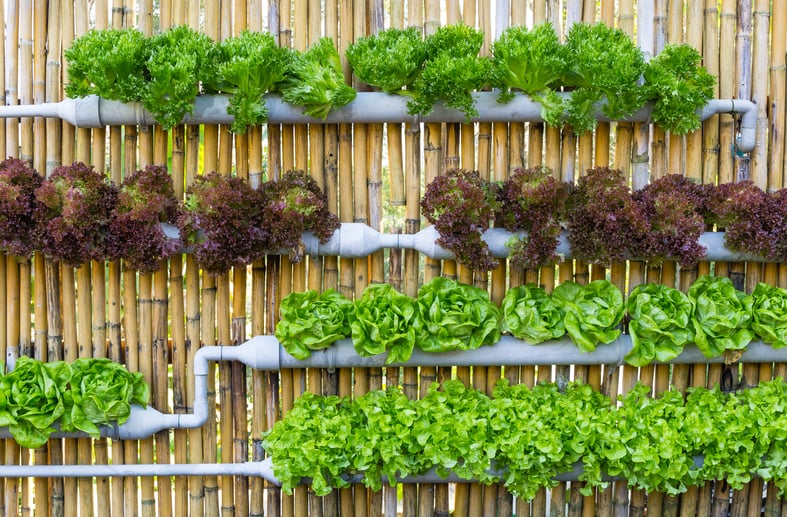 That is not to say that you can switch over and pop any of your existing plants into water. Knowing which plants are suitable for this medium and how to feed them is essential to avoid ending up with a smelly, slimy mess.
What Plants Can I Grow In Water?
Most of us intuitively put bunches of cut flowers into a vase of water to keep them fresh and show them off. Imagine having living plants that look beautiful year-round, even when just kept in water.
Some plants love water so much that placing viable cuttings in plain water will even result in the formation of roots. This is a common propagation method for many plants, and it lets you see the tiny root system developing before moving the new plant into soil.
What To Know About Plants That Grow In Water
If you want to keep your plants in water permanently, there are some things to remember:
Choose a suitable variety. Not all plants will appreciate having their feet wet permanently and will quickly become rotten.
You can use tap water to grow plants, but if you do, let it stand for 24 hours before adding your plants. That way, any excess chlorine will have time to evaporate.
Plants can only grow temporarily in plain water. Even though many cuttings will develop roots, you will need to regularly change the water and add liquid fertilizer to feed the plants and keep them healthy.
Bulbs grown in water, like beautiful paperwhites, can only flourish short term. Their energy to grow and flower comes from inside the bulbs, so they must be replaced after each bloom.
Depth counts! Many plants that grow in water have distinct stem sections that need to stay dry. For example, spider plants are easy to grow in water, but only their tippy toes must ever touch the water – the long leaves can quickly get rotten.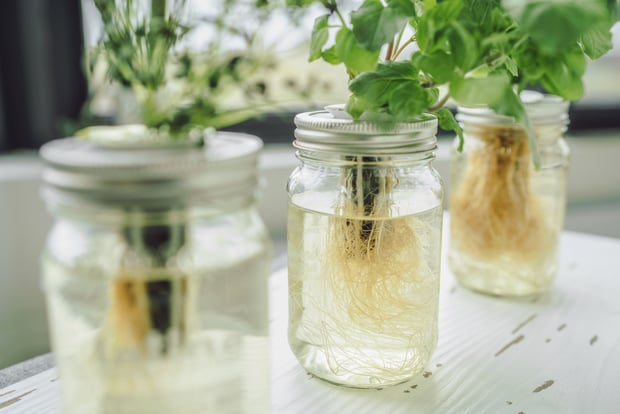 Names Of Plants I Can Grow In Water
Novice gardeners often get overwhelmed with long, complicated plant names. Also, although many plants can be grown in water, some need a little more attention than others.
Here is a list of plants with familiar names that are perfect for beginners who want to try growing plants in water:
Pothos – One of the best-known, easiest ornamental plants that is perfect for beginners.
Geranium – Easy to grow at any time of the year.
Arrowhead vine
Spider plant – Be careful only to submerge the roots.
Lucky bamboo
Impatiens
Begonia
Coleus
African Violets – If they receive enough light, African violet leaf cuttings enjoy a watery environment. Ensure that leaves are securely anchored to prevent them from becoming top-heavy and falling out of the water.
Fiddle Leaf Fig
English Ivy (I only recommend this plant to add a charming touch indoors, and it is perfect for growing in water. It can quickly get out of hand if left to its own devices outdoors.)
Spiderwort
Monstera
Mint – grows quickly in water from cuttings
Take note that plants that grow in water are not the same as water plants. Water plants only grow in watery environments and are often used in outside ponds or aquariums. The plants on this list all thrive in regular soil medium and are easy to grow in water if you want to.  
Can I Use Any Container To Grow Plants In Water?
Using bottles, glasses, vases and any other interesting vessels you already have is an excellent way of upcycling household items. Your container must be able to hold water without leaking and be able to support your plant in an upright position.
Containers are prone to develop algae. Clear glass provides a trendy, modern look, but unless you are able to clean the container every few days, opt for opaque containers.
You can use any container except metal or copper. Also, avoid any plastic containers that contained strong chemicals, as traces may leach into the water.
The container needs to provide support to hold the plant upright, so it may need a thin neck.
Ensure the container is watertight.
Glass bottles work very well, but they can become top-heavy.
A few years ago, hydroponic gardening was regarded as a new-age, high-tech space-saving technique reserved for those in the know. However, as the process has become more refined, this no-mess method of growing plants is becoming increasingly popular.
How To Make Plants Grow In Water
Hydroponic grow kits are available as easy-to-use systems, perfect for anyone who needs a no-fuss way to grow a group of plants. Most kits come with LED grow lights, so you have absolutely everything you need to get almost any plants to grow without soil or sunlight.
If you need a few easy-to-grow plants to adorn your glass bottle collection, then all you need is the right plants and a liquid or powder fertilizer to help them grow. Sometimes just a few plant cuttings will work perfectly to get started.
If you want to add an extra touch to your new decorative plant, add some pretty stones or gravel in the bottom of your container to help anchor the roots when they form. There are loads of fun ways to add interest to your container – some people even add a drop of food coloring to create colored water.
Keep checking the water level and top up as necessary – replace the water completely every four to six weeks. If possible, use bottled spring water or collect rainwater to grow your plants.
Fertilizer should be well diluted before adding it to avoid burning the roots. The mixing ratio for the fertilizer-water solution is ¼ of the strength recommended in the instructions.
How To Get Labels Off Glass Bottles To Use As Planters
Now that you know how simple it is to grow plants in water, you are probably eager to get started. Cleaning glass bottles, like ketchup and soya sauce bottles, are a great way of reusing them, and a mix-and-match collection of thin-neck bottles with an assortment of plants looks beautiful.
Getting the labels off bottles can be a pesky snag if you don't know how, so here's my tried and tested method that doesn't need a lot of elbow grease:
Rinse the bottles
Fill your sink with hot water, a squirt of dish soap, and a cup of vinegar
Submerge the bottles and leave them for at least an hour.
Remove the jars and rub off the label – it will be soft and mushy
Use a rough sponge to remove any stubborn glue
Finish off by washing the bottle with dish soap and water to make it sparkle
That's all there is to it! Growing plants in water can be a fun way to extend your plant collection and repurpose useful household items at the same time.