A surprising number of house plants can be propagated successfully from small cuttings from a healthy parent plant. Knowing which plants will take root and grow from slips opens up a whole new level of gardening! Sharing plants from your collection is a meaningful way to show friends you care, and homegrown plants make lovely, inexpensive gifts.
Many house plants grow readily from stem or leaf cuttings. Easy-growing ornamental plants include geraniums, impatience, Christmas cactus, African violets, jade plants, begonia, snake plants, and yucca. Rosemary, mint, and lavender are herbs that grow from cuttings.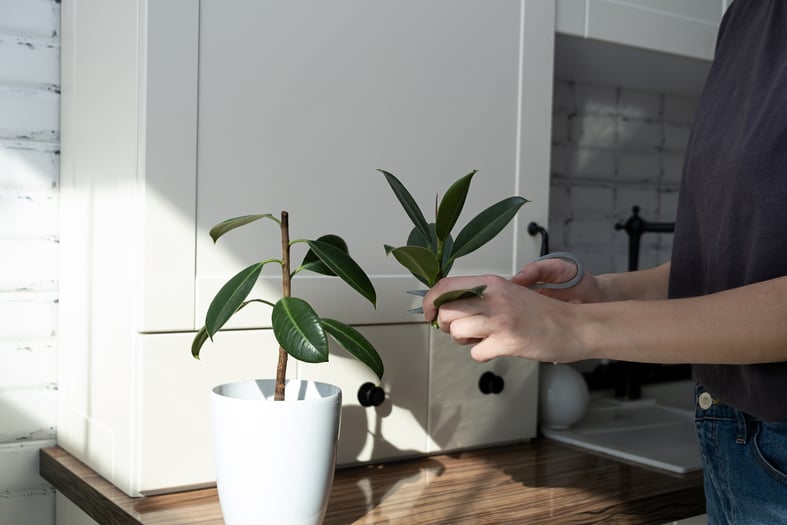 While few things excite me more than a trip to the local plant nursery, loads of gorgeous extra plants can be grown for free from stem or leaf cuttings. That means zero cost, loads of satisfaction, and pure joy when you see a cutting take root. Let's get started on our mega-list, so you know which plants to be on the lookout for to add to your collection.
How To Grow Plants From Cuttings In Your Home
Before we move onto the list of plants that will grow from cuttings, remember that not all cuttings can be rooted the same way. While some plant cuttings will thrive even if they just are popped into a vase of water on a sunny windowsill, others will instantly turn into a smelly mush.
In many cases, although cuttings may develop a network of roots if placed in water, transferring it into a soil medium can take a toll. I have lost a few this way, and it is so disappointing. Through trial and error, I have learned that it is better to plant slips directly in soil.
Unfortunately, growing plants from cuttings is not always as simple as just snipping off a section of a plant and popping it into soil somewhere else. There are some other things to remember when taking cuttings to cultivate in your home:
Slips must only be taken from healthy parent plants
Timing counts. Cuttings taken during the active growing season are more likely to take root.
Some plant cuttings, like plumeria, need to be a minimum size and harden off for at least a week before it is placed in soil.
Cuttings rooted in water may struggle when moved into a soil medium
Some plants do fine from leaf cuttings, while others require a stem cutting.
It is not essential, but it helps to apply a rooting hormone to the snipped section before planting. As covered in a previous article, aloe vera is an excellent natural rooting hormone that works well on cuttings.
If possible, take a few cuttings to increase your chances of success using this propagation method.
If the weather is not warm, it helps to cover the new cutting with a plastic bag to retain humidity and warmth – don't seal it up completely because it still needs to breathe. This is kind of like keeping the baby plant in an incubator until it is strong enough to face the world alone!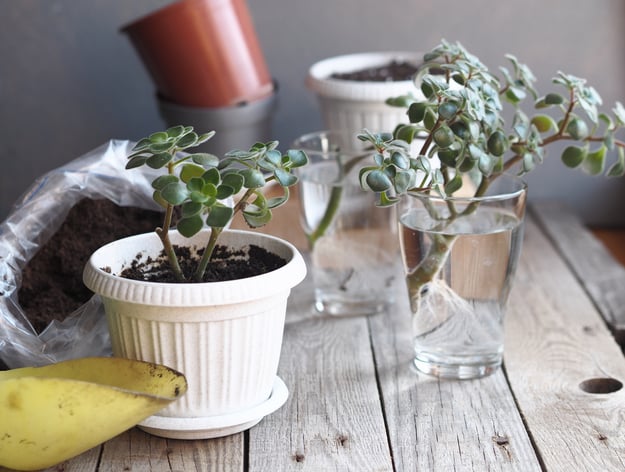 Loads of plants will grow from cuttings, but with winter on the horizon, I am only listing the most popular candidates for indoor or container gardeners. Growing plants from cuttings is also a great kid's winter activity; they can learn about how plants develop roots while having fun pottering about.
50 Plants That Grow From Cuttings In Your Home
Not all plants can be grown from cuttings, but many can. To make your plant explosion even more cost-effective, try growing your new free plants in creative upcycled planters. That way, you can have a double win!
Grab your garden snippers, and let's get started on our big list of plants that grow from cuttings.
Herbs That Grow From Cuttings
Thyme (use new growth, not the old dry bits)
Basil
Oregano
Sage
Lemon Balm
Stevia
Marjoram
Lemon Verbena
Salvia
Tarragon
Watercress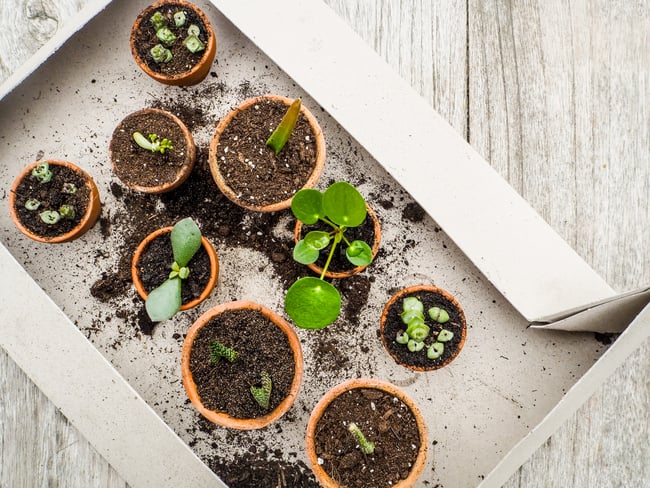 Plants That Grow From Stem Cuttings
Roses (yes, I know, it's too good to be true!)
Plumeria – this one is a little bit tricky, but not impossible if you can get a cutting of at least 12 inches)
Impatience – use a stem that has no flowers with at least two leaf nodes
Geranium (can be grown from cuttings inside throughout the year so long as there is enough light)
Pothos Ivy
Christmas cactus (this popular plant also needs time for the cutting to dry for a few days before it is planted to harden off – PS, it makes a beautiful gift, especially if planted in a sentimental upcycled container like a granny's teapot, kettle or a special mug )
Cordyline
Philodendron (various varieties including Heart leaf and fiddle leaf. Many can also be grown from leaf cuttings)
Baby's Tears
Umbrella plant
Hedera
ZZ Plant
Yucca plants
Aluminum plant
String of Pearls
Spiderwort (Tradescantia)
Croton (another toxic beauty)
Arrowhead Vine (Syngonium)
Dracaena (also called Corn Plant)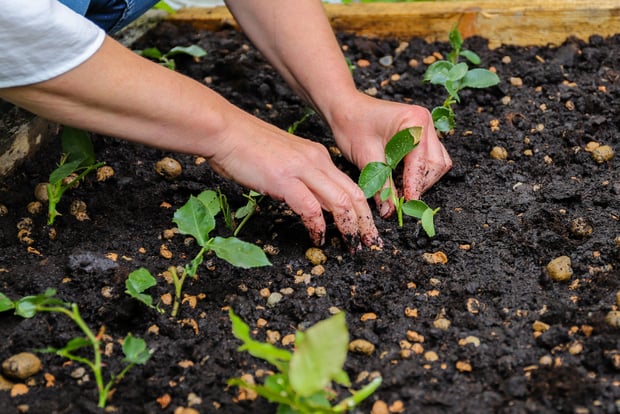 Plants That Grow From Leaf Cuttings
African Violets
Snake plant (also called Mother-in-law's tongue). Carefully snip a few inches off the top of the gorgeous pointy leaves and pop them into a potting medium. Don't overwater them. They prefer dry soil even when they are being grown from cuttings.
Jade plants (although a small stem usually roots faster, individual leaves can work)
Kalanchoe
A wide variety of cactus plants
Peperomia
Sedum
Swedish Ivy
Begonia
Ficus elastica (Rubber plant)
Dieffenbachia (also called dumb cane – be careful, this house plant looks pretty, but it is not recommended for anyone with pets or small children)
Monstera
I hope this long list has inspired you to keep your eyes peeled for potential baby plants to add to your indoor collection. Keep in mind that loads of succulents and cactus varieties are ideal for growing from cuttings – I couldn't list them all!
Here's a video of someone who did an amazing job at propagating her indoor plants from cuttings, during the lockdown:
When you have had access to a friend's rock garden where you can harvest a few slips (with permission, of course!) from plants you don't have, it is a great idea to plant them all together in a large container. That way, you can create an entirely new mini succulent garden with loads of texture and colors. Visitors to my home know in advance that before we settle down to catch up, we first have to complete a mandatory tour to view my plant collection. I am proud of how far my gardening skills have developed in such a short time. To think that just a few short years ago, I could hardly keep a cactus alive!