Flowering indoor plants are beautiful while they have blossoms, but there are often long waits between the occasional sprays of color. A great way to keep your indoor plant collection looking great throughout the year is to use showy foliage plants that can make a bold statement without flowers. Many tropical varieties are easy to grow and consistently boast lush, healthy-looking leaves.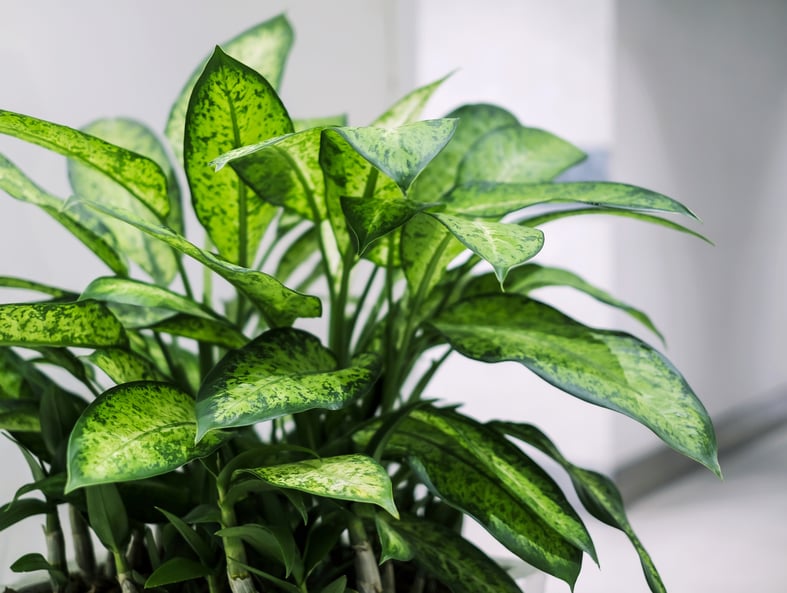 Beautiful, easy-to-grow indoor tropical foliage plants include:
Monstera deliciosa
Polka Dot Plant
Rubber plant
Ferns
Elephants ear
Dumb cane
Palms
Ficus
Philodendron
Peace lily
Schefflera
Cast Iron Plant
Caladium
Croton
Coleus
Chinese Evergreen
Many tropical plants have uniquely patterned leaves and exotic colors, so whether you need a touch of jungle green or dabs of attractive color, there are plenty of easy-to-keep varieties to choose from. Although tropical foliage plants, especially large leaf varieties, can appear intimidating to novice gardeners, there are lots that are super easy to care for and can thrive indoors.
How To Care For Tropical Foliage Plants
Tropical plants can instantly change the look and feel of an indoor space. Whether they are used individually as a statement piece or grouped to create an exotic display, they are an instant reminder that winter won't last forever.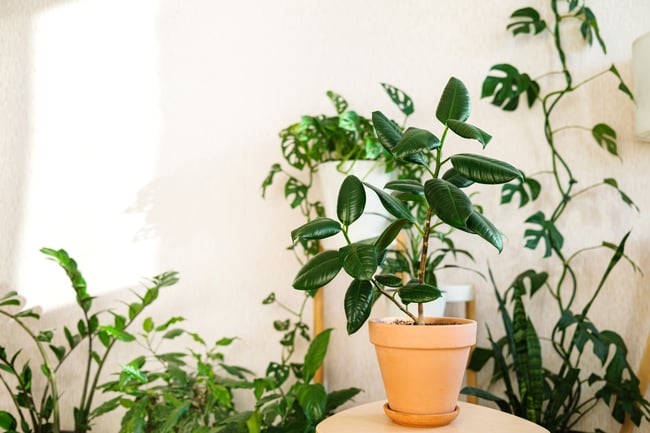 Although each type of plant has its own requirements, there are some standard rules when it comes to keeping tropical plants indoors:
They need a lot of light. Usually, indirect, bright light is best. If you don't have a position where they will get sufficient light, you may need to add grow lights.
Most tropical plants prefer damp, but not soaking, soil.
Humidity is an important factor for many tropical plants. Some no-fuss methods, like adding a pebble tray, can increase the humidity for jungle plants. If you live in a dry weather zone, you may need to add a humidifier.
Many tropical plants prefer warmer temperatures, so choose a space where your plant can feel at home.
Most tropical plants thrive in a medium rich in organic matter and benefit from the regular addition of a liquid fertilizer during active growing seasons.
Big leaves may also be a magnet for pests like spider mites and aphids. Inspect regularly and treat with neem oil when necessary.
16 Easy-To-Grow Tropical Foliage Plants
There are a variety of tropical plants that can instantly provide an exotic touch to your indoor area, and some, like banana plants or plumeria, need dedicated care and attention to thrive. Most of us have busy lifestyles, and you may just want to add a no-fuss, large-leafed feature plant without needing a qualification in horticulture.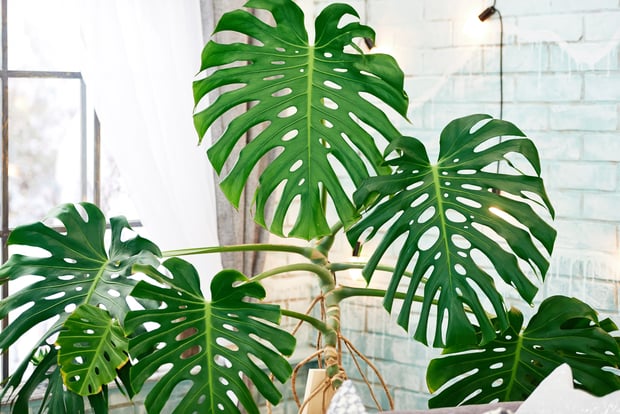 I totally understand that, so I have compiled a list of easy-to-grow tropical foliage plants that look incredible and require minimal care. Some are so beginner-friendly that you can even get them to grow in water!
Monstera deliciosa – The familiar split leaf pattern is a hallmark of tropical décor.
Polka Dot Plant – Splashes of exotic pink and red over dark color leaves. This is a beautiful and easy-to-grow tropical foliage option for anyone who needs color to brighten up a room.
Rubber plant – Easy to grow and add a dramatic feel to any setting.
Ferns – Great on its own or to add texture to a collection of tropical plants.
Elephant ear – The large imposing dark green leaves set on top of thin stalks give an unmistakable tropical vibe.
Dumb cane – Beautiful, easy to care for, and has impressive large striped leaves, but not recommended for households with pets or young children
Palms – Few plants add a tropical feel as quickly as a palm.
Ficus – A popular tropical foliage plant that comes in various shapes.
Philodendron
Peace lily – Although they do flower, the dark green tropical foliage makes peace lilies an attractive indoor plant. They are also excellent natural air purifiers.
Schefflera – You may know it as Umbrella plant. An excellent choice if you need to add dramatic height to a room.
Cast Iron Plant
Caladium – Also called Angel Wings. A gorgeous pale leaf plant with dark veins and dusky pink speckles. A unique plant that works well as a feature plant or to contrast with darker-leaf varieties.
Croton – The multicolor leaves are a visual treat. Crotons need a lot of light, so only get one if you have a bright spot or are using plant grow lights.
Coleus – This highly ornamental plant has a relatively short lifespan of around one year, but it is easy to propagate from cuttings.
Chinese Evergreen – Perfect for lower light settings. The contrasting light color on the dark-edged leaves brightens dim spaces.
How To Clean Foliage Of Tropical Plants
Over time, the large, showy leaves on many tropical plants can collect dust, making them look tired and spoiling their appearance. Not only that, but a buildup of dust on the leaves can block valuable light and impede the plants' ability to photosynthesize.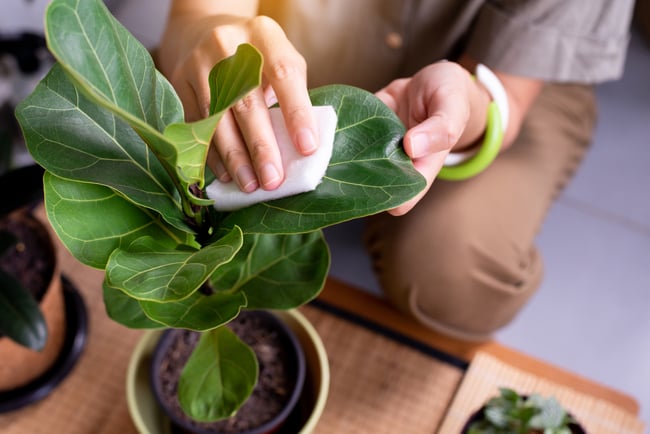 Five methods to clean houseplant foliage include:
Dusting – Use a soft duster to gently remove dust from tropical plants that have sticky or fuzzy leaves. These varieties should never be wiped or dunked as the delicate leaves can get damaged.
Brushing the leaves with a soft brush – There are specific plant cleaning brushes available that can be useful for large-leaf tropical varieties like monstera or rubber plants.
Wiping with a soft, damp cloth – One of the best ways to keep hardy varieties of tropical plants free of dust and restore their refreshing glow of health is to wipe the thick leaves regularly. This works well on plants like orchids, banana plants, and elephant ears.
Dunking the entire plant in water – This should only be attempted with small, hardy varieties.
Misting – In addition to keeping the plant clean, regular misting can also help with overall humidity around the plant.
Are Tropical Foliage Plants Safe For Cats?
Keeping your pets safe and healthy is an important consideration when choosing houseplants. One can usually position plants out of reach of dogs, but cats have superpowers when it comes to climbing and inspecting everything thoroughly.
The bad news is that many tropical foliage plants are unsafe for curious cats. Fortunately, that does not mean that cat owners won't be able to enjoy their own indoor jungle – it just means that you will need to be very selective when choosing what to grow indoors.
Some cat-safe tropical foliage plants that you will be able to grow confidently indoors include:
Most palm varieties, including Parlor Palm and Areca Palm
Boston Fern
Spider plant
Bamboo
Cast Iron plant
Banana Tree plant – It will add an instant tropical feel, but you will need a HUGE container!
Prayer Plant
Polka dot plant
For a complete list of toxic and non-toxic houseplants to keep your feline family members 100% safe, check out this handy list provided by the ASPCA.
Top Tip: Cats chew on plants in nature to help with digestion. A good option is to provide a healthy pet grass option for them to enjoy.
How Often Do You Water Tropical Foliage Plants?
Water your indoor tropical foliage plants at least once a week. You may need to water more frequently if the weather is hot or slightly less if it is cool. But it is best never to let the soil dry out completely as it could send the plant into shock.
Most tropical foliage plants enjoy being in slightly damp soil – however, this is not the same as pouring water on each time you pass. Overwatering can result in root rot which is almost impossible to recover from.
It is best to keep to a watering schedule. Overwatering problems can also be avoided by ensuring that the drainage holes in the pot as open and excess water can run through. If you are inclined to overwater your houseplants, many tropical foliage plants are excellent candidates for watering tools like self-watering globes or even a self-watering pot. That way, you can put away your watering can and let your tropical plant decide for itself how much water it needs!