Ok you've probably guessed by now but I'm OBSESSED with rose water! I use it as a toner for my combination skin, and as a natural fragrance (perfume is made from all sorts of toxins so rose water is my no1 replacement). So I wanted to share my favourite rose water brand with you – but it's a little on the pricey side, so I decided to explore some alternatives to share with you too. Here we go – my top 15 best organic rose water brands! 
If you're looking for the best organic rose water brands you're going to want to look for rose water that is
double or triple distilled (for potency and purity, giving you a stronger fragrance with no trace of nasty chemicals)
is transparent, and completely non-coloured, which indicates your rose water is healthy and has not been exposed to air, which leads to it going bad more quickly
packaged in tinted containers – the tint prevents the sun creeping in and causing your rose water to go bad
packaged in glass rather than plastic – to prevent contamination and plastic toxins (also best for the environment)
contains a complete ingredients list, so you know your rose water is pure and uses no nasty ingredients
use roses from Bulgaria, Morocco, or any other area growing the Damask Rose as this is the core rose used in producing rose water. 
Disclosure: Some of the links are affiliate links, we may earn commission from qualifying purchases. Learn more.
How is rose water made?
Organic brands care about hand-picking rose petals, which ensures the highest quality. The key to a great product lies at the very beginning – in the time of petal harvest. Most moisture is retained in rose petals just after they absorb the morning dew!
Generally, organic rose water is either a steamed distillate of fresh rose petals, or created by simmering. Commercial brands usually use the distillation method, which is far more complex and not really DIY-friendly. Distillation makes rose water full of nutritious rose juices and highest quality rose oil. However, it also takes much longer than simmering. During this time steam, and not direct heat, extracts the natural rose oils. To additionally purify the rose water, some brands go as far as to distill and refine the extract several times.
Which roses do organic rose water brands use?
Wild roses can be used to make organic rose water and are most often employed in DIY rose water recipes. However, organic skincare brands actually choose Damask Rose (Rosa damascena) as the basis for the product. The reason behind this lies in the cult status of Bulgarian roses among perfumers and rosarians alike. Bulgarian roses are considered to be some of the finest in the world. They possess both the best scent and the best health and beauty qualities of any rose. These are the anti-oxidant, anti-bacterial and anti-inflammatory properties. However, Rosa damascena is also grown in Turkey, Egypt and Morocco. You won't be surprised to see that luxury skincare products source roses from these countries!
How to find the best organic rose water brands
The best organic rose water brands are easy to find, but it's also easy to unwittingly purchase rose water brands that contain other ingredients such as perfume, or are packaged in plastic. For rose water that's best for your skin, hair and body, you're going to want to check for pure ingredients, that your product is certified organic, and that your rose water brand doesn't contain additives or fillers.
Top 15 Organic Rose Water Brands – The Ultimate List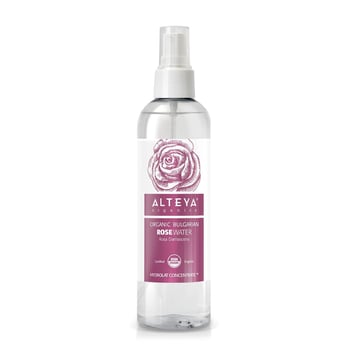 Alteya Organics has had over 20 years of experience in just about every rose product imaginable. Completely based in Bulgaria, Alteya Organics has their family farm in the famous Rose Valley. You can be sure you're getting the highest quality Bulgarian rose water!
Bulgarian Rose Water by Alteya Organics is USDA Certified Organic. Thismeans that the ingredients are tried and tested – no sneaky additives to be found! The product is 100% steam-distilled, from fresh Bulgarian Rosa damascena. As a pure rose water, you can use this product for skincare, hair care, and even for cooking and baking! And if you find regular pink Bulgarian roses just so boring, don't worry, Alteya also provides white Bulgarian rose water.
What do the reviews say about Alteya Organics rose water?
The only downside is that the bottle is plastic and non-tinted. Make sure to store it in a dark and cool place to increase longevity. The upside is the low price of $14.72 which is pretty tough to beat. Best reviews say that this product is best rose water for the money, and it's even recommended by dermatologists!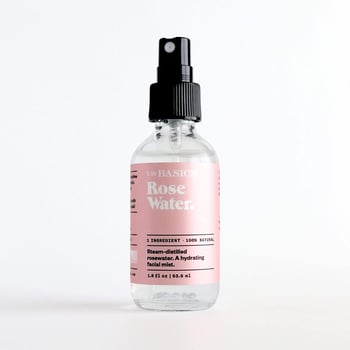 Basics is a company focusing on 100% natural skincare made for everyone. Their company motto is – 5 ingredients or less! This is based on research that an average woman puts over 515 chemicals on her body every single day. With a goal to greatly simplify skincare while not reducing the quality, S.W. Basics develops one of the best rose waters on the market.
Rose Water by S.W. Basics contains no sulfates, parabens, artificial fragrance or oils, phthalates or other irritants. Another USDA Certified Organic product, cruelty-free and Made Safe, this rose water touts that it is even food-safe! Totally undiluted, 100% steam-distilled, it can be used as a skincare product, as a setting spray or even moisturiser.
What do the reviews say about S.W. Basics rose water?
The downside is, just like with Alteya Organics, the bottle is plastic and non-tinted. However, the related upside is that this brings the price down to $12.99. Best reviews say that this product is soothing, reduces inflammation and sunburn, works as good as Chantecaille (high end product).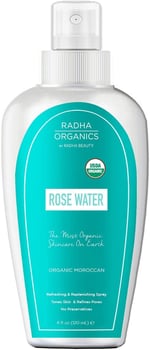 Radha Beauty calls their Radha Organics product line "the most organic skin care on Earth". They take pride in the fact that the line is paraben-free and preservative-free. They create their products for all skin types and use ingredients which are easy to pronounce.
Created from Moroccan Rosa Damascena blooms, this is another USDA Certified Organic product. Cruelty-free and vegan, this brand makes their rose water specifically to combat skin issues. It works especially well against signs of aging, skin blemishes, acne scars and blackheads.
What do the reviews say about Radha Organics rose water?
The downside is the plastic packaging again, but as it is not see-through, there is no worry of sun damage. The upside is the extremely affordable price. Best reviews say that this product feels light and fresh, has a wonderful subtle fragrance, and doesn't irritate skin.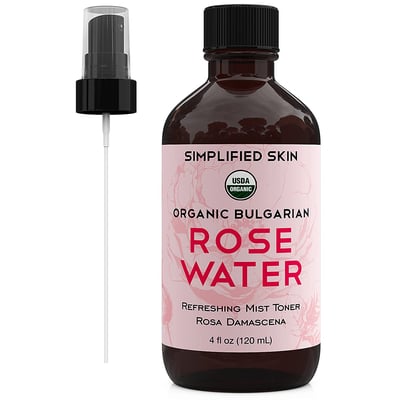 Bulgarian-sourced and bottled in USA, Simplified Skin rose water is paraben, sulfate and gluten-free. 100% natural and organic, you get steam-distilled pure rose petal water, USDA Certified Organic and Vegan. You can use this rose water on all skin types, as it contains no alcohol or artificial preservatives. The company recommends you use their rose water as a toner. In reality, you can use it for just about any self-care. Not only that, but the 100% money-back guarantee definitely gives this rose water a leg to stand on!
What do the reviews say about Simplified Skin rose water?
A huge upside for this rose water is that it comes in proper, tinted, glass packaging. Best reviews say to put it in the refrigerator for added cool effect and safekeeping. Finally, reviews say that it is super hydrating, gives the skin a natural glow, and feels aromatic and luxurious.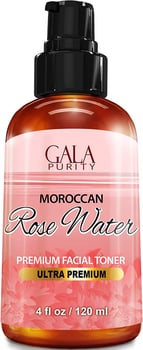 Gaia Purity describe their distilling process as long-lasting, but irreplaceable for both beauty and healing properties. 100% pure and natural rose water, this product contains no chemicals or pesticides. This is in part due to their use of organic fresh roses. Just like Simplified Skin – if you're not satisfied with your product, they guarantee a lifetime refund. Created for acne-prone skin and dandruff-prone hair, Gaia Purity advise to use rose water for hair conditioning. It also helps grow hair faster, as well as to soothe skin irritations and balance skin pH.
What do the reviews say about Gaia Purity rose water?
The downsides to this product is the packaging nozzle and the plastic. While the tint of the bottle will preserve your rose water well, reviewers complain that the nozzle is slightly impractical. However, the upside seems to be that the product leaves skin really smooth. Best reviews say that the scent lasts for a long time. Apparently, the product is great to soothe and banish cystic acne.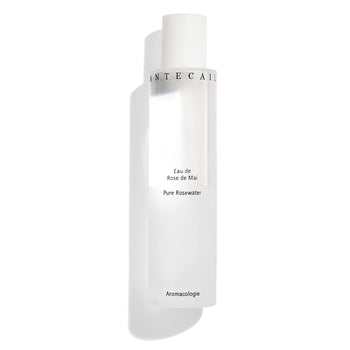 Chantecaille's Pure Rosewater is basically a staple of a Parisian's cabinet. Chantecaille uses steam-distillate of Rose de Mai for this extravagant product. It promises to relieve redness, plump, balance, and replenish the vigour of your skin. Known for long as a company with their heart in innovation, Chantecaille pioneer plant-based products that feel like pure luxury.
* OUR TOP ROSE WATER BRAND! * What do the reviews say about Chantecaille rose water?
The downsides to this product are the plastic packaging and the honestly exorbitant cost. The upsides are that the product stays on for literal hours. You know how you pass by THAT girl on the street and her scent stops you in your tracks? It's probably Chantecaille's rose water. Best reviews say that it is no-filler, refreshing, lightweight, relieves dark spots, suited well for mature skin.
Radiće Apothecary is an Italy-based company, with roses sourced from gardens of Tuscany. 100% handmade by steam-distilling, this product is flower water of Rosa damascena. The official company policy is – no GMO, no parabens, no synthetic fragrance and ingredients, no sulfates. The company advises to use the product on tired eyes and skin. It is great for a boost in mood and hydration, as well as protection from free radicals and UV damage.
What do the reviews say about Radiće Apothecary rose water?
The downsides are, this rose water is rather pricy and a definite splurge. The upsides are, the product design is luxurious, the packaging incredibly quality, and the ingredients potent and strong. Best reviews say that it completely clears up acne, wrinkles and sun damage, giving a subtle alluring scent.
So – full disclosure – Zoya Goes Pretty is just one of my personal favourite beauty brands. However, I can't not be biased when all their products are so very cute and so very organic! I definitely have sensitive skin, and I battled adult acne for a longer time than I would like to admit. Zoya Goes Pretty rose water is 100% pure and natural, certified organic. They boast their product is distilled combining the methods of new and old. Additionally, they exclusively use fresh Bulgarian roses straight from the famous Rose Valley. The entire thing contains nothing more than pure organic rose water – that's it!
What do the reviews say about Zoya Goes Pretty rose water?
The downsides for this product is the packaging. I keep it in the fridge and it lasts me basically until I use it up (2 – 3 months). The upsides are that the smell is my favourite out of all the brands! It is light, and mixes well with natural body scent. Best reviews say this product stays fresh for long, and works great as compress for tired eyes.
Teddie Organics rose water is more often out of stock than in stock – and for a very good reason! A consumer favourite, Teddie Organics rose water is 100% pure and organic, completely handmade and triple distilled for optimum purity. If you're dissatisfied, this is yet another organic rose water brand offering a full refund. However, it's unlikely you won't completely fall in love with the sweet floral rose scent of this rose water. Developed for aromatherapy, as well as for optimising the shine and health of your hair, this product has it all!
What do the reviews say about Teddie Organics rose water?
The downside for this product is that it leans towards the pricey side. Additionally, its sheer popularity makes it often unavailable. The upside is that the product is a great value for the price and quality. Best reviews say it is a miracle toner, works wonders on sunburn, controls breakouts, tightens pores and eliminates redness.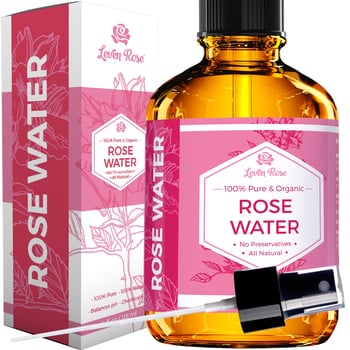 Leven Rose is another cult brand utilising the best of Moroccan roses for skincare and wellbeing. Their rose water product boasts that it is One Ingredient Only, meaning the Moroccan Damask Rose rose water. Surprisingly enough, this brand went so far as to keep their product even glycerin-free.
What do the reviews say about Leven Rose rose water?
The downside for this product is that it is USDA Certified Organic pending. However, as of yet it did not complete the process of registration. Though, the ingredient list seems to truly not contain any irritants or additives. The upside is that the brand makes packaging with care to protect the rose water. Best reviews say that you should use this product for hair care ideally, as it makes hair very shiny.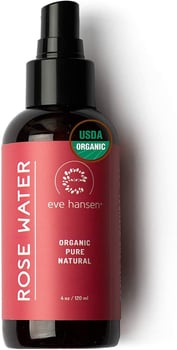 If you were looking for more best picks for Moroccan rose-based rose waters, here is another one of my favourites! 100% pure, twice-distilled from fresh Moroccan roses, this swanky-looking product is my go-to for hair-related issues. Use just a few spritzes of this miracle rose water into your hair after shampooing! It will prolong the feeling of freshness for two days longer, guaranteed! The company states that the product is even better for skin, mature and acne-prone skin in particular. Finally, with the USDA Certified Organic stamp – you're good to use it for just about anything!
What do the reviews say about Eve Hansen rose water?
Again, no downsides here. Packaging is amazing, made with cold-pressed extraction and GC-MS tested, I fully recommend this product to anyone. Best reviews say that it calms skin, secures makeup, dries quickly and doesn't leave a residue or wet trail.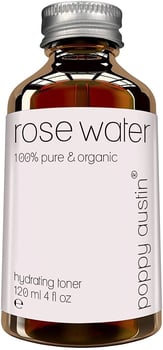 Poppy Austin has long been producing another cult favourite, a triple-distilled rose water marked spa grade. This is a great choice if you like Moroccan rose water! Poppy Austin makes this rose water using mountain stream fresh water and fresh Moroccan rose petals. Additionally, they use traditional distilling methods and make it by hand. They create it at the location, so you're getting both a natural and exotic product. Poppy Austin also dedicate their products to treating mature skin and first signs of aging.
What do the reviews say about Poppy Austin rose water?
The downside is that packaging is mostly for cosmetic use, with no spray nozzle, so it can be impractical on-the-go. The upside is the tinted bottle keeping the rose water fresh for longer, as well as the money-back guarantee. Best reviews say this product is comforting, heaven in a bottle, fantastic for really sensitive skin, feminine and soothing.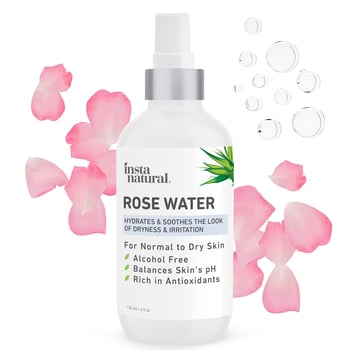 InstaNatural produces USDA Certified Organic, 100% distilled Rosa damascena rose water. Best for daily and multipurpose use on-the-go, this brand makes rose water which complements your skincare well. The brand formulated the rose water to be gentle and for dry skin types. InstaNatural is the best way to go if you have to take care of breakouts, rashes or redness.
What do the reviews say about InstaNatural rose water?
The downside to this product is slightly bulky packaging. The upside is that the company is VERY transparent about products and how they make the product. Best reviews say that it's fantastic – dermatologist recommended, refreshing, gives a glow to the skin, incredibly moisturising.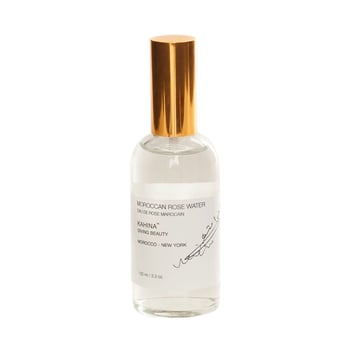 Another mid-end product on the list, Kahina is all about those Moroccan Damask Roses. The packaging is sleek and fancy, and the rose water 100% pure steam-distilled. Proud of using green technology, Giving Beauty is a great splurge rose water, but not Radiće or Chantecaille-tier splurge. With rose petals handpicked by Berber women of Morocco, the product is original, highly quality and ethically sourced. Finally, the brand uses Atlas Mountains fresh water in its creation!
What do the reviews say about Kahina rose water?
The downside is that this rose water is definitely comparably pricy. The upside is that it is pharmaceutical grade, completely pure, and apparently a great subtle perfume. Best reviews say that it is refreshing, pairs well with natural body scent, and lingers long on linen and bedsheets.
The last on this no-particular-order list, a very much celebrated rose water toner. While not precisely only rose water, I couldn't resist including this toner on the list! All active ingredients are distilled with steam, and the toner has a lovely pleasant scent of rose, chamomile and lavender. Crafted using only solar power and rainwater, creation of this product leaves absolutely no carbon footprint!
What do the reviews say about Rosy Lana rose water?
The downside is that this product is not completely pure rose water, as it contains kelp, bilberry and aloe vera. The upside is that the combination makes for a strong and potent toner. Best reviews say the product is a great toner, irreplaceable for oil and sebum control, and makes skin super soft.
---
What Ingredients Go Into Rose Water?
The most quality ingredients are fresh Bulgarian roses. Some producers will use dried roses, which is also fine. However, that loses you some of moisture and oils which can be found in a fresh batch of roses. Seek products coming from Morocco, Russia, France, Bulgaria or Turkey, or the ones claiming to use Rosa damascena. They are the real deal! (If you want to make your own rose water brand, go here to see our post that makes it super simple)!
Pure Ingredients
The purity of organic rose water also matters as far as quality goes. Avoid products which are simmered, as these have both a short shelf-life. If you want, you can DIY a simmered rose water easily. Just follow our recipe! However, considering that you're specifically looking to splurge some of your hard-earned cash, look for organic products which are distilled. Double or triple-distilled products are the top of the line. However, be warned that they may come with a hefty price!
No additives or fillers
Finally, be on the lookout for any additives. You can expect to find some additives, which add towards the shelf life, or improve the quality of the product. For example, glycerin is commonly found in many commercial rose waters. Despite the scary, chemical-sounding name, most glycerin is actually responsibly-resourced and originates from vegetables. You might also find salicylic acid, but this ingredient is also organic. You can actually find it in aspirine, but it also helps with oily skin!
On the other hand, there are some dubious "organic" brands which are organic in the name only. They will readily mix in irritants to cut production costs. If you see sulfates, parabens, phtalates, petrochemicals, artificial fragrances or dyes (E-number additives, for example), polyethylene glycols, ethylene oxides, hydrocarbon oils or (God forbid!) synthetic rose oils in the ingredient list – run far away, as this product is not organic and not what it claims!
There you have it for our cult favourite 15 best organic rose water brands. Many (if not most) of these I have tried myself! Which ones off the list have you tried? Any favourites of yours that didn't make the cut? Tell us what you think!
*Product images from Amazon.