During my research of all things natural and earth-friendly, I discovered aromatic rose water spray and let me tell you that it's a love affair that stretches far beyond the basics of a daily skin routine. From body mist and skin toner to cookies and shortbread (swoons), the uses for rosewater spray are endless, and I can't wait to share my favourite 20 uses for rosewater spray with you!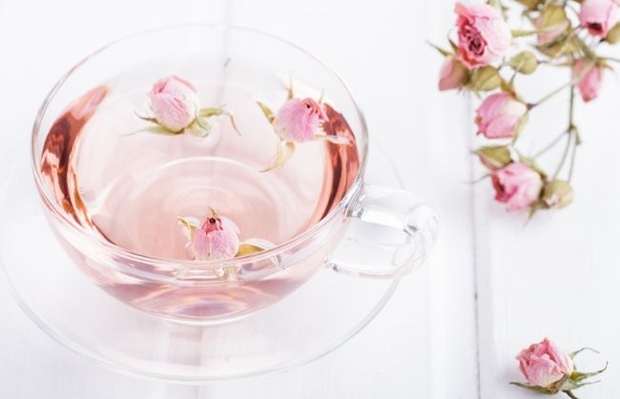 What is rosewater spray?
Using your rosewater as a spray means you can easily and more effectively use it as a natural spray deodorant, refreshing facial spritz, cool down body mist, a lightly scented natural room spray and even a way to scent your baking.  A spray applicator ensures that rosewater is evenly and lightly distributed, making it perfect for oily or combination skin, as well as for use around your home.  The application of a fine mist makes this way of applying rose water perfect for oily skin – a spray can help prevent pores being clogged and it can also act as an astringent.
Rosewater spray is an aroma-filled fragrant liquid made from, you guessed it, roses. The process of making this beautiful liquid (which has a ton of benefits, like anti-bacterial and anti-inflammatory properties) involves distilling rose petals of your choice with steam.  (Check out how to make your own rosewater spray, here).
Making rose water spray enables your rose water to be easily used as a fine mist, which helps with direct application, prevents wastage, and prevents staining on clothing (important if your rose water contains any traces of oil left over from the processing phase when it was being created).
Ways to use rosewater spray
1.
  How to use

 rosewater spray as a sleep enhancer

Rosewater naturally has strong anti-anxiety properties, which is reason enough to add it to the medicinal arsenal of your home. Having trouble sleeping? Rosewater also has a hypnotic effect and can induce sleep. Multiple medical research states that rosewater has been used to relieve tension, stress and grief. Use rosewater spray on your pillow, nightlclothes, bedlinen and around your bedroom for a sleepy, calming effect.

You can add a few drops of lavender oil to increase the calming effect of the spray.
2.
  Can I apply rose water straight on to my face? 
Rosewater, when made by using our steps above, is naturally free from any chemicals that could be harmful to your skin. Paired with this and its natural anti-bacterial properties, it's perfect to use as a toner in your skin care routine. Simply dap a piece of cotton wool with rose water and use it on our face as you would with a toner. You can also spritz it on directly to your face using a spray dispenser and gently pat dry with an old towel, or leave to air dry.
The properties of rose water are mildly astringent, which will leave your oily skin feeling brighter and more refreshed.
3. Use rosewater spray For irritated skin
Rosewater is naturally anti-inflammatory, which means it is perfect for soothing irritated skin. As with the toner, you can simply put rosewater on a piece of cotton wool and wipe across any sore spots, mild rashes, stings, bites or other mild skin irritations.
4. Use rosewater as an ani-ageing product
Rosewater is a go-to product when it comes to taking good care of your skin. Thanks to its natural ability to fight against elastase (which breaks down proteins), rosewater is excellent to incorporate against the power of time. Furthermore, rosewater can help assist in the fight against fine lines and wrinkles. I'm dabbing rosewater on my (soon to be gone) wrinkles as we speak!
5. Rosewater to reduce redness
We'll move away from the skin in a sec, but also take note that rosewater can reduce redness. So often I am busy getting ready for the day and struggle to fix my blotchy red face or neck. Then, I simply spray a little rosewater on, and voila! The active inflammation-blasting ingredients in rose water are its terpenes and glycosides, says naturopathic doctor Gabrielle Francis, writing for Byrdie.com.
For acne in particular, rose water offers double the healing effects, as "the essential oils in the rose have antimicrobial activity," adds Francis.
6.
  Benefits Of Drinking Rosewater For Skin
Drinking rosewater can help you to hydrate and revitalise your skin from the inside out. The same goes for rosewater's anti-ageing properties – now who wouldn't love growing younger from the inside out? Rose water contains an entire cocktail of multi vitamins, including A, B, C and E, plus multiple other anti-oxidants, all of which work to stimulate cell renewal and eliminate toxins.
This potent cocktail of anti-aging ingredients in a glass is fast becoming a favourite in L.A, where all good beauty trends seem to begin. You can drink it neat or add a shot to a glass of water, just ensure your rose water of choice is fully organic and food-grade, before consuming.
7. Prevent colds and flu
Speaking of drinking rosewater, you can also drink rosewater substance to fight off a sore throat, flu, and other sorts of nasties. Studies also show that it can help to relax the muscles in your throat, which will ease the pain considerably. The effect is compounded by the anti-oxidants present in rosewater,  which help protect your body's immunity and fight off flu and colds.
To use rosewater spray to fight off colds and flu and build up your immunity, you can spray it directly on the back of your throat using a rose water spray, or add a dash of rosewater to water to use as a cordial. You can also just drink it directly.
8. Ease digestion
While we're on the topic, drinking rosewater can be beneficial for more than just the skin. If you're having trouble with your digestion or a bloated stomach, you can drink rosewater to help ease the discomfort and bloating. You can spray it directly on the outside of your stomach for direct absorption by the skin, or drink a glassful first thing in the morning or whenever your discomfort strikes.
9.
 

Use rosewater as an antiseptic

The anti-bacterial properties of rosewater act as an antiseptic, which makes it the perfect little solution to clean wounds with, and to help them heal faster. Use rosewater as an antiseptic spray to help keep wounds clean and protected. It's ideal to keep in your medical kit, just keep an eye on the expiry date as rosewater can quickly go bad. If your rose water look green or smells bad, check for other signs that your rose water has expired. 

The last thing you want to do is put expired or contaminated rose water on a cut or graze, so always ensure your rose water spray is fresh and healthy.
10. Rosewater to improve memory
Thanks to the high antioxidant content of rosewater, researchers were able to show increased capacity for learning and a stronger memory when rose water was administered to rats. 

While there are currently no official guideline on whether this achieves the same benefits for humans, if you would like to attempt to maximise the benefits of rose water you could dissolve a tablespoonful of food-grade rose water in water, or try a rose water spray on your skin for immediate absorption.
I was advised to use magnesium spray on the soles of my feet as this is where the fine skin absorbs any spray the fastest, you could do the same with rose water spray.
11. Use rosewater to relieve headaches
As you may already know, essential oils are often used in aromatherapy for an array of benefits. The same goes for rosewater, as studies have found that even just the vapours of rosewater can ease the pains of a headache. You could either throw a bit of rosewater in hot water to inhale the steam or soak a cloth in rosewater and compress it on your head for half an hour, or use a rose water facial spritz.
12. Use rosewater as a mouthwash
Remember we mentioned that rosewater has plenty of anti-bacterial properties? For this very reason, it can be used as a mouthwash. Using a herbal mouthwash may also be beneficial for ulcers and cancer sores you might have, and this is definitely an item I'll be adding to my cleansing ritual.
13. How to remove makeup with rosewater
Is there something that rosewater can't do? Not likely, as it can even be used as a makeup remover. Simply dab a bit of rosewater on cotton wool and wipe across your makeup. This is not harmful to your skin, plus it will hydrate and tone your skin during the process – which is always a bonus!
14. Use rosewater when baking
That's right, you can even cook with rosewater! This will come as nothing new for folks from areas within the Middle East, where rosewater has been added to dishes such as stews and rice puddings for centuries for a delicious floral flavour. All I can say is, yum! You can also add a dash of rosewater to a glass of gin for a floral tasting drink.
Another delicious use for rosewater is adding a dash to your homemade vanilla ice cream for a dose of goodness, or add a teaspoon of rosewater to a hug of lemonade for a floral touch that pairs perfectly with hot summer days.  You can also lightly spritz your baking or recipe with rose water spray before serving, so it smells as good as it looks!
15. Add a dash of rosewater to bath time
Ooh, I love a good ol' bath session! I enjoy it with soothing music, burning candles and, of course, a dash of rosewater. All you need to do is add a few drops of rosewater to your steaming tub, which will allow the room to fill with a floral aroma and leave your skin feeling soft and smooth.
After bathing, spritz your skin with rosewater spray for added softness and a gentle fragrance.
16. Dehydrated hair? Rosewater is your answer
As you know by now, rosewater has the amazing ability to add hydration to anything it touches, including your hair. Mix a few drops with either your shampoo or conditioner to hydrate your hair and leave your hair smelling, well, delicious.
You can also also add a few drops of rosewater to your salt spray to ensure your hair stays shiny, healthy, and beautifully scented as well as looking like you've spent all day at the beach.
17.
 

Add rosewater to the laundry run

Keen to hear about a cool lifehack that involves rosewater? Instead of putting water in the chamber of your iron when ironing your clothes, add rosewater for clothes that will be left with a beautiful delicate scent. This is how all the french girls smell so beautiful and fresh!  You can also spray a light mist of rose water over your clothes before getting dressed – just not on silk, where you might get oil / water marks.
18.
 

Can I use rosewater spray to treat sunburn

You guessed it, but thanks to its anti-inflammatory properties, rosewater is ideal to use as a soother for sunburn. You can even mix your rosewater with aloe essence for a more soothing effect because there's nothing more painful than sunburn!  Spray it on for an instant cooling effect.
19. Use rosewater spray to make dreamtime milk
In many countries, rosewater is used as a bedtime drink to ease your way into dreamland. In Singapore and Malaysia, this drink is called Badung, and is made by mixing tablespoons of rosewater with honey (or sugar) and a cup of coconut milk.
How do I make rosewater?
Making rosewater is super easy (don't worry, we'll tell you exactly what to do!), plus its's heaps of fun! I enjoy it so much that I make a new batch at least once a month, often because I need a new batch, but mostly because it makes me feel like a total botanist!
Here are a few super easy steps on how you can make your very own rosewater to use at home:
Step 1: Prep your petals
First, and most importantly, you need pretty as a petal (pardon the pun) rose petals to use. Ideally, these petals need to be as fresh as possible, preferably without any chemicals that could be harmful to you.
Step 2: Wash your petals
Fresh from the garden or fresh from the store: wherever you get your pretty petals from,  make sure to wash them thoroughly in a clean jar to get rid of any pesty dirt or bugs that might've followed you home.
Step 3: Get your petals ready for the distilling process
Now that your petals are prepped, place them in a small pot and cover them completely with distilled water. Although roses should be covered, be sure to put in just enough water, to prevent your rosewater from becoming too diluted.
Step 4: Turn up the heat
Eep, you're one step closer to having rosewater of your very own! Now that your petals are covered with just enough water, place a lid over your batch and allow to simmer on low heat for about 35 to 40 minutes.  This is my absolute favourite part because you'll get to and watch actual rose oil float its way to the top of the water.
Step 5: Strain and enjoy!
Now that your rose oils have emerged, strain the rosewater through a strainer and collect it in a jar that you can tightly seal afterwards. Once collected, allow the water to cool down and keep refrigerated.
And voila! Making your own rosewater is as simple as that. Not only is this process easy as 1, 2, 3, it's also relaxing, and can have a calming effect – perfect for some me-time!
The history of rosewater
Don't think the influx of rose water and all its nifty uses on social media platforms like Instagram and Pinterest is a recent trend. The use of rosewater for medicinal purposes stretches as far back as ancient Greek and Roman times, and it's easy to see why. Locals of the time used rosewater as perfumes, whereas in medieval times washing your hands in rosewater was an essential pre-meal ritual. For centuries, rosewater has also been used in ointment and face washes, thanks to its handy anti-inflammatory properties.
Even Egyptian Cleopatra, famous for her beautiful looks, was obsessed with rosewater. So much so that the sails of her ships had to be dunked in rosewater, and washed her face with the elixir.
Rosewater has cemented its spot in the history books even in religious uses. During traditional Indian weddings, for example, rosewater is sprinkled on guests to welcome them to the special occasion. And it doesn't stop there – rosewater is also used in religious ceremonies of the Eastern Orthodox Church, in Hinduism, Islam and many more.
What are the benefits of rosewater?
If there's one product you absolutely need to have in your home at all times, it's rosewater, because the list of benefits that it holds in is just endless. From its ability to enhance your mood, the fact that it has antibacterial properties and much, much more, rosewater will forever be my go-to product. I can talk about rosewater and its benefits all day, which is exactly why I've compiled the above list to share with you. Enjoy!
Wow, can you believe all the benefits that rosewater has? From its many anti-inflammatory benefits and the sweet aromas and relaxing atmosphere it can add to bath time, to the array of beautiful results it could hold in for your skin, rosewater is a must-have item for any home, whether as part of your beauty routine or first aid kit (remember, it heals wounds!). Let's not forget that it's great to have in the kitchen too (I'm planning my next rosewater cookie baking session as we speak!), plus it's oh so easy to make. Check out how to make rose water here, in our easy step by step guide. 
I've so enjoyed sharing all my favourite uses for rosewater with you, and a truly hope you've enjoyed it too. Planning on making your own rosewater in your home or adding it you your health, beauty and cooking routine? Please share your exciting rosewater project with me in the comment section, as I'd love to hear from you.
Until next time, enjoy all things rosewater!