Can roses survive winter in pots? If you've spent your time cultivating beautiful patio, potted and container roses the last thing you want is for them to die during a long cold winter. Ideally, you want them to survive and provide you with beautiful blooms next year, right?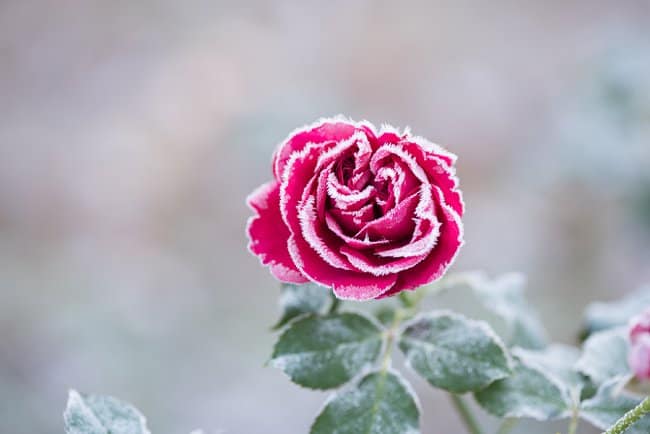 The good news is that roses can survive winter in pots. To ensure your roses survive winter, you will need to prepare them by giving them a good feed shortly before the winter, check them regularly throughout the season to spot signs of disease and mould or mildew, and consider a potential relocation to the sunniest and brightest spot in your garden. If you can spot the signs that you rose is struggling in the winter time, you can even bring your potted rose indoors. 
How To Help Roses Survive Winter In Pots
Prepare Your Rose For Colder Weather
Mulch Your Rose
One of the best ways to insulate your potted or container rose is to add a layer of mulch, towards the end of autumn. According to Heirloom roses, you'll want to add a 2-3 inch layer of compost, hay or straw.  This will keep your rose plant roots insulated and protected from the cold.
You can top up this mulch every month, but watch out for damp forming around the base of your rose's main cane or stem. If it continually looks moist or damp, starts to turn black or develop white fluff around the base (signs of fungus growing) – move out the mulch away from the cane, at least 3 inches away.
Protect Your Rose
To further protect your rose bush, you can put your rose plant pot into an empty burlap sack and tie the top loosely around the stem of your plant, the same height as the plant or lower.
You'll want to leave some leaves exposed to the light, but the goal with this is again, to add a layer of insulation and protection.
I remember seeing my grandparents do this when I was small, so it must work as they always had the most beautiful roses!
You can also use plastic gardening sacks, however I try to avoid plastic in our garden and home where possible, it's just so bad for the environment that I feel bad whenever I use it!
Move Your Rose
If you live in a hot or dry climate, with the benefit of warm winters, you might not need to bring your rose indoors at all. Indeed some roses bloom almost all year round in these climates! Here in the Mediterranean we have the opposite problem of keeping our rose alive in the winter – our challenge is to keep a rose alive during our scorching summer months!
But if you don't live somewhere warm, your rose is likely to need a little more protection against the elements during the winter. If you have wrapped your rose plant or pot, and your winters aren't too severe (I'm not talking Canada style winters here people)! then it will be sufficient to move your rose into a sheltered spot, away from the wind and rain.
If your winter is pretty harsh (looking at you, Canada)! or your sheltered spots are a little lacking, you're going to want to find your rose somewhere else to sleep for the winter. A draught-free but bright garage works, and if you're lucky enough, so do boot rooms, entrance ways, greenhouses and orangeries. (Oh, my heart for an orangerie)!
Otherwise, you can even bring your rose plants into your home. Although they might not look like much while they are dormant, you'll know that come summer, they will be alive and blooming again.
Wherever you store your rose plant, don't store it into direct sunlight – this will encourage your rose to sprout and bloom! If your rose doesn't get her precious rest, her flowers throughout the summer will be weak and it will be more susceptible to disease. So, keep your rose somewhere darker where she can sleep undisturbed.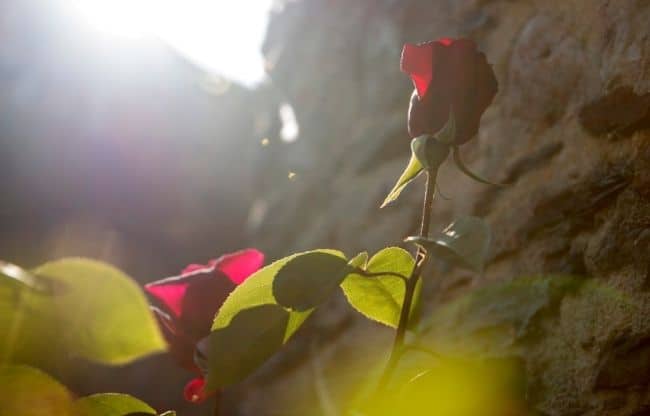 How To Water Roses In Pots In The Winter
Roses in pots need watering throughout the winter.  Although some winters can be wet, a cold winter is actually drying for our plants and might deplete the water level in our rose bushes.
The best way to tell if your rose plant is getting enough water is to check that the soil is still every so slightly damp. Not wet, but just slightly on the damp side.
If not, top up your water. I check my roses daily in the water, but if you miss a day or two it won't kill your rose don't worry!
Keep an eye on the main cane and the area around the base of the cane. When the weather is both cold and damp it can encourage damp to form and take hold around your plant. Watch closely for changes in the cane color and ensure it's not damp. If it starts to get damp, hold off watering for a few days while your water evaporates or is used by your rose bush, before resuming watering again.
How To Prune Roses In Pots In Winter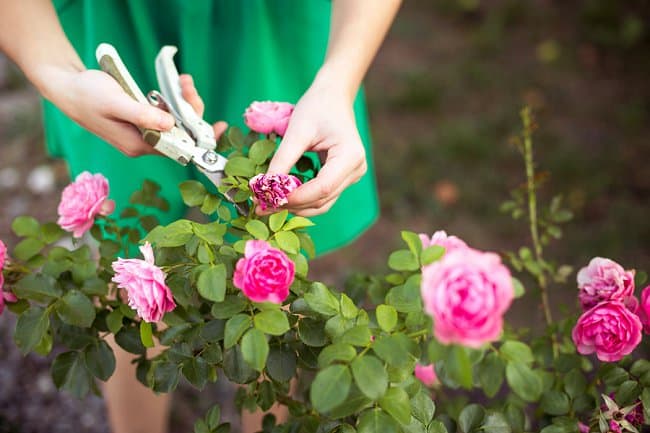 Your goal when pruning roses in pots in winter is to
remove dead leaves
cut away old blossoms that might still be lingering
remove dead wood and dead cane (cut any dead-looking wood – if it's not green inside, it's dead)
cut back thin, spindly new growth (your rose shouldn't create new growth until springtime).
Gardeners always seem divided on the best time to prune their roses, so I basically grab my shears and hack away whenever I see unwanted growth, dead parts of the cane, dead leaves, and deadheading old blossoms.
Many gardeners though, recommend pruning during the first period of fall, and the last period of winter. Now, this is going to depend on where you live, how big your plant is and how much there actually is to prune, your rose species and the weather that particular year.
You should generally aim to prune after the last frost, which ensures any weak new growth is immediately pruned away to make way for the stronger growth that will come in the spring time and yield amazing blooms.  However, some gardeners also suggest pruning after the first frost, to prevent any weak new growth that has sprung to life thinking it's springtime.
But how do you know when the last frost is? what if you live in a country that doesn't get frost, like I do?
This is where it's sometimes ok to throw away the gardening rule book and go by what you see.
Does your plant have thin, green, spindly shoots starting to poke through, despite the winter not yet being over? (common in mediterranean and warmer countries)
Does your plant have a lot of dead looking, dull spikes of cane jutting out?
Does your plant have any signs of dead flowers left on the cane?
Then prune away!
Cut at an angle with sharp, clean shears and try to make it a clean cut, rather than multiple hacks at the cane.  This prevents diseases from creeping into the 'cut' cane.
After pruning, spray your rose plant with an antibacterial spray (preferably organic) – this will stop infection creeping in which could ruin potted rose plant come springtime.
Should I Feed My Patio Rose In Winter?
Your rose will need much less feed in the winter than it does through the spring and summer months. Remember our goal is to encourage our rose to rest, not to wake up ready to party with lots of new shoots!
Stop feeding your rose around mid-October.
Start re-feeding again in around February, to ready your rose for spring BUT watch out for shoots that spring up too early. You should still be cutting back any thin or spindly growth at this point – anything that looks fragile, or thinner than a pencil.
If you follow these steps in this guide, your potted, patio or container rose will survive the winter and will be ready to give you gorgeous blooms come springtime.
Of course, you'll also want to ensure that you understand and follow your particular rose species' guidelines, as every rose plant is slightly different and has different needs.
You might also want to check this post out, if you want to keep your potted rose healthy and well. Click here to see it!