As I recently found out by killing my poor rose, if you want to keep yours alive, you're going to want to know how to water roses in containers!
It's a little different from watering rose bushes planted in the ground, and very different to just sticking it in there, throwing on some water every now and then, and hoping for the best!
Roses so often seem like a delicate plant is but the truth is they are tougher than we think – you don't get 'wild roses' surviving for years on end without them being reasonably hardy!
However, you're going to want to increase your roses' chance of survival as much as possible, so this post is going to show you how to water your container rose plant so that your rose can thrive as it is meant to! (It's also a tribute to my poor dead rose plant).
Here are some of the things I learned – my ultimate tips and tricks that will help keep your container rose plant fresh and happy!
Disclosure: This post may contain affiliate links, which means that we may earn commission from qualifying purchases at no extra cost to you. Learn more.
How Often Should You Water Roses In Containers?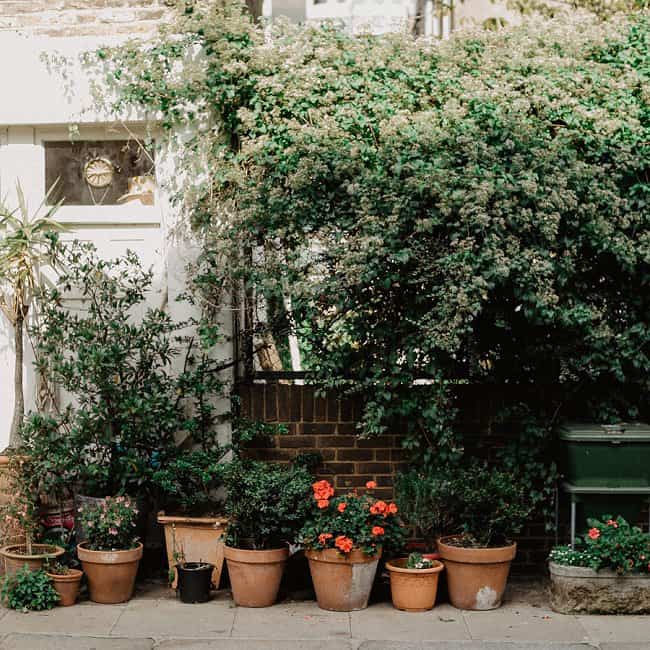 You should know it is time to water your rose again when you can see that the top part of the soil is fully dried.
Help yourself out by popping your finger a few centimetres into the soil, next to the plant, (carefully as to not damage the roots).
If the surface is dry, and the soil beneath the surface is dry, water immediately. If the surface is dry, but the soil beneath is wet or damp, you may hold off on watering it for a bit longer.
In general, roses like a damp, moist soil – not oversaturated!
The consistency of the soil should be sponge-like, not too dry and not too wet.
When To Water A Freshly-Potted Rose
If you have just planted your rose, it's going to need a good watering. This helps your rose adjust to it's new home – kind of like letting it know everything is well and it will be happy there! Roses can go into shock when they are repotted, which can look like it's dying – and sometimes the effect takes a few days to show up.
Giving it a good shower helps ease the rose shock. Although you won't need to do this if there has been torrential rain on the day, or the day before.
The Best Time To Water Roses In Pots And Containers
You're going to want to avoid watering your roses in the daylight hours (around 9am – 6pm) – your rose bush can actually experience sunburn if water drops remain on the leaves in high temperatures! (Nope, sunscreen doesn't work on roses) 😉 
Plus, much of the water might evaporate in hot weather, meaning the water is lost before your roses get to drink it. 
So,  good habit to build is watering the roses as soon as you wake up, in the morning hours from around 7am – 9am, and as early as possible if you live in a hot location. 
The Best Tip For Watering Roses In Containers!
The best tip I can share with you is probably this – to keep water off of rose leaves!
Rose leaves are pretty sensitive to just about anything – from more shade than they're used to, to you fiddling with them – in general, they hate anything touching their leaves.
Wetting the leaves also makes the rose prone to many plant diseases as well as fungal diseases. Nobody wants those!
In case some foliage gets wet anyway, if you're keeping to your morning watering routine, it will have a chance to dry off before the sun sets and temperatures fall.
You can give your roses a quick powerful hose down once a week in hot climates, which also helps prevent mites and bugs.
How To Use Drip Irrigation To Water Roses In Pots (For Beginners)!
If you are a seasoned gardener, you might have also heard about drip irrigation. It is a watering system designed specifically to avoid watering any other part of the plant, but rather delivering the water straight to the roots.
Drip irrigation systems are fairly cheap and easy to set up, after which they "just work"! You don't have to fiddle with the rose leaves at all or care about wetting them/wiping them, and you can even go away for the weekend and leave your irrigation system on! They really are the simplest way to look after your roses in containers and make sure they are watered properly.
Check out a super easy starter kit here – it's one of Amazon's recommended products, based on great reviews and value for money.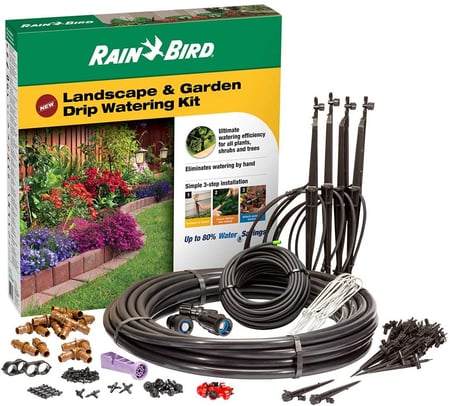 How Soil Impacts How Frequently You Water Your Rose Plant
How often you need to water your roses will directly depend on the soil type you're using.
Generally, soil with a large component of sand drains easily and is bad at retaining water. Soil with a large component of clay is better at retaining both water and moisture. The best way to test whether your rose needs more water is simple – do the finger test, as above!
You can order these soil testing kits (most popular ones on Amazon). They're not the prettiest item you'll have in your garden toolbox, but I LOVE these little gadgets, as they not only tell you how acidic / alkaline is, they will also let you know how much sunlight your soil and plants are receiving, as well as how much moisture is in your soil!
So, if you want to be precise – (indeed one of the reviews for a similar product said this is the most underrated tool any gardener can own)! you'll want to check this out.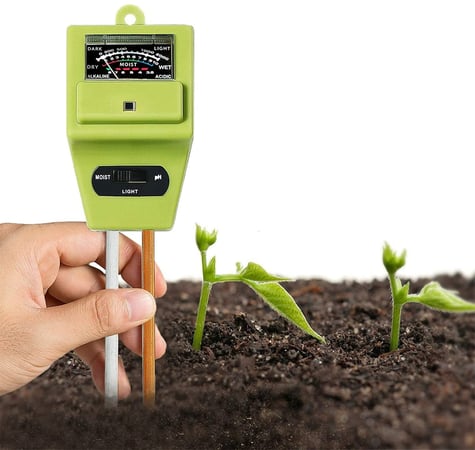 Where You Keep Your Potted Rose Determines How To Water It
By default, potted roses require more water than roses planted in the garden. Indoors, they might dry out less quickly than roses kept in containers outside, which are more likely to have their water evaporate much more quickly. However, in winter your roses also might dry out in the heat and dry conditions caused by central heating.
Keep checking on the soil as an indication for how much watering your rose will need. Remember if you have multiple varieties of rose, they might require different amounts of water. A potted rose bush in a container indoors might need less water than your rose bush outdoors, or vice versa, so don't assume that just because one needs watering, the other might do too. Keep checking! 🙂
Other factors that influence how to water your rose in containers

Age of the rose
Size of the rose
It is well-known that you should take special care of your young roses – if you have just planted a rose, you need to make sure to water it extra, as especially during fall and winter they are prone to droughts and dry spells. Take this seriously – studies show that most new rose plants don't survive, because of lack of water.
Young roses take their time developing their root structure, so their water intake might not be as regular and as balanced as in veteran rose bushes.
Try relaxing your watering schedule after 6 months have passed, at which point the rose will have branched out its root structure and will have become much more adept at finding and taking in water from furthermost parts of the container.
The the larger your rose plant, the more water it will need.
Beginner Tips For Watering Roses:
In extremely hot weather, as a rule of thumb, water your roses daily.

During typical summer weather (without extreme temperatures), water your roses every 1-2 days.

In warm and dry weather, water your roses once to twice weekly.

Keep wind in mind! Wind tends to dry out both the soil and the rose much faster, so additional watering may be necessary in windy areas.

Keep checking the soil
Best Watering Technique For Roses In Containers
The best way to water a rose plant is to give it more water at once, rather than small amounts of water over a span of several waterings.
Roses need to develop deep roots, and frequent watering will discourage that, teaching the rose that the surface is always damp and that there is no need for the roots to spread out in search of water. 
Less frequent watering also helps the soil not be constantly saturated, as constant saturation or waterlogging is also linked to unwanted acidity of the soil. (Clay soils are more prone to oversaturation, as they are harder to release the trapped moisture. This stands as the number one cause of "unexplained" plant rot). 
Once you start watering, make sure to water very near the ground to avoid splashing. Water slowly to make sure to give the soil enough of a break to be able to take in the water. 
Don't dump all your water in at once, especially if the watering was preceded by a long bout of extremely hot weather. Extremely dry soil takes longer time to process and absorb water, so hasty watering is a sure way to oversaturate it.
Your goal should be for the water to penetrate about 45-50 cm into the ground.
What type of a watering can is most suitable for roses?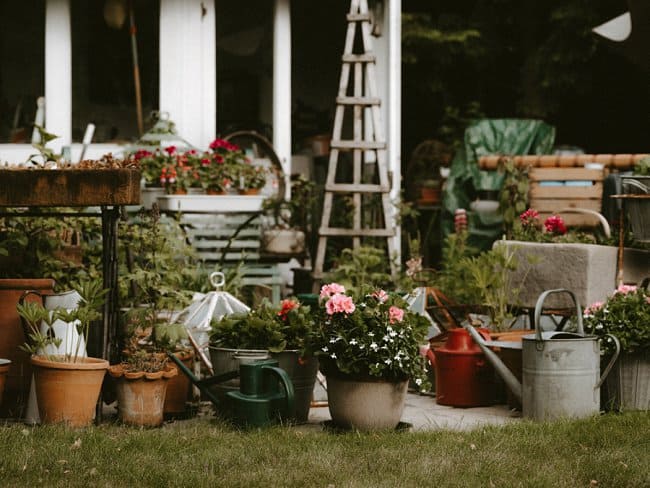 While you can provide water to your rose in any way convenient to you, the best for the job are large, classic-style water cans that have a rose-like spout that prevents water from coming out in a single, harsh stream, like typical garden hoses do.
Avoid using garden hoses or direct tap streams, especially high-pressure ones, as they have the potential to damage roots that are close to the surface and erode away the soil around the basis of the plant.
Help! My Potted Rose Plant Soil Keeps Drying Out
However, if you are fighting a losing fight with your soil type, you might want to consider adding mulch to your rose plant in containers.
In case you have no clue what mulch is – I didn't! – mulch is any type of material spread over the top of the soil to keep moisture in
There are several different types of mulch to choose from and they all serve the same purpose – keeping the moisture in and reducing the need for watering as often.
Mulch can be
Bark

Compost

Manure

Grass

Newspaper

Shredded leaves

Straw
Mulch should ideally be applied thickly, 5-7 cm in thickness, around the base of the rose. Apply it in mid-to-late spring, to damp or moist soil, making sure the soil isn't cold or frozen. Remember to replace it at least yearly.
Have I Over-Watered My Potted Rose?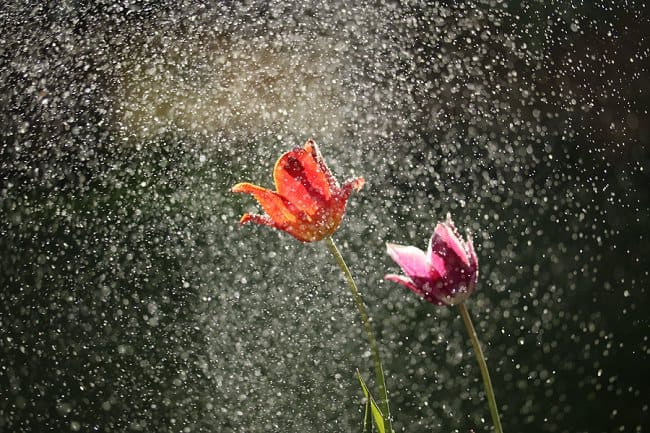 A clear sign that the rose needs water immediately is drooping and wilting. The bloom will look off-coloured and saggy and so will the leaves – this usually calls for watering post-haste. 
If you can help it, do not let your roses get to this stage, as this appearance is a result of a stress on the plant, and can further influence slower and decreased bloom and a greater chance of the plant failing in the long run.
However, a clear sign that the rose needs less water is yellow leaves. You will also probably notice new bloom wilting away and being rejected from the plant rapidly, and you may also see some leaf dropping. With such symptoms, root rot is quick to follow.
Avoiding over watering means avoiding putting your container-planted roses in trays, bowls or saucers. Drainage needs to be allowed, and having the container sit in the water will have roots rotting fairly fast.
*Product images from Amazon