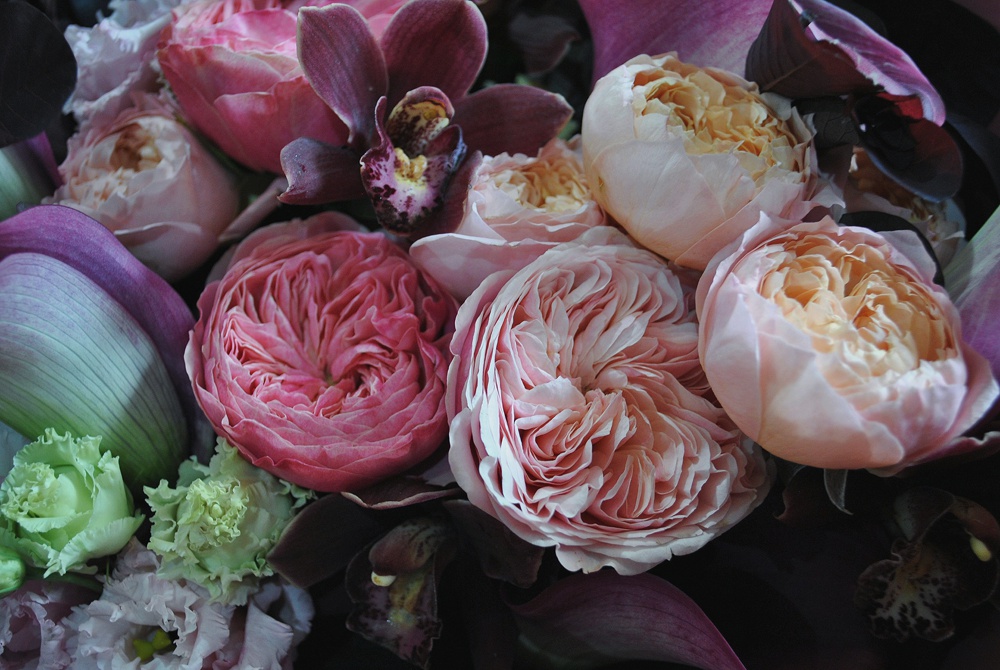 Peonies are my favourite romantic flower after roses, which got me wondering recently –  can you plant roses and peonies together? That would look SO amazing in a garden, but would it work? Wouldn't you need to consider their individual watering needs, soil, plant size etc? 
The good news for other romantic flower lovers, is that yes you can definitely plant roses and peonies together! Peonies and roses have similar watering, feeding, sunlight and even soil needs, which is why you can plant roses and peonies together in the first place. Peonies require slightly less watering, approximately 2.5 cm of water twice weekly. They require less fertilising, and will be happy with any organic fertiliser once yearly. Loamy, well-draining, slightly acidic soil with an organic component is a must for healthy peonies and roses! Both roses and peonies are perennials, so they will flourish year after year.
While you can plant roses and peonies together, they won't flower together – this is important to note if you are planning a bridal bouquet! Peonies flower in April, May and June, while roses start blooming in late spring and can bloom all summer. So if you want to harvest these flowers together, you'll need to choose a rose variety that blooms earlier such as a type of Floribunda rose.
If you want to plant roses and peonies together, good news is that you can do it in almost any sized space, including your balcony! You can plant a rose with a peony or two in a 40 to 50 L container simultaneously, and with at least six hours of sunlight a day, they will thrive just the same as they would in a garden.  
Ultimately, expect peonies to bloom in early to mid-Spring and roses to bloom in early to late Summer. Don't plant roses and peonies at the same time. While you can plant roses and peonies together, choose to plant roses in spring and peonies in autumn for best yield. 
If you plant roses and peonies together, this means an entire spring and summer worth of beautiful flowers. How cool is that?!
How To Grow Peonies And Roses
Peonies are beautiful perennial flowers and they grow in a range of colours and scents, much like roses. Usually, a peony comes in three distinct types: herbaceous peony, tree peony and Itoh peony.  Peonies have three distinct types – herbaceous peonies, tree peonies and Itoh peonies. Herbaceous peonies live long, tree peonies are shrubby, and Itoh peonies are small. Peonies make gorgeous bouquets, and when paired with roses they make beautiful arrangements for your wedding or home. The good news is you can grow them together, much more easily than you might think.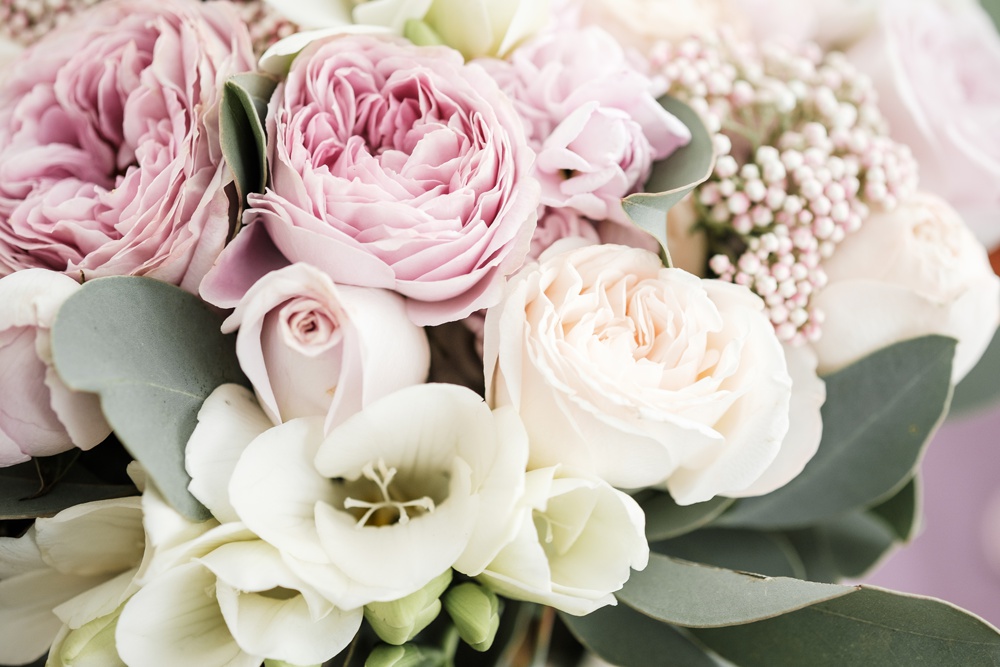 What are herbaceous peonies?
Herbaceous peonies are known to be long-lived, and can thrive for over half a century with proper care. A fairly low maintenance flower, herbaceous peonies will reliably flower year after year with minimum care. They are naturally resistant against pests, cold weather and diseases!
Lady Alexandra Duff and Sword Dance are my two favourite herbaceous peony varieties.
While Lady Alexandra Duff is an elegant, rose-like dusty-pink flower with tresses of petals, Sword Dance is a perfect dark pink and more reminiscent of meadow flowers than Old English roses.
What are tree peonies?
Tree peonies are shrubs which flower in mid-Spring. Growing about 5 feet tall and 5 feet wide, tree peonies don't need pruning! Due to their hedge-like nature, these peonies are often used for borders, around fences and walls. Tree peonies are less hardy and have to be winter-protected in USDA hardiness zones below 5 (where winter temperatures can reach below -25 degrees Celsius). However, once established, tree peonies can last you a lifetime.
Age of Gold and Impumon are my favourite tree peonies – Age of Gold is wonderfully gentle in its yellow, while Impumon contrasts with the deepest of reds.
What are Itoh peonies?
Finally, Itoh peonies are the hybrid child of herbaceous and tree peonies. They are perennial, while at the same time sporting large, fancy flowers. Named after the Japanese gardener who was the first to successfully cross the types, Itoh peonies are short, topping up at only 2 feet tall.
First Arrival and Canary Brilliants are the creme-de-la-creme of this type, First Arrival sporting a mesmerising lilac colour, and Canary Brilliants dazzling in blush peach.
Should I plant peonies and roses at the same time?
Roses and peonies should not be planted at the same time! Both of these beautiful flowers bloom at different times, and so need to be planted at different times accordingly. Roses should be planted in the springtime, and peonies should go int the ground in autumn. 
Preferably, your rose plant should go into the ground after the last frost. Very technically, you can plant roses in autumn, just before the first frost, but this is not recommended. Roses planted into the incoming frost risk reacting badly to cold soil and the elements, making them much more susceptible to dying before they're able to thrive.
Conversely, plant peonies in autumn. However, keep in mind that they don't really like transplanting, and you should avoid touching the roots too much. Early to late October is ideal time to plant your peonies, and you can definitely get away planting them in November as well, if you live in a Mediterranean or Californian climate.
The deadline is about five to six weeks before the ground begins to freeze. In complete contrast with roses, peonies planted in spring don't do well, and continuously lag in development.
Do peonies and roses have the same feeding needs?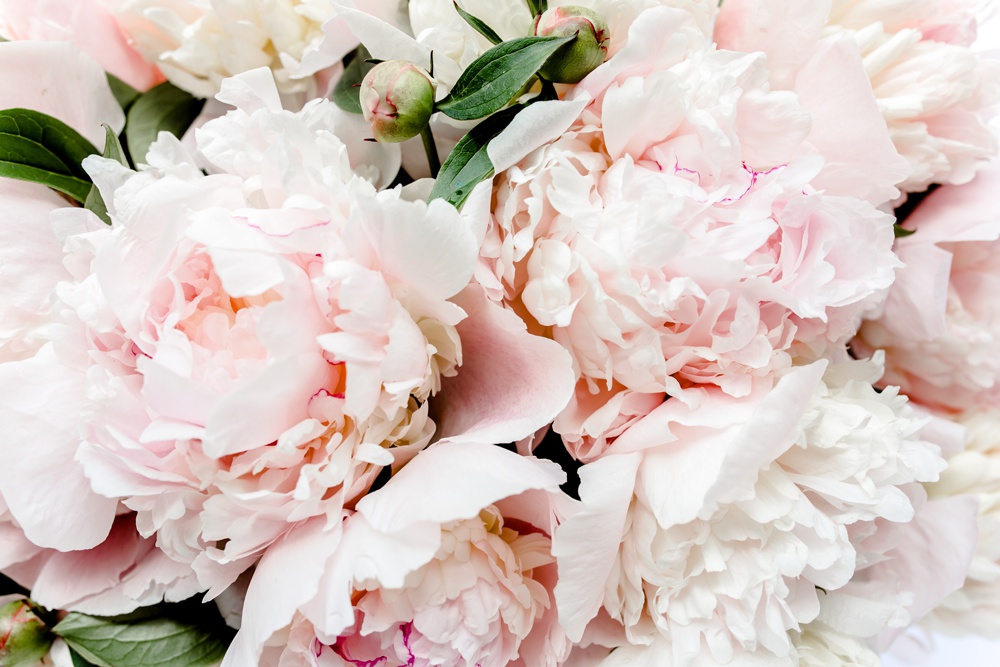 Peonies and roses don't fully have the same feeding needs. While both flowers need some incentive to flower better, roses are far more the voracious feeder among the two and will need fertilisation more often. The good news is – both are big fans of organic fertilisers!
Roses like to eat and need nitrogen, potassium and phosphorus to thrive. All of these can be found in organic fertilisers, such as coffee grounds, rice water or tomato feed. For best performance, roses will need feeding throughout the season. You can begin fertilising after the last frost has passed, continuing to add nutrients every 3 to 4 weeks. Discontinue in last weeks of August, or 6 weeks before you expect the first frosts to be coming, in order not to encourage any new growth coming on.
Peonies are so low-maintenance you don't have to do anything at all. They will thrive regardless! However, if you're keen on spoiling them, fertilise once yearly – either in early spring, mid-autumn or late winter. Generally, peonies like tulip fertiliser, which is lower in nitrogen. Mix it in with bone meal or well-rotted compost for best results. The key here is NOT to over fertilise, as you can really damage the peony.
Do peonies and roses require the same amount of water?
Peonies and roses have similar water needs. Be that as it may, your roses will need a more frequent drink than your peonies!
Peonies are known to be able to sustain themselves throughout arid summers. If your area gets frequent rainfall (i.e. once weekly), you will only need to water your peonies once they're planted. In climates with less frequent rainfall, irrigate your peonies twice weekly, which means that you should give them a drink of water of no more than 3 cm of water per plant.
On the other hand, roses do love a frequent drink and will parch in arid conditions. During winter and spring months, water your roses once or twice weekly, making sure that the water doesn't pool. However, during hot summer months, up the watering to once daily, preferably in the morning to avoid bloom and leaf scorching.
What soil type is best for peonies and roses?
Roses and peonies have the same tastes in soil, namely, both like well-draining, acidic, loamy soils. In part, this is the reason why they go so well together as companion plants!
You can plant peonies and roses in a run-of-the-mill, store-bought rose potting mixture. However, you can custom make your own soil easily at home. Combine 1/3 perlite or vermiculite, 1/3 peat moss and 1/3 well-rotted compost. To this mixture, add about 1 to 2 cups of bone meal, lime and cottonseed meal. Peonies are especially big fans of bone meal, and it serves to propagate their flowers and keep them blooming!
When do peonies bloom, and when do roses bloom?
The great thing about planting peonies and roses together is the way they complement each other when it comes to blooming seasons. Peonies bloom anywhere from early to late spring, usually around April to May. In contrast, roses bloom from late spring to late summer, usually from June to August. 
Planting peonies and roses together is a great way to continue having blooms throughout the entire spring and summer season, without any extra effort!
Do peonies and roses need sun or shade?
Peonies and roses both need at least six hours of sunlight. Much like roses, peonies will also take all the sunlight they can get! Make sure to plant both in a location where they're getting, at the very least, dappled shade. Ideally, look to plant at a location where both can get full sunlight.
Do rose roots stop peonies from growing?
Rose roots won't stop peonies from growing. If both plants are given enough space to accommodate their size at full maturity, at least 15 to 20 centimetres apart, the roots won't intersect.
Part of the reason why roses and peonies do well together is that they are fundamentally different in how they grow under the soil. Roses have deep, thin roots which will branch out far and wide as the plant establishes to maturity. On the other hand, peonies have roots which are more akin to underground stems, and they are quite thick and short. When transplanting, take care that you're not positioning the plant too deeply into the soil. No more than about 3 cm of soil should be covering the uppermost row of roots. Planting your peony any deeper than that will result in a smaller flower yield.
As a result, deep and thin rose roots and shallow, stem-like peony roots will rarely intersect and bother each other.
How many peony seeds should you plant around roses?
As peonies generally reach 3 by 3 feet at most, you can plant at least 3 to 4 peony seeds around your rose. Peonies are plants that are small in stature, and can be quite a good choice for small garden spaces.
However, peonies and roses should be planted at least 15 to 20 cm apart, in order to allow precious space and breathability at mature sizes. As most peonies are smaller than roses, a single rose plant can easily be surrounded by 5 to 6 peony seeds provided the garden space allows for it.
How many peonies and roses should you plant at the same time?
Be careful – don't plant peonies and roses at the same time! That being said, you can plant as many peonies or roses at one given time as you please!
However, peonies, just like roses, are a plant that requires patience and takes a long time to establish, sometimes up to several years. If you're a beginner gardener and don't really know how your garden should look like, consider planting one or two roses in the spring, followed by one or two peonies in the autumn (and keep their distance – about 30 to 35 cm between each seed). While the rose is establishing, the peony will be following suit, helping you to better create a vision of your garden. Alternatively, you can choose to transplant roses and peonies, which will give you a much better control of how the garden could look like in the end.
What colour peonies and roses should I plant together?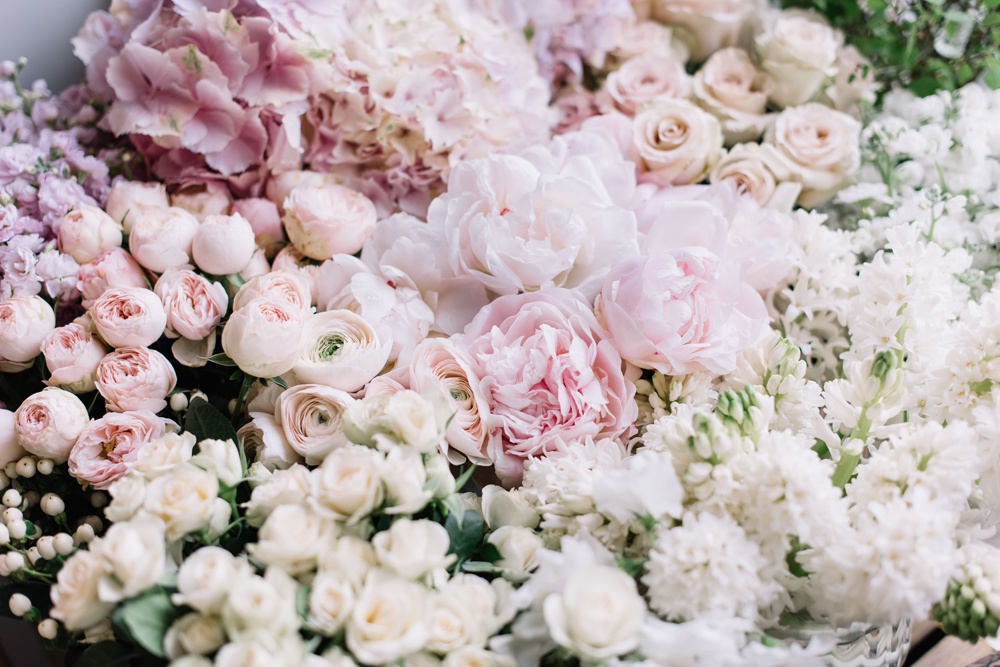 Peonies and roses go well together, and especially so when the colours mix and match!
Using a gardening colour wheel such as this one will aid you in creating different colour schemes, according to the representation you want to see in your garden. It's quite simple to use one!
Almost all color varieties go together.  If you have a pretty, cottage or English style theme for your garden or bouquets, select pink tones, creams, lilac, and other pale shades. If you want bold splashes of colour and your flowers to take centre stage, crimson red roses make a beautiful and bold statement.
Creating an analogous color scheme for your garden
To create an analogous colour harmony in your garden, simply take the colours which are right next to each other on the colour wheel. Some good combinations are:
orange and red (Peony Mock Orange Yellow and Rosa Ingrid Bergman)
yellow and orange (Peony Prairie Charm and Rosa Dame Judi Dench)
How to create a complementary color scheme for your garden
If you're a fan of complementary colours, choose those which are each other's precise opposites. These include:
orange and blue (Rosa Confidential and Peony Blue Botanicula)
purple and yellow (Rosa Blueberry and Peony Garden Treasure)
Create a triad of colours by combining multiple varieties of peonies and roses. Imagine a triangle in the middle of the colour wheel, with each point corresponding to a colour. My favourites are:
orange, green, purple (Peony Coral Charm and Rosa Ocean Song against shrubs or own foliage)
yellow, red, blue (Peony Primavere, Rosa Freedom, Peony Blue Botanicula)
If you like a single colour, why not paint them all the same? For a monochrome palette of colours, choose varieties of a single colour in different hues:
darker to pastel reds (Rosa Red France, Rosa Paris, Peony Knighthood, Peony Crimson Glory)
darker to pastel oranges (Rosa Nina, Rosa Santana, Peony Singing in the Rain, Peony Fields Timaru)
How to plant roses and peonies together in pots
Peonies and roses are both plants that do great in pots. If you have really big containers at hand, they can even be planted together!
To plant one medium sized (4 by 4 feet) rose and one or two medium sized (2 by 2 feet) peonies in a container, consider a large container that is at least 40 to 50 L (10 – 15 gallons) in volume. This ensures that all plants are properly spaced and that the rose and peonies have space to breathe. Generally, keep your peonies at least 1.5 – 2 feet apart to ensure proper development.
How to plant a rose in a container
Prepare your store-bought rose plant for transplant. This means that you should gently lift it out of its container, without messing with the soil that is on its roots.
Fill the container with rose potting mix, store-bought or homemade. Create a hole in the middle which will fit the roots, about 15 to 20 cm deep.
Place the rose into the ground. Gently pat the soil around it, allowing it to firm up in place, but don't push too hard. Don't water if you're planting peonies straight after.
How to plant a peony in a container
Prepare your bare-root peony. If you're a beginner, choose buying a bare-root over propagating seeds, as it has a higher success rate.
Dig a hole, about 20 to 30 cm deep and add about half a cup of well-rotted compost or bone meal. Spread evenly at the bottom.
Place the root inside, only about 5 centimetres deep. For early blooming roots which are planted in warm climates, plant only 2.5 centimetres deep to ensure a good blooming season once the peony reaches maturity. Planting deep makes for a stronger plant, but will ultimately yield weaker flowers.
Fill the hole and gently tap around with soil. Again, the roots are shallow, so don't press hard!
Water both your rose and peony thoroughly, until water starts leaking out of the drainage holes at the bottom of the container.
There you have it, girls! You can plant roses and peonies together, and there is no doubt in my mind they will look gorgeous in your garden! What's your favourite rose companion plant? Let me know all about it!