Have you ever cleaned your coffee machine filter after an early morning cup of coffee and thought to yourself – hmm, what do I do with this?  Can I somehow re-use the coffee grounds, preferably in my garden, without just tossing them into the trash?
Good news is, much like us humans do, roses also quite enjoy coffee, albeit in a different way! Roses absolutely LOVE coffee grounds – not only do they add nitrogen to the soil, making it slightly acidic, and perfect for rose growing – coffee grounds also keep away bugs, as well as containing essential minerals such as potassium, to further encourage healthy rose plants. So, now you know what to do with your morning coffee grounds! However, coffee grounds have to be used with caution – they can actually kill roses if used improperly.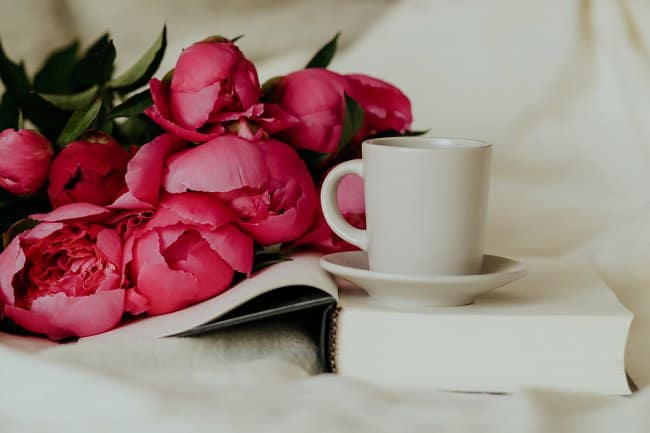 Why do roses like coffee grounds?
When it comes to using natural remedies in our gardens, it is good to know they are not always harmless. This also applies to coffee grounds. There is a right and a wrong way to use coffee grounds to aid your roses. It is important that you make the distinction, lest you do more harm than good to your rose garden. Therefore, before you leave the local coffee shop with a bag of grounded mild roast in addition to your vanilla latte, educate yourself on the proper use of coffee grounds for gardening purposes.
Roses are, by their nature, acid-loving plants. This makes coffee grounds just about the perfect addition to their soil! There are many benefits roses can easily reap from adding coffee grounds in and around the soil they reside in.
However, we should first bust some myths. No matter if you are a new or an experienced green thumb, if you heard that coffee grounds are good for roses, then I am quite sure you also heard quite a bit of incorrect pieces of information. Let's work through some of the more common myths together!
Myths about coffee
Myth number 1: Coffee is way too acidic! It will damage your roses!
Completely untrue!
Much of the acidity that pertains to coffee you drink up – every morning, with some good cream and sugar. No need to be worried about the acidity of coffee, as for gardening purposes you should only ever use USED coffee grounds. Grounds have a pH which is anywhere around 6.4 to 6.8, making them only slightly acidic. Even if the acidity was an issue (which, it isn't), keep in mind that roses like this! There might be some fruit and flower varieties in your garden that might dislike increased acidity. However, roses, as well as most vegetables, actually quite appreciate a slight increase to the acidity of the soil they're in.
Either way, used coffee grounds do not work far out. They feasibly can't alter the pH of a large amount of soil over greater distances.  You would need months worth of coffee filter residue to make that happen! Rather, coffee grounds will work their magic subtly and locally.
Myth number 2: Use coffee grounds around the perimeter of a plant! It keeps out slugs and snails.
Beware this advice if you have serious issues with slugs and snails. Many times, gardeners report using this trick to simply…come back to their rose overrun with the critters anyway. Seriously, they don't seem to mind – coffee grounds simply don't do what garlic does to vampires!
If slimy creatures are plaguing your roses, use diatomaceous earth or specific, tested organic methods for keeping critters at bay. However, if you have dogs, cats or rabbits that like digging – it can work as a great deterrent. While coffee is harmless for dogs and cats, they seem to hate the smell which will make them leave your roses in peace.
What good do coffee grounds exactly do?
With all natural remedies we use in our gardens, it is good to ask yourself – why do we do the things we do? Asking yourself this question often is a quick way to skill up fast as a new gardener.
Coffee Grounds Can Make The Soil More Acidic
Research shows that, quite simply, roses just like a morning cup of coffee as much as we do! Roses love their soil ever so slightly acidic, and actually benefit and thrive from that alone! Application of used coffee grounds will definitely bring the pH of the soil down the scale – remotely and locally, only to where they are applied.
Coffee Grounds Contain Rose Nutrients
Coffee grounds have an amazing use as an organic fertiliser. Used coffee grounds are a great resource of nutrients, primarily nitrogen, secondarily of potassium, calcium and tannic acid. This makes them especially good to use on struggling roses. When introduced to the soil, nutrients from coffee grounds are, over some time, broken down into nitrogen by various microorganisms and earthworms.
Coffee Grounds Are Great For Roots And Young Roses
Roses and tomatoes LOVE nitrogen – it is one of their favourite meals! It is incredibly important for growing, young roses – definitely essential for new canes, stems, shoots, leaves and growths, as well as root development. Roses are particularly keen on coffee grounds because of the elemental composition and the measure between amounts of nitrogen, potassium and calcium they contain. In fact, the measure between the amounts is incredibly close to what you would find in commercial fertilisers! Another good proof that being organic is the way to go.
Coffee Grounds Suppress Weeds
Another great use for coffee grounds is as a weed suppressor, working overtime to protect roses from being overrun by growths of unwanted plants.
DIY Rose Fertiliser Using Coffee Grounds
Use coffee grounds as a great organic fertiliser by simply making the concoction at home following our recipe!
You will need:
used coffee grounds (collected from 2-3 days of making coffee)
strainer
a dry container
Collect used coffee grounds in a container for a few days. When satisfied with the amount, rinse in a strainer under a stream of water. Afterwards, dry the coffee grounds in direct sunlight for 2-3 days.
Store the dried coffee grounds in a dry container and offer to your roses once every 15 days. Rake the soil around the rose. To raked soil, apply about 4 to 5 teaspoons per a single rose plant. Throw the coffee grounds loosely from a height, not focusing on one place to prevent matting.
For added strength, feel free to mix in powdered iron tablets or egg shell powder ground to dust. Along with nitrogen, this will give your roses a calcium boost that will increase the quality and quantity of flowering. To avoid a nitrogen burn, apply moderately – organic fertilisers can still cause the same issues as commercial fertilisers if overused. Do not apply coffee grounds early in the flower season, or too late, as this is the time when you should not stimulate any new growth.
Mulch
Coffee grounds make a great base for mulch. However, they should never be used as solo mulch. If you insist on using them as solo mulch, be careful!
Coffee grounds have very fine particles and they are great at absorbing water. This way, if you apply only coffee grounds and make the layer a couple inches thick, you risk matting. Matting will occur when thick layers of fine particle materials absorb water. If matting occurs, coffee grounds may become completely anaerobic. This means that air will not be able to penetrate into the soil. The soil directly below your layer of mulch coffee grounds will not be able to breathe, and, rather than reaping the benefits, your rose might instead wither due to a limited supply of air that is able to pass through.
Instead, choose to mix coffee grounds with pre-bought compost. If you are lucky enough to be able to compost at home, throw coffee grounds into your composting bin and use in vermicompost! Worms love to feed on coffee grounds as well, which will speed up the entire process of composting as to what you have in your bin! The grounds and the rest of the compost will advance to the nutrients stage much faster – some gardeners call this speed composting, and it is a great way to create compost for your roses fast.
If you have no means to compost or mix with compost, apply used dried coffee beans to the soil directly by free-hand scattering, taking extra precaution not to have water disrupt the process and matt the grounds.
Make a well-draining potting mix
If you're just about to plant your new rose plant, definitely hang on to the remains of your cup of joe! Coffee grounds can be an excellent alternative to perlite or vermiculite, due to grounds' particle sizes and water retention capabilities. Coffee grounds are great with moisture retention, which makes for a well-draining component to your soil mix, especially for container gardening.
In general, using coffee grounds is a great option for all the environmentalists among you who are a bit like me – always trying to make best use of potential waste from your kitchen. After all – garbage in your kitchen, treasure in your garden!
Don't stop at coffee, read our post about feeding your roses with tomato feed!
And we'd love to know about your rose growing hacks – have you used coffee for your roses before? Let us know how it went, below!