If you have a party, photoshoot or even a wedding coming up, and you need to force rose buds to open STAT, there are several ways in which you can coax them open without damaging them.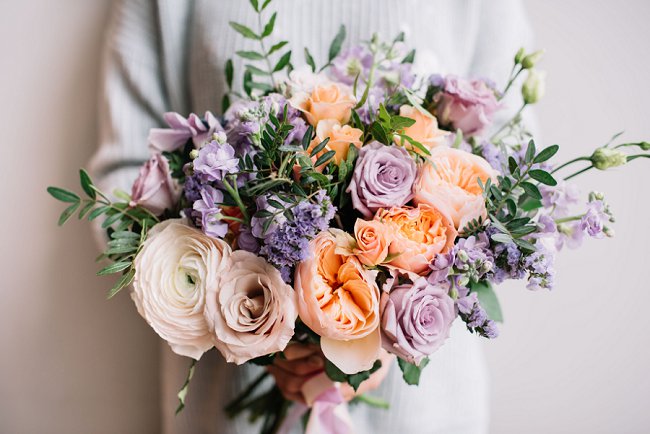 Have you seen the series The Crown? I surprised myself with how much I loved it! It's not my usual sort of thing to watch – I'll be honest, we live in a minimal tech home! and I don't really watch all that often, but The Crown won me over despite this; and one of the things I noticed while watching was how on point all the florals were. In the background were all these gorgeous rose displays! Of course they would have been styled deliberately, but it did get me to thinking more about florals in my own home. If you love those beautiful rosy displays, or you use roses for any sort of DIY or craft, you're probably going to want to know how to force rose buds to open!
To force rose buds to open, you can use any of the following methods. 
Fill a vase 3/4 full of bath-temperature water.  Arrange your roses however required –  the steam will encourage the petals to open
Cut shorter stems on your rose – the shorter you cut the stems, the faster they open (great tip for bridal bouquets). Use sharp, disinfected pruners or shears (sharp scissors will work), cut at a 45 degree angle, and cut the stems as short as your vase or purpose allows. 
Apply a dose of rose feed – giving the roses extra nutrients encourage them to open faster. Follow the instructions as per your fertilizer.
Blow onto the bloom – nobody is sure why this works, but blowing into the centre of a rose bud encourages it to open up!
Pull off the outside ring of petals known as 'guard petals' – this tells the inner petals it's time to open. 
These are the best methods to get rose buds to open quickly, but you must take precautions when following these methods, to prevent damage to your roses. But, if you follow these steps carefully, your rose buds will bloom fast!
Why would I want to force rose buds to open?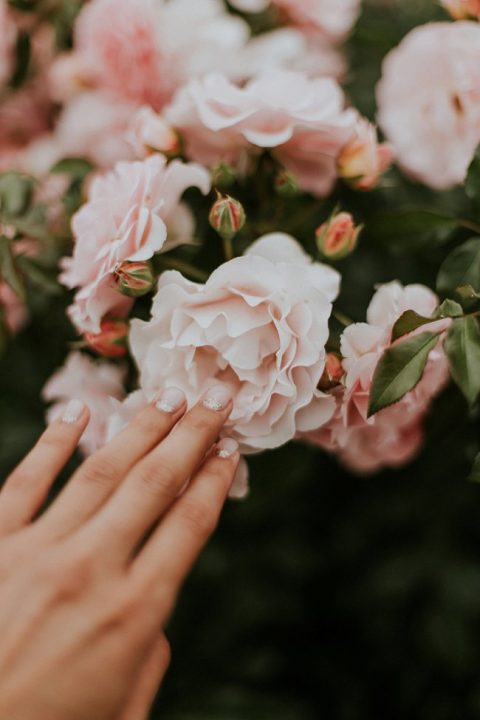 Roses tend to be cut before their prime. If cutting roses for a vase, arrangement or other display, florists and gardeners tend to cut the blooms while they are still young and a bit closed.
The reason for this is that closed blooms tend to last longer in vases. By taking a longer time to naturally open, they are able to outlast the flowers from the same bush cut down during full bloom.
While a flower in full bloom looks and smells like nothing else out there, there is a big possibility that once it is arranged, the petals might start dropping out or it might even begin discolouring within only 2 or 3 days of cutting.
However, while cutting roses while closed up is preferential, you might find yourself in a bit of a pickle even if you pre-planned meticulously. Roses tend to have a mind of their own, and rose buds opening up might be taking a little bit longer than you planned.
Will forcing rose buds open make my roses die quicker?
Well, a little bit. They will not last quite as long as they would if you allowed them to unfurl naturally.
This is why this method is not recommended if you are assembling a vase that is meant to last a longer time. Do what professional florists do instead!
Arrange your roses in the arrangement of your choice with the roses still closed up and allow them to open up gradually (allowing for a longer-lasting arrangement in general).
If you are a budding professional, making arrangements with closed-up rose buds is actually a very smart strategy if you ship creations to your customers. By the time the arrangement is shipped and on the customer's doorstep, the rose buds will have naturally started to open up on their own!
Should I force rose buds to open on my rose plant or bush?
Never try to force rose buds to open while your stems are still attached to your rose plant or bush.
Trying to force rose buds to open that are part of a living rose plant or bush can result in stress, and potentially even death of the rose bush.
Know that you cannot force nature! Blooming seasons come and go, and you have to allow your rose buds their due time to open up naturally. If the rose you want in your arrangement is not in season, switch it out for a similar-looking variety that is, or replace with similar flowers such as peonies! When the time is right, your rose will surely bloom.
Or, if you are desperate for some gorgeous flowers, cut some of the buds, follow the methods listed here, and bring them indoors!
Keeping Roses Intact When Forcing Them To Open Early
Clean tools and containers are a must to allow cut rose flowers to open and last long in a vase. Bacteria is never your friend, as it tends to plug the flower stems and prevent regular water uptake. The result are often blooms that do not open or roses with bent necks.
Make sure to wash containers and vases with soapy hot water. Rinse them with a solution that is 1 part bleach and 10 parts water to remove any bacteria that your washer cannot get to. Rinse thoroughly with water.
Your cutting tools are equally important in ensuring a bloom prospers. Soak secateurs in medicinal alcohol and keep the cutting blades sharp!
Additionally, when putting roses in a vase, remove all foliage below the vase's waterline. This prevents untimely rot and contamination of the vase water.
How to cut roses in order to easily force rose buds to open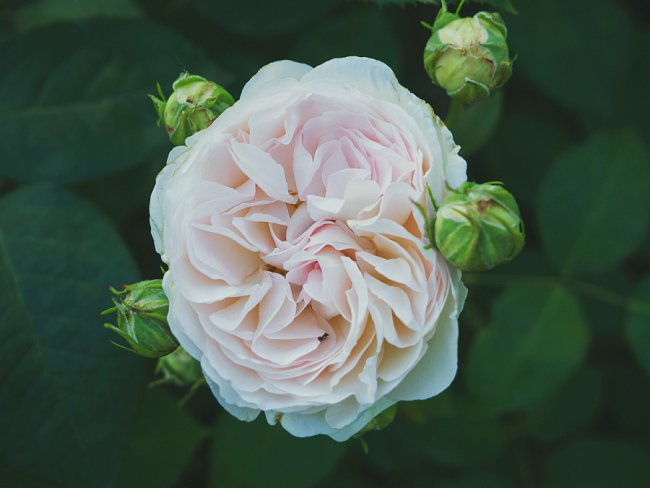 If you are cutting your own roses from your own bushes or plant, you need to know that rose blooms tend to be most vigorous and lasting when taken early in the morning. This is when they are full of moisture. If preparing to cut in the morning, make sure to give the soil an additional watering the night before.
Cut a rose flower only after its sepals have opened and turned downward. A sepal is the part of a flower that looks like green petals. If the sepals still wrap very tightly around a rose bud, do not expect it to ever open. You have a prematurely cut flower on your hands.
If the rose you want to cut is a variety well-known to have many petals on its blooms, delay cutting until a few rows of petals are open.
In order to be certain that a rose is ready to be cut, give it a gentle squeeze. If the rose flower feels soft and gives in to the touch, it will likely open. Buds that are very hard to the touch will not open once cut.
Opening the rose buds with water
If you have a healthy, sturdy and freshly cut flower that you need open right away (perfect if you have guests coming)!, one of the best ways is to use warm water.
You should use water that is as warm as a cozy, relaxing bath! Fill a vase 3/4 full of water.
You might notice that there is a little bit of steam coming off the water. This is ideal – steam will help open the blooms up, just like you would steam an envelope open damage-free.
The water level in the vase should be fairly high. This makes a lot of sense, because you want as much of that warm water as possible to be able to travel upwards through the stem. Roses tend to drink a lot of water in general. As the water they drink travels up, it will reach the bloom and open it up efficiently.
To ensure that the steam works its best magic, consider wrapping a clear, transparent and light plastic bag cover over the vase. This serves to keep that steam in and imitates the greenhouse effect for your roses, opening them up gently.
Add rose feed to water
Try to add some flower food to water to vase water in order to hasten the opening of the blossoms. You can use a commercial product for this, but as always, you can make your own!
Add 1/2 teaspoon sugar, 1/2 teaspoon lemon juice and a few drops of bleach to 3 litres of water and transfer to a vase in which you keep your roses.
(Just to bust a myth real quick here – neither aspirin nor pennies in the water help roses open! Aspirin, however, has other great uses for roses and you can read all about it here!)
Cut the stems of the rose
You want to give your rose a nice, fresh cut if you want it to open up the rose buds quickly, throughout the course of a day. If you have an event the next day you need your roses open for, this is the ideal strategy!
Cut the rose stem at the end with sharp secateurs at about 45 degrees angle. This way, you can increase the surface area, allowing the flower to drink more efficiently and quickly.
Try to take off only 1-3 centimetres off of a rose stem. However, the shorter you cut it, the faster the rose will open up.
Blow on the rose flower
Nobody really knows why this method works, but it works!
Face the bloom and blow in the centre of it several times gently, from about 10 centimetres distance. This is a great way to instantly open up the innermost blooms!
Pull off guard petals
Guard petals are the part of the outermost bloom of the rose. They are usually larger and thicker than inner petals.
By default, you shouldn't touch these if all the other methods of opening are working out for you. If they're not, a last ditch effort to open up a rose super quickly is to pull these suckers off!
Hold the rose flower in your non-dominant hand. With your dominant hand, take a petal between your thumb and index finger. Slide the fingers down the base of the petal until you are firmly pinching it at the very end. Pluck the petal off in a clean and gentle upward motion to take it off without ripping it.
If guard petals are streaked, discoloured or damaged – make sure to take them off either way! Otherwise, this method helps the rose open straight away! The next row of petals now has the space to open up and spread out.
I'm already on my way to create some beautiful tabletop arrangements! Now you know how to force rose buds to open early, and without damage to your roses.