Unless you read a manual or how-to guide on growing microgreens, it's hard to know how much light to give these little baby sprouts. This post will explain where exactly you should place your microgreens for optimal lighting. 
Lighting Requirements for Microgreens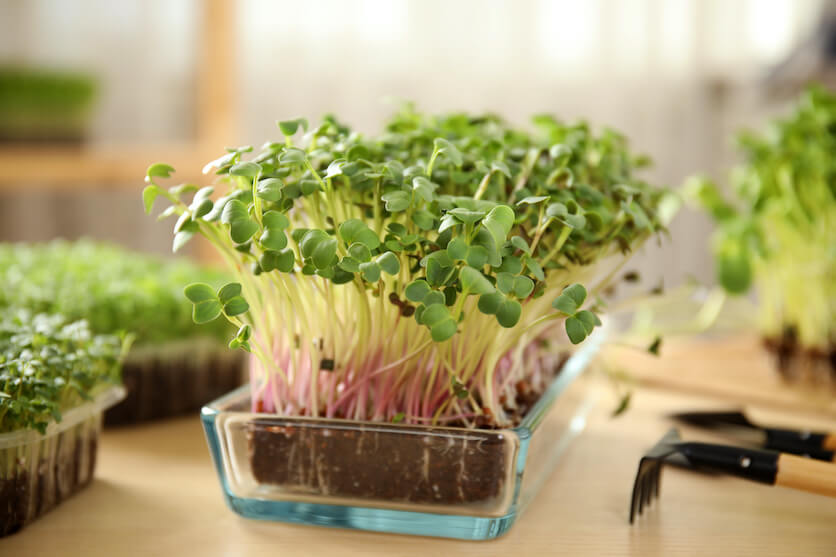 Disclosure: as Amazon Associate we may earn from qualifying purchases. Learn more.
Microgreens, like any other plant, need a certain amount of sunlight (or alternative lighting) each day. It's this light that helps it to grow. Too little light, and it may be stunted or not grow at all or die. Too much, and you end up with tiny little greens that look like they've aged quickly or they look burned up and dry. 
Microgreen Lighting Options
Microgreens do best with natural sunlight (about 6 hours per day.) However, for those who either live in an apartment, don't have immediate access to the outdoors, or it's the dead of winter, you'll need to supplement sunlight with a grow light. 
Grow Lights For Microgreens
Trying to figure out what kind of grow light you need and how many lumens, watts, color spectrum, and kelvins makes your head spin! I know, I have been there. So, I have made it super simple in recommending an LED full-spectrum grow light. 
A typical microgreen tray is what's referred to as a 10/20 (10 rows, 20" tray). A 10/20 tray requires 2-3 lights (20 watts each,) 1700-2000 lumens, full-spectrum, and 6000-6500 kelvins. With that being said, here are some recommended lights that do wonderfully with microgreens.
Small Microgreen Garden
Includes:
Tray
Table light system with an area where the tray is inserted
14-watt full-spectrum LED lights
The unit sits on a table or counter
Medium Microgreen Garden (2-Tier)
Includes:
2 tiers
Full-spectrum grow lights on both tiers
20-watt LED lights
All contained on a movable, wheeled cart
Large Microgreen Garden (multi-tier systems)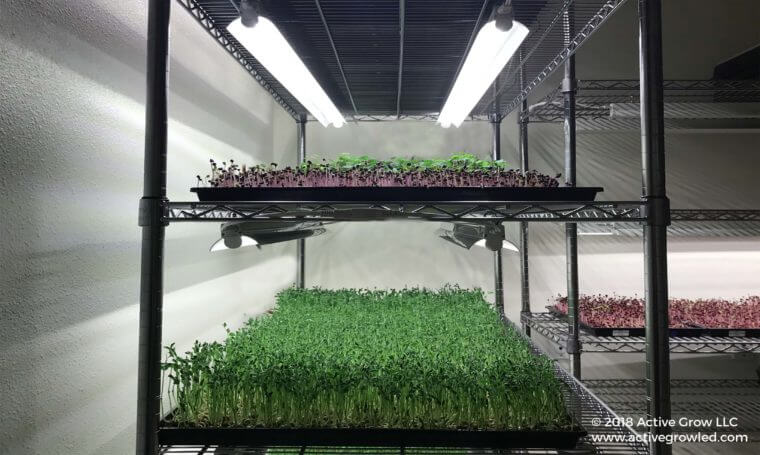 Active Grow Strip Lights (attach to most any type of sturdy open shelf unit)
2 strip lights per tier (one attached on front and back)
Scalable to create a sizeable growing system
White, full spectrum 
22-watt LED lights
Farmshelf All-In-One Enclosed Grow System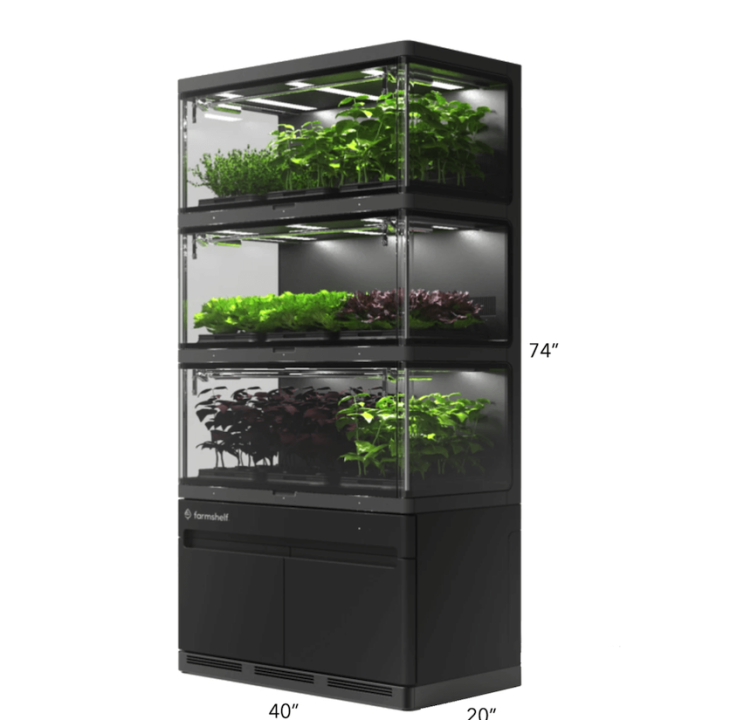 4 tiers
Fully enclosed
Automated lighting with sensor
How Many Hours Of Light Does A Microgreen Need?
Outdoors, about 6 hours of direct sunlight, is adequate for microgreens. However, if you have yours indoors under a grow light, it's ideal to have them about 15 hours on with a resting period of about 9 hours with the lights off.
Can Microgreens Get Too Much Light?
Yes, they can. Too much light causes your microgreens to burn. This is why if you have them outdoors, you should provide them with shade as necessary. For indoors with lighting, the lights should be turned off for a resting period we mentioned just above.
Wrap Up 
So, how do you know how much light to give them? You'll know when microgreens are having a reaction to not enough or too much lighting. If you see your greens wilting, not growing (stunted growth,) or appear to be yellowish, then you have a lighting issue. 
Don't forget to check out my blog for more growing tips and ideas for indoor and outdoor gardening!