Add a bit of pizzazz to a plant's "wardrobe." The eye-catching texture and color may prove to be highly beneficial for the plant. Curious to find out; keep reading?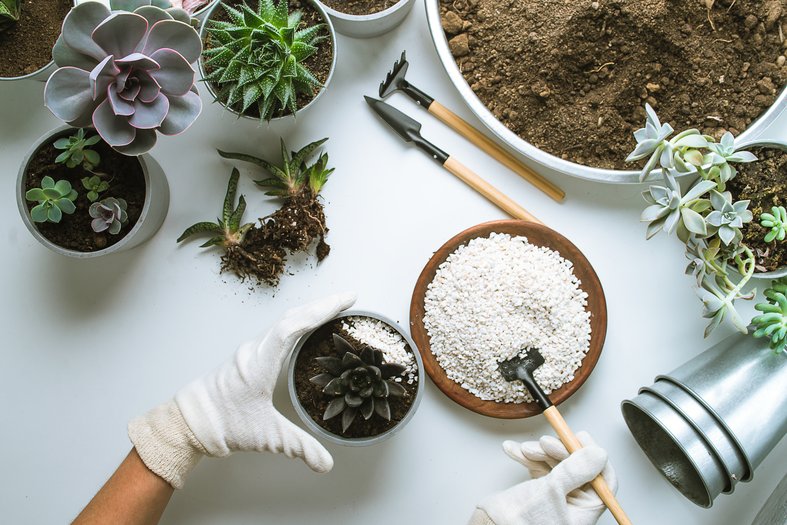 Soil cover is not something people hear too much about in or outside of the gardening community. When I was first asked about what I use for soil covers, I was stumped because I know it's a topical substrate of sorts. I got to thinking about how useful it would be for my readers to break down what soil cover is, its function, and creative ways to cover indoor plant soil. 
Before we dig into why soil cover is used, let's look at the various types. 
Types Of Soil Cover
When I began my search for creative ways to cover my houseplant soil, I came across some uber-creative ways to beautify and protect my plants. 
Outdoor Plant Soil Covers
Landscaping and outdoor gardeners rely on soil cover to prevent erosion, water runoff and provide aesthetic appeal to the outdoor area of homes and businesses. 
Disc Soil Covers
These round disc covers have a split to allow placement at the base of a tree or outdoor plant. Once in place, this disc helps trap moisture beneath it in the same way that mulch does. The disc provides protection from a mower while deterring the growth of weeds. Lastly, these discs beautify and enhance the ground area with a tidy look.
There are a few types of soil cover discs. Some are made from coconut coir (coconut fiber), while others are made from recycled tires and rubber. The coconut coir discs provide a more organic, natural element. The rubber discs may be black or deep red to resemble mulch.
Mulch
This type of soil cover is the most common cover used outdoors. Mulch comes in different colors and may be made from various types of wood. Regardless of color or material, mulch functions to retain moisture, prevent soil erosion and weed growth, but more importantly, it adds a beautiful touch to any landscape.
Hardscaping: Rock, Gravel, Stones
It's not unusual to find landscapes with colored hardscapes (rocks, etc.) alongside mulch. The textural effect is stunning. Just as mulch, hardscaping prevents soil erosion, helps to retain moisture, and adds beauty.
Sand
Sand isn't something I find incorporated into landscaping situations too often. However, it is used in landscapes in arid regions to supplement the soil or to layer on top of the soil for things such as a zen garden. 
Indoor Plant Soil Covers
Indoor soil covers are altogether different in function compared to their outdoor counterparts. I use specific soil covers according to the type of plant I have and what kind of effect I want to create.
For example, I use small white pebbles to cover the soil of my succulents and lavender. The effect is gorgeous and helps to act as a backdrop that highlights the beauty of those plants. In contrast, I like to use live moss to cover the soils of my container roses, hibiscus, and fig tree. My prized bonsai tree has a combination of pebbles, moss, and sand for a more zen look.
There's no set of rules on what to use with certain plants. Gardeners are artists who create their own masterpieces. If I want a vibrant yellow glass bead soil cover for my orchid or a mellow sea glass cover for my tomato plant, I add it. 
There is a limit to what I use for soil covers. If it harms my plant, attracts pests, harbors disease, or looks downright ugly, I pass and use better options.
Should You Even Cover Indoor Plants Soil?
Indoor plants do just fine without soil cover; however, I use soil covers to keep my cat from bothering the soil and to deter fungus gnats. Soil covers also reduce watering because it helps to retain moisture. I have to admit; I love the added textural beauty that soil covers give to my plants.
The downside to soil covers is it's a bit harder to gauge the dryness of the soil and when to water. Because of this, I grab my watering gauge, which is part of my indoor gardening tool arsenal. This nifty little gauge lets me know when it's time to water.
Indoor Plant Soil Cover Ideas
The gardening industry hasn't come up with very many options in soil covers for houseplants. So, what should I cover my houseplant soil with? I had to get a bit creative in ways to enhance and protect my plants. There are things to use to decorate soil cover for indoor plants; it just takes a bit of searching online and taking notice of plants in other homes and businesses to see what they use.
Here's what I have come up with so far!
Fish tank aquarium substrate (it comes in various colors)
Glow in the dark pebbles (beautiful at night)
Glass gems (I love using these in flower blooming plants)
Marbles 
Large/jumbo pearls (these provide a classy vintage look to any plant)
Crushed Brick
Sea Glass
Seashells 
Coconut coir (a nice organic, natural look for my Japanese plants)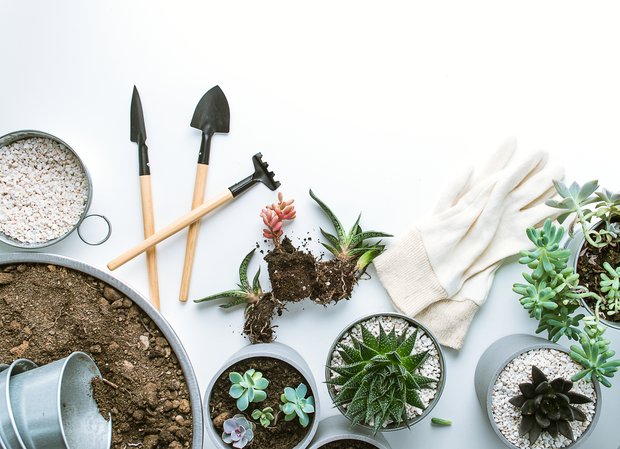 Which Soil Cover Is The Best?
There isn't one soil cover that trumps over another. To determine which is best comes down to how a gardener wants the soil cover to perform. Will it serve to prevent pests from invading the soil or keep the prying paws of pets out? Sometimes a soil cover may be nothing more than a lovely accent.
To Cover Or Not To Cover
I find that a plant without soil cover tends to look a bit naked. Once I began to experiment with various elements for soil covering, it became a passion. The sky's the limit in what gardeners can do to enhance, beautify and protect their plant's soil.