Typical rooting hormones encourage a plant to take root and grow, by giving it a blast of the minerals / vitamins / materials needed to thrive. However if you're not keen on pouring a load of chemicals into your garden, you're probably looking for an organic alternative. Aloe Vera is used as a medicinal plant with a ton of healthy properties – is Aloe vera a rooting hormone?
Along with salicylic acid, aloe vera contains useful enzymes, amino acids, saponins and minerals such as calcium, manganese, magnesium and zinc – all necessary feed for a growing plant. This makes aloe vera a great rooting hormone!
It's even easier to extract and use, and entirely pesticide free.
What is aloe vera?
Aloe vera is a cactus-like succulent plant – one of hundreds of different types of aloe plants. By far, aloe vera is the most common aloe type. It is often referred to as "medicinal aloe vera". It is a stemless or short-stemmed plant, growing up to 1 meter in height. Oftentimes, aloe vera is grown purely for decoration and its exotic appearance. However, with some organic care, it is a wonderful medicinal plant.
Aloe vera is a healing wonder plant, one you're probably fairly familiar with beforehand. Nowadays, it is abundantly found as an ingredient in skincare and haircare products, as well as drinks, supplements and various ointments. To be honest, aloe vera is just a godsend to have around!
It is fantastic as a home remedy for all those pesky injuries that might occur, as it is quick to mend and relieve pain from burns, cuts and blisters. In fact, health benefits of aloe vera have been well-known for centuries, even to gardening laymen!
You can recognise the kind of aloe vera that works best as a rooting hormone by its large, tough, fleshy leaves. They are slightly pointed at the end and have slight peaks / spines running along the edges.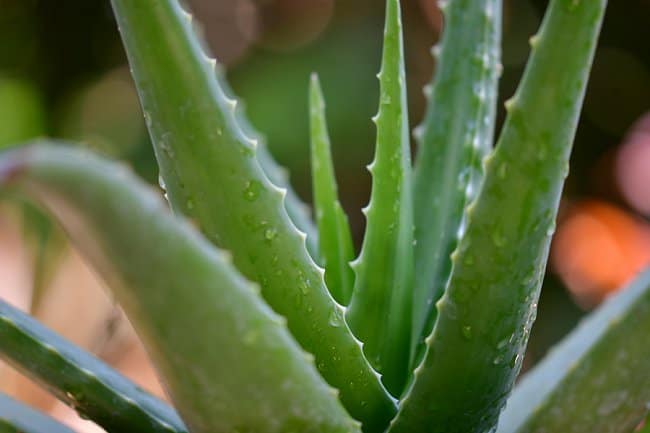 Where Can I Buy Fresh Aloe Vera?
You can buy fresh aloe vera straight from supermarkets if you're lucky enough to live in climates where they grow in gardens and even the roadside in abundance! (I often see tons of it in boxes outside shops where I live in the mediterranean, with signs saying 'help yourself'!
However you can also buy it from garden centers, or even order it online. Aloe Vera is a fairly common plant so it's not difficult to obtain and it's fairly cheap too!
What makes aloe vera a good rooting hormone?
When it comes to using aloe vera as a rooting hormone, there is, in fact, ample scientific basis behind it. It isn't just organic gardeners' chit-chat!
Research and experiments with control groups show that aloe vera often beats honey and cinnamon as an organic rooting hormone.
In fact, many gardeners have found it to perform much better than your standard store-bought indole butric acid (an inorganic and chemical rooting hormone powder, often containing dubious ingredients with unknown health effects).
The aloe vera plant, has a core which is filled with aloe vera gel, which consists of mostly salicylic acid.
Salicylic acid is a natural, anti-inflammatory substance which is directly responsible for stimulation of roots in a cutting.
It is present in many inorganic and artificial substitution rooting hormones and powders as the key ingredient. Why opt for the chemical toxic substance when you can use the natural, pure organic version? 🙂
How do I use aloe vera as a rooting hormone?
Aloe vera is best used in its fresh, organic form, by harvesting a leaf straight off of a plant. Or of course, from purchase direct from your local garden centre or supplier!
You can use aloe vera as a stimulant on just about any cutting of your choice that you wish to propagate. As a rooting hormone, it is well-known for its high success rate with propagation of cuttings, often reaching an almost 100% success rate.
When you're using aloe vera gel as a rooting hormone, you have two options, both yielding a high success rate with cuttings. You can either choose to plant a piece of aloe vera with the cutting, or prepare a fresh aloe vera rooting hormone mixture.
Fresh Aloe Vera Rooting Hormone Recipe
Pick a fresh aloe vera leaf from your plant. Peel off the green outer layer carefully with a sharp knife. You will find the magical rooting hormone gel inside – it will be

transparent and quite gooey and sticky

.
With a spoon, peel out the gel and transfer it to a container. Make it into a watery mixture, either by pressing it down with a spoon or by using a hand blender. Your goal is to have the mixture be fairly smooth and devoid of bigger chunks of gel.
Choose your plant cuttings carefully. As with any cutting propagation, follow the general golden rules of propagation (and any other that might be plant-specific). On A Prettier Petal, we quite often talk about roses and rose propagation, but mind that you can use just about any plant that you want to propagate. Aloe vera will work the same magic on them all. Therefore, for best results, follow standard procedures. Choose healthy cuttings and prepare them accordingly to maximize your chances of successful propagation. Keep a

45-degree cutting angle

,

strip all the leaves off of the cutting and seal the top end with wax

.
Choose a loose and well-draining medium. Soils containing coco-peat, sand or an organic component are ideal. Looser soils will help remove undue stress of root growth by making sure the plant doesn't over-exert itself.
Use a pencil to make coin-sized holes in the medium, keeping adequate distance to allow room for growth.
Dip the end of the cuttings into aloe vera mixture. You may keep them inside for about a minute. Wiggle them around to assure an even and thorough coating of aloe vera gel. However, for much better results, you can keep the cuttings immersed for up to about 6 hours.
Insert the cuttings into the medium and cover well, but not tightly.
Spray some water to keep the soil and the cuttings moist. In case you have some aloe vera gel mixture left over, mix it well into the water and water the soil. This will feed the medium and serve as an additional layer of protection for growing cuttings.
Using aloe vera leaf as rooting hormone
Prepare a leaf cut from an aloe vera plant.
Without removing the green outer layer, cut the leaf into equal parts, about 3 to 5 centimeters thick.
Take one aloe vera plant piece and pierce it with the end of your cutting. Have it be so that the end of the cutting is just barely visible through the aloe vera gel.
Plant the cutting in a medium of your choice. Spray the medium and the cutting copiously with water.
Re-water your cuttings as per the plant's needs and check back within 30 days for results.
Using any of these two methods, you can expect to see results in about 30 to 40 days after first planting the cuttings into the soil. The best way to spot successful propagation is always growth of new, fresh and healthy green leaves.
When you spot those, you will know that your aloe vera has worked its magic as a beautiful organic rooting hormone for you!
Have you used aloe before in your garden? How did it work out? Leave us your feedback or questions below, we love to answer them!
Looking for more organic gardening hacks? Check out these ones, some of our most read posts.
Ever wondered whether you can use honey water in your garden? Read here to find out!
Is your garden being plagued by bugs this year? Check out our entirely organic DIY bug repellent recipe and keep those aphids away!