We all have a bag of gardening tricks; mine includes my obsession with self-watering globes. They actually look more like decorative items than functional watering tools, and visitors often admire the shimmering glass globes alongside some of my plants.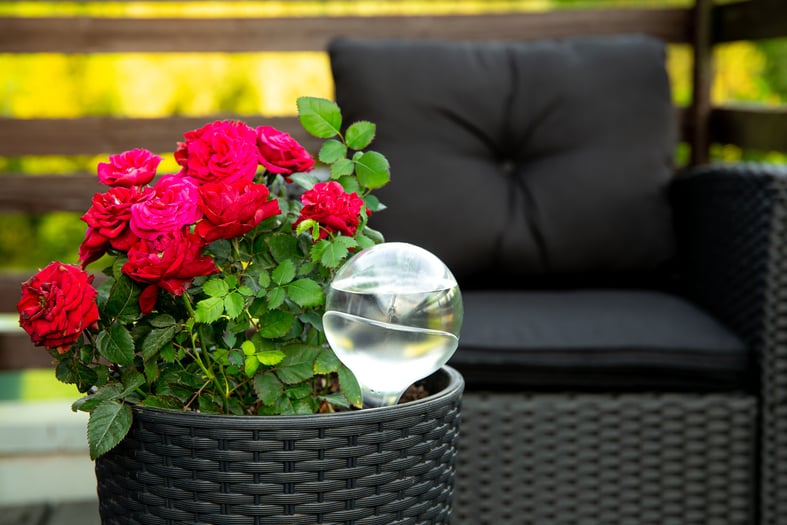 Disclosure: Some of the links in this article may be affiliate links. Learn more.
Self-watering globes, also called aqua globes, supply plants with water at a consistent rate. Most last for about a week. Bigger ones can last up to two weeks. Water is released from the bulb through the thin neck to the soil as it dries out. Self-watering globes are not suitable for all plants.
There are some things in this world we don't know we need until we have them. And after that, we don't know how we ever managed without them. Self-watering globes are definitely on my list of amazing inventions that make caring for my indoor plants less work.
6 Things To Know About Self-Watering Globes
Although many people only use their watering globes when they are away, I leave a few of mine in continuously, especially in my hanging baskets. Reaching overhead with a watering often resulted in an accidental shower, so these handy bulbs have made watering my high plants much more convenient.
To be honest, I haven't always used self-watering globes simply because I didn't think I needed them. Then I was gifted a gorgeous set of colorful blown glass self-watering globes, and we (me and my plants) have never looked back. 
Although you still need to ensure that the reservoir on the globe always contains water, your plants can be much more independent once they are set up, which is important, especially if watering does sometimes slip your mind. They are perfect for a beginner or busy gardener who may not always remember to water indoor plants regularly.
If you've never used these handy automatic plant water dispensers before, you are probably wondering if they work – and how! The answer is a resounding yes, but not for all plants.
1. How Do Self-Watering Globes Work?
The beauty of self-watering globes is that they are easy to maintain, reusable, and effective. The system's simplicity makes it ideal for anyone who needs a hassle-free way to keep indoor plants watered consistently.
Self-watering globes work by controlling and limiting water flow from the bulb into the plant's soil. This happens because:
The thin neck restricts the flow of water.
Soil plugs the hole which holds back the flow of water.
When the soil at the nozzle tip is damp, an air-lock vacuum is created inside the globe. As the soil dries out, air can move into the bulb, displacing a bit of water.
2. What Factors Influence the Flow Rate?
The rate that water flows out of a self-watering globe depends on a few factors. When you start using them, you may notice that some globes need refilling after a week, while others can last much longer.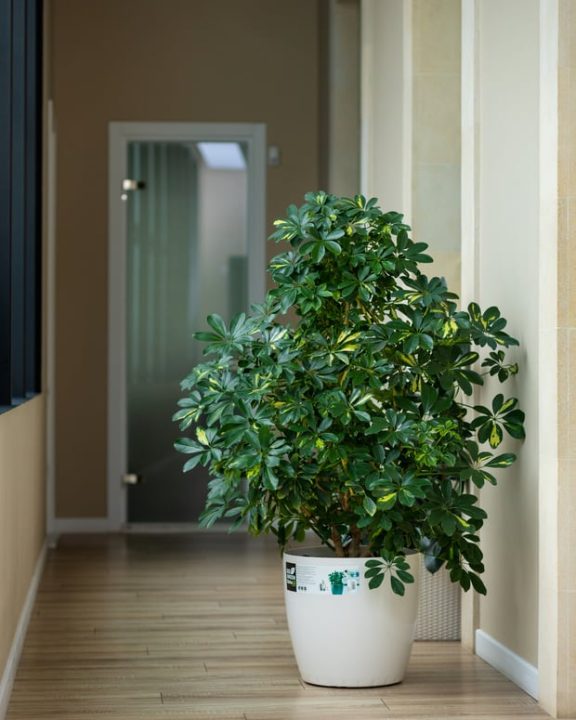 If you plan to use them as an automatic watering system for your plants while you are away, it is a good idea to try them for a while before you leave so you can determine your plants' watering needs and make adjustments if necessary. Although you can't adjust the flow of these simple glass spikes precisely, several things affect the rate at which they dispense water.
The size of the neck – The larger the opening, the faster water will drain from the globe.
The type of soil – The soil around the plant acts as a plug against the nozzle. Dense, tightly packed soil will hold water back more effectively than loose soil.
The angle the watering globe is positioned – Experiment with different angles to find one that dispenses water at the best rate for each plant.
The type of plant it is feeding – The size and type of plant that the watering globe is supplying will affect how long it will last.
The temperature and humidity – The quicker the soil dries out, the faster water will be drawn from the self-watering globe. So you can expect that your little miracle waterers may not last as long in hot and dry weather.
3. What Are Self-Watering Globes Made Of?
Classic self-watering globes are made of glass, but there are plenty of materials and designs to choose from. Glass is beautiful, but the stems are more likely to break. More durable terracotta and plastic varieties are available.
Plastic varieties are more suitable if you routinely use your watering globes and have young children. Curious fingers and fragile glass tubes are never a good combination!
The water storage section is usually a globe or bulb shape, but there are super-cute variations, like this cute pink flamingo set.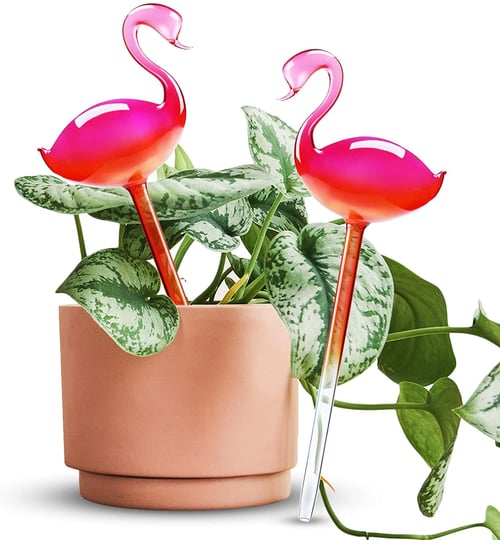 4. Self-Watering Globe Vs. Water Spike
The terms self-watering globes, bulbs, and water spikes seemed to crop up interchangeably in articles and while shopping online. This can be confusing if you aren't familiar with them.
A self-watering globe is a complete unit. All you need to do is fill the bulb with water and insert it into your plant. The gadget has a water spike as part of the system.
A water spike refers to the nozzle section that must be inserted into the plant's soil. These can be purchased separately, without a globe attached, and you can use any long-neck bottle, like a wine bottle, to serve as the reservoir for your plants. It's a great way to recycle; using a large bottle can last longer than a self-watering globe.
5. There Are Some Downsides To Self-Watering Globes
I love my collection of self-watering globes, but they do have some limitations that you should be aware of before you start inserting them into all your precious plants.
Firstly, not all your plants will appreciate these nifty watering devices. They are only suitable for plants that need to be watered frequently. So while your miniature roses and mint will thrive in constantly damp soil, your succulent collection will not.
Some plants need frequent watering, and those can definitely benefit from self-watering globes. Others need the soil to dry out before each watering, and supplying a constant trickle of water can lead to fungal conditions like root rot.
Glass globes with thin stems are fragile. Although this gives them a delicate and charming appeal, it's not very practical if you are in a hurry and jab the stem into the soil a bit too quickly. You can get around this by first poking a pencil or screwdriver into the spot you want to position the stem.
It isn't easy to control the flow rate. Unlike automatic drip watering systems that can be carefully adjusted, the flow rate from a self-watering globe is tricky to adjust precisely.
It may not last very long. Some plants can go up to two weeks with a single refill, while others will empty the globe after a few days.
Self-watering globes can be tricky to refill. The nozzle is very narrow so filling up takes a bit of precision pouring!
6. How To Keep Your Self-Watering Globes Clean
The two main cleaning issues I have found with my watering globes are that they tend to jam up with soil, and if I use them for an extended period in direct sunlight, green algae starts to form inside. Fortunately, both of these challenges are easy to remedy.
Unclog the stem before refilling using an earbud or pipe cleaner to loosen soil that may have become jammed in the nozzle. To get the globe back to sparkling condition, swirl some baking soda and lemon juice around to create a micro-scrubbing action. Then rinse thoroughly and refill with water.
Final Word:
Self-watering globes are the most versatile, inexpensive, automatic plant watering tools that I own. Even though they aren't suitable for all types of indoor plants, they do make life a lot easier if you own thirsty plants and only need to be away for a short period. PS: They also make awesome gifts for anyone with indoor plants!