Yesterday was my birthday, and we went for a one night all inclusive hotel break. A whole ten minutes drive away lol! It was a beautiful hotel, made extra amazing this morning when I discovered a little tucked away rose garden! The hotel already has this air of luxe faded grandeur about it, and the rose garden just added to that – it was a magical find.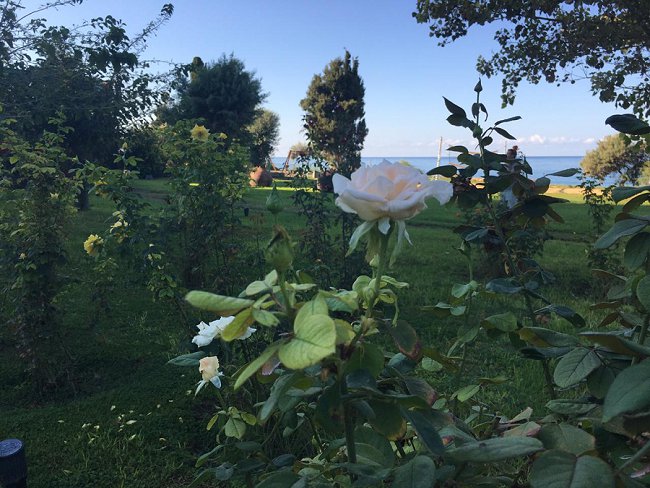 I think this is why I love rose gardens in general, for that sense of faded grandeur they bring to a garden… so I stood there watching the girls play this morning, the ocean behind me, and the scent of roses wrapping itself around me on the warm breeze.
Sadly, I still don't have enough space (or even soil) for a rose garden of my own. So today I've been entertaining ideas of creating a container rose garden! For those of you also limited on your outdoor or garden space, these are the best scented roses for containers that I've been eyeing! 
Plant any of these scented rose varieties to get those perfumed roses on your balconies, in your windowsills and in the fronts of your front doors.
Based on whether you prefer shrub roses, climbers or ramblers, we bring some of our favourite best scented roses for containers, known to perform well, resist diseases, colder weather and even shade.
The best scented shrub rose varieties
Gabriel Oak
Desdemona
Scepter'D Isle
Princess Alexandra of Kent
Charles Darwin
Best scented rambling roses for containers
Francis E. Lester
R. Filipes "Kiftsgate"
The Best Scented Climbing Roses For Pots And Patios
Strawberry Hill
Mme. Alfred Carrière
About Container Roses and Container Gardening
It goes without saying that container roses need some more of your love. You'll be happy to know that by reading this post, you already put great work into making sure your rose thrives!
Choosing a rose which will naturally do its best in a container is not such an easy task, and you are usually limited by some varieties that you might REALLY, really want, but can't raise in pots.
Pick the right pot for your container rose. Choose pots that have a drainage hole, and opt for ceramics over plastic containers if possible.
Choose a suitable potting soil, the one that has an organic component, but also a sandy component! Soil serves the main drainage function and can make or break your star rose.
Water and feed the container rose more regularly than would be the case with your garden-dwelling varieties. As for water, make sure you have a moist, but not wet soil. For feeding, try to amp it up in spring once new growth appears, feeding about every 3 weeks afterwards.
If you want to know some more about how to raise potted roses – take a look over here, where we explain in great detail how to create balcony rose gardens – this is truly a master-post for all potted-rose-related worries!
Best Scented Shrub Roses for Containers
These tough and reliable roses can grow quite a bit, but some of them are wonderful for container gardening. Many of the finest shrub roses are in fact, Old Roses and English Roses in general – so don't gloss them over when taking your pick!
Gabriel Oak
Gabriel Oak is a very recently bred rose, having been introduced in 2019. It is a wonderful, deeply and richly pink rose. This variety blossoms with large blooms, counting many petals on each individual bloom, giving a cabbage-like leafy flower appearance.
The colour of this rose is so striking, my recent visit to a friend's garden proved to me what I had already suspected – it looks stunning, even when raised in containers. However, the smell is truly divine, and if you are looking for a light, fruity and playful fragrance with a great staying power, I'm sure this rose is a right pick for you.
The petals of this rose tend to pale out as they age. Nonetheless, the rose is vigorous, easy to shape, and made to look even more dramatic when contrasting against lush, shiny, deep green foliage. A repeat-flowerer, it has a manageable height and width, topping off at about 1.5 – 2 metres at best.
Desdemona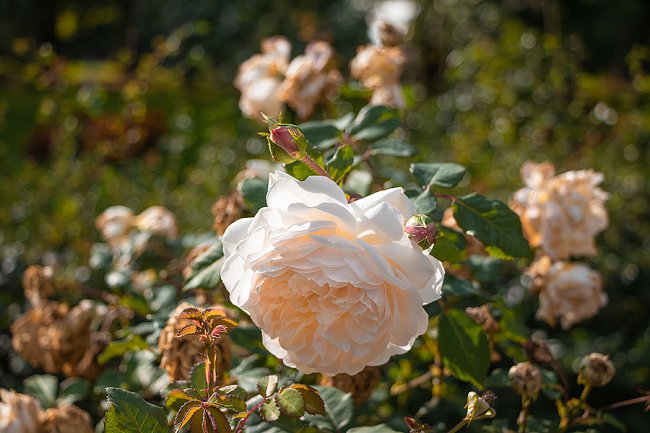 Named after a Venetian femme fatale of Shakespeare's Othello, you can definitely see where this rose's name draws its inspiration from.
Desdemona sports medium-sized blooms, shaped like a cup and with a myriad of petals. On the outer side, petals are a soft pink, opening up to uncover white blooms. However, is it pink, is it white, you will rarely be able to fully tell, as the petals offer an interesting play of shadows to obscure true colour.
Desdemona overpoweringly reminds of an Old Rose scent. It is layered and levelled, offering notes of almond blossom, cucumber and lemon zest. To top it off, it doesn't really grow above 1 metre in height and width, making it but a perfect container rose.
Scepter'D Isle
This rose might just be my IRL favourite shade of pastel pink! Scepter'D Isle is a lovely rose on all fronts, shyly hiding a deep pastel rose within its inner petals, cupped by perfect pastel pink outside petals.
Not only are these blooms so romantic, but they are also contrasted by deep and dark green foliage, making the rose blooms stand out all the more in their full glory. As for the scent, Scepter'D Isle is a very strongly myrrh-perfumed rose, for which many say is able to emanate scents that are able to traverse long distance.
Believe it or not, this is another Shakespeare's namesake rose, taken from Richard II where John of Gaunt professes his love towards England. With an English rose smelling like this, we absolutely share the sentiment.
Princess Alexandra of Kent
You simply can't Google this rose and find a picture of it where it is NOT in a container, go ahead, try it! (In fact this blogger created a beautiful post of hers in a pot – look how divinely feminine they are)! 
In part, Princess Alexandra of Kent is a great container rose just because it is shrubby. It takes a healthy round shape and more or less sticks to it with minimal pruning as it grows bigger. But, don't worry, it tops off at a maximum of 1.2 metres of height!
Princess Alexandra of Kent proudly blooms in the form of some really big, really pink blooms. Blooms that big might occasionally look droopy, but never on this rose, which manages to keep its grace even when planted in pots.
Depending on who you ask, the scent of this rose is fruity or Tea-like. You can catch the occasional citrus-lemon whiff, on other times you could swear you smell ripe blackcurrants. However, we advise you plant it and tell us what you can recognise yourself!
Charles Darwin
Full flowers of this rose are intensely yellow towards the centre, paling as you reach the outer petals. The stunning thing about the bloom itself, except the colour and the size, is the exceptional four-fold symmetry of the interior petals, sure to have you stopping and observing intensely.
Charles Darwin reminds most often of pure lemons in scent, mixed with hints of other florals. This repeat-flowering beauty grows up to 1 metre in height, and it is one of Shropshire's finest, just like its namesake.
Best Scented Rambling Roses for Containers
Known for their vigour, flexibility, smaller blooms and ease of training. Without a doubt, if you have a balcony or a fence where you want your rambler to give a touch of fragrance, choose these varieties that thrive in containers!
Francis E. Lester
Think apple blossom, but think clusters. Francis E. Lester has a delicately small, yet charming blooms that remind much of early cherry blossoms, except when they would bloom in big bunches.
White at the centre of the petals and pink at the edges, these lovely flowers tend to turn white as they age. Easily trainable straight from a container, these roses easily attract bees with their scent. And what a scent it is – strongly musky and calming, you will be able to smell your rambler growing on the balcony all the way from your entrance doors!
Just like most ramblers, Francis E. Lester blooms once per season. However, it easily grows up to 6 metres if you leave it to its own.
R. Filipes "Kiftsgate"
The flowers of this rose are just lovely, simple but in huge clusters, covering much of the foliage. Sporting white petals with a blindingly yellow stamen, these blooms remind me so much of Snow White with their elegance!
R. Filipes is a healthy rose, and it spreads fast, requiring pruning if you don't want it tall. However, it is also remarkably suitable for containers.
Prone to a late season, expect the blooms of this rose to start popping out around late June to early July. It blooms only once, but the flash of flowers is out of this world! When it finally blooms, you can enjoy its strong and musky scent, and in the autumn you can enjoy some renowned tasty orange-red rose hips!
Best Scented Climber Roses for Containers
Finally, climbers! Don't worry, there are climber roses totally suitable to both start and grow in containers without an issue!
Strawberry Hill
Another romantic pink climber rose, Strawberry Hill is straight out of a girl's dream!
A climber rose with unusually large blooms coming in small clusters of hot pink. Strawberry Hill emanates a deliciously sweet scent many liken to honey. The petals are a peachy, soft pink in the middle, tapering off towards pale pinks at the tips of petals. It is a short climber, meaning it will top off at about 3 metres. Additionally, this one is repeat-flowering, perfect for your doorways and fences!
Mme. Alfred Carrière
Finally, I could NOT resist adding this rose to the list. Container or not, it is my top 5 all time favourite. However, it just so happens, it does do great in a container!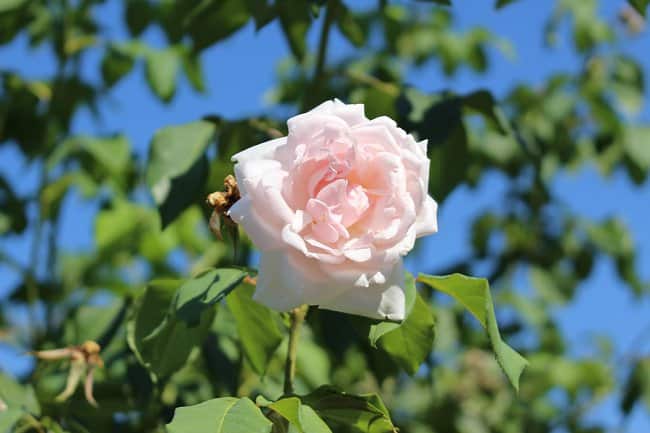 The meringue-white flowers of Mme. Alfred Carrière are a bit like an artist's painting, with the petals looking like haphazard but elegant brush strokes. The blooms themselves are quite large, cupped and occasionally touched by a dash of pink.
Foliage-rich, healthy and hardy, this rose can be a very vigorous climber. Generally, it tops off at almost 8 metres in height. It will flower for the first time in the season early in the summer, repeat-blooming afterwards.
The perfume of Mme. Alfred Carrière is to die for, with the fruitiness and lightness of the scent permeating through every nook and cranny of your space, reminding fondly of carefree summer days.
Found your best scented roses for containers just yet? Do you have any container rose varieties you want to share? Please do let me know – I'm always looking for my next balcony buddy!