Not all sunflower seeds are ideal for growing microgreens. Find out why and just how easy sprouting sunflower microgreens like the pros are.
Is Sprouting Sunflower Seeds For Microgreens Difficult?
I absolutely love sunflower microgreens. This yummy superfood is a breeze to grow. My first batch of microgreens happened to include sunflowers, and to this day, it is still one of my favorites. 
A Snapshot Of Sunflower Microgreens 
Level: super easy
Taste: nutty with a crunchy texture
Planting Medium: grow in seed starter medium or in a jar with water only
Watering: once a day
Germination: occurs between 2-4 days
Harvesting: ready to harvest between 1-2 weeks
Seeds: organic black oil sunflower is the best to use (½ cup for 1 planting tray)
Lighting: grow light or 6 hours of direct sun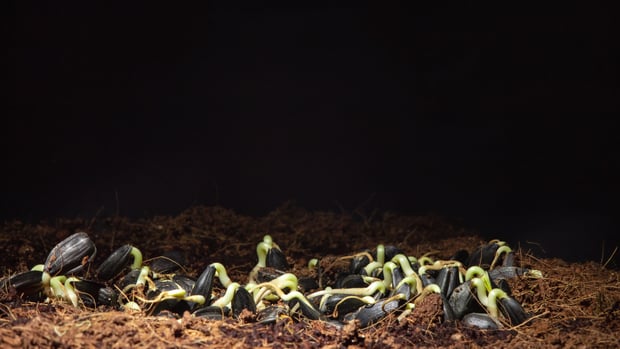 Seeds: Be Careful To Get The Right Stuff
Seeds should be purchased from a reputable microgreen supply retailer.
Black Oil Sunflower Seeds
Black oil sunflower seeds for microgreens should be human-grade, organic, and non-gmo (free from genetic modification.) This ensures that the seeds are free from harmful chemicals such as pesticides, fertilizers, etc., and any potential mold or bacteria. 
What About "Normal" Sunflower Seeds?
So, one of my reader's questions about sunflower microgreens was, "Can you sprout normal sunflower seeds?" Regular sunflower seeds are viable for microgreens providing they are pesticide-free. They taste similar to black oil sunflower; however, as microgreens, regular seeds grow larger leaf sprouts than black oil.
How Do You Sprout Sunflower Seeds For Microgreens Without Soil?
Most of my microgreens never touch the soil or any growing medium. Instead, I grow them in jars. Sprouting microgreens in a jar is clean, and best of all, you get to see the entire growth process that would otherwise occur beneath a growing medium such as soil. 
How Do You Get Sunflower Seeds To Sprout?
With my easy step-by-step guide, sprouting sunflower seeds pretty much becomes effortless!
Step-By-Step Instructions
Day 1: Soak The Seeds
Soak the sunflower seeds in water overnight.
Day 2: Sow The Seeds
Strain the soaked seeds thoroughly.
Fill tray sections with seed starter medium.
Mist each section of medium before sowing seeds.
Drop a few sunflower seeds onto the surface of the medium.
For every planted tray, place an empty tray on top of it.
Stack the trays (with an empty one between each planted one.)
The top planted tray should have an empty one on top of that. Place a weight on top of the empty tray. 
Place the stacked trays in a warm, humid area such as a greenhouse, sunroom, etc.
Day 3-4: Blackout – Allow The Seeds To "Do Their Thing"
Unstack the trays and mist each section thoroughly once a day. Restack once done.
Germination may be noticeable at about day 4.
Day 5-10: Un-Cover The Trays
Unstack the trays.
Fill an empty tray with water for every seeded tray. 
Place the seeded trays in the water tray.
From this point on, all I did was ensure the water trays had plenty of water to keep the seeded tray moistened, not wet (overwatered.)
Place the trays under a grow light or in a sunny area (with 6 hours of direct sun daily.)
Day 10: Harvest
Use a disinfected pair of sharp scissors to cut the microgreens 3-4" below the sprouted leaf.
Discard the remains of the microgreen roots and growing medium. Sunflower microgreens do not regrow.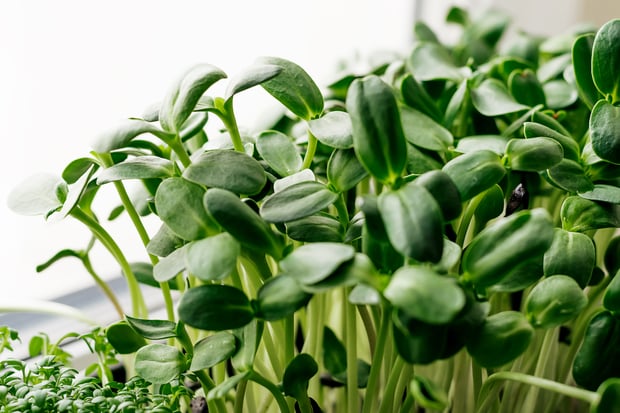 My Fav Microgreen
Anyone can grow sunflower microgreens as the pros do. With my tips and step-by-step guide, microgreen lovers will have their own fresh supply of these crunchy glories to enjoy anytime!