I got the idea for upcycling household items to use as planters when I visited a little local village here recently.  One inventive house had used giant feta tins (well, I do live on a Greek island) as planters all over their garden wall, and it looked amazing – so rustic-chic, with these sunbleached blue and white tins everywhere!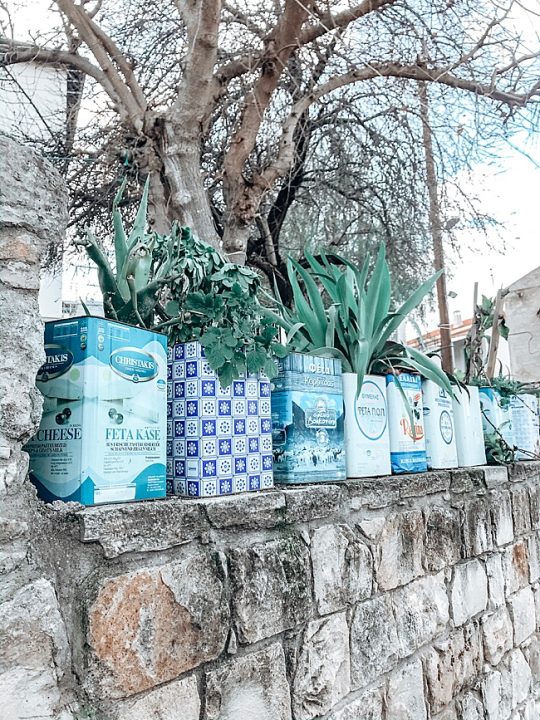 Disclosure: This post may contain affiliate links, which means that we may earn commission from qualifying purchases at no extra cost to you. Learn more.
So, being bored with the standard plastic brown or grey offerings from the local garden centre, I started to wonder – what other household items to use as planters?
If you've got kids at home, you might want to try coming up with your own list of household items to use as planters- I was amazed to see how creative the kids got, running around peeking in every cupboard and dragging out old pots and pans and all sorts of other things! Lego head planter, anyone? Great for micro greens! 😀
Using household items as planters helps prevent waste (yay for upcyling)!, prevents plastic pollution, and upcycling household objects can be a great fun activity for kids. Plus, your garden or balcony need never look boring again – check out the toilet planters! LOL! Not quite my thing but arguably a very creative household item to use as a planter!
To DIY household items to use as planters, drill 5-7 holes that are approx 0.5 – 1cm wide into the bottom of each planter,  approx 3-5cm apart. You might need to adjust this if your planter is extra small (as in a lego head planter)! or extra large (a bathtub planter). Add 10-20 small stones to the bottom of your planter before adding your soil – this helps your soil to drain. Fill your planter with potting soil to approx 3cm below your planter surface, and your DIY household item planter is ready to hold plants!
75 Household Items To Use As Planters (Tutorials Included)
Teapots – Old or chipped teapots make beautiful planters! They often come in gorgeous designs and even if you don't have your own you can pick these up for pennies from charity shops and yard sales / car boot sales, and be given a new lease of life. They look great in a collection or group of teapots, and you can add teacup planters next to them! I think this household planter will give a very beauty and the beast theme to my garden, and bring joy to the kids!
Kettle – while not quite as pretty as teapots, if you can get your hands on some of those pastel vintage kettles from the 60s, you're going to have some gorgeous pretty planters! Otherwise, iron or enamel kettles work great too, and clear plastic modern ones can work great as terraniums for your cute mini succulents.
Dog bowl – a great way to get rid of those old, tatty dog bowls lying around the house. A collection of these can look pretty, and being not too tall, can be a great way to give a lower level of interest to a plant arrangement.
Dog bed – those big plastic or rubber dog beds that get chewed to pieces? yep, let's turn them into planters! Plants that are bushy can cleverly hide the chewed areas and make your dog bed planter look pretty!
Mugs – so cute for windowsills or balconies, but you might not want to put these outside in case they blow over. Even when filled with soil they can tip over, so these are best kept looking beautiful indoors!
Bathtubs – oh I love vintage tin baths, and they give that farmhouse french country cottage style look and feel to a garden. Surround with vintage tea containers for that extra rustic pretty cottage garden feel!
But full sized iron bathtubs can work too!
Tea cups – these succulent tea cup planters are so lovely! The tutorial is easy to follow and it's a sweet and simple project to do with kids. Keep them indoors scattered around your home for that boho touch.
Tea container – you know those old vintage tea tins? They are perfect for plants. Tough, sturdy, and come in all sorts of colors – keep an eye out for these at yard sales. They look beautiful grouped together. How cute would these look as planters? Plus, you get to drink delicious tea first! 😀
Coffee pot – those glass or plastic coffee pots make amazing terraniums. Go here for the coffee pot terranium planter DIY!
Tea Tray – my daughter has a beautiful tea tray that her sister purchased for her birthday one year. She decided for this list that a tea tray would make a perfect seedling bed! A tea tray is a great seed planter.
Drawers – wooden drawers make gorgeous planters – they're deeper than some of the other planters which make them perfect for plants to grow longer roots. Generally, longer roots mean happier plants as they soak up all that water contained in the soil!
Bowls – turn your bowls into planters and give your garden that 'zen' feel! due to their circular shape, bowl planters can help add a calming and relaxing feel to your space. If your space is small (or micro sized like mine) you can hang them up!
Bin/ Trash can – well, one person's trash is another person's treasure, right? So you can make literal treasure from a trash can and turn it into an amazing planter! Here's how. 
Old books. My daughters were amazed when I came up with this idea. But how would it work as a planter, when it's pages would get all wet and soggy? they wondered. Like this! I showed them. SO pretty.
Vase. Well, what could be a better planter than something designed to hold nature's wonders in the first place?! Carefully drill your holes though as vases are fragile, or better yet, choose a large vintage vase and insert an already-potted plant into the top. Great for hiding that ugly plastic pot that your new plant came with!
Shelf.  I'm not sure a shelf itself can be really can be considered a planter, but you can definitely bang some bits of wood together and plant stuff in the finished result! Check out the pallet planters as an example!
Pallet planters. I can't say enough about how much I love pallet planters. They can be chopped into small planters, used as they are, you can make raised vegetable garden beds out of a pallet, and if you're stuck on space, hang them vertically and use them as herb gardens or a pallet kitchen garden! I can't say enough about pallet planters!
Old candle holders – The best thing about using old candle holders as DIY household planters is that they come in all shapes and sizes. You can use large single candle holders, or group together an assortment of different sizes and colors.
Mason jar planters give that homemade vintage feel to planters! Their size makes them perfect for a small herb garden on a windowsill.
Buckets and spades! Another addition from my kids 🙂 which I thought was pretty genius, you can use both buckets AND spades as planters! Buckets are obvious but spades are great for seedlings or perhaps micro succulent planters.
Yogurt pot planters – I remember planting seeds in yogurt pots in school! So it's a perfect garden activity to do with kids. Yogurt pots are easy for little fingers to cut holes in with some scissors (or push them through with an old pen) and to fill with soil and plant. Just make sure they are washed thoroughly so they don't contain traces of bacteria or mould which could damage your plants.
Takeaway food container – takeway food container planters are similar to yogurt pots planters – they're great for kids to plant in and prevent plastic going to landfill / into the ocean too.
Egg box / carton – who hasn't planted seeds into egg box cartons? You know, the weird little cardboard trays they come in.  Don't waste money on those plastic seed tray things which are only bad for the environment – cardboard egg trays make great seed starter beds. Simply fill with soil, add seed, and water!
Remember to cut holes in the bases even though cardboard is water soluble – seeds just need a trickle of water and the cardboard will most likely retain that amount of water.
Holes will enable your water to drain properly.  But don't stop at the cress, egg cartons can make great household item planters for succulents too!
Milk carton – milk cartons or cans make great hanging planters and they're so easy to make, no drilling required! For those cardboard milk containers, simply snip off the very top (approx 1cm from the top), and use your scissors to add small holes in each side of the carton, facing eachother. Thread some string through each hole, tie a knot in each side, and you have cute and creative hanging planters!For the big tin cans, you can pop your plants straight in.
Old Boots – I LOVE this because every year the kids outgrow their welly boots, and they barely get ANY use here on this boiling island, yet every year we buy more just for that odd rainy day we MIGHT get (and rarely do). So every winter I have a bundle of boots that end up going to waste. We usually donate them to charity but this year I'm going to try some welly boot planters – I'd love to do a 'family lineup' of welly boot planters, with all of ours in a row together from large to small! 🙂
Pen holder – Old pen holders, are obvious and easy planters to DIY at home! The fun with these comes in painting them!
Old kids cups – another obvious DIY plan pot contender! My kids seem to accumulate these and after a year or so their colors start to fade. They get left out in the sun or they just aren't dishwasher friendly! So these are a great way to recycle a household item that would otherwise definitely end up in the trash! They'd add a vintage-y, faded element to kids's rooms too.
Sacks As Potato Planters. If you have any hessian sacks lying around, send them my way because I LOVE wrapping gifts in these for Christmas! But otherwise, they also make great DIY potato planters – you can use plastic sacks for this too, but I prefer to grow any food in non-plastic where possible. I'm always concerned about plastic chemicals leeching into the soil. So for your potato sack planter, simply add a ton of soil and a few potatoes with the 'eyes' into the bag, add a sprinkle of water, and wait! 🙂 after a while your sack will produce plants. When these plants flower you can harvest your first potatoes!
Canvas bags – see sacks! You can use canvas bags to grow veggies in, in the exact same way. If you're a constant bag for life accumulator like me, this is what you do with all those spare bags!
Saucepans – if you've got those 'coated' pans and are slowly replacing them with cast iron like me, this is the perfect upcyle for those old pans! Again, I wouldn't be growing veggies in these (even though I've been eating from them for long enough – I only recently found out about how eating with chemically coated pans is SO bad for your health, well, duh!) due to that coating.
But they are fine for pretty flowers outside!
And make a cute rockery arrangement. Sadly I don't have any vintage enamel pans lying around – you know those 50s, 60s style white and blue floral ones? They'd makes the prettiest addition to a garden as an upcycled planter! And iron ones look beautiful too.
Baking / cupcake trays! Baking trays make great seed beds, and cupcake trays can be painted and used as a gorgeous succulent tray! I'm SO going to paint a cupcake tray the brightest prettiest colors and fill them with succulents! You'll just need to drill a hole in the bottom for drainage, but if you add a 05.cm layer of thin gravel you might get away with not even doing that, as succulents require so little water.
Ice lolly holders / ice cube trays – yes, I always lose the 'stick' end of ice lolly moulds, so we might as well fill them with seeds or small plants, right? And ice cube trays make great seed starters as well! Use a screwdriver or pocket knife to punch a small hole in the bottom of each ice cube section and let them grow!
Watering can – this was my littlest's contribution, and I LOVE it! I remember my granddad (this blog was created in his memory) replacing his big plastic watering can when it got cracked in a storm! It's a shame upcycling wasn't a thing back then because watering cans make great DIY household items to use as planters.
Plastic water bottles.
This is probably my favourite DIY household item to use as planters, because as a family we only drink bottled water due to the stuff they add to it here. Every so often I buy glass bottled water for the health factor, but they don't sell them at the nearby local supermarkets and so most of the time we are stocking up on plastic water and FOREVER throwing out plastic water bottles. I do hate it and feel massively guilty – and recycling isn't really a thing here and it's really not easy to recycle even when you want to! So using water bottles as DIY planters does make me really happy, and I hope more people do it.Simply cut the bottles in half add your drainage holes as above, fill with a little gravel or some small stones, and hang or position as required. I think I'll be cutting mine in half width-ways and hanging them up outside or from our balcony railing!But you can also cut them lengthways and use as seed starters or planters.

Picnic basket – gorgeous old wicker picnic hampers will look beautiful filled with plants! Add in your plants that are already potted or use soil and add your own. You won't need to add drainage holes as your water will drain through the wicker. You can keep this indoors too, if you keep your plants in pots IN the basket – this will look great in an underused or larger space.
Old toys – thanks kids, but this is a great idea! Use old trucks, roller skates or even dolls houses as amazing planters! I LOVE the idea of finding a wooden dolls house and filling it with plants – this will literally grow with the kids and they'll love it long after they've outgrown the dolls house!
Ladder – ok, I debated whether to include a ladder in this planter list. The truth is a ladder isn't so much a DIY household item you can use as a planter, but more like a planter holder. Still, it's perfect for recycling and you CAN add plants on to it, so I guess that makes it a planter even if you don't put plants IN it! Plus, I love vintage and old ladders in a garden, or covered in plants in my office 🙂
Large supplement bottles – perfect for terraniums if they are see-through, or otherwise cut them in half and nail or hang them along a fence. Supplement bottles tend to be quite sturdy so they make great planters!
Food cans. Giant food cans (like the kind you get in restaurants) make perfect planters. They fade into gorgeous colours in the sunshine and hold a lot of soil, meaning they're great for growing large plants in!
Buckets. Another idea from the girls, they are horse mad so they suggested feed buckets 🙂 but any bucket will do! The good news is buckets can come in great colours so if you like a dash of colour and whimsy in your garden these will look great. Otherwise tin pail-style buckets (my personal fave) make beautiful rustic inspired planters. Perfect for that french country cottage dream 🙂
Vintage coffee grinders – oh the cutest idea, another from the kids! We have an old french coffee grinder lying around that we picked up on our travels around France. You can get them quite easily from flea markets and brocantes in france, or maybe at a yard sale or on Etsy, if you're lucky! It would look super cute with a succulent inside!
Seashells. Seashells + plants combined and I'm one happy plant blogger. 😀 What more to be said? Look for giant shells, as these will make 'wow' plant holders!

Pillowcase – another kid's special! This works the same was as hessian sacks – use as vegetable planters, and especially potatoes!
Children's stools. Guess where this idea came from 😉 their idea was to flip the stool upside down, drill the holes into the bottom, and you have a beautiful planter than you can also hang. Love it!
Laundry basket. Laundry baskets make great DIY household items to use as planters, especially if you have those gorgeous wicker ones lying around! And the best thing is about this item is that almost any kind of plant can go in it! If you want that authentic-y, boho chic luxe kinda vibe, use more than one basket and group them together!
Cut branches. We recently pruned one of our olive trees and it was a little sad to see the branches just dying off. I stole some to use as decor for my office but I'm not sure the branches are thick enough to use as planters to be honest. But if you have a sturdier tree lying around, with thicker branches, and you're getting ready for your fall prune, you can easily hollow out branches and pop in a plant or two. Natural, beautiful DIY planters!
Skeleton heads 😀 by Summer! Summer's idea was to use a skull as a planter. While I did mention that hopefully, not too many people have an old skull lying around, I did admire her idea. I admit I also have no idea if you can actually saw the top off a skull, but maybe you can get a plant growing out of the eye sockets or something. Or maybe you're a science teacher who has access to these kinds of things. Or maybe you can just give this one a miss, but A+ for creative household item planters here!
Tin cans. Moving swiftly on 🙂 Tin cans can look super pretty when painted or wrapped in pretty paper as planters, and I love this idea as I go through a fair few tins and I'm sure you do too.

Toilet. Yep, the humble toilet can be used as a planter. Which we all found hysterical until we realised that people have actually done this! There are lots of jokes I could make here about bad plant holders, but I'll leave those for your imagination, and leave you with a photo of a DIY Toilet Planter. Will you be using this in your garden any time soon? I'd genuinely love to hear from you if you are!
Toilet brush holder. This DIY planter idea is a bit more manageable than the last one. Lol. Remove the brush, and rinse well 😉 And you have a near perfect plant pot.
Rope. Good old pinterest gave me this idea! Simply coil a length of rope around itself, leaving a hole in the middle for your plant. Use some seriously strong glue to glue your rope together. Use thinner rope to make a tight circle shape to go on the bottom, and glue this to the original 'pot shape' you made. You've just made a DIY rope planter! And you can make this with any sort of rope – think washing line rope, old rope lying around the garage, parcel rope, twine, etc!
Jewellery boxes. Aww, thanks girls. I loved this idea from my kids too, especially as one of them just got a pretty pink ballerina jewel box that plays music, and she loves it. I think a collection of broken, chipped or worn ones of these together as planters would be gorgeous and definitely add that shabby chic feel to a garden room or organgerie. (It's my literal dream to have a house with an old orangerie).
Tool boxes. Yep, those old wooden tool boxes make great planters! What's great is that they already come with shelves built in – the perfect spot for small plants to nestle! I'd put this planter in a man-cave or shed!
Coconut shells. I LOVED this idea! You'll need a drill to get through that tough shell, but when you do how cute would a handful of these be hanging up somewhere? So pretty and natural, great if you have a house with a beach vibe!
Old hats. Another addition from the kids, the kids have the BEST ideas! Imagine a whole array of gorgeous hats turned into planters? Jewel coloured ones from the 30s, ones with brooches, ones with big floppy brims! What a beautiful selection of potted plants!
Fridge / freezer / kitchen appliance. I didn't think this would work until I jumped on Pinterest. Turns out people have even used old kitchen appliances to store plants in. Super resourceful but again I'm not sure whether any of the materials would eventually end up leeching chemicals into your soil after a long time of being left outside? Plus I think you'd need kind of a large space to pull these off, which rules me out. I love the resourcefulness of whoever does do this though! And this vintage sink almost convinces me to give them a try…
Barrel. Barrels give a great rustic look and feel to any garden or even a balcony space! As well as holding plants, you can also use these as great holders for other things – drinks, maybe? Or other garden planters even, because they definitely add height to a garden arrangement. So barrel planters are multi-purpose and look great!
Statues. This can be a beautiful addition to a garden if you transform them into a planter! Of course I'm not sure a statue qualifies as a 'household item'. but they might be a garden item you have lying around.
A car. Yep, a car. Well, if you happen to have an old car lying around, why turn it into one very large planter and the showpiece of your garden!? Perfect for automobile lovers!
Old bed. Wait a second before you start tossing your mattress out of the window. The kind of bed that looks great as a planter is most likely to be one of those vintage, wire-framed ones, probably child sized. Although if you do have a bed that nobody is taking, you could probably chop up the wooden frame and use it as DIY planters too, this one is included because some bed frames do have that pretty, vintage air that are just too lovely to go to waste.
Shopping trolley. Well, surely at some point you must have stumbled along a vintage shopping trolley? They make great DIY household planters because they have a solid support structure and great drainage! Fill with soil and top with your favourite plants, and semi-hide underneath the undergrowth for a unique planter surprise!
Old garden tools. I like this one because rusty old garden tools so often get discarded… when you can string them up and turn them into planters! The best thing is most of them already have handles and / or ways to hang them up. And they're sturdy enough to make great planters.
Old glass lampshades. I can't find a photo of this in my stock image library to share with you, but Pinterest is your friend here. Some of them are SO pretty! However they're pretty delicate so might be best kept for in your sunroom or other place indoors.
Umbrellas. Rainy season over where you live? grab those old or broken umbrellas, tip them upside down, and you have an easy planter!
Egg cups. Egg cups make the cutest little planters for succulents, especially as part of an arrangement. You can't really use any plant other than succulents in these as it's pretty difficult to drill a hole down through to the bottom, but those succulents don't need much so they do great in egg cups! You can add in a few of the old rusty toast racks too – who knew that breakfast sets make perfect household planters?
Used car numberplates. This is another odd but creative one, seen over on Etsy. Numberplates bent around into curved shapes and hey presto, you have a pot! A great thing to do if you have an old or spare numberplate lying around, or one belonging to an old but special vehicle that probably has to go to scrap but has sentimental value.
Cork PlantersMaking a DIY cork planter is a great project to do with kids! (just watch out for that hot glue gun).Grab a drinking glass, approximately the size you would like your pot to be.
Stack corks around the glass – don't worry, you won't be using the glass, you're just using it as a template to build your shape around! Place corks around the bottom of the glass, so that they are all touching.
Form a complete circle. If you have a gap at the end that is not big enough for a full cork, slice one down the middle and place it between the first and last cork to fill the gap.
Now remove one cork, and place glue down each side of the cork. Place it back into the circle. Repeat with a cork next to the one you just glued.
Keep going until you have done the entire cork circle. That's the first level of your planter! Hot glue from a glue gun will work best here.
Next, make another layer of corks, resting on top of the previous one. Again, go around and glue them all but this time apply glue to the base of each cork also.
You can keep going adding more layers until it's as tall as you want it to be.
To create a base for your planter, slice several corks in half. This will provide a stable base for your planter. Lay the corks with flat side down and place them side by side, and glue them together. You can use scissors or a saw to cut them into a circular shape which will be the base of your cork planter.
Finally, glue the base to your cork planter sides. You've just made a cork DIY planter! You knew all that wine you drank during lockdown would come in handy, right? 🙂
You can also just slick corks in half and nail them to the wall for mini planters!
Casserole dish. When casserole dishes break it's tempting to throw them out, seeing as you can't use chipped cookware in the oven. But casserole dishes make great DIY household items to use as planters. They look so pretty! They can be pretty tough to drill holes in, and you wouldn't want to drill holes in enamel or china ones without specific drill bits, but they're definitely amongst the prettiest planters.
Eggshells. Come on, we've all grown cress from seeds in eggshells! Another great fun garden craft to do with kids. Grab your eggshells, stuff with damp cotton wool, add the cress seeds, place in window!
Lanterns. Those cheap lanterns every dollar store stocks are really beautiful planters. Just add holes into the bottom for drainage. And you can hang them up too!
Musical instruments! My girls suggested a guitar planter which I loved – simply remove the strings and place an already-potted plant into the hole! But why stop there? Other instruments make great planters too!
Hanging kitchen utensils. Spoons, colanders, any form of old kitchen utensil can make a great planter and again, some of these will already have handles with holes in which make them perfect for hanging. Old silver or metal spoons can give that lovely cottage chic feel to your plants and garden!
Old trunk or suitcase. I repurposed an old suitcase at my wedding, but I filled it with photos and not plants. But thinking of it, I wish I'd kept it to fill with plants! It would look cute in a spare room or on a display outside, but you'll want to keep it covered as otherwise it might get kind of ruined in the rain. But if it's already destroyed and as vintage as they come inside, then by all means stick it in your garden and let mother nature grow all over it as well as fill it with plants!
Picture frames make pretty household planters. You can lay them down and fill them with plants, use as a literal frame or point of interest in flower beds, or use them like this, as an entire vertical garden!
Saving the absolute best until last, use your poor old broken Henry Hoover as a planter! Because who on earth could ever get rid of that face?
So, that's the end of our mega household items to use as planters list! I think I've got enough DIY tutorials here to last a lifetime, and I'm going to be raiding some markets and charity shops this weekend in search of trash that will become my garden and plant treausure!Have you made anything from this list, or DIY'd your own planters? We'd love to you share any ideas we may have missed!
Here's a few more shots of the little greek village nearby, which inspired this post… I'm always amazed by how inventive and creative the locals are. How pretty are those old plates on the wall!?