Having recently fallen in love with rose petal jam – made with rose water – I got curious about other ways to use rose water. I was amazed to find it has so many uses, and excited too. I found an amazing rose water petal jam at a small organic store, made by monks at a nearby monastery. If it could be this good, how amazing would other rose water products be?!
Rose water is water infused with rose essence by steeping petals in distilled water, which gives all the wonderful properties rose petals carry. As a result, it's great for maintaining skin's natural pH balance, controlling excess oil, it is anti-septic, anti-inflammatory and anti-bacterial. It's also anti-oxidant and hydrating.  So as well as being great to taste, rose water is also used as a key cosmetic and beauty ingredient. 
You can use rose water in so many ways. Mix it in a face pack, use it to get rid of puffy eyes, use it as a toner, to set or remove make-up. It will also keep your skin clear from acne and irritations, heal cuts and burns and keep your nails and hair shiny and healthy. You can also use it to treat dry lips, refresh skin after shaving, save your favourite mascara from drying, treat sunburn, grow your hair fast, or even freshen up your clothes!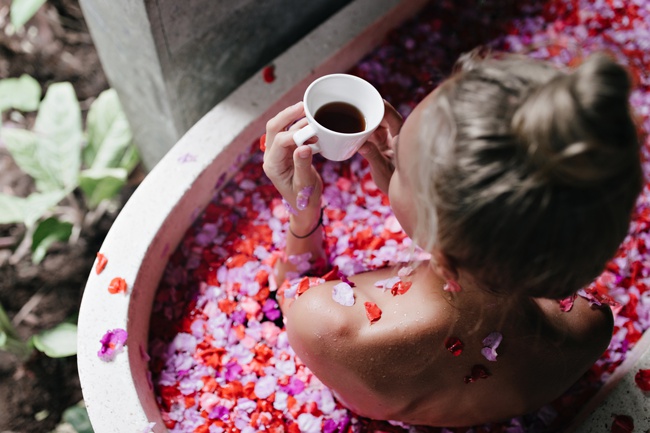 Disclosure: This post may contain affiliate links, we may earn commission from qualifying purchases at no extra cost to you. Learn more.
What is rose water?
Rose water is water infused with rose petal essence by steeping it in water. It's a liquid you can buy from brands such as Mario Badescu, but more importantly – you can DIY a batch quite easily at home! Read more here to try our very best rose water DIY recipe. Be your own skincare guru, girls and boys!
Furthermore, this magical liquid is renowned as light and totally natural perfume and used primarily for skincare and hair care.
However, it has a plethora of medicinal and culinary uses as well. The healing properties of prime quality roses infuse into water, making it a great skincare product which is not going to cause skin breakouts (unlike those pesky chemical concoctions!).
What is rose water good for?
Rose water maintains your skin's pH balance
Rose water is a great toner because it is so good at balancing your skin's natural pH.
Your skin maintains a delicate, slightly acidic pH balance of 4.5 – 5.5. If you have been following along, you probably know that roses are big fans of everything acidic as well! Rose water boasts a pH of 5.0 – 5.5, making it an ideal match for your skin. Ditch abrasive chemical skincare products, as their unsuitable pH of 6.5 – 7.5 alters the pH of your skin in turn, making it likelier for you to break out, suffer redness, dryness and rashes.
Rose water is great for controlling excess oil
If you have combination skin and your T-zone is prone to oiling up like a caprese salad, look no further than rose water to control excess oil easily.
Look, we get it. Oily skin is a blessing in disguise. You might suffer breakouts, but your skin ages like fine wine, and wrinkles appear much later in life. However, to keep your face from looking like a frying pan, use rosewater to aid in reducing oil secretion and deep pore cleansing.
Rose water is anti-inflammatory, anti-septic and anti-bacterial
Eczema, acne, dermatitis and natural redness are just some skin issues rose water resolves in no time due to anti-inflammatory properties. For all those times when you wake up puffy and red, you can spritz your skin or gently wipe it with a cotton pad dipped in this magical tonic and your skin will instantly cool and settle.
The secret behind this magical property lies in the vitamin C and phenolics which are naturally transferred from the rose petals into the rose water during the steeping process. Vitamin C works efficiently to heal burns and scars, making it a great homemade mixture.
Rose water is anti-oxidant
Free radicals from within your skin  (caused by pollution, diet and stress) can cause clogged pores, inflammation and pimples.
Rose water acts to block these free radicals and prevent their oxidation, in turn preventing the formation of skin blemishes. 
Furthermore, anti-oxidant properties of rose water make your skin glowy, helping it stay firm and regenerate faster! Use it as a toner to cleanse your skin, or in any of the following ways.
Rose water is hydrating
No wonder that all the skincare brands are raving about rose water, when it's a fantastic hydrating moisturiser! Misting your face with rose water will help your skin revitalise, refresh and moisturise. You are just two or three spritzes away from a completely refreshed look!
Rose water is great for aromatherapy
Whenever you're in a bad mood, rose water is an aromatherapy OG, used for millennia for its healing purposes, especially due to proven positive effects on overall wellbeing.
Depression, stress, anxiety, restlessness and migraines are just some of the long list of afflictions that benefit from smelling the roses (pun intended!). Spritz rose water on your face, neck and wrists, rub some under your nose, or simply mix it with warm water and inhale the fumes. A mood boost is guaranteed!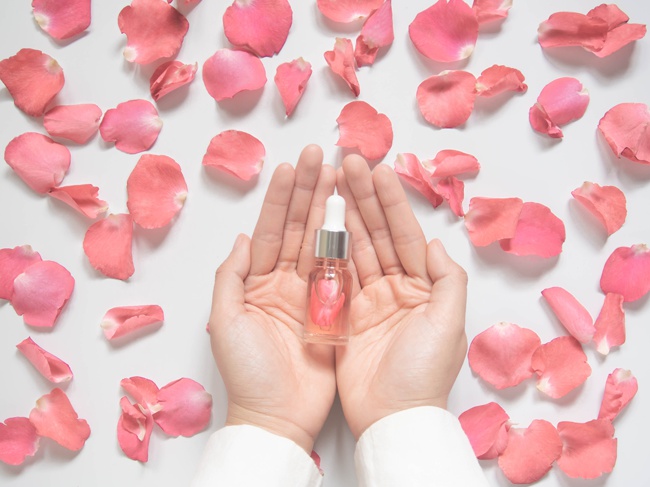 What are the best uses for rose water?
#1 Use rose water to get rid of puffy eyes
If you woke up with your eyes puffy and red, or if you're just tired of staring at the screen all day long – this use for the water from those gorgeous blooms will help!
Take two soft cotton pads and drench them in rosewater. Light a candle, lie down, and allow the cotton pads to rest on your eyelids for 15 to 20 minutes. After 20 minutes, remove the pads and gently wash your face in lukewarm water. The redness will be gone with the wind and your eyes fully rested and rejuvenated!
#2 Make A DIY Rose Water Toner
Using rose water as a toner is definitely one of the best skin solutions, and is a must for your skincare routine! Due to the slightly acidic pH which matches perfectly with your skin, rose water can be used as effective skin toner which is gentle for all skin types. If you're prone to break-outs no matter which product you try, rose water is a take-home solution, as the anti-inflammatory properties will make sure to keep irritation at bay and clean and tighten the pores.
Wet a clean cotton pad with 6 to 7 drops of homemade rosewater and apply to a previously cleansed face and neck. Finish off with a moisturiser of your choice!
#3 Rose Water Beauty Face Mask
If you're a DIY fiend, you're probably familiar with face packs. Essentially, it's a combination of items you can find at home with refreshing properties which make for a great face mask. Think mint and turmeric face mask, or lemon and honey!
Rosewater is a great mixing medium, and can be mixed into almost any face pack for an added calming effect. One of my favourite combinations is a sandalwood and rose water face pack. If you forget to drink water often or have issues with excessively oily skin, this face pack works great to provide both hydration to your skin, as well as eliminate extra oiliness!
Simply mix sandalwood and rosewater well and apply once weekly. Be careful if you have a fake tan applied on your skin, as the acidic properties of both sandalwood and rose water will slowly but surely remove the tan.
#4 How To Use Rose Water To Reduce Acne
Even if you're battling a case of adult acne or hormonal acne, rose water can help you out. Blackheads are of no issue, as rose water is great at cleaning out pores while making them tighter.
If you want to reduce acne with rosewater,  apply it at least twice a day.
First, cleanse your face with a cleanser of your choice and afterwards, apply rose water as a toner or mist.
Lastly, once the toner dries, use anti-bacterial moisturiser to finish your routine off. Adhere to your routine in the AM and PM and you should start seeing first results within two weeks!
If your face feels dry during the day, instead of picking at it, spray it with more of the water to help keep it nourished. 
#5 Set Your Make-Up
Trust me, rose water is a better make-up setter than any overpriced product out there! The added effect is a dewy and refreshed look, while keeping your make-up where it's supposed to be all day long!
Once you're done with your daily make-up, make sure to spritz your face 2-3 times with rose water mist from 20 to 30 centimetre distance.  An added bonus is that you can re-apply the water anytime during the day as you please to keep your make-up set if you need it to last the full 12 hours. No more clogged pores due to low quality setting powder – you'll stay fresh AND pretty.
#6 Can You Use Rose Water On Your Nails?
Want to make your nails and cuticles healthier and stronger? 
If you have troubles with nail blemishes but your nutrition is on point, a combination of 1 part lemon juice and 5 parts rosewater is a great way to keep your nails shiny and spotless.
Combine lemon juice and the water and wet a soft cotton pad. Thoroughly rub clean nails and cuticles and make sure to repeat this process daily. I swear by this – your nails will be more pink and sturdier than ever!
#7 Use Rose Water To Calm Inflamed Skin
Oh no – is your eczema or rosacea acting up again, or are you just randomly as red as a tomato? The anti-inflammatory properties of a rose help calm down skin quickly and gently.
Wet a soft cloth with rose water and gently pad your skin for 10 to 15 minutes. Allow your skin to soak it all in,  and air-dry naturally. You should see your skin gradually calm down within 1 hour.
#8 How To Use Rose Water On Your Hair
Hair just tends to get dull over time if you use nothing but shampoo. I'm personally not a fan of chemical regenerators, and true sulphate-free regenerator without additives is hard to find. But this will help you cleanse and scent your hair, completely naturally!
After washing your hair, dry it with a towel and liberally spritz rosewater over the entire length. Make sure to rub in some extra into the tips of your hair, as these tend to be the most damaged parts. For those troubled by dandruff, you can use a rose water wash while still in the shower, directly after rinsing out the shampoo.
Make sure to work the rosewater into your scalp and don't rinse it off.
#9 Create A Beautiful Bath
Do you use a bath bomb or bath gel with your weekly self-care bath? This unique recipe will fill your bath with the scent of those beautiful petals and a touch of luxury!
Add about 2 to 3 cups of rosewater to your bath, coupled with one or two drops of rose essential oil.
Not only will you smell like a goddess once you dive out of the bath 2 hours later, but your skin will be noticeably softer to the touch. Not to mention that the scent is incredibly relaxing, allowing your me-time to ascend to the higher plane.
You can also add in a handful of petals for the ultimate luxe retreat!
#10 DIY Rose Makeup Remover How-To
If you want to catch two birds with one hand, use rosewater as a make-up remover. It works great to remove even the oiliest of make-up (think lipstick or eyeliner), while at the same time hydrating and toning your face.
Wet a microfiber cloth or a cotton pad with rose water and gently rub your face in circular motions. For waterproof make-up, mix two parts rose water and one part coconut oil to aid in fast and irritation-free make-up removal. Wash your face with lukewarm water and apply skincare as necessary. 
#11 Natural Rose Perfume Recipe
You've probably heard of the glittery body perfumes that are all the rage during summer months. Making your own at home is quite simple! Rose water is a great base for a body spray for its light perfume qualities. You can purchase body glitter on Amazon for about 10 dollars in various colours!
To create rosewater shimmering body spray, simply combine about 250 mL of homemade distilled rose water, 1 to 2 tablespoons of your favourite oil (argan oil is great!), 2 to 3 drops of rose essential oil and 2 teaspoons of body glitter in a spray bottle. Stir and shake well to combine. Now you can enjoy both the scent and the sparkle of a rose! If you don't want the glitter, simply omit this part from the recipe. 
#12 Save your favourite mascara
Gasp – is that French-brand mascara you bought on your last vacation drying out?! Stay calm – this simple tip will help bring your favourite mascara (and your lashes) back to life.
Add one drop of rosewater straight into the tube of your mascara. Pump the wand to combine and try out on your eyelashes. If the mixture is still too dry, keep adding a single drop and pumping to combine. Rinse and repeat until it reaches desired consistency. Bonus point for original, wonderfully scented mascara!
#13 Rosewater Benefits For Sunburn
A long day at the beach? Use this simple tonic recipe. It will give you great relief if you've spent just a tad too long in direct sun, or (gasp) didn't put on your SPF!
Mix equal parts aloe vera with rosewater until well-combined and gently spread on afflicted areas for immediate relief of both pain and redness!
#14 Use as an aftershave
Who said ladies don't need an aftershave? Instead of a minty smell, treat yourself to a rose scent! This will help negate any irritation and help soothe your skin.
For an added wash of perfume, mix a couple of drops of rosewater straight into your body yoghurt or body milk and apply liberally after shaving.
#15 DIY Petal Lip Balm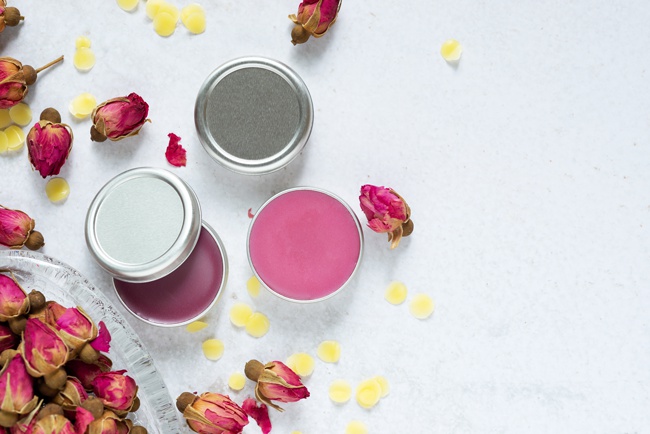 Roses have hydrating properties, and so its water can be used to treat your dry, cracked or chapped lips. Your sore lips will be soft, plump and glowing! To use –
Wet a cotton pad with rosewater and gently pat your lips for 5 minutes.
If you wish, you can precede this treatment with a DIY lip scrub for a better end result.
To make a DIY lip scrub, mix one teaspoon of honey with two teaspoons of sugar and a few drops of rose water. Mix together and gently rub your lips until the sugar dissolves.
#16 Remove a fake tan
Sick and tired of your skin being tan? You can easily remove both fake and real tans with a combination of one part lemon juice, one part rosewater and two parts aloe vera gel.
Stir well to combine the ingredients. Finally, spread across any afflicted areas, allowing the mixture to work its magic for 15 to 20 minutes. Wipe the excess with a fibercloth. Enjoy your smooth, lighter and brighter skin!
#17 Apply wet pigments easily
Do you have a gorgeous eyeshadow colour, but you'd kinda prefer if it was an eyeliner? Fear not! To a teaspoon of powder, apply one drop of rosewater and mix thoroughly into a paste. A result is any pigment of your choice as a liquid pigment, suitable for eyeliners or mascaras! Nifty, isn't it?
#18 Use rose water to grow your hair naturally
Use this great leave-in treatment for those of you looking to grow your hair naturally and fast! It will repair your follicles as well as stimulate new, young growth in no time!
Spray rose water into the roots of your hair. Thoroughly massage it into both your scalp and the tips of your hair. Wrap your hair into small braids and cover with a microfiber towel cap – one of these which will stay on as you sleep works great! Leave overnight. For best results, don't rinse out and repeat twice weekly.
#19 Treat yourself to aromatherapy self-care
If you want to soothe stress, anxiety, depression or headaches, look no further!
You can use rose water as a mood enhancer in many ways. For example, spray it on your pillow to aid sleep. Otherwise, rub under your nose and around your neck to prevent breathing issues.
Finally, you may choose to simply infuse rose oil. Pour hot rose water into a big bowl and add about 3 to 4 rose essential oil drops. Bring your face close in, but don't touch the hot water. Place a towel over your head and allow the rosy steam to rejuvenate your face. You will feel much better in no time!
#20 Add rosewater to your laundry
Sounds crazy? Maybe, but it has completely changed my laundry game – for the better!
The next time you iron your clothes, use rose water in your iron instead of regular water and set it to be as steamy as possible. As you iron your garments, the wonderful scent will embed itself, easily lingering in your wardrobe for up to a month!