I a big fan of organic cosmetics.  It is personally important to me that a brand doesn't test on animals and that they use organically-sourced products whenever possible. However, the downside of these products is that they are sometimes pretty priceeeeeey! If you've recently been in an organic cosmetics store and found yourself face to face with a bottle of this or that costing the earth, then I'm pretty sure you feel my pain. So lately, I've been DIY'ing some of my own cosmetics and beautiful bath-y stuff! And, being the biggest fan of roses ever (did you guess)? I thought I'd give rose essential oil a try!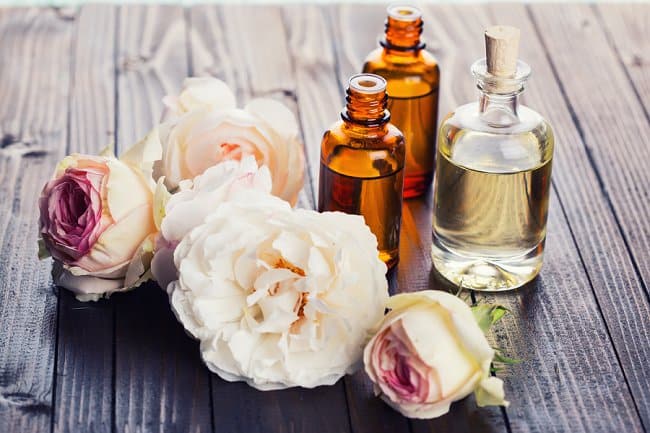 Rose essential oil can be used for so many things from a scented home spray, refreshing body spritz, a facial toner, even an organic cleaning solution. For me, I just wanted to surround myself with that gorgeous scent every day, seeing as I don't wear perfume.  So, I got to work!
How To Make Rose Essential Oil At Home
The process of making rose essential oil takes approximately three days to complete. To make rose essential oil, you will need 
5-6 large, fresh roses
oil of your choice – such as

almond oil (good base)
grapeseed oil and jojoba oil (good for normal to mixed skin)
rosehip oil and teatree oil (good for acne-prone skin)

3 cups of water


The Process
Take the petals of approximately 5-6 large roses, place them inside a mason jar.
Coat the rose petals with oils of your choice, inside the jar. 
Sir the mixture and leave it to sit for approx 24 hours.
Fill a deep sauce pan with about 3 cups of boiling water (about half of the pan should be filled with water)
After the water has boiled, reduce the heat to a low flame and simmer. Put your mason jar inside the pan without opening it. Lid the pan fully
Leave the mason jar to heat in the lidded pan for about one hour on low flame.
After one hour has passed, take out the mason jar and let it cool.
Give the contents of the mason jar a good stir for approx 3-4 minutes, pressing on the petals as you mix. 
Repeat the process for the 7th time.
Prepare a deep bowl and a cheesecloth. Attach a sieve onto the bowl and put the cheesecloth onto the sieve.
Empty the mason jar contents fully onto the cheesecloth.
Squeeze the cheesecloth – with hands, spoons – whatever works the best for you, until oil stops draining into the bowl.
Spoon about 1/2 of your sun-dried rose petals into the oil. Mix well, then empty the contents into the mason jar again.
Repeat the process two more times. Finally, after the 2nd time, allow the mason jar to rest for 24 hours.Repeat the process of heating and cooling six times. Heat up for one hour, cool down, heat again for 1 hour.
When you finish the process for the 6th time, after the mason jar has cooled down – open it.
Strain the contents of the mason jar again, over a bowl through a sieve and a cheesecloth.
Prepare a glass vial. Place the rest of the dried rose petals into the vial.
Ladle your rose essential oil inside, but not to the very top. Lid with the dropper.
Shake well. Your rose essential oil is ready to use! 
Why should I make rose essential oil at home?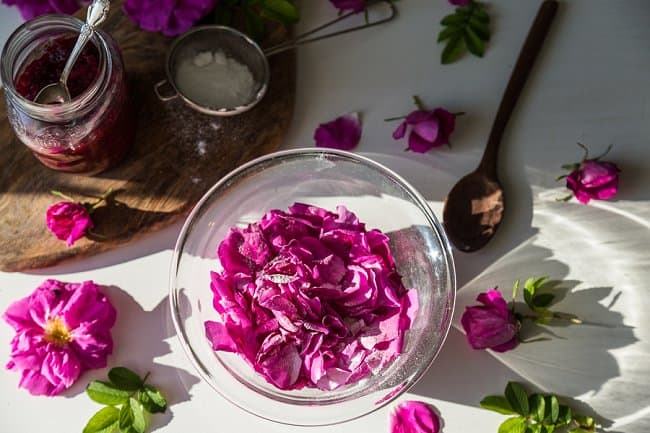 Well, for one, it is just better than anything you can buy in a store. If you've been reading our posts, then you know we have quite the affinity for the art of the homemade – homemade rose tea being one of our cult classics!
Whenever you have the choice, the means and the time – treat yourself by creating instead of buying. At the end, when your product is looking and smelling amazing, it will feel so much more gratifying! If you have roses in the garden, then you're all the more a usability champion!
Finally, our recipe is both easy and affordable to make – if you have a bit of time to spare!
What is rose essential oil good for?
Rose essential oil is the direct way to harvest everything good a rose can give.
There is, perhaps, no other rose product which is capable of delivering such a high concentration of anti-septic, astringent and anti-inflammatory properties as the essential oil. Truly, it is the very essence of the rose in a single liquid!
You can use rose essential oil to promote the growth and shine of your nails and your hair. Some of the properties will also work wonders on the overall health of your scalp and the split ends (if you use it on your hair) and the nail bed and cuticles (if you use it on your nails).
Furthermore, rose oil is perhaps the most widely known and used in aromatherapy. It is well-known and back by scientific evidence that rose oil aids in resolving anxiety and depression, promoting the general feeling of well-being.
To add to that, rose essential oil is wonderfully anti-inflammatory, so it is so often used in skincare. Dry skin? Acne? Signs of aging? Bye-bye!
How do I use rose essential oil?
Rose essential oil is, personally, perhaps my favourite of all of the rose products. It is just so versatile!
With your rose essential oil you can:
add a few drops to your daily moisturiser to smell like a David Austin English Rose all day long
add a drop to your night cream to curb dry skin or signs of aging
use it directly on your skin (wrists, neck) as a light perfume
mix in your hair mask to promote growth, shine and curb frizz
rub into your nail bed to soften and repair cuticles
add a few drops to your shower gel or bath water to turn it into an impromptu aromatherapy session
diffuse it in a water diffuser to calm down after a stressful day
That's not a finite list, by the way – I'm sure you can think of a couple of good uses on your own!
Using A Distiller For Rose Essential Oil
This method of creating rose oil is easy to do at home as it requires no special equipment. However if you particularly enjoy the process or you want to make it much quicker and faster, you might want to invest in a distiller.
A distiller also looks super fancy and beautiful in your kitchen, check out these ones handmade in portugal to see what I mean! They have this gorgeous almost moroccan look and feel to them that would definitely give my kitchen some pretty appeal!
How To Make Essential Oil Last Longer
Make small batches little and often, as the oil can start to decay the more it comes into contact with air. You can tell when rose oil has gone bad by a change in smell and appearance.
If you make larger batches, store them in smaller vials or containers, to prevent the whole batch from decaying.
Use glass containers to store your oil, as plastic can leech chemicals. Not what you want in your organic oil! Plus, glass is better for the evironment.
Test your essential oil on your skin in a small patch before spraying liberally!
Store your oils in a cool dry place away from sunlight which makes them expire quickly.
There you have it – your own, homemade cosmetic product! Make sure to use it within the year, as it expires like all organic products tend to – due to oxidation, light and heat.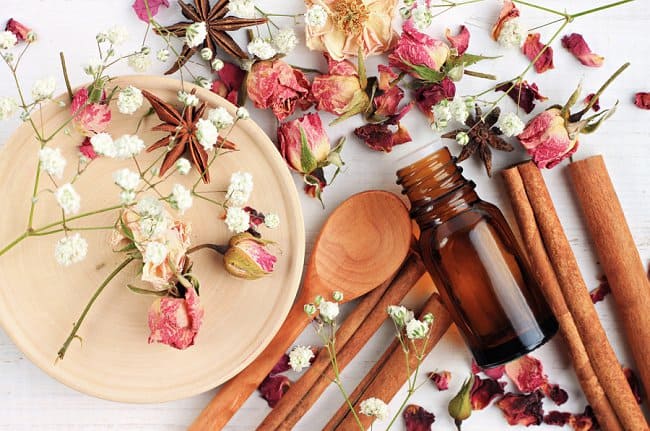 This is a bit of a lengthy process but OMG – it is worth it, trust me! And while you're in the DIY mood learning how to make essential rose oil at home, then DIY some rose water, too! (psst – it's the best recipe out there!)