As part of our homeschool these last few weeks, we've been celebrating harvest time. Painting, making harvest banners, and baking simple, warming apple dishes. Then Pinterest reminded me that it might be time to consider getting my DIY fall wreath on!
You can't have missed that DIY fall wreath mania that's ALL over Pinterest right now?! It's the perfect homeschool activity and it's going to make my house look amazing – and yours too!
Gather your craft supplies; it's that time of year!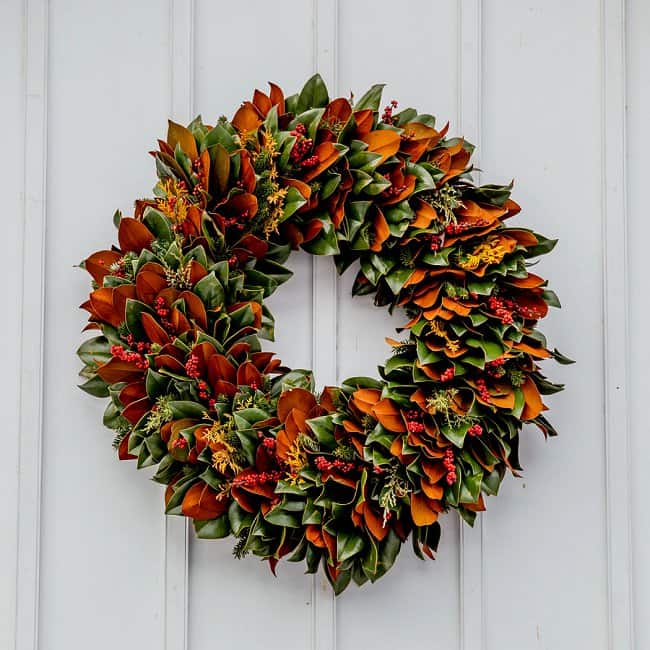 Disclosure: This post may contain affiliate links, which means that we may earn commission from qualifying purchases at no extra cost to you. Learn more.
What Do You Need To Make A Fall Wreath?
For a fall wreath DIY for your front door, you will need 
Some sort of hoop, like these bamboo hoops from Amazon.
https://amzn.to/3cmFtAqFlorist's wire (also available on Amazon)
Decoration of choice! This could be fake or silk flowers, pine cones, ribbon in autumn tones, burlap, dried orange fruit slices, mini pumpkins, carved wooden fruit, corn husks, or any other decoration you see fit!
Glue gun with glue sticks
A good tutorial like the ones below!
Or, you can just get to work and start gluing!
21 Best Fall Wreath DIY Tutorials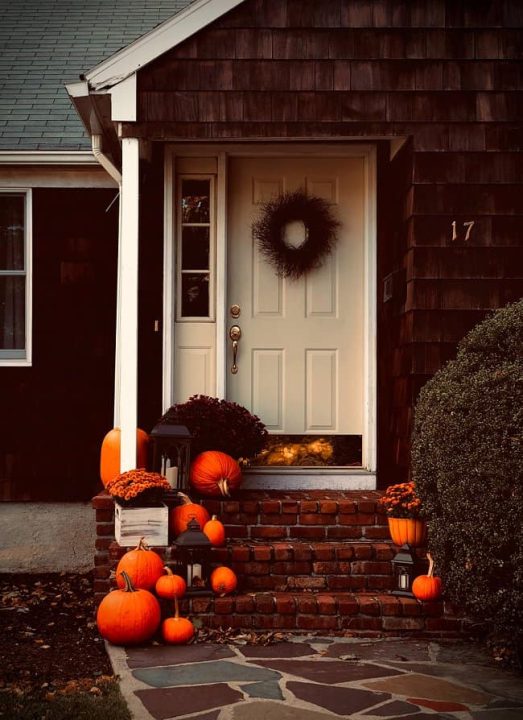 This gorgeous wooden bead DIY fall wreath

from LollyJane has scandi-chic written all over it! To make this fall wreath is much easier than it looks – those wooden balls are actually half-balls that you glue on to a flat wooden circle to make the wreath! Simple, easy, so chic!
This romantic DIY fall wreath is probably the one I'm going to opt for, to be honest! With blush ribbon and soft petal like leaves, this wreath manages to be both pretty and glam and yet simple and laid-back all at once.
This lush, full eucalyptus wreath feels so abundant! I had eucalputus in my wedding bouquet so it has beautiful memories for me, and it can smell amazing too. Great for homes with a luxe feel or touch to them. This is also probably the simplest DIY fall wreath to make – no glue or wire required!
Come on, this list wouldn't be complete without a gorgeous Pampas grass wreath for your door!
Dried flowers are sure to be another firm favourite. This feminine, airy wreath is another personal favourite, and with it's snowy-white touches it's going to last well into winter too.
The colour and the texture on this fall wreath by Jennifer Maune is so beautiful! Jennifer's stayed away from traditional autumn colours of beiges and browns and gone all out extravagant, and we LOVE it!
I kinda like this one because of how cosy it feels, plus I think the kids would have great fun making this one. As a steiner homeschool fan, anything with soft gentle textures I love, and this one also looks far more stunning than I would expect on a front door – see what I mean, here! Plus, I love how she gives styling tips for your porch 🙂
This copper metal wreath is amazing. It might take a little more DIY than the others, but it's worth it – imagine this sparkling on your door?!
Painted pink pumpkins are bringing next-level pretty to this front door! For you if you love all things pink and feminine!
Jen is seriously next-level when it comes to DIY fall wreaths. Not only did she make the pretty pink pumpkin affair above, she also made this, simpler, but no less wow wreath. 
I'm personally just in awe of how she makes even the simplest door look stunning, I'd love my girls to come home to find the front door decorated like this!
I'm just becoming a walking advertisement for Jen 😀 but seriously, here's one more. I'm sure I could probably pull out a million wreaths from her site to be honest, but this pretty one caught my eye and I couldn't not include it! Another one I think the kids will love to DIY, it reminds me of windmills in the garden, and who doesn't love those? The minimal color scheme features a ton of natural, softer elements though it still manages to look elegant and her signature pretty is in there too! See it here.
This cornstalk wreath from twelve on main is perfect for me right now. As I said, we are celebrating harvest time right now so what could be better than actually finding a use for these corn stalk leaves and husks and bits and pieces? Plus I love how it was styled here across the bed, it looks beautifully rustic and simple. And I'm all about that!
I had a surprise when browsing through twelve on main, in the shape of this totally non-traditional DIY fall wreath. If the thought of all these 'pretty wreaths' make you scream a bit 'bored housewife' then you're going to love this non-wreath wreath! With no circular shape to speak of and made from found antlers, this is definitely one for the non-traditionalists. To be honest, I've seen SO many pretty wreaths writing this post I'm kind of leaning towards one of these myself!
This simple wreath uses an embroidery hoop and fake flowers, for a pretty look. Best of all, all materials are available on Amazon.
This wreath is simple to make but a real statement piece, while still being natural and elegant. Featuring berries and twigs, you won't need a lot more than that and a wreath base to make it with ease. See it here
This wreath is for those of you with a super smart home. You know – no shabby chic, cottage style rustic farmhouse decor here. Everything in its place, everything Pin-perfect! A full, blousy, hydrangea wreath. Despite not being on the smart-side, I like this one a lot.
And now for the total opposite of the wreath above, if you're a country girl with a heart for farmhouse decor, you'll love this simple and classic burlap wreath! The best thing is you can repurpose this one season after season – just add bells and holly for the Christmas season!
Here's another one for a simple, slow season. It has a pretty, light feel, despite being simple and easy to make. Check it out here, for fans of simple, white, and farmgirl style!
This Indian corn wreath is another one of my absolute favourites! Totally satisfying the boho queen in me. What do you think? It looks absolutely stunning and I would totally hang it indoors all year round, not just on my front door for fall!
Trust Martha Stewart to pull it out of the bag. She's tapped into all the major trends with this fall wreath – from pink and dried flowers to bunny tail softness, in a DIY fall wreath that's just the right size.
Finally, this stunner. It's not a DIY, I know. But how could we not include it!? It's so pretty AND it's not by some major celebrity or online store, it's a one-woman, handcrafted show over here! And I love it! So you'll have to forgive me. Because if I make a wreath, it's going to look like this, and if I buy one, well, this will be the one. Check it out for yourself, here. 
That's my DIY fall wreath roundup, but before you make yours, you might want to check this out. Don't buy those nasty plastic pieces from dollar tree to stick on your wreath – get drying your own garden flowers instead with this tutorial.
This will keep your flowers dried, preserved, and looking perfectly ready to hang on a wreath!