English cottages and stone garden benches are often dotted with a green plant that also carpets forest floors. This very plant packed the wounds of many wounded soldiers and is now a trending living art form in homes, offices, hospitals, and restaurants. So how can you grow moss indoors? Let's take a look together. 
What Exactly Is Moss?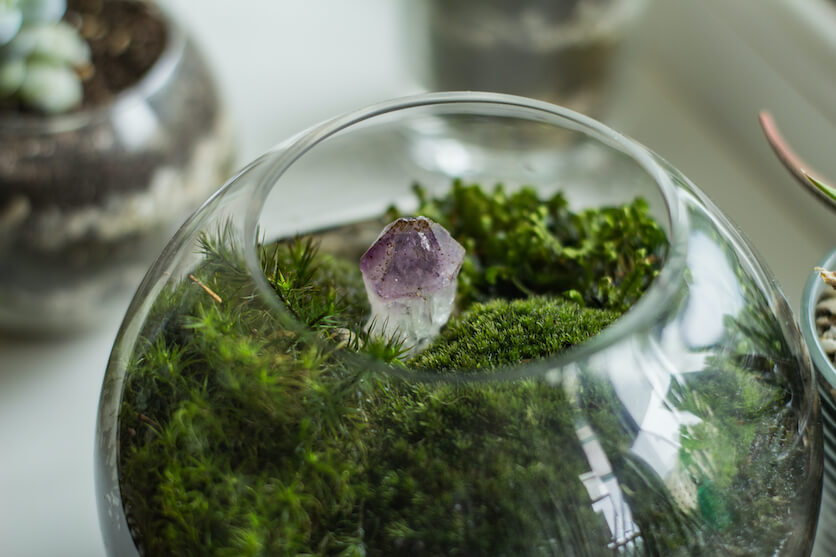 Most of us who walk through forested trails or along streams often see moss without realizing it. That green, carpet-like stuff growing on tree trunks, in between rocks, and along the ground is moss. Depending on where you live, moss can be one of the thousands of different moss species. Moss is alive and thriving all over the world, typically in shady areas. 
Uses Of Moss
Moss has played important roles for centuries. In the early 1900s, during World War I, surgeons and doctors utilized sphagnum (peat moss) to pack the wounds of soldiers. This same moss acts as a preservative element where the famous Tollund Man (from thousands of years ago) was found in a Denmark bog. Native Americans used moss to make diapers for their infants, as well as creating a cushiony lining in their baby bed. 
Today, moss still plays a significant role in the gardening and floral industry. Moss hunters work full-time hunting down and harvesting moss out in the wild and sell it to florists, garden centers, and even the Scotch whisky makers for smoking malt used in whisky-making. Furthermore, fish enthusiasts who dabble in aquascaping their aquariums with live plants often include moss as a substrate cover. 
The Uniqueness Of Moss
Moss has an independent ecosystem compared to traditional plants. Plants as we know them develop roots, seeds, flowers, fruit, and so on. In moss, there are no roots, flowers, or seeds. Unlike regular plants that get their nutrients from soil, fertilizer, sun, and water, moss feeds on air. 
Regular plants reproduce through seeds, whereas moss reproduces by dispersing spores. As for pests and disease, moss is the boss and requires no use of chemicals to treat such things, whereas regular plants do. Lastly, moss is highly eco-friendly!
Most Common Species Of Moss
The moss used by garden centers and florists happens to be preserved (Leucobryum glaucum) moss. Many people ask me where they can find the same species of moss. However, I have to break the news to them, that that particular type of moss is dead and not something they can grow.
So, which species of moss are the best to grow indoors? Well, there are thousands upon thousands of moss. I could never begin to explain them all, so we will look at the most common mosses for the sake of simplicity.
There are 20,000 species of moss, all of which belong to the Bryophyta phylum. Thus, when hunting for moss species to grow, you will need to have a basic understanding of the taxonomic hierarchy.
Moss belongs to the phylum Bryophyta (which includes mosses, liverworts, and hornworts.) There's a lot of debate over whether liverworts and hornworts are mosses or not. According to the Encyclopedia of Biodiversity (Plant Biodiversity, Overview,) moss, liverworts, and hornworts are three separate classes of plants. Moss is non-vascular, whereas liverworts and hornworts are vascular.
Common Mosses and Their Taxonomic Hierarchy
Funaria (a common species of moss that belongs under the phylum Bryophyta)
Class: Bryopsida
Species: there are eight different ones
"Pin Cushion" (another common species of moss under Bryophyta phylum)
Class: Bryopsida
Species: Leucobryum glaucom
What Is The Fastest Growing Moss?
Fern moss (Thuidium delicatulum) and Baby Tooth moss (Plagiomnium cuspidatum) are stated as being the fastest-growing moss species. So, if you don't want to wait for your moss to grow and are looking for something with a rapid growth rate, these two mosses fit the bill!
How to Grow Your Own Moss Plant Indoors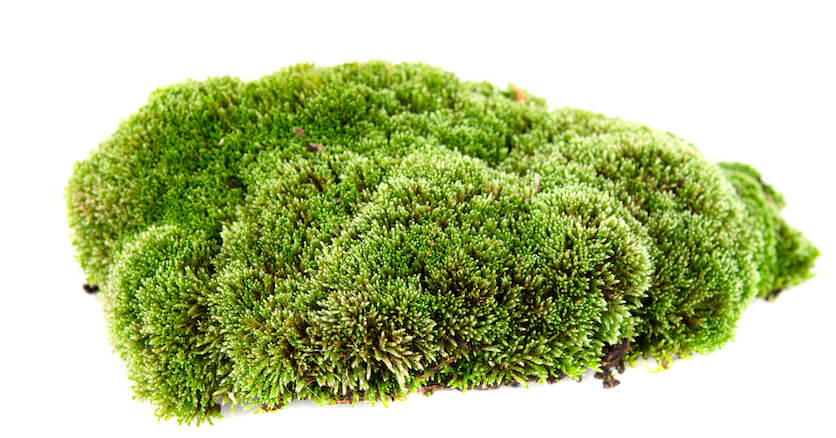 So, if you're wondering, "Is moss easy to grow indoors?" my reply would be a big YES to that! 
Moss is one of the very few effortless indoor plants you can grow without having that perfect green thumb. If you can use a mister bottle to give them a good spray every now and then and monitor a few things, you can grow moss indoors. I have a few tips on how to have that beautiful indoor moss garden.
Things To Consider When Growing Moss 
To grow the perfect emerald green moss, you have to get the following four elements right: 
Lighting
Moss does best in areas where it does not get direct sunlight. In fact, it grows well in rooms that are just short of being dim or dark. In the natural habitat of moss plants, they grow in areas where they thrive in full-time shade. Habitats include ground floors of forests where little sun reaches them, in between rocks and boulders where it's cool and shaded, on the trunks of trees beneath thick canopies and other places that are moist, cool, and dark.
Soil 
Two things to pay attention to in growing moss are the pH and temperature of the soil. Moss is alkaline sensitive and fails to live should the pH climb above 6.5. Ideally, the pH should run about 5.0-6.0. Soil temperature should be about 86 degrees (F) (30 degrees C.) 
Watering
How often should I water moss? Moss does best if it is constantly misted and kept moist. This is especially important for the first few weeks after you have harvested your moss from somewhere and brought it home to grow. Tap water will quickly turn your moss brown because of the chemicals in the water. You should only use distilled water to mist your moss. A hefty misting should be done twice a week. 
Placement
Growing moss indoors means you'll need to find an area without any direct or indirect sunlight and where it's humid. Placing your moss in a room near a fireplace or source of heat tends to dry it out quickly. Moisture is important for any moss to thrive. Bathrooms are great places to grow moss because of the humidity from showers and baths. If you'd prefer to keep your moss in a different room of your home, you can supplement dry air with a humidifier that helps keep moss happy.
Planting and Caring For Your Indoor Moss
Now it's time to get our hands dirty and get to planting your moss. But we have to make sure you have everything you need first.
Acquiring Moss To Plant
Moss is best harvested right out in its natural habitat. Talk a walk through your local forest or look for it growing on trees or stone structures. Areas, where it's shaded and has moist conditions are where you'll have the best luck finding moss. A moss native to one part of the country or world may not grow in your area, so one of the fun things to do when you travel to different places is harvest moss and bring it home to plant!
Container
There's a container for almost any situation when it comes to growing moss indoors. You can do like I did and find a lot of inspiration on various online sites when it comes to growing container moss. 
I love the look of a vertical moss garden, but that takes a lot of planning to create one and maintain it. Because moss requires a constant state of moistness, terra cotta containers may not be the best because they tend to absorb water robbing the moss of moisture. Ceramic or plastic is great to grow moss in. You can also create some upcycled planters from household items like jars, vases, bowls, etc.
Planting moss isn't like regular plants with sizing the container against the root ball. Moss doesn't have roots. So, you can confidently plant moss in a container that accommodates the width of the moss plant. Easy peasy!
Planting: Soil And Substrate
Learning how to plant moss isn't too difficult. A 1-2" layer of pebbles should go into the container first. Next, add several inches of potting soil on top of the pebbles. Use a misting bottle to spray down the potting soil to moisten it, not saturate it. Take your piece of moss and gently lay it upon the potting soil layer. Take your misting bottle and moisten the moss. 
Can you grow moss without soil? Moss seems to do better with a layer of soil underneath. However, if you prefer a more modern aesthetic look, moss will grow on a layer of pebbles, providing you keep it well moistened. Soil retains moisture, whereas pebbles do not.
Adding Moss To Potted Plants
Adding a moss plant to potted plants adds dimension, color, and acts as beautiful coverage over the soil. Is moss good for potted plants? Moss acts like mulch by working as a protective layer over the soil, which helps the soil retain moisture. The downside of planting moss on the surface of the soil in a potted plant is you may not be able to judge how much you are actually watering your potted plant, which can easily lead to overwatering and root rot.