Like kids, plants grow. We feed them, tend to them, and are rewarded with larger versions of themselves. This is usually the desired outcome, but sometimes we just need a touch of inside greenery to brighten up an area, and you may not have a lot of space for your plant to spread out.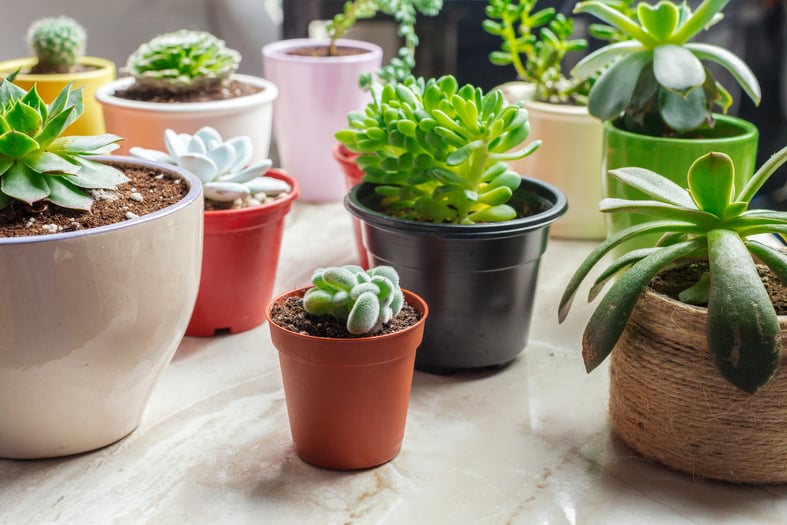 12 Tiny houseplants you can easily grow in small spaces:
Watermelon peperomia
Bonsai
Echeveria
Nerve Plant
Lithops (Living Stones)
Herbs
Maidenhair Fern
Moss
Baby's Tears
Succulents
African Violets
Miniature Roses
 Every house can contain living indoor plants, even if there isn't a lot of available space. A few months ago, I may have resorted to buying an artificial plant if I needed one that would stay tiny! However, I've done some scouting and found some miniature indoor plants that are ideal for small homes or narrow window ledges.
Small House Plants That Don't Take Up Much Space
Big may be beautiful, but this isn't always the case when it comes to houseplants. You may have limited space on a shelf or desk and want a touch of greenery, but without the fear that your beloved plant friend will get too big for its position.
There are lots of creative ways to keep a miniature plant display besides only in a standing pot. If you have a small space or awkward corner, consider adding a tiny hanging basket. Trailing succulents are an excellent teeny-tiny plant option for sunny spots.
Visiting your local store's plant section without prior knowledge about the plant variety can be deceptive. Plants sold in tiny pots may have the potential to become huge, so don't be fooled by a cute little ornamental bamboo or rubber tree plant!
I've made a list of some of my favorite tiny house plants. These plants can grow in little pots and stay small. They can be standalone or clumped together as a display. They also make the cutest gifts if you have too many!
1. Watermelon Peperomia
This striped tropical beauty's mature size is only 12 inches, so you won't have to worry about it taking over. The Watermelon peperomia is extremely popular and does very well in indoor settings. Although there are over 1000 varieties of Peperomia plants, I love this one because of its contrasting stripey colors, making it an effective stand-alone plant in a small space.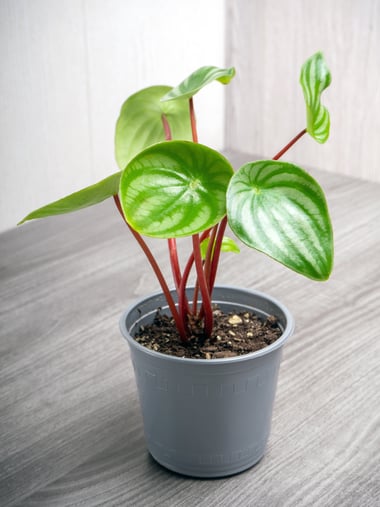 2. Bonsai
The term bonsai can refer to any number of plant types, but the common denominator is always compact size. Growing a tiny bonsai tree can be deeply rewarding if you have limited space and want a showpiece. Take note, though, that bonsai need a lot of attention to stay healthy, but owning one is like having a unique piece of Japanese art in your home.
3. Echeveria
Each stunning little Echeveria (Echeveria chihuahuaensis) resembles a little green rosette or flower. These succulents are low-growing and only reach a diameter of around 4 inches. They require very little maintenance and always look neat.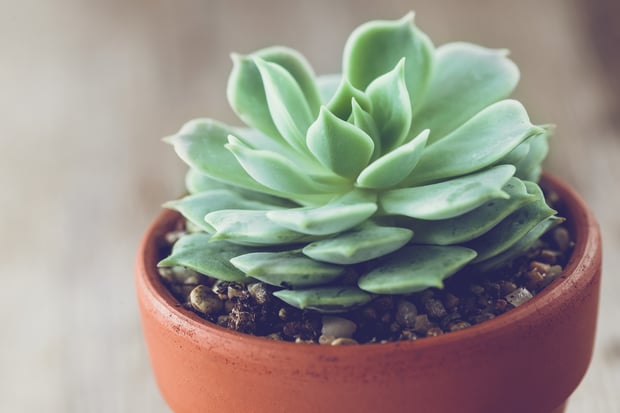 4. Nerve Plant
The stunning variety of these tiny indoor plants is just incredible. Vivid maroon veins on dark grey leaves or cream on emerald green backgrounds make them eye-catching and the perfect addition to any room that needs a lift. Nerve plant (Fittonia albivenis) works well in hanging baskets, terrariums, or any setting where they will receive enough moisture and sunlight. No pruning and no fuss.
5. Lithops
When I first saw these unusual plants displayed on a sunny window ledge in my favorite coffee shop, I had to look twice. Lithops (Lithops pseudotruncatella) resemble tiny stones but are very much alive and can periodically burst into flowering, showy life. They are a great choice if you would love an extremely unusual, easy-to-care-for, space saver that can handle a fair bit of neglect.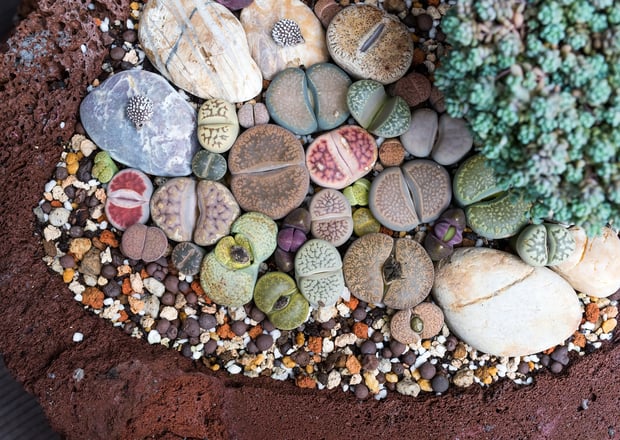 6. Herbs
If you have limited space to grow indoor plants, don't limit yourself to ornamental beauties. Plenty of beneficial and attractive herbs can double up as delightful feature plants and won't take up a lot of space. Plants like mint or thyme will grow readily in small containers so long as they get enough light. A bonus is that pruning is easy as you will do so naturally each time you add a few tasty sprigs to a casserole!
7. Maidenhair Fern
Ferns are always eye-catching and gorgeous, but they can be tricky to grow indoors. However, it is worth including this plant on the list in case you are one of those plant-parents who tend to overwater – if you are guilty, this is definitely an option to consider!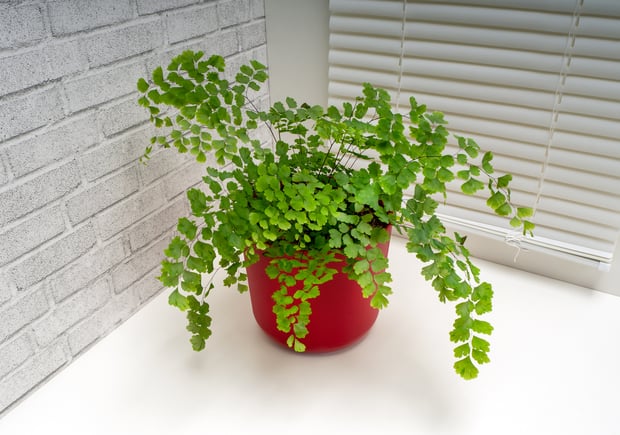 The delicate leaves of the Maidenhair (Adiantum spp) in a citrusy green add a vibrant, feathery touch of life and can cope in a small space and thrive on moisture and humidity. Consider using adding a colorful self-watering globe to keep your little fern hydrated.
8. Moss
Houseplants don't have to have big showy leaves to add a touch of greenery. Moss can form a tiny green carpet and conjures up thoughts of woodlands and fairies. Use a large wine glass or small glass tank to create a miniature moss garden. It can be an attractive option, especially in rooms with limited sunlight.
What Plants Can Grow In Tiny Pots?
We have all seen plants tenaciously popping up between paving stones! Nature is truly amazing; many plants can thrive even in a minimal amount of soil.
If you have found a tiny pot and want to plant a cute indoor plant in it, consider one of the following:
Baby's Tears – This beautiful mat-like plant is often used as a tiny terrarium plant. It combines hardiness, texture, and soft appearance. It is a good option if you have a small container but still prefer a fuller-looking plant.
Succulents – The beauty of succulents is that they are hardy, attractive, and easy to grow, even in hostile environments. This means that they will easily manage in tiny pots. Succulents are an ideal option for anyone with limited space for indoor plants.
What Are Some Small Flowering Plants?
African Violets used to be associated with the older generation, but these cute plants are making a major comeback. The vividly colored flowers and compact size makes them ideal for anyone who wants to keep a dainty, flowering plant. So long as they receive sufficient bright, indirect light, these gorgeous flowering beauties tick all the boxes for small-space indoor plants. Of course, everyone knows that when it comes to flowers, roses will be on the top of my list – this time, it was a case of saving the best for last. Miniature roses are an excellent option for a splash of color in a sunny position on a desk or windowsill. These compact beauties bring an outdoorsy feeling inside and make everyone instantly happy!