Who knew an herb to help mask the odor of human corpses would end up on billions of plates? This unassuming little herb is as old as the typical lifetime of 66 people.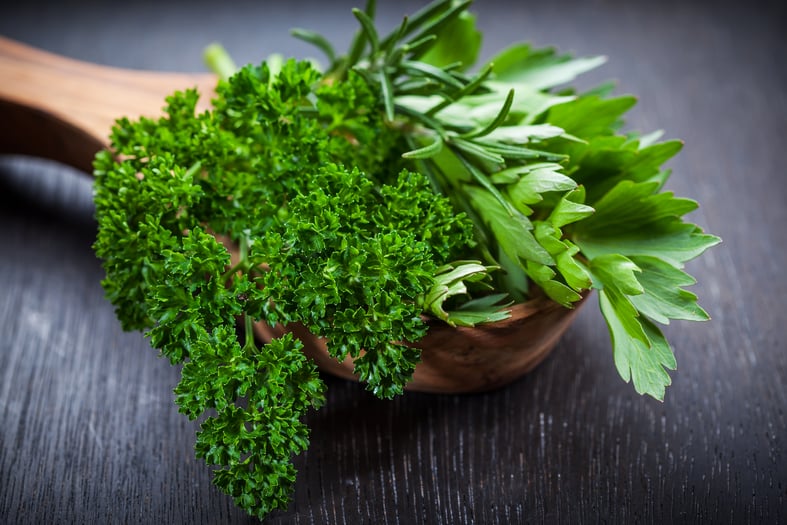 Parsley is one of the most commonly used leafy greens for garnishing foods and dishes. The vibrant green color of parsley adds visual enhancement to a rather dull-looking plate. Some foods are paired with parsley garnishings because it pairs perfectly with certain foods to enhance the flavor. The tangy sweetness of parsley pairs wonderfully with fish, rice, eggs, and other vegetables.
The delicate leaves of parsley are what lend to its overall delicate appearance. However, the perception of delicacy is deceiving, for it's a relatively hardy herb to grow.
Varieties Of Parsley
There are various parsley cultivars; however, the most commonly grown are flat leaf and curly leaf. These two parsleys are used for garnishing and flavoring foods and beverages. Root parsley is typically cultivated as a vegetable accent with fine foods.
Flat-leaf (Petroselinum crispum neapolitanum) (also called "Italian parsley")
Curly-leaf (Petroselinum crispum crispum)
Root parsley (Petroselinum crispum tuberosum) (also called "Hamburg parsley")
Flat Leaf "Italian" Parsley
This parsley is easy to identify because of its dark green flat serrated leaves, which are larger in size. Italian parsley has a bright, clean taste with hints of pepper and is often used in the culinary world to flavor sauces, soups, and stews. Its aroma is earthy and grassy. Of the three main types of parsley, Italian parsley is the hardiest when it comes to cultivation.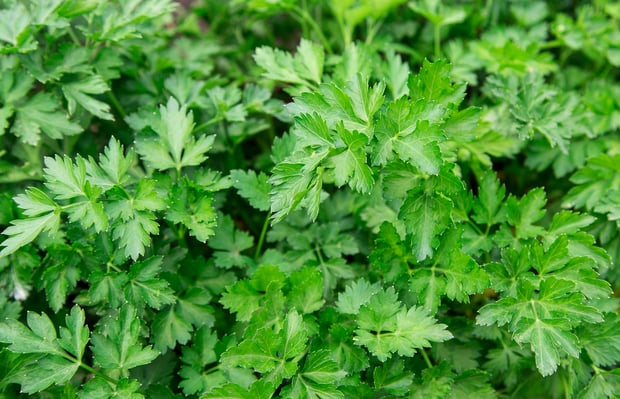 Curly Leaf Parsley
Curly leaf parsley is easy to spot because of its curled leaves (hence the name.) This parsley is the leading parsley used as a garnish because of its lively appearance and bright green color. The toothy edges of each leaf are curled. The appearance of this parsley's refined curling is deceiving when it comes time to taste it, for it is somewhat void of any significant flavor. It has a very subtle hint of earthiness in both flavor and aroma. I find that when choosing parsley to grow, I tend to go for more robust tasting ones. Now, if I were to garnish dishes I cook, I might consider curly parsley.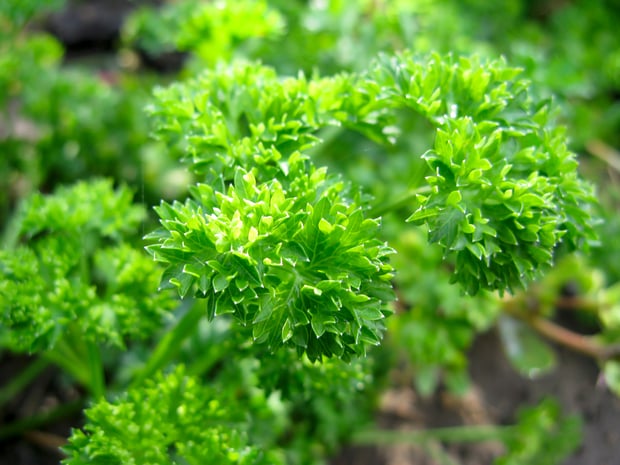 Root "Hamburg" Parsley 
This parsley has a small white tubular root that resembles a very young parsnip. This parsley is often used as a unique vegetable feature on the plates of the finest foods served in the culinary industry. It is not used to garnish but is highlighted as a side dish. When cooked just right, it tastes like celery. Although Hamburg parsley is considered an herb, many gardeners grow it as a vegetable food rather than an herb.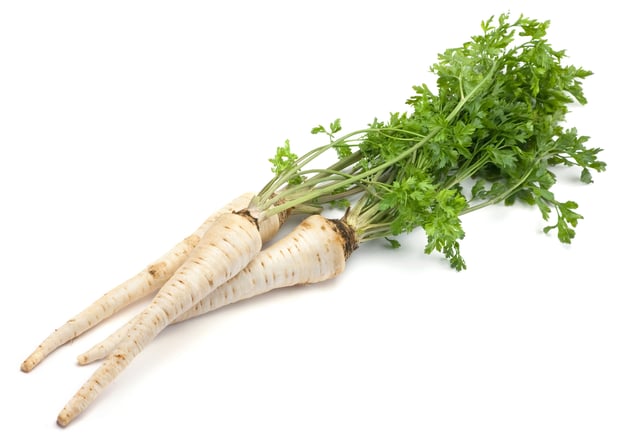 Cultivating Parsley Indoors
Is parsley an easy plant to grow indoors? It's a fairly hardy plant that does well indoors under the right conditions. It's beneficial to better understand what parameters parsley requires to be able to successfully grow them inside. 
Can I Grow Parsley Indoors Year-Round?
My parsley is a perpetual grower making it an ideal indoor herb to grow. The downside to parsley is its two-year lifespan. To compensate for the short life of these plants, when my current parsley plants begin to near the year and a half mark, I begin to propagate new ones to take their place.
Can You Transplant Parsley From Outside To Inside?
I bring my in-ground outdoors parsley inside just before the first frost hits. I dig them up and transplant them into containers filled with indoor potting mix. When I bring them inside, I place them in a dark room to acclimate and then move them in front of my south-facing expansive window, where they will overwinter.
A Quick Overview Of Parsley
Lifespan: 2 years
Sun: full sun, partial shade
Soil: well-draining, loamy
Water: medium
Maintenance/Care: low
Growth Rate: 70-90 days to reach maturity (4-6," 10-15 cm of growth per month)
Height: 12-18" (30-45 cm)
Spread: 3″ (7 cm)
Temperature: 50-85 degrees (F) (10-29 degrees C)
Hardiness: cold hardy to 10 degrees (F) (-12 degrees C)
Bloom: white flowers (summer)
Harvesting: up to 3 times per year 
Growing Parsley Indoors From Seed
Planting parsley indoors is something I have always had success at doing. Parsley does best by planting the seeds directly into a container filled with soil. The container should be about 4-6″ (10-15 cm) and have drainage holes at the bottom. Use an indoor potting mix like this one. I like to add a substrate of rocks at the bottom of my containers to ensure the soil is well-drained. 
Place a few seeds on the surface of the soil and cover with ¼ inch of soil. Seeds take about 21-25 days to germinate. As tempting as it may be, don't overwater. The soil should be kept moist through regular watering. I found that leaving my parsley in a water-logged saucer caused root rot. I learned quickly to empty out the standing water to prevent losing my plant. Root rot is a death sentence for indoor plants.
As my parsley seedlings started to emerge and begin to grow, I found that I had to thin them out with a few cuttings once they began to take off. Never pull them out because it can damage the taproot. Once my parsley reached 100 days old, I began to harvest it for cooking, adding to smoothies, and to dry for future use.
During the summer, parsley naturally blooms with little white flowers. When I see flowers beginning to emerge, I cut them off. Parsley that has been allowed to bloom begins to suffer in flavor. So, for the best-tasting parsley, don't let it bloom.
Placement
It's best to place parsley plants in a room that's warm and has a south-facing window with lots of sun. 
Soil
An indoor potting mix provides the well-draining, loamy soil parsley needs to thrive. 
Lighting
How Much Sun Do Parsley Plants Need? Parsley requires about 6 hours of direct sun each day.
Container Size
One of the greatest gardening innovations that I love love love is the stackable planter. My indoor herbs are planted in one of these ingenious planters. Parsley will do very well in almost any type of container as long as it is at least 4-6″ (10-15 cm.)
Watering
As a gardener, one of the main things I wanted to find out was how often should I water parsley? Most of my expertise with indoor plants comes from a lot of research done ahead of time. I water my parsley once a week on Thursdays. "Thursday" reminds me that my plants are "thirsty!"
Will Parsley Regrow After Cutting?
Parsley does regrow after three cuttings over the course of a year. I use a lot of parsley, so it doesn't make sense for me to have only a few plants that I harvest the heck out of. Instead, I have a lot of parsley plants at any given time for an ample supply of fresh pickings. Parsley, microgreens, and rosemary are a few of my all time indoor plant favorites. I always have access to sprigs right off the plant when cooking.
Where Did Parsley Come From?
Parsley is native to the central Mediterranean region. It is cultivated all over the world, with heavier concentrations in the U.S. and Europe. "Parsley" in Greek means "petros," meaning rock or stone. This reference of "stone/rock" reflects parsley's growth in rocky areas. 
Sardinia (an island southwest of Rome, Italy) is said to be the origin of parsley, dating back over 5,000 years ago. Wild parsley was introduced to England back in the 1500s, where it was first cultivated in the U.K. Since its introduction to England, it has managed to become naturalized in rocky areas such as the old stone walls. 
Back then, parsley wasn't appreciated for its culinary use. Instead, ancient Romans used it on the bodies of those who passed to help deter any odors. It was a symbol of the rebirth of Spring during Passover for those of the Jewish faith. Eventually, parsley found its way into the mainstream culinary, herbal, non-traditional medicine, and produce industries.
Make Parsley Part Of Your Indoor Garden
Parsley is a fun and easy herb to grow indoors. Indoor herb gardens are fantastic family projects that are highly rewarding. There's nothing like adding parsley that I grew from seed to my favorite dishes.