I have an ingenious way to plant up to 40 plants, all within a four-square-foot footprint. Strawberries, herbs, veggies, and more sit side by side while. To find out how this is possible, keep reading!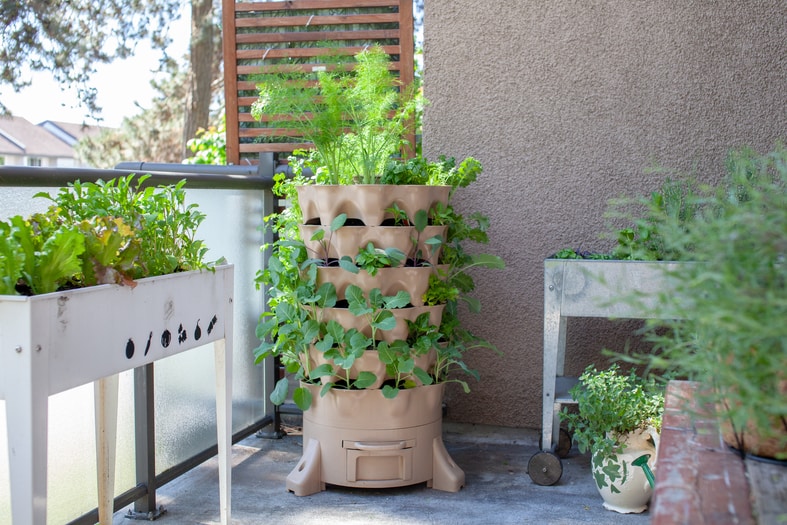 Disclosure: as an Amazon Associate, we may earn from qualifying purchases. Learn more.
What Is A Stackable Planter?
Stackable planters offer gardeners a way to have a garden where space is limited. The compact design of this type of planter is ideal for growing strawberries, herbs, some vegetables, or flowers. This form of vertical gardening is perfect to use on a balcony in an apartment, on an outdoor patio, or even indoors in front of full-length windows. 
Types Of Stackable Planters
Stackable planters are typically either 3, 5, or 6 tiers. Most feature the ability to add more tiers to expand the garden vertically. These systems come in different colors and may be on wheels or not have wheels at all. The price varies, starting at about $25.00 (USD) and can be as much as $650 for a large-scale system. The more expensive systems have dual functions as either hydroponic or traditional soil use. 
Some "stacking" planters are marketed as "stackable planters." These systems are shelf-like units that may have grow lights built-into the tray above where the plants are planted. They may come in two or three tiers. 
For avid DIY'ers, a stackable planter can be made using a host of repurposed materials; however, the overall uniformity in the vertical gardening concept is a bit wonky in some DIY stackable planters.  
How Do Stackable Planters Work?
Stackable planters are literally just that, trays of plants that stack on top of one another. Each tier typically consists of four plant receptacles. Tiers are shaped like a four-petal flower, and it's in the "petal" area of the tier where the plants are planted. To understand how one of these systems work, I will go through the assembly process.
When looking at the bottom tier, there is a center hole and multiple drainage holes. There is also an interior plate that sits a few inches up inside the bottom of the tier. The space between the plate and drainage holes is known as the "aquaphor" where water passes through. 
The bottom tier is attached to a tray that may or may not have wheels. A support pole or chain is placed into the center hole of the tier. The second tier is centered over the support pole/chain. As the pole/chain is fed through the hole, the tier is stacked upon the bottom tier. The potting soil and plants are added, and the steps are repeated until all of the tiers are securely resting on one another from the center support (pole or chain.)
The beauty of stackable planter systems occurs when watering the plants. Watering is done from above. Gravity pulls the water through each layer, eventually draining out of each tier and into the next and the next until it reaches the bottom support tray, which generally has drainage holes or a tray that catches the water.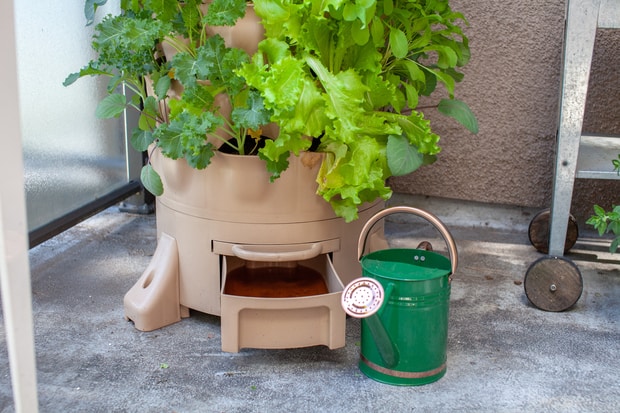 Things To Consider Before Purchasing Stacking Planters
Now that I have explained what a stackable planter is and how they work, I have a few things to think about before purchasing one. Just as any other gardening endeavor (indoors or outdoors,) a bit of pre-planning is the key to having a successful garden.
Placement 
Before purchasing my system, I had to decide where I would place it. Placement will depend on what type of plants are planted. Some plants need full sun, and in this case, a patio or apartment balcony is good during the growing season. 
Systems with plants that cannot withstand winter conditions will need to be brought indoors. This is where a wheeled system proves to be beneficial. If these plants are relocated to indoors come winter, they may require a sunny window to thrive. 
Plants
There's a gardening motto I like to use as a guideline, "Right plant, right place." A great example of how this applies to gardening and a stackable planter is the year I planted strawberries with various herbs that included lemon balm. Now strawberries prefer the sun, whereas lemon balm is more a shade-loving plant. My stackable planter sat in the full sun on the outer corner of my patio, and needless to say, I lost part of my herbs, including lemon balm. My advice is plant all sun-loving or shade-loving plants together and don't intermix. 
Portability
I am all about making things easy, and if I have to move my stackable planter, the last thing I want to do is drag it to a new spot. This is when the wheeled planters prove their worth because all I have to do is gently push it in the direction it needs to go, and viola, easy move!
Ideal Plants For A Stackable Planter
Knowing what to plant in stackable planters is something I wished I had known before planting. There are many other gardeners out there who shed some insightful tips on what works and doesn't. I have found that strawberries do great in these vertical planters. I planted them up towards the top, and their vining habit hung down beautifully, displaying the fruit as it ripened.
In the middle section of the planter, I planted succulents because I love them. They add texture and color to any vertical garden. The last few tiers on my planter are where I planted tomatoes and lavender intermittently.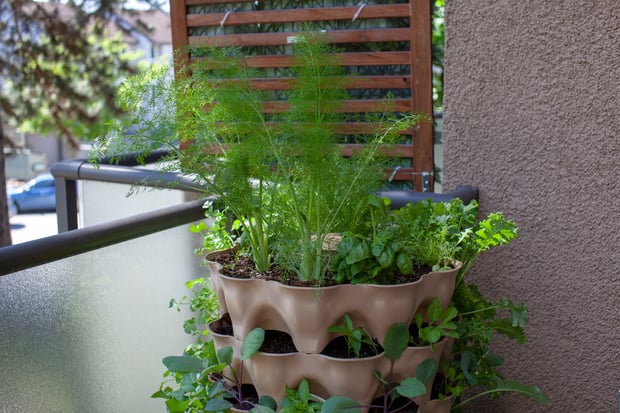 There are a lot of plants to experiment with planting in a stackable planter. Think in terms of texture, sunlight needs, color, height, growth habits, and then plant things accordingly. 
Are Stackable Planters Good?
There are advantages and disadvantages of stackable garden planters. It helps to know about disadvantages because details like that act as a guide in selecting the right product.
Advantages
Perfect for small living environments such as apartments with a balcony or the corner of a kitchen near a patio door.
The vertical gardening concept allows for numerous plants.
The overall system has a small footprint.
Planters on wheels make it conveniently easy to relocate or move.
The plastic material makes it super easy to clean.
The system is scalable by adding more tiers to accommodate more plants.
Regardless of the color or size, stackable planters are aesthetically pleasing.
I absolutely love the bright colors they come in. Mine adds a pop of color over in the corner of my patio. When entertaining outdoors, they become conversation pieces.
Disadvantages
Bigger systems cost more money.
The planter requires some rotation if it is in an area where it's partially shaded. This is something to consider for apartment balcony situations. Some balconies are partially shaded from another balcony above. Also, for planters used to grow herbs indoors in front of a long sunny window, rotation is necessary to ensure the plants on the backside get sun.
Unfortunately, some of the cheaper systems that have a center chain that connects each tier are not as sturdy as one that has a center pole support. The quality of the tiers is also thinner plastic which may break easily.
Ingenuity For Easy Gardening!
Knowing how to select stackable planters should be easier with this bit of info. Trust me, once I tried one of these systems, I rarely use traditional, heavy individual pots and planters.