Growing roses from cuttings is also much more straightforward and suitable for beginner gardeners than growing roses from seed! It's normal to use a rooting hormone to allow the roots to 'take hold' and flourish when following this method of growing roses – you can purchase chemical rooting hormones or make your own natural, all organic solution (like this one here).
You can grow roses from cuttings without rooting hormone altogether! You can use liquids such as honey, aloe vera, or even saliva to encourage your plant to root properly without the use of toxic chemical rooting hormone.  To increase your chances of success growing roses from cuttings without using rooting hormone, you'll need to ensure you have a healthy cutting, the right type of container, and the correct growing conditions.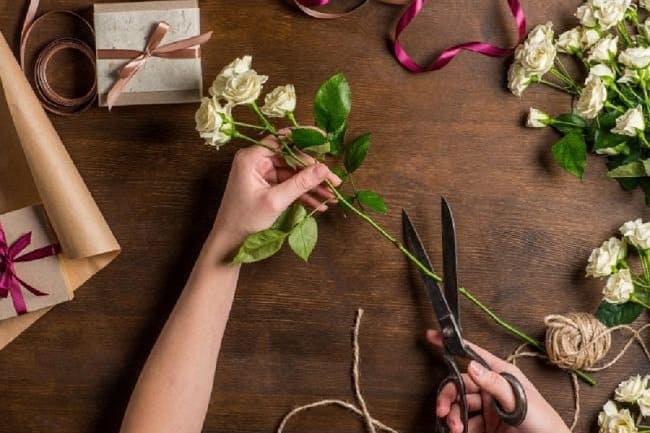 How Growing Roses From Cuttings Without Rooting Hormone Works
Propagation from roses is a cloning method. In this method, you take a cut of a cane (the main stem) of a parent rose plant and stimulate root development to create a clone of the original stem and flower. The clone will grow to be a self-sufficient plant with all the components and genetics of the original donor plant.
The method where you grow roses from cuttings without rooting hormone is also much faster than growing from seed. Growth from seeds can take over 1 year for the plant to establish. No less than 3 years will pass before the plant reaches full maturity. 
Preparing to grow roses from cuttings without rooting hormone
Timing your cutting harvest
One of the key ways to ensure the success of your cutting without the presence of rooting hormone is to ensure you start with a great cutting.
If you are using your own rose cutting from your own bush or plant, a great time to harvest your cuttings coincides with the perfect time for pruning established and mature rose plants. This is usually late July to early August, with the first days of September being the latest dates. While this is optimal, know that you can perfectly well grow roses from cuttings during winter, too. It will just take you a longer time than would be necessary if you time it well.
How To Take A Rose Cutting To Plant
To grow roses from cuttings, start with choosing a healthy and established rose plant to take a cutting from.
The stem or the cane you're cutting off should come from the top and the side of the plant.
It's good to cut about 2 to 3 centimetres below a juncture in canes, as many gardeners have found via trial-and-error that they tend to take faster and better. In case there are no junctures, aim to cut 2 to 3 centimeters below a leaf node. This is where new leaves will sprout from once your cutting starts establishing itself. (Note – a juncture is the place where a new stalk / branch of the plant has sprouted out)! 
Make sure that the branch that you will be using isn't very old or very new.
Very old canes on roses are called hardwood, and they are brown, rigid and wooden in appearance. Very new canes are called softwood, and they are light green and incredibly flexible. Canes which you should use are called semi-wood, and they have properties of both hardwood and softwood. Usually, this is a cane about 1 year of age. They are ideal for propagation, both for the success rate and the time it will take for them to begin callusing and rooting.
Always make sure to disinfect and clean your pruners, as well as keeping them sharp to avoid jagged cuts.
Preparing Your Rose Cutting
Once you have chosen your cuttings and removed them from the parent plant, shorten them with your garden pruners if they're too long. Ideally, you want the cutting to be about 12 to 20 centimetres long. The next part is super important!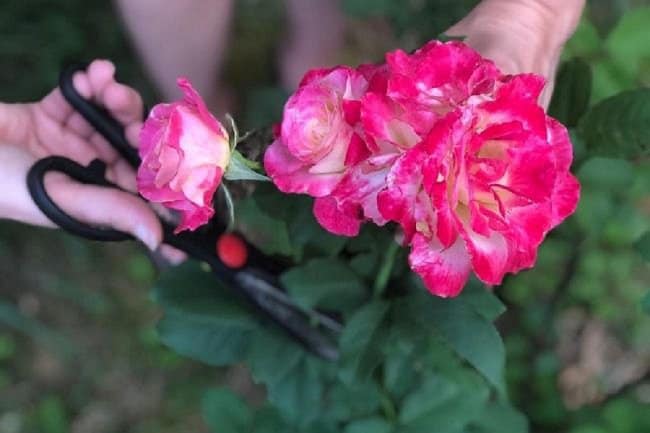 At the bottom of the cutting, make a 45 degree angled cut.
All leftover flowers and leaves should be removed from the cutting, as they use up all of the rose plant's energy. By removing them, you encourage the cane to refocus its energy on survival and sending out new roots. 
Some gardeners tend to remove everything but the cane. Some gardeners, however, insist that leaving one set of leaves at the very top helps the plant get part of its energy from photosynthesis, which aids in faster root development.
Experiment to see which suits your rose variety and climate conditions best.
Return to the bottom of your cutting and take a scalpel or sharp pruning shears.
While holding the blade sub-horizontally, gently but firmly scrape away the green bark to expose white, fleshy stem from within. You don't have to go too deep, a few millimeters of bark scraped in about 2 to 3 centimeters length of the stem is perfectly fine.
Gardeners call this process wounding. Wounding gets the cane to produce its own plant hormones and rapidly send them to the bottom. Natural plant hormones encourage root development and healing the part which you scraped away, making it easier to grow roses from cuttings.
Choosing your container
There is a whole variety of containers you can choose to start to grow roses from cuttings without rooting hormone.
A fantastic homemade solution involving some upcycling is to take a big, transparent jug made of plastic and cut it about halfway all the way around, in such a way that the top and the bottom don't completely detach. As you go through the process of planting the cutting, once you're finished, all you need to do is use scotch or electrical tape to firmly tape back and fasten the jug into its original state before cutting.
This serves to imitate a greenhouse, as a jug will have a small opening at the very top through which the cutting will receive air circulation and water as it requires. At the same time, a significant part of moisture will be trapped and create a humid environment, which perfectly suits the needs of a cutting in its establishment phase. This works exceptionally well if you don't have a proper greenhouse.
Otherwise, just about any starter container is right to use in order to grow roses from cuttings. You can also utilize polythene gardening plastic pots, which will make repotting easier once the roots take.
However, golden advice is to use transparent containers of any kind with drainage holes at the bottom. Transparent containers work wonderfully because they allow you to observe the roots as they're growing and developing without disturbing the rose plant in the making.
In any container that you end up choosing, don't forget to puncture drainage holes to help drain out the excess water. Make sure to cover the holes with bigger stones or a layer of gravel so that the potting mix doesn't wash out as you water your plants.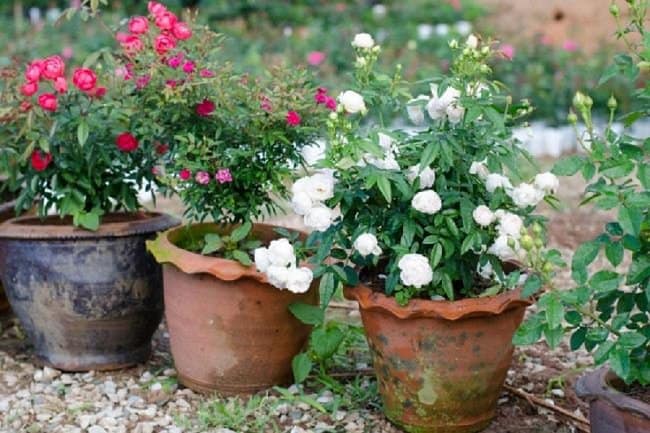 Making your custom potting mix
Many recipes exist on making your own potting mix or planting medium that will start your cuttings and set them on the right path. Each and every one of them is simply based on creating a light and fluffy soil with good drainage.
Many gardeners like using cocopeat in their planting mediums. It is a natural fiber extracted from coconut husk, and it is well-known for its buoyancy. You can combine 50% pure gardening soil to 25% perlite to 25% cocopeat. 
Vermicompost is another excellent potting ingredient, a mixture of decomposing vegetable or food waste and vermicast. A good recipe including it is ¼ part vermicompost, ¼ part cocopeat, ¼ part fine sand, and ¼ pure gardening soil. In case you would prefer to use some other organic compost, 60% regular garden soil to 20% fine sand to 20% organic compost works well.
No matter the choice of ingredients you use, as long as the planting medium is relatively loose and drains well, you shouldn't have problems in the long run.
Using natural rooting hormones to grow roses from cuttings faster
When you have picked out your cuttings, prepared them, chosen your container, and filled it with your custom potting medium, all that is left to do is to plant.
Typically, this is a step in many guides where you would dip your bottom part of the cane, the one which you bruised, into liquid or powder rooting hormone. However, research is increasingly showing that store-bought rooting hormones are particularly damaging and toxic to animals and humans, as well as the soil. Gardeners are increasingly turning to organic methods, which will do the job of encouraging the speed of rooting just as well, while keeping the plant natural, organic, and sustainable.
Here I will present to you some sustainable, non-toxic ways to encourage root growth of your rose cutting.
Saliva
Believe it or not, your own saliva or the saliva of your pet works well as a rooting stimulant when you grow roses from cuttings. Human or animal saliva is known to possess antibacterial and antifungal properties. This keeps cuttings safe from rot and disease while helping root development.
Application is incredibly simple – dip the wounded end of the cutting into some saliva and insert it into the soil.
Honey
A standard choice for many organic gardeners, honey is an excellent alternative to rooting hormone. It is yet another natural antiseptic, antifungal agent, and protectant that helps cuttings remain healthy and strong. 
Naturally, make sure to use organic, unprocessed raw honey for maximizing health benefits for the plant. 
While some gardeners recommend simply dipping the wounded end straight into honey, this has the potential to attract bugs and ants. A better solution is adding 1 tablespoon of honey to 2 cups of boiling water. Allow the mix to cool down. Once cooled, place the wounded end of the cutting into the solution for 30 minutes before planting into the medium.
Cinnamon
Cinnamon works for the cuttings in quite a similar way as honey does. It is antibacterial and antifungal and is also known to prevent damping-off in seedlings.
Acquire organic cinnamon bark and grind it down to fine powder. Simply rub the powder onto the wounded end of the cutting and plant.
Cinnamon and honey work well together as a root stimulant. Dip the wounded end of the cane into honey first, then thoroughly sprinkle and cover with cinnamon powder.
Experienced gardeners recommend covering both ends of the cane with the cinnamon honey paste to maximize antifungal properties.
Willow water
The bark of the willow tree is known to contain two important compounds for successful root development. One of the two is salicin (in the form of salicylic acid – commonly used in acne skincare), and the other is indole butyric acid (IBA – a natural plant hormone in the auxin family which can be found in commercial rooting hormones). Both of these, while aiding root development, serve to inhibit the growth of fungi and bacteria.
If you are lucky to have a willow tree growing nearby, you can make potent willow tea. Any type of willow will work, including pussy willow, curly willow, and weeping willow. 
Cut about 200 to 300 grams of willow into small, 2 to 3 centimeter segments and steep in 2 to 3 cups of hot water until it cools down to room temperature. This will allow the water to become infused with all the beneficial elements of the willow.
Once the mixture has cooled, dip the wounded end of the cuttings into the mix for about 1 hour. You can also water them with the solution once they're planted.
Aloe vera
Just like the willow tree, fresh aloe vera gel contains salicylic acid along with other useful enzymes, amino acids, and minerals. Older aloe vera plants are great to use as rooting stimulants. They are generally more abundant in proteins and auxin.
Harvest an aloe vera leaf, cut into smaller pieces about the length of the wounded part of your cane. Insert the cane into the aloe vera leaf and plant as such into your medium. If you prefer, you can also blend the leaf. Simply dip the cutting into the blended paste for about 30 minutes to 1 hour, after which you can plant it straight into the medium.
Apple cider vinegar
Apple cider vinegar is a proven rooting stimulant. However, it is also notorious for damaging plant tissue and being used as a weed-killer.
Make sure to dilute the vinegar to a weak solution – to ½ cup water add 5 drops of apple cider vinegar. Don't use more than this quantity, as it can have the opposite effect and prevent rooting. Place the wounded end of the cane into the solution for about 10 seconds and plant into your prepared soil.
Aspirin
This method is not entirely organic or natural. However, it still works, while enabling you to know which exact ingredients you're using. Aspirin contains salicylic acid and willow extracts and aids plant growth. 
Simply drop a tablet into water and briefly dip the cuttings inside before planting. 
Honorable mentions go to:
the banana method – cut a 2 to 3-centimeter long piece of banana, wrap around the end and plant as such

instant yeast method – simply lower the injured end into water and coat with a thick layer of yeast powder.
Out of all of these methods, and primarily if you use social media, you might have also come across the "potato method" in which you use a potato to aid in root development. Still, most gardeners unanimously agree that it doesn't work.
Lastly, it isn't such a horrible thing to go without rooting hormone. While rooting hormone speeds up the process of root development, it doesn't necessarily affect the quality of cuttings or the roots. Even if you don't use either organic or commercial rooting hormones, you still have a high chance of raising healthy cuttings.
Grow roses from cuttings, planting and aftercare
After using your organic rooting hormone of choice, make a hole in the medium with your finger or a pencil and plant your cuttings directly into the container. Keep in mind that about ⅓ of the cane should be in the ground.
Make sure to water copiously for the medium to get a proper amount of moisture. Don't water to make the soil soggy. Soaking soils have a tendency to be the perfect storm for various bugs, fungi, and diseases. Water only once the topsoil is dry to the touch and avoid overwatering.
If you opted for a classic container rather than the jug method previously described, make sure to cover the cuttings with a transparent plastic bag or cover to ensure a humid, greenhouse-like environment.
Initially, keep your cuttings in the shade for several days before moving it into the sunlight. Provide the cuttings with plenty of sun and moisture as it grows. To avoid overheating during summer months, place in a bright location with indirect sunlight.
How long does it take to grow roses from cuttings without rooting hormone?
Generally, first sprouts should start appearing after about 2 weeks. It will take a minimum of 8 weeks for the rooting to be completed.
The length of the rooting process varies widely, and there is no one correct answer. Many variables are at play, depending on the weather, climate conditions, rose variety, time of the year, plant condition, etc.
During the process, usually 100% of the time, you will see leaves forming and sprouting. This is not necessarily an indication of a fully developed rooting system and readiness of cuttings for transplant. As long as the cane remains a vibrant green color and new leaves are sprouting, it is a good sign – stay patient!
Replanting after successfully growing roses from cuttings without rooting hormone
Once the new rose plants have taken root well and have begun to grow and maybe even flower, you will know it's due time to give them more space!
Move your rose plant to a permanent location either in a garden bed or into individual pots.
Carefully repot your plant out of the starter pot. Make sure not to damage any roots. While you're doing this, you might be seeing the roots for the very first time! If they're white in color, you can breathe a sigh of relief. White roots are the best indicator of a healthy and robust cutting.
Additionally, you can prepare your own potting mix. This time, use 50% regular garden soil, 30% organic compost, and 20% perlite.
After repotting, water well and abundantly. Keep the new pot in a place of low levels of light for a few days. Plants readjust better in low light and cope better with the stress of moving and repotting. After 2 to 3 days, feel free to gradually adjust it to full sunlight.
If you enjoyed this article on how to grow roses from cuttings without rooting hormone, you might like this article on how to grow your roses bigger, organically!