Gardeners getting their toes wet for the first time with herbs will delightfully find growing thyme to be relatively easy. Having a fresh supply right at the fingertips for cooking or an indulgent cup of tea is the best!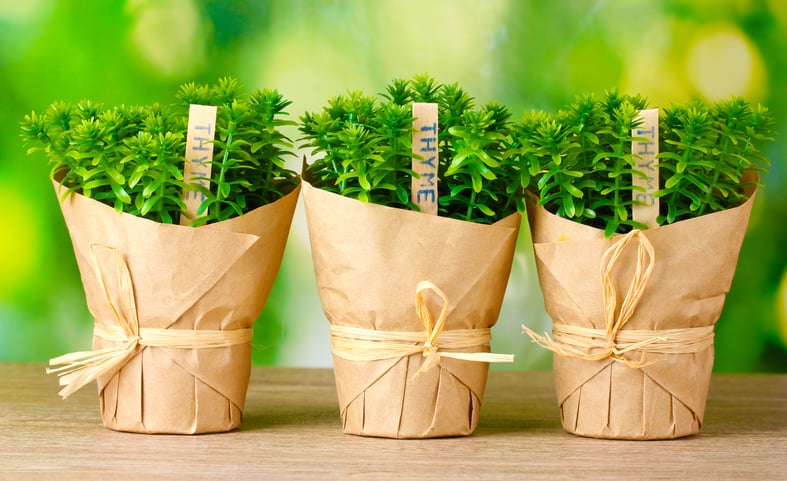 Valuable Tips On How To Grow Thyme Indoors
Thyme is a timeless classic herb that I, along with gardeners worldwide, love to cultivate. There's something special and gratifying to incorporating herbs I have grown myself into cooking. However, to be a successful thyme grower, I have a few pointers that I wished I had known as a beginning gardener.
Tip #1: Select The Right Species Of Thyme
There are numerous different species of thyme. Each has its own set of characteristics, one of which is taste. It's disappointing to invest time and money into an indoor herb garden only to find out that the wrong species of thyme was selected. Look for Thymus vulgaris (common thyme.)
Tip #2: Place Indoor Thyme Plants Where They Get Plenty Of Sun
Thyme is extremely fussy when it comes to the sun. It has to have plenty of sun throughout the day. If not, it won't thrive. I make sure before acquiring any plant that I have a place indoors that will provide the correct amount of sun. If I don't have a sunny window with 6 hours of direct sun a day, I know I can't have thyme indoors unless I use a grow light.
Tip #3: Don't Overwater Indoor Thyme Plants
Houseplants quickly develop root rot because of overwatering. Outdoor plants have the elements (sun and air) that help dry wet soil; however, plants are at the mercy of gardeners to maintain proper watering. I learned quickly to avoid overwatering.
Tip #4: Use The Right Growing Medium
Long before my green thumb, I figured soil was soil when it came to plants. After losing several plants, someone offered a bit of advice by telling me that outdoor soil isn't intended for indoor plants. Potting mixes designed for a specific plant species are the key to happier greenery in the home.
Tip #5: Propagating Thyme With Cuttings Is The Easiest Method
I have propagated thyme with seeds, cuttings, and retail seedlings. Honestly, I have better luck with cuttings. Thyme seeds are difficult to handle because of their tiny size. Not all the seeds will germinate, and those that do often have varied growth rates. There's no uniformity in germination. Planting rooted cuttings is my preferred method.
Tip: #6: Harvest Thyme At The Right Time
Harvesting thyme should be done just before the plants bloom. This is when the plant is at its best in flavor.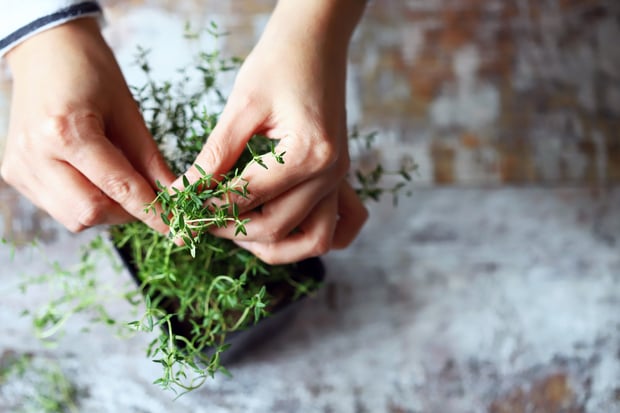 Tip #7: Know Which Foods Harvested Thyme Compliments
I had a friend who cultivated thyme only to find out the dishes she used it in clashed with thyme's flavor. Thyme is best when added to certain meats (chicken, fish, lamb) or vegetables (such as carrots, corn, butternut squash, and more.) When in doubt, use a pairing chart.
How To Care for Your Growing Thyme Indoors
For my readers who have asked, "Will thyme grow indoors," it will thrive indoors, providing it's well cared for. 
By the way, don't be afraid to plant thyme with other herbs. I have lavender growing right alongside thyme in one container. Other plants such as mint and parsley don't mind sharing the "digs" with thyme.
Caring For Indoor Thyme Plants
When it comes to caring for thyme, it's a relatively easy plant to grow. I recommend daily checks to ensure it's getting enough of everything but not too much. Having the essentials to care for the plant is a big plus.
Container Size
I find that 6" pots with a drainage hole in the bottom are ideal for planting thyme in. Terra cotta pots are notorious for robbing a plant of water and soil moisture, so plastic or ceramic containers are best. I also use repurposed items made into containers to add some "flair" to my green beauties.
Light
As a beginner gardener, it might be confusing about sunlight needs. So, does thyme like full sun that the outdoors provide, or will it thrive indoors with direct sun? 
During the summer, I put my indoor thyme plants out on the patio during the day to bask in the full sun and bring it in at night. This plant does prefer full sun outdoors, but it will also do fine in front of a sunny window or under a grow light.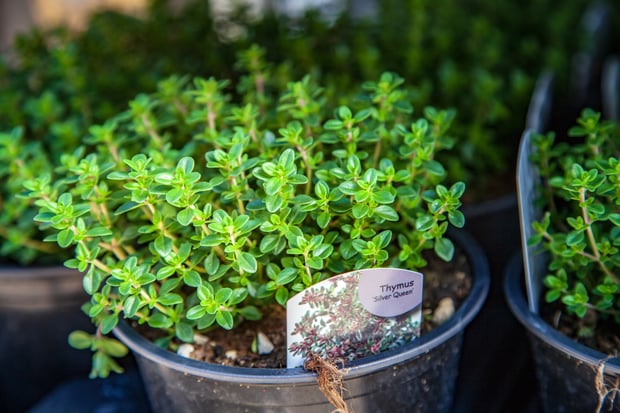 Soil
Thyme should be planted in a good quality organic potting mix that's well-draining, sandy, and loamy. I topped mine off with a soil cover to help retain moisture, deter pests like fungus gnats, and add an aesthetic element.
Water
Don't be overly nervous about watering thyme. I know from experience that hearing about overwatering caused me to underwater my plants. So, how often should I water thyme? I use a 3-in-1 soil meter that tells me! Easy peasy. 
How To Harvest Time
Harvesting a thyme plant is cutting the foliage (about a third of the plant) to dry for cooking, medicinal uses, etc. However, I don't do an aggressive harvest like this. Instead, I pinch a little off here and there when cooking or if I want to make tea with it. By doing this, my thyme flourishes year-round. 
How do you cut thyme, so it keeps growing? Just before the plant blooms (late spring), This is done by cutting no more than a third of each stem. For grabbing a bit like I do for culinary use, I pinch off no more than 1-2" on 6-8" stems.
Propagation
Although I use cuttings for propagation, I have included steps on seeding. 
Propagating Thyme With Cuttings
Acquire a cutting (or seedling) from another plant or a garden retailer. I love rooting mine in a clear vase filled with water. It sits on my kitchen window sill. Once the roots appear, I transplant the cutting into a container with a growing medium and water it.
How To Grow Thyme From Seed Indoors
Thyme seeding is erratic in germinating. I recommend sourcing good, quality seeds from a seed retailer to hopefully alleviate some germination issues. Fill seed trays with potting mix. Using a misting bottle, spray the soil just enough to dampen it slightly. 
Scatter the seeds over the top of the moist soil. Very lightly mist the seeds. Cover with clear plastic wrap and place the tray in a warm area of the home. The waiting game begins because it can take up to 3 months for germination. 
Once the seedlings are erect and robust, they can be transferred to a large container filled with potting mix. Place the newly transplanted seedlings in front of a sunny window.
Can I Grow Thyme Indoors All Year Round?
This herbaceous plant thrives indoors 12 months a year, 365 days. If it were in-ground outdoors, it would naturally go dormant during wintertime; however, indoors, that won't occur.
Why Does My Thyme Keep Dying?
Here are a few things to consider if a thyme plant starts to look sickly.
Not watering enough or overwatering – problem solved with a soil meter
Not getting enough sun – problem solved by moving the plant into direct sun
Seedlings dying – not all seedlings live because seeding thyme is challenging
Harvesting or cutting thyme too aggressively – problem solved by cutting ⅓ or less of each stem
What Is Thyme?
Thyme (Thymus vulgaris) is a flowering evergreen shrub cultivated for its aromatic culinary herbal qualities. Herbal and essential oils industries and gardeners grow this plant for its foliage which is harvested for culinary herbs, herbal tea, traditional medicines and essential oils.
Species Of Thyme
Thymus vulgaris (Thyme) is known as common thyme. It is among several species of thyme, all of which belong to the Thymus genus. Thyme is part of a bigger family known as mint (Lamiaceae.) 
The Integrated Taxonomic Information System recognizes only six species of thyme. However, other sources list 100+ species. The taxonomic (botanical) classification of thyme is considerably confusing. To make things simple, I want to focus on common time (Thymus vulgaris.) 
Where Did Thyme Come From?
Thyme is native to the Mediterranean region; however, it has naturalized throughout the world due to its introduction. Certain species of thyme grow wild within specific countries. 
Common thyme (Thymus vulgaris) is commercially cultivated, where it goes on to be marketed in spice aisles worldwide. The Centre for the Promotion of Imports (CPI) reports Germany as the leading European country producing dried thyme. 
A Quick Overview Of Thyme
Lifespan: 5-6 years
Sun: direct sun (6 hours)
Soil: well-draining, loamy, sandy
Water: medium
Maintenance/Care: low
Growth Rate: fast
Height: 6-8" (15-20 cm)
Spread: 10-12" (25-20 cm)
Hardiness: zones 5-11
Indoor Temperature: 60 degrees (F) or above (15 degrees C)
Bloom: white flowers, late spring
Harvest: just before bloom (spring)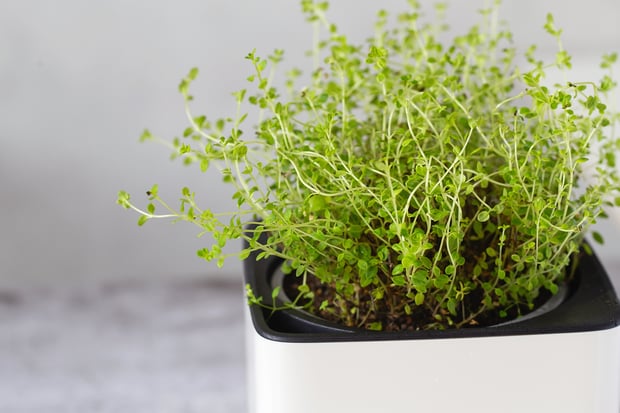 A Must-Try Plant!
Okay, my fellow gardeners, everything needed to get thyme going has been covered. Thyme is a lovely plant I encourage trying. I can't wait to hear how everyone's first thyme endeavor went!