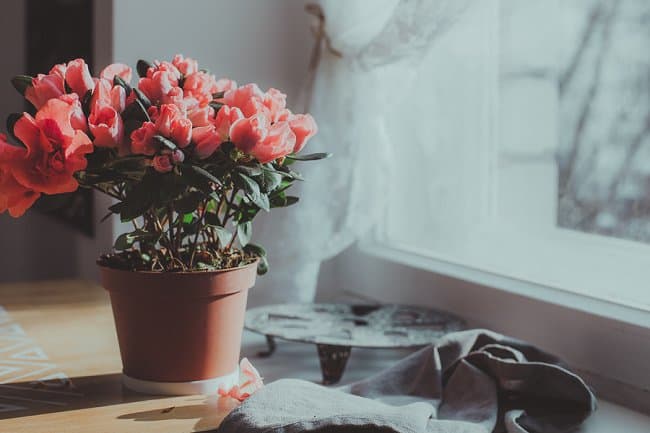 Earlier this year I treated myself to the cutest little potted rose, so you can imagine how gutted I was to see it start to show signs of dying just a few weeks later! I was really sad – my grandfather had loved roses,  and I'd purchased it to remind me of him and to cheer me up. So what was wrong with it? I had to find out how to save a dying potted rose, fast.
How To Save A Dying Potted Rose
Check for common signs there is something wrong with a potted rose – droopy, yellow or dry leaves are signs your rose needs urgent attention. If your rose is extra tall – 'leggy', or growing sideways, this also indicates your rose needs a new pot or is not receiving adequate nutrition.
Check your rose's positioning – your potted rose will most likely need approximately 6-8 hours sunshine a day for full health.
Note signs of underwatering and overwatering – the soil of your potted rose should feel ever so slightly damp to touch, If it's wet or soggy, your rose is overwatered. Leave your rose for a few days to dry out, and touch the soil to test it, before watering again.
Test your rose soil pH – use a pH testing kit to check your rose soil is acidic enough, with a pH of around 6.5. Cheap and effective soil testing kits are available from Amazon or your local garden centre.
Check your rose roots have enough space. Slide a finger down the side of the pot – if you can feel or see roots, or your rose isn't growing properly, or is growing sideways, it's time to repot your rose. Transplant your rose carefully to avoid further distress to your plant, known as 'transplant shock'.
Identify signs of aphid damage – yellowing leaves, the presence of tiny bugs on the underside of your plant, and tiny white threads are signs of aphids, which can kill a rose plant if left untreated. Apply a dose aphid spray to kill them and protect your potted rose from further damage. Repeat weekly or more if required.
Look for signs of rot , fungus, or mould. White fluff around the base of your rose plant indicates mould. Let your rose plant dry out for a 3-4 days before watering and apply a rose anti-fungal treatment.
Remove damaged parts of your rose. Prune gently with disinfected pruning shears to prevent spread of bacteria.
Move your rose into a sunnier, warmer spot if your rose isn't getting enough sunlight.
Move your potted rose away from other plants to prevent aphids re-infecting your rose.
Following these detailed tips can help you to save your dying potted rose!
Signs of a dying potted rose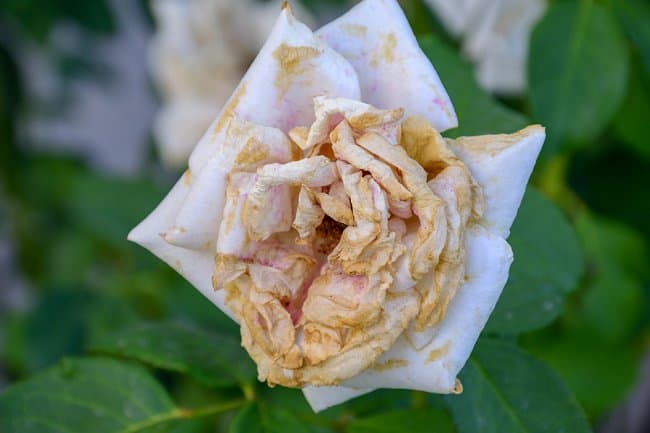 Something just seems off about your potted rose, but you can't quite put your finger on it? Commonly,  signs indicating that there is something wrong with your potted rose plant are:
droopy or wilting leaves
dry and brown leaf edges
yellow leaves or leaves falling off
plants that are stretching sideways or are too 'leggy'
fungus or mold on topsoil
foul-smelling soil
Main rose plant needs
The main three things you need to consider when assessing your rose problems are  soil, water, and light conditions. 
Soil should be about 6.5 on the pH scale, which makes it very slightly acidic. While adaptable, roses generally hate sand and clay soils.
Opt for either a specialized rose soil mixture, or create your own.
Perlite or vermiculite should be mixed with compost and bonemeal for the best results. This will allow for an organic component in the soil while still retaining excellent drainage properties. This is important – waterlogged roses die fast.
Watering should be deep. Before any watering, however, in combination with a good draining soil, make drainage holes at the bottom of your container. To prevent dirt running thru the holes, cover with some loose gravel which will still allow water to pass through. This should deal with the most significant part of the problem when watering, which is waterlogging. Potted roses, in general, regardless of position, require daily watering. You should water it to a point until water runs out of the drainage holes. Don't sit the pot in a saucer, but instead discard the water that flows out after you water your rose.
Light conditions you provide should also be optimized. In general, roses love sunlight. Your best bet is to place your potted rose to a location where it is sure to get a minimum of 5 to 6 hours of sunlight, ideally getting morning sun and avoiding scorching afternoon sun in the summer. Roses can do with much less, but they will be elongated, leggy and yield much less flowers than they can in full sunlight.
Dying potted rose problems related to unmet needs
Bad soil
If soil is deficient on nutrients, unfitting for roses, or otherwise of poor quality, your rose might stop growing altogether. The only way to combat this is to carefully replant your rose into a suitable soil type and feed it to instigate growth.
Inappropriate watering
Mind to use water of good quality for your potted rose. If the tap water where you live is too hard or too soft, consider filtering the water before watering your rose. Not filtering tap water might easily lead to salt buildup on the topsoil. This is not a big problem, as running water through the plant several times will quickly rinse it out. The right choice is also to either buy distilled water or distill it yourself, at home.
Underwatering
For both overwatering and underwatering, it's easy to test the soil and know just where you're exactly standing. Stick your index finger 2 to 4 centimeters directly into the soil. 
If the soil is hard and spongy, you can't easily push your finger inside because it's compact – underwatering is the likely problem at hand. Signs on the plant that it's underwatered are usually droopy and wrinkled leaves. When you attempt to water your plant, water will either pool at the top due to soil compactness, or it will flow straight through.
For severely underwatered rose plants, submerge the potted rose plant into a bucket of water up to its graft. Air bubbles will begin rising to the surface. Once they're all out of the soil, let the rose sit in the water for about 10 to 15 minutes. Use a chopstick to gently make holes in the soil (minding not to disturb or hurt roots!) for the water to infiltrate into the soil. Take your rose out, put it on a towel and allow to dry and rehydrate.
Overwatering
Again, perform the soil test as described above. If the soil is very damp and clings to your finger, you have likely overwatered your rose. Signs on the plant will be pale droopy leaves, funky-smelling dirt, mold on the topsoil, and brown roots. The last one is especially telling, as overwatered roots tend to be mushy, brown and unhealthy. Healthy roots are always fibrous with white tips.
Lack of drainage holes on the container of your rose is often the main culprit for this particular ailment. Overwatered roses are often waterlogged – so be sure to puncture a few holes to allow for the passage of water through the bottom. Also, stop watering the dying potted rose that much, in order to save it! 
If the soil is rancid-smelling or you simply can't battle the mold, repotting it as soon as possible into healthy soil is an excellent last choice tactic.
Lack of sunlight
This is a rather easy ailment to spot. If your rose plant is getting too little sunlight, the signs are very long, stretched out, and spindly branches. There will be much less flowers as well, and the already existing flowers will not bloom to their full potential. They will often grow too small or not open fully.
Easy to spot, easy to fix – simply move your potted rose to a location where it can get more direct sunlight. However, if both your windows or your balcony are north-facing, you might want to invest in some artificial lights. This will help your roses thrive even if your natural conditions are subpar, and you can't do anything about it.
How do I know if I have a sick and dying potted rose?
Besides the common problems I listed above that are tied to not properly meeting your plant's needs, there might be an actual possibility that your dying potted rose is diseased. Fret not, as diseases, if spotted in time, can be easily treated.
There are two fungal diseases that most commonly attack potted plants – rose dieback disease and black spot rose disease.
Rose dieback disease
This is a condition commonly affecting rose plants where there is browning or blackening of the tip of the rose stem or a branch. The blackening travels down towards the graft and may engulf the whole plant, causing death. The dieback can be either a branch dieback or main stem dieback towards the graft.
Rose dieback disease is a commonly encountered problem met with by many gardeners. If this disease is allowed to progress untreated, it can render the plant completely unsalvageable.
Cause of rose dieback disease can be just about any stressful factor. The actual agent is a fungus that starts multiplying and engulfing the plant. The fungi gain entry through any form of physical injury to the plant. This can even be from a simple scratch, but often, lousy pruning techniques are at fault. Other factors include overwatering, underwatering, poor soil quality lacking in nutrients, and poor absorption due to unfitting soil pH or type.
Sadly, sometimes rose dieback disease is purely physiological. It may occur in branches that have already flowered, are past their prime, have no further buds, or the plant doesn't plan to use them to yield any new growths. This is a natural response to conserve energy for the rest of the rose plant.
Prevention
Prepare good soil. When planting a rose, the original soil is essential to prevent rose dieback disease. Ensure enough nutrients, including micro and macronutrients, for the plant to gain enough strength to combat infection efficiently.
Make sure to have drainage holes in your container. This is a must-have, non-negotiable! Drainage holes prevent waterlogging from overwatering. Combine drainage holes with good quality well-draining soil mixtures and avoid clay soils which are, by default, prone to waterlogging.
Treatment
Pruning is the best prevention and treatment you can give to a rose affected by rose dieback disease.
In general – make sure to take adequate antiseptic precaution when pruning!
Take care not to make jagged cuts. Use sharp pruners and follow proper pruning techniques, don't just snip around aimlessly.
Cut at a 45-degree angle to allow faster healing. Clean the pruners with an antiseptic between each cut you make. Use rubbing alcohol or 6% hydrogen peroxide, or at the very least, home antiseptic from first aid kit if you are in a pinch.
When pruning away affected canes, stems, or branches, make sure to cut away about 2 centimeters of the healthy part as well for precaution.
Trim all dead, diseased and old branches to allow for better health and better circulation of nutrients through the plant.
Do not be afraid to prune dramatically, especially if the plant has never been pruned before. Dispose away the cut branches safely, far from other rose plants.
After you prune, make sure to use an organic fungicide. The best you can use is neem oil or turmeric powder.
Use either or combine both and gently rub with your finger on exposed cuts to aid the rose plant in its anti-fungal fight.
Black spot rose disease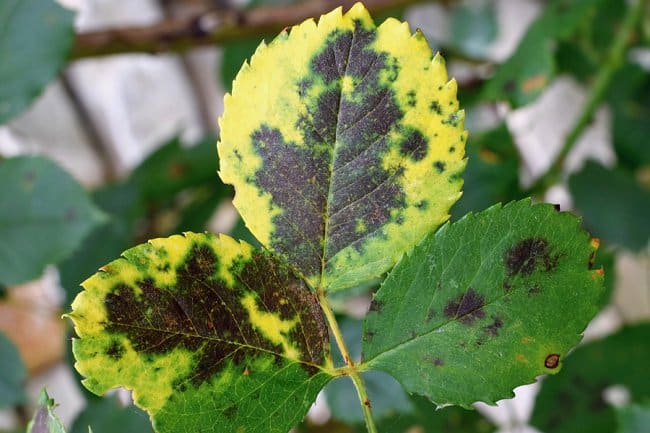 Why does my potted rose have black spots on it?
Black spot is a fungal disease, typically caused by moist or chilly weather conditions.
Black spot rose disease is easily one of the most common rose afflictions. If left unchecked, it can entirely damage a rose plant.
Black spot rose disease is caused primarily by a fungus called Diplocarpon rosae.
It is characterized by circular brown and black spots on the upper side of the rose plant leaves.
It spreads quickly and easily moves from plant to plant without adequate intervention, infecting healthy plants in the near vicinity.
Lower leaves tend to be affected first, spreading from there to the whole plant. Afterward, leaves proceed to turn yellow and fall off. Eventually, the plant weakens. The plant will reduce bloom and growth. Ultimately, it might stop blooming and growing altogether.
Prevention
Carefully choose rose planting location to prevent the development and spread of black spot. Make sure the rose plant is receiving at least 6 to 8 hours of direct sunlight and preferably morning sunlight. This is important, as it allows the foliage to dry out quickly after watering.
Make sure you don't coop up your rose plants. They need good air circulation to stave off fungal infections.
Soil needs to be well-draining, make sure that there are drainage holes. Water shouldn't stagnate around the plant or in the soil.
Water with an appropriate frequency and a suitable method. Early morning is the best time to water. This allows the leaves to dry out quickly, rather than leaving them wet overnight, which makes them more susceptible to fungal infections. 
Treatment
Pruning is again your best bet to save the dying potted rose! If the black spot disease is not too widespread, it is especially useful to soft prune only the affected leaves and dispose far away from the rose to prevent spread.
Use good fungicide. Black spot disease is a bit more persistent, so use a good organic fungicide solution. My recommendation is to mix 5mL neem oil with 1L of water. Spray the entire plant well twice a week for two weeks. Afterward, spray once every 15 days for maintenance and prevention.
General last-minute advice to save a dying potted rose
Keep topsoil clean from dead and molding leaves or debris by raking them up and disposing of them. Clean out any weeds or grass growing in the same pot, as they might be stealing away nutrients and sunlight from the rose.

Dig up topsoil every 5 days gently. This will allow it to soften, freshen up and improve root development.

Fertilize once weekly before watering. Mix in the fertilizer thoroughly into the soil and make sure it is rich in nitrogen, phosphorus, and potassium. After the rose is nurtured back to health, fertilize once monthly.

Move your rose to partial shade to help it cope with the stress if you have repotted it from an unfitting soil. If in the shade, water the rose less – every other day. If in direct sunlight, water daily.

Check for pests daily. Remove mealybugs and aphids with cotton swabs soaked in rubbing alcohol.

Soak dehydrated roots in hydrogen peroxide (1 part hydrogen to 30 parts water). This will imitate raindrops and revitalize them.

Water the rose with a mixture of 2 teaspoons Epsom salts to 500mL water. Epsom salts contain magnesium, which aids in strengthening plants' cell walls and improves the absorption of nutrients from the soil.

Know when to quit. If you have tried all my suggestions and seen absolutely no improvement to your dying potted rose after 2 months have passed – know that you have tried your best. Compost your plant and give back to the Earth where it came from.
I hope that you manage to save your dying potted rose and that it makes a full and speedy recovery! After it is back to full health, why not have it grow bigger, organically? Check out our article on bigger and organic blooms right here!