An all-natural, organic all-in-one pesticide, fungicide, miticide, insecticide, and fertilizer packs a serious punch in preventing indoor plant issues. Every indoor gardener should have a bottle of Neem Oil solution for indoor plants in their arsenal.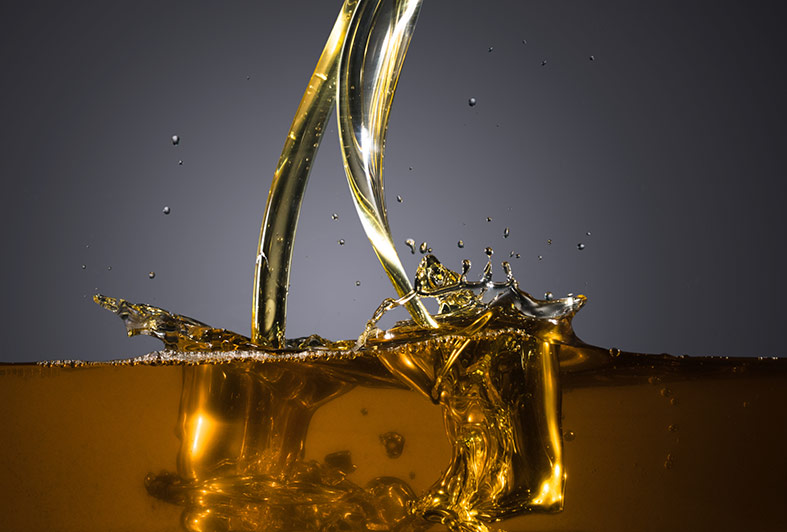 What Is Neem Oil?
Many people have no idea what Neem Oil is. While its name implies an oil solution, it's easy to assume it's either something related to skin conditioning, massage, or perhaps a floor treatment. While some of those may be loosely associated with this oil, in the gardening industry, Neem Oil is an all-natural horticultural oil used as a pesticide, miticide, fungicide, and insecticide.
Where Does Neem Oil Come From?
Neem Oil comes from a tree (Azadirachta indica) native to India, Bangladesh, Sri Lanka, and Myanmar. The Neem tree belongs to the mahogany family and is also known as Indian Lilac or Margosa Tree. One of these trees can easily reach up to 131 feet tall (40 cm.) 
India has a concentration of wild neem trees growing in forested areas in dry climates. Neem farmers also manage to cultivate these trees in high elevations where temperatures are much cooler. The Neem Oil industry is alive and thriving in several countries; however, India seems to be the predominant producer. Neem trees grow fruit that looks like a yellowish-green oblong olive. The fruit is harvested and taken to a processing plant where Neem Oil is produced. 
The fruit is placed into industrial machines which separate the seed and kernel inside the fruit. The kernels are then sent to an expeller machine or wood press which cold presses the kernels. The force of the press causes oils within the kernels to leach out and into a vat. The Neem Oil goes on to be sold to various markets and industries for a host of different uses.
What Does Neem Oil Smell Like?
Cold-pressed Neem Oil is used for non-consumer products such as oil lamp fuel or pesticidal treatment. It tends to be quite pungent with a reminiscence of boiled egg yolk's sulfur smell. Pile freshly minced garlic on top of that odor, and that completes the odorous essence of Neem Oil. Marry the oil's fragrance to its thick dark fluid appearance, and it doesn't seem to be too pleasant. 
Now, if Neem Oil is intended for products such as soaps, cosmetics, and shampoos, it goes on to be further processed to purify it (clarification.) This purification removes all associated odors.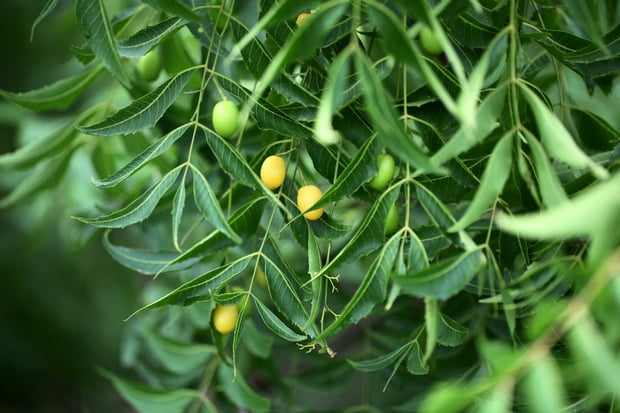 Different Uses Of Neem Oil
Neem Oil has many different uses. I wasn't aware of it until a friend recommended it for aphids on my plants. It seems that gardeners are reaching more and more for this wonderworker to get rid of pests and other problems.
A few other ways Neem Oil is used include the production of resins, treatments in traditional medicine, an ingredient in fertilizers, and pet products (shampoos, fur treatments, etc.)
Pest Control
Neem Oil is used as a preventative and control for hundreds of pests at all life stages. Beneficial insects, pests, and pollinators are not affected by applications of Neem Oil provided they are not in the direct line of application or feeding on plant leaves where the application resides.
Aphids
Beetles
Borers
Caterpillars
Crickets
Gnats
Grasshoppers
Leafhoppers
Leafminers
Moths
Nematodes
Spider Mites
Thrips
Whiteflies
Worms 
Plant Diseases
Neem Oil and products containing percentages of it are used to prevent and control various plant diseases.
Alternaria
Anthracnose
Black Spot (roses)
Blight
Botrytis
Downy Mildew
Leaf Spot
Needle Rust
Powdery Mildew
Scab
Fertilizer
JBiopest's article on "Neem Products and Their Agricultural Applications" had some interesting info on how the leftover Neem seeds (in the form of seed cakes produced after oil extraction) are used in fertilizers to amend the soil. It's capable of preventing the loss of nitrogen. Neem seed cake fertilizers are higher in nitrogen, phosphorus, and potassium. It surrounds plant roots protecting them from nematodes and ants.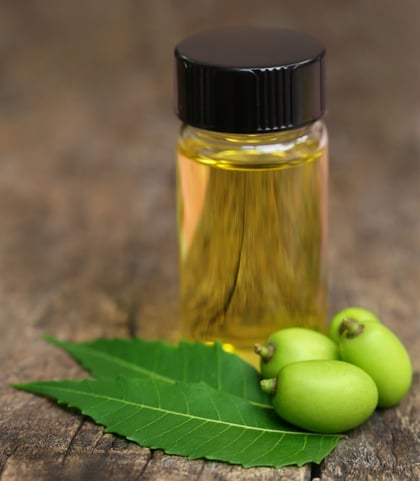 Safety Of Neem Oil
The form in which Neem Oil is used comes with its own set of safety guidelines. It helps to understand what those forms are and how they relate to indoor plants and humans. One of the first concerns gardeners have is Neem Oil safe for humans.
Cold-Pressed Neem Oil
Intended for use on outdoor crops/plants and indoor plants.
No risk to human health (per EPA's fact sheet on cold-pressed Neem Oil.)
No risk to "non-target organisms" in the environment.
Clarified Neem Oil
Intended uses include traditional medicine treatments, beauty products, and pesticidal for outdoor crops/plants and indoor plants.
No risk to human health (per EPA's Clarified Hydrophobic Extract of Neem Oil (025007) Fact Sheet.)
Avoid application on flowers honey bees are actively visiting. 
Avoid contaminating any water supply. 
No risk to wildlife or the environment.
Is Neem Oil Safe For Indoor Plants?
According to the University of New Hampshire Extension, Neem Oil labeled for use on plants/indoor plants has the potential to burn plant leaves. It's best to test the Neem Oil treatment on a small leaf of the targeted plant. If the leaf appears to do fine, the entire plant can be treated. Avoid using it on stressed plants and transplants. 
I found that many Neem Oil "organic" treatments only contain a very small amount of Neem Oil, and "other ingredients" remain unknown or hidden. These unknown ingredients are harmful enough to warrant warnings on the container regarding human exposure. 
How Do You Use Neem Oil On Indoor Plants?
I prefer a 100% Neem Oil that I mix myself. Gardeners who are considering the use of Neem Oil often wonder how to mix Neem Oil for indoor plants and how often to apply Neem Oil on indoor plants. I, too, once had these questions. I did a lot of research before using Neem Oil on my plants.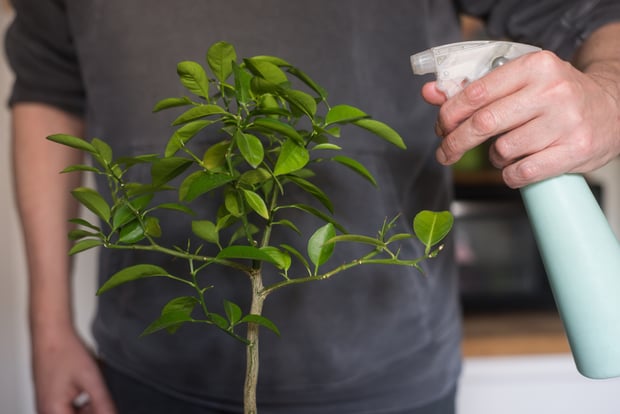 I simply add a quart of water, 1.5 teaspoons of Neem Oil, and ½ teaspoon of very mild dish soap (as an emulsifier.) I use a spray bottle to mix my Neem Oil solution for indoor plants. As a preventative, I spray my Neem Oil mixture for indoor plants every two weeks. When spraying, I cover all of the plant above the soil line. If I happen to find unwanted critters on my plants, I may add an additional application once a week until the problem is alleviated.
Neem Oil Is Too Beneficial To Pass Up
As an organic, planet-friendly gardener, I am careful to use products safe for me, my plants, and the environment. I can honestly say that Neem Oil (100% Neem Oil with no "other ingredients") is the way to go for fighting pests and diseases. It's one of the best preventatives to tap into!