Why purchase commercial fertilizer when it can be made right at home? Homemade all-natural, organic fertilizer is not only trending, but planet-friendly.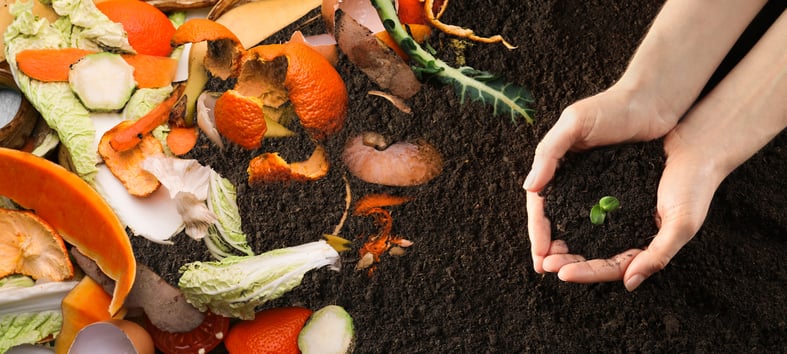 Fertilizer Vs. Plant Food
When I was new to the gardening world, I stood in the aisles of the local garden center confused with way too many choices of fertilizers and plant foods on the shelf. I had no clue which was better for my indoor plants and like most, I assumed the two were the same thing. However, with research under my belt, I discovered they are not. Fertilizer and plant food are two different things.
Fertilizer contains ingredients which are introduced into the soil through application. The ingredients in fertilizer revitalizes soil which encourages plants to produce the nutrients they need. 
Plant food consists of the nutrients found in soil. When these nutrients are added to soil, the plant takes in the nutrients (feeding on them.) Plant food is a boost for plants planted in soil conditions that lack vitality that tells a plant, "Hey, you need to make yourself something to eat." Indoor plants are perfect examples of how plant food can be beneficial. 
Commercial Fertilizer
Fertilizers may have various ingredients which most always include three basic ones: nitrogen (N,) phosphorus (P,) and potassium (K.) Fertilizer processing plants use raw materials gathered from the air and underground combined with other ingredients to produce what is often referred to as "plant food." 
Careful formulations of NPK (nitrogen, phosphorus, and potassium) go into making various strengths and forms of fertilizer. When looking at a container of fertilizer, take notice of a 3-number indication such as 10-10-10 (10% nitrogen, 10% phosphorus, 10% potassium.) An indoor plant fertilizer comes in liquid, granule, or spike forms. 
Planet-friendly gardeners often search for fertilizer options that are natural and organic. Some even choose to forego fertilizer altogether.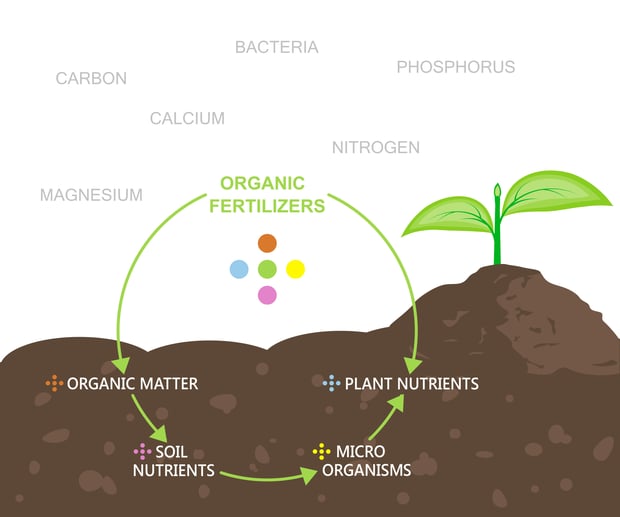 Can A Plant Grow Without Fertilizer?
Outdoors, plants get all of the nutrients they need from the soil, air, and sun. It would stand to reason that in an indoor situation, plants would need a little help to thrive. However, that's not necessarily true. 
The University of Georgia Extension published an article on successfully growing indoor plants. The article mentions that a healthy indoor plant rarely requires fertilizer. In fact, it goes on to note that indoor gardeners are more apt to over fertilize causing more harm than good to the plant. Plants that have rapid growth rates with new growth are more prone to need fertilizer should they begin to present any deficiency.
During the winter when light levels decrease, there may be a need for small amounts of fertilizer. Signs of an indoor plant needing fertilizer include paleness of color and stunting of growth. When I notice any of these signs in my indoor plants, I reach for what I consider the best fertilizer for indoor plants and that's my natural, organic, homemade concoction.
What Is Natural Fertilizer?
A natural, organic plant fertilizer for indoor plants is a fertilizer option that is made from organisms that were once alive such as bone meal, feather meal, fish, kelp, seaweed, compost, manure etc. Although these organisms are harvested in a planet-friendly manner, they are much slower in releasing nutrients because they are not water soluble and must be broken down by the soil's bacteria. Synthetic commercial fertilizers are faster and are water soluble making delivery to the soil a lot quicker.
The advantage to using natural, organic fertilizer is it amends the soil much more naturally rather than shocking it. With natural, organic fertilizer, there won't be any fertilizer burn that often happens with synthetic commercial fertilizers. Furthermore, natural fertilizers do not work their way into the water system through leaching as commercial fertilizers do.
I am all about saving this place I call home (planet earth) so if there are things I can do to create a healthier environment, I am all in. 
Can I Make My Own Fertilizer?
I have been making my own fertilizer for years now and while doing it, my footprint when it comes to garbage and waste is much smaller. So, what is a good natural fertilizer for houseplants? The best fertilizer for indoor plants that I have found superb and one that my plants love is made from items right out of my kitchen.
What Is The Best Homemade Fertilizer To Promote Plant Growth?
I have 9 homemade, right from the kitchen (or barn) fertilizers that will perk up those indoor plants and gardens. I also use it in my outdoor gardens.
1. Kitchen Compost
I have a countertop compost bin where every scrap of food goes. Instead of scraping the dinner plates into the food disposal, it all goes into the bin. Banana peels, egg shells, expired foods, coffee grounds, and even the water in canned vegetables all go into the bin. I was shocked when I weighed a day's worth of saved kitchen scraps that would have otherwise been thrown out. My family of four (and two dogs) had a whopping 25 pounds of compostable kitchen scraps that would now become fertilizer!
Each time my countertop compost bin gets full, I take it out and dump it into a large, heavy trash can with a secured lid on top. 
2. Yard Clippings
When mowing, don't bag up the grass clippings for the garbage truck to pick up. Instead, make a pile in the back of the yard and allow it to break down naturally to later feed to the indoor plants.
3. Animal Manure
I have relatives that live in a rural area on a farm. They save manure from their cows, chickens, and rabbits for me. I would highly suggest that a pickup be used to haul any of this back to home. I learned the first time not to load it up into a car because the odor is horrific! 
Once home, I dumped it all onto the same pile my grass clippings are in. Over several weeks, I use a pitch fork to work the materials together.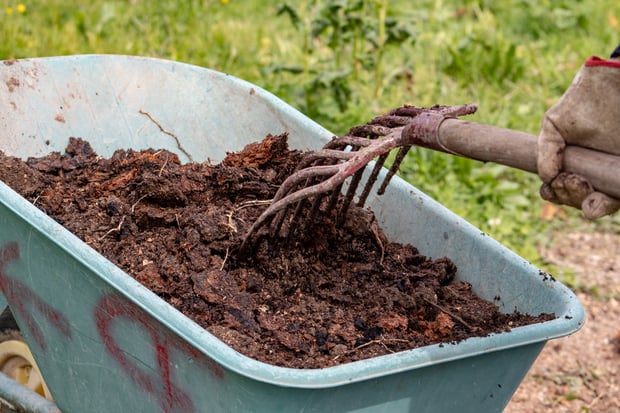 4. Worm Castings
I purchase a bag of worm castings and add that into my compost pile. Worm castings are nothing more than worm manure; however, there are many benefits to be had by including it in a homemade fertilizer. 
5. Fish Emulsion
For those who are married to avid anglers, tell those husbands to save the fish guts and all to add to the compost pile out back. Fish emulsion is a great activator for my compost pile.
6. Fish Tank Water
My neighbor's young boy has a fish tank which they clean weekly. I had read somewhere that fish tank water is a great source of nutrients for plants. So, guess what I did? They call me on the day of tank maintenance to come over and get the water. Carrying that much water back to my place was challenging but I did it. 
I dump this water into the trash can full of my kitchen compost. The lid goes back on.
7. Water Used For Cooking
I do the same thing with my cooking water as I do with fish tank water. It all goes into the trash can with kitchen compost.
8. Fireplace Ashes
During the winter, I have a coal bucket that the fireplace ashes are put in and set outside to completely cool down. Once cool, it all gets dumped on the compost pile in the backyard.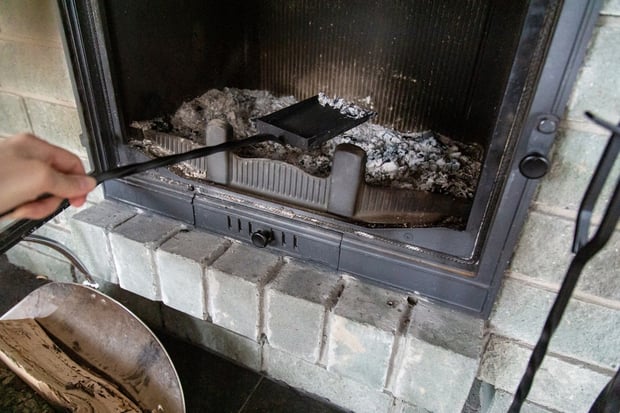 9. Compost Tea
Now it's time to reveal my go-to homemade fertilizer! After all the scrap gathering, water hauling, and dumping, it's time to make compost tea. This is a liquid fertilizer that I bottle up into empty plastic milk jugs. 
Compost tea making day is done every 6 weeks or so depending on how full the kitchen compost trash can gets. When it gets ¾ full with liquids and broken down foods, I add two shovel fulls of the compost pile in the back of the yard. Trust me, it does not smell pretty so for those who have weak stomachs, wear a mask. 
I used a boat ore to stir the contents in the compost trash can. If it's too thick I add water. It should be thin enough to pour into the empty milk jugs. Once thoroughly stirred, I use a commercial size ladle and pour the compost tea into the jugs. I have seen this DIY compost tea brewer that is on my list of projects to do.
This nifty brewer will make jugging the tea much easier.
I jug up about 6-10 jugs of compost tea and any remaining left over in the kitchen compost trash can, I pour over my outdoor plants. My friends and neighbors always put their request in for a jug of this compost tea.
Every other week, I pour just enough of this compost tea onto my indoor plants to moisten the soil. And yes, it won't smell pretty for a few hours. The results are absolutely amazing after a few months of doing this. Not one chemical ever touched my plants and yet they are vigorous and beautiful.
The Effort Is Well Worth It
Gardeners no longer have to ask what is the best fertilizer for indoor plants. My secret is out there. One of the most important indoor gardening tools I have is my homemade compost tea. Try it, it really does work!