I've been intrigued with the idea of Zen gardening recently. We live in troubled times, bombarded with social media doom 24/7. And seeing as I can't really go outside my home without restriction any more, I've been looking to create beautiful spaces at home instead. So when I came across Zen gardens on Pinterest (of course)! I was intrigued.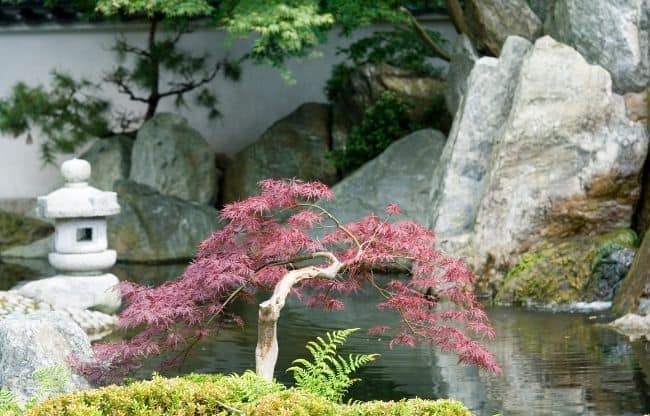 If you're a beginner to zen gardening, zen gardens are small versions of Japanese or Japanese-inspired gardens, designed to encourage mindfulness, allow positive energy to flow, enable you to connect with nature more deeply and release anxiety. And maybe the best thing about a zen garden is that it can come in all sizes – you can even create miniature ones to go on your desk! 
You don't have to revamp your entire garden either – simple zen garden ideas for beginners include clearing out your current garden space by removing weeds, dead plants and clutter. Then adding zen features where appropriate, such as water features, sand pathways or trails, smooth pebbles, and plants thought to help induce calm such as japanese holly, japanese maple,  evergreen grasses and bamboo. 
Basically, you get to Marie Kondo your garden (or desk)! and make it an inviting, calming space where you can go to practice yoga, meditate, or release anxiety!
I lived in Japan when I was a teenager, and have always been fascinated by Japanese culture. Although Tokyo is one of the busiest cities on earth I had moments where I found it an incredibly peaceful place – seeing geishas walk the streets at 6am, wandering round old temple gardens, having tea – there were so many moments of peace in amongst the busy.
Maybe that's what we are missing in our society and fear-filled culture, more places and moments of peace. So, I think everyone could incorporate elements of Japanese zen into their life!
How To Get Started Creating A Japanese Zen Garden As A Beginner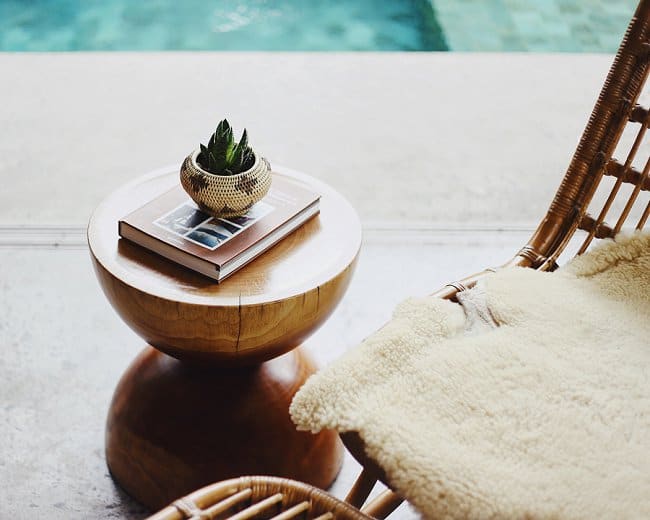 1. Decide On Your Space
You might already know which part of your garden you plan on transforming into your relaxing space, but if not – it's time to decide! Will your entire garden be devoted to zen? Or like me, are you planning on creating a zen nook? Or maybe you're even thinking of creating a miniature zen garden to get started?
When deciding how much space and what area to dedicate to your zen garden, you'll need to bear the following in mind.
Positioning
Most japanese zen gardens use hardy and evergreen shrubs, grasses and plants for that mindful feeling all year round. However these plants tend not to enjoy full summer heat and sunshine all year round, and thrive instead in spots with part shade. If you live in a hot dry area, you can still enjoy a zen garden however! Just be mindful of what plants and shrubs you will be able to plant.
Size
How much room do you have for your garden? If you have a large garden, you can mark the 'edges' of your zen garden with hedges or stocky plants, or even a bamboo border or cluster (unless you live in an area known for snakes – snakes often love bamboo)! Larger gardens need more consideration when planting a zen garden, but the results are worth it!
If you have a smaller garden, your job is a little easier. Simply find a spot or corner area that you can fill with potted plants, statues, a small pathway and a water feature.
Budget. How Much Does A Zen Garden Cost?
The beauty of a zen garden is that almost everyone can create one, regardless of budget!
Create A Zen Garden On A Budget
For just $50 you can create a peaceful zen zone in your garden using a few garden ornaments, some sand, pebbles and a handful of plants! You'll want to look for a tucked away area or hideaway, that's close to fencing, hedges, or tall plants for a private feel, as you won't be able to create much privacy using the taller, pricer plants on this budget.
You can also create an indoor or desk zen garden on a tiny budget, using a tray, sand, a rake, some pebbles and tiny pot plants from your local garden centre.
I would start with a budget of around $200 for a cosy small space japanese zen area, unless you are on a tight budget, and then you can start with $50, get creative, and expand as you go! 🙂
Remember, you don't have to create an entirely brand new garden area when creating a zen garden. To me, it kind of sounds a bit terrifying to do that! You can simply incorporate elements of a japanese zen garden to begin with. That way you still have that peaceful, anxiety-releasing feel, without having to design and make an entirely new (and expensive)! garden from scratch.
Creating A Larger Zen Garden
However if you have a larger space or want to cultivate a larger area, the sky is the limit. You can buy huge topiary features, pebble a pathway, embed much larger statues and sculptures, and plant beautiful and rare Japanese plants such as the gorgeous japanese maple. (My favourite)! You can even add a deep pool as your water feature! How peaceful does this look!?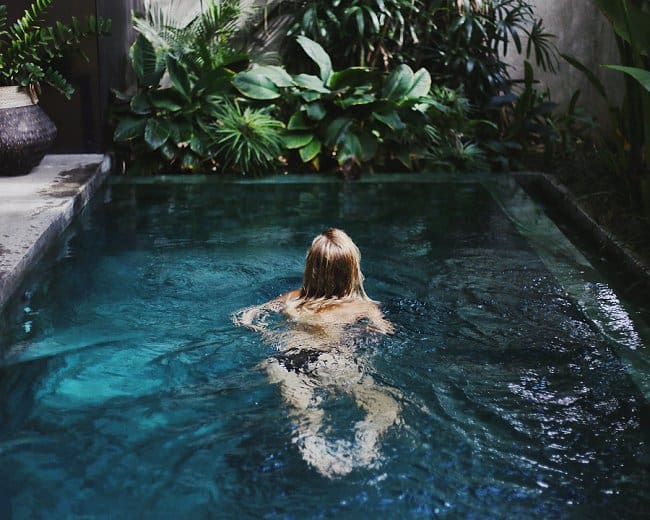 How To Design Your Zen Garden
When planning your zen garden or space, you'll want to think about what elements you wish to add in, and where you want each element to be positioned. So first you'll need to think about what you're going to include. Remember the goal is to create a peaceful, relaxing space, but that doesn't mean rigid or boring. Your garden is your garden and you are free to be creative with it!
While I love the idea of Japanese zen gardens, a formal zen garden like this I think I would find a little dull and too perfect or neat. The solution to this would be to incorporate elements of a zen garden into your already-existing arrangement or garden space.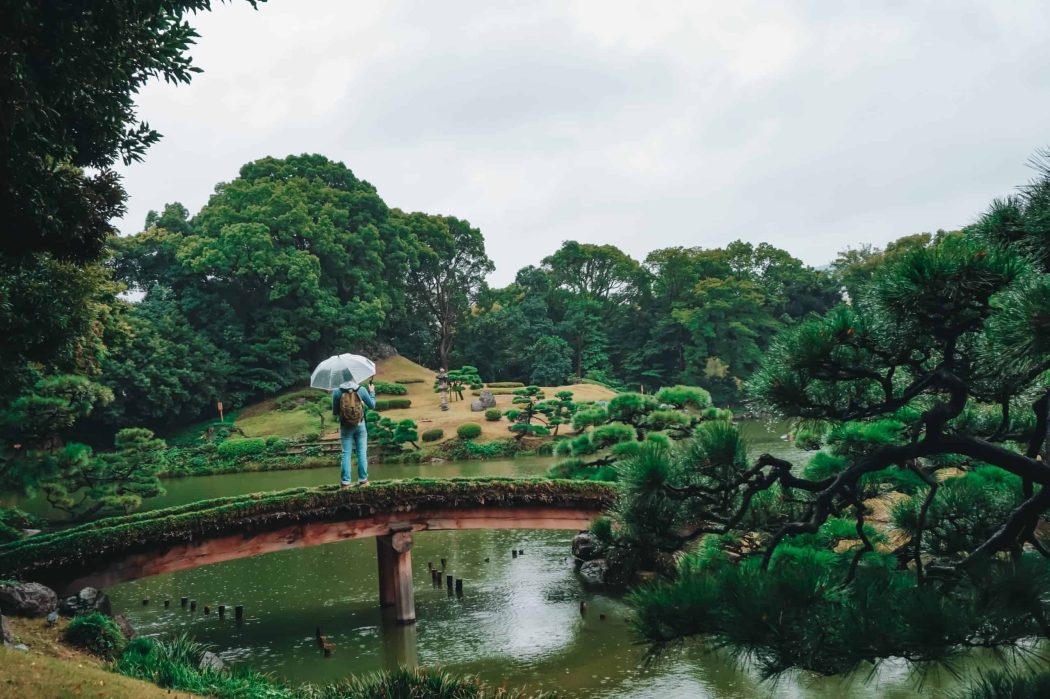 What To Include In A Zen Garden
Plants.
Let's start with the obvious – a garden kind of has to have plants! Or so you would think. Actually, ancient and traditional japanese zen gardens stripped out a lot of plants and focused instead on sand and rocky areas. This would allow energy to flow and areas to focus on for meditative contemplation. In a modern Japanese zen garden, you'd include plants such as
ornamental grass
japanese maple trees
cherry blossom trees
wisteria
azaleas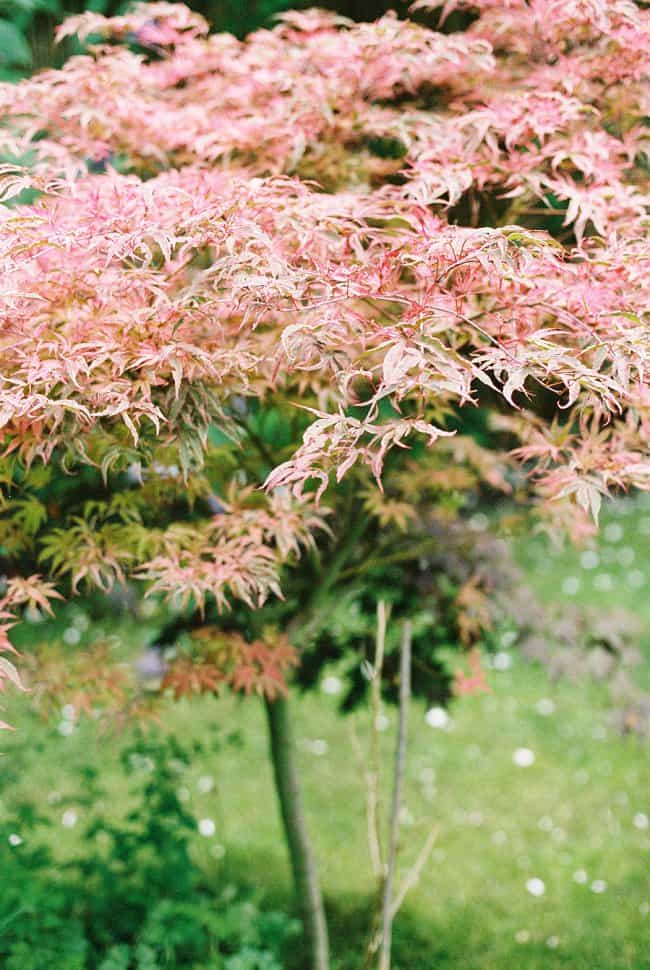 Rocks
Rocks are a key feature of japanese zen gardens. Representing mountains, and symbolic of power and strength, these are elements to add to your garden for when you want to meditate or need extra strength to see you through troubled times.
They're super easy to add. You can add rocks to water features, add rocks alongside a walkway, group rocks together of different sizes, display large statement stones, and / or perhaps the simplest way and most elegant way to display them, create prebble or rock towers. Simply grab a sack from your nearest beach, take home, and stack! Of course if you have pets or kids, you might want to steady your rock tower – use superglue to liberally coat and stick them together.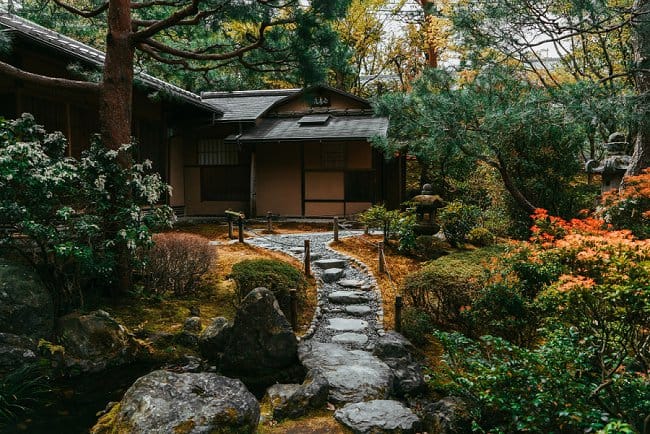 Sand
Sand is a little harder to add to modern zen gardens, not to mention they attract local cats to do their business in! They are used to display patterns found in nature, thought to encourage feelings of calm and wellbeing. The most common type of sand used is actually limestone gravel, which tends to fare better in wetter weather in a garden than sand.
The wave patterns you see in the gravel are meant to represent water, and so invoke the sense of peace you get from looking at water and waves. Sand features can be harder to implement and maintain in a smaller garden space.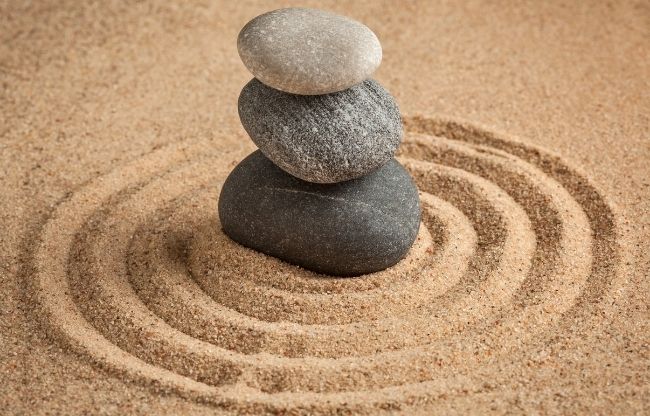 Sculpture
Sculptures aren't traditionally part of a zen meditation garden, however they often form part of a modern one. Look for sculptures with gentle curved shapes, ideally made of stone. Other sculpture ideas for you to add to your meditation garden are statues of buddha or other eastern religious icons (if that suits you), replicas of nature (sculptures of shells, or leaves for example), and even fossils.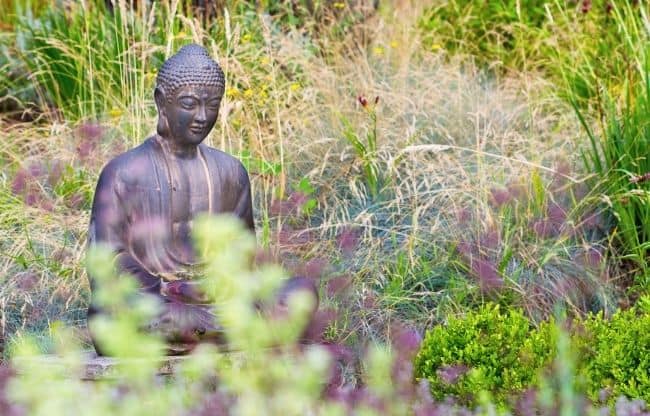 Water
Yes, the Japanese zen garden dream flows with beautiful bridges over rivers. Not all of us have gardens big enough to embrace a river and multiple bridges (Lucky you if you do)!
But even the smallest of water features can work. Having a water feature in a zen garden isn't about a display of wealth, like the older style european gardens were designed for. It's about your senses being stimulated and calmed by nature, so any water feature can work, as long as you can see and / or hear the water!
You'll need to get creative again here – those typical stone statue style fountains are out and passe! You'll want to look for water running over stones, a pond playing home to beautiful koi carp, or bamboo piping allowing trickles of water to flow into hidden areas.
Even beautiful bowlfuls of water can be a beautiful enhancement to your garden and sense of wellbeing.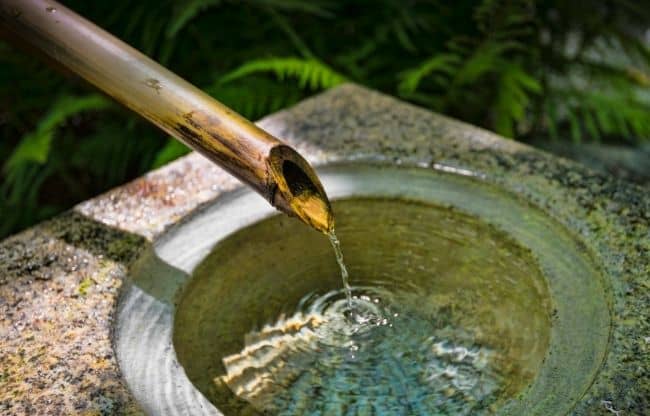 Surprises
Even traditional Japanese zen gardens feature subtle bursts of color and design. Add the odd muted colorful pot, an outsized rock collection, a bamboo fence, and of course a cherry blossom tree or two, if you have the room! If not add potted plants like this around steps and pathways, windchimes are always relaxing too. (try wooden ones if the metal ones are too… chimey)!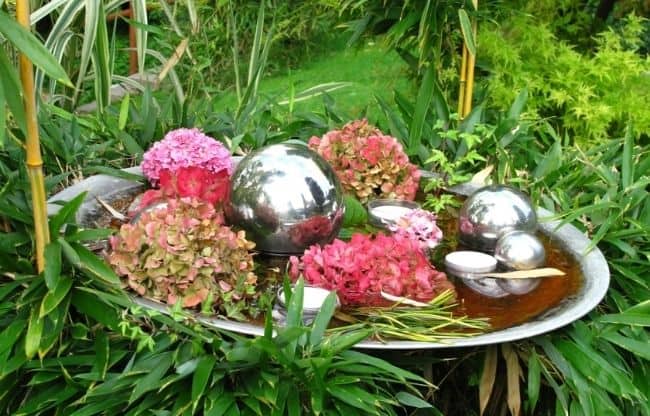 Where To Position Your Japanese Garden Elements
Where you position your elements depends on the size, layout and design of your current garden, as well as how the land lies, soil quality, and your local climate.
However there are some general guidelines to follow that will make designing your japanese garden easier.
Place elements separately. Unlike European gardens where hedges, flowers, statues and features are all placed pleasingly together, Japanese gardens tend to have stand alone features. A single water tower. Give each element space and room to 'breathe' and you will too!
Add moss. Moss can create a peaceful green contrast to other elements in the garden which are somewhat stronger (such as stone towers and rocks) according to Gardenista. 
Add a simple bridge or pathway. Even smaller gardens can incorporate a small bridge feature, with a little imagination, and almost definitely a pathway. These allow for the mind and body to 'wander', and can give your Japanese zen garden structure and form.
Embrace imperfection. Remember the goal is to add serenity, not to stress out about perfect lines and shapes. In traditional Japanese gardens everything would need to be perfect, however we are looking to borrow influence and style, not create mini Japanese Buddhist shrines for pilgrims and warriors!