The front garden is the first impression anyone gets of our home. However, unless you have a full-time garden service, it needs to be a carefully planned out space that is neat and manageable. The front of your house must consistently look chic, so you can't ignore any mowing or pruning when it needs to be done. Fortunately, there are lots of tricks to make the most of even the tiniest front garden.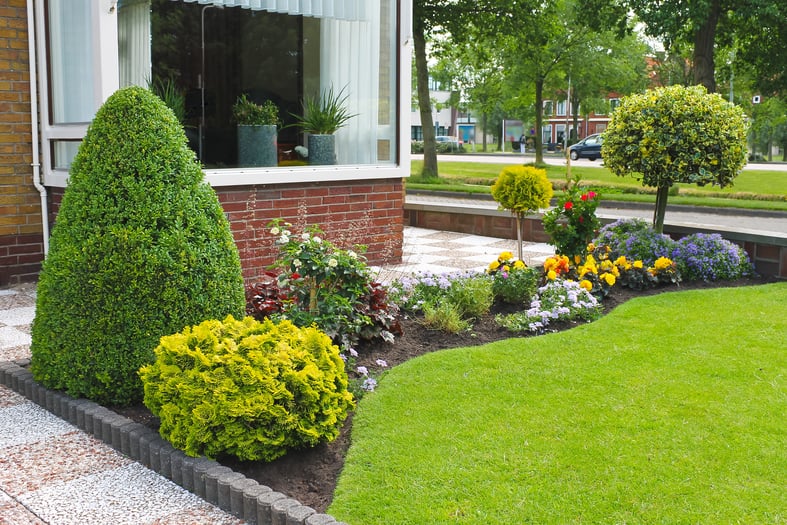 7 Ideas to try if you have a small front garden:
Know your style
Plant with all seasons in mind
Use pebbles, paving, and planters
Create a rock garden
Widen the path
Add a trellis
Make a rose garden
Front gardens are creative spaces that should complement the overall look of your home.
Most of us don't have space for manicured green lawns with carefully landscaped garden features leading up to our front door, but, to be honest, that can be a total blessing. However, you also don't want your front garden to look like the outside of a company headquarters. It is a balancing act between low maintenance and gorgeous curbside appeal.
What Can I Do With My Tiny Front Garden?
According to Homes & Gardens, curb appeal is a huge factor determining how quickly a home will be sold. No matter how gorgeous the interior of a home is, the first impression made outside the front door is often enough to make or break a sale. Not that most of us are planting to sell our homes, but we want to create an attractive, homely, and welcoming atmosphere for visitors.
Having a small front garden doesn't mean you can't have an utterly gorgeous, low-maintenance garden. When it comes to front gardens, the quality of elements can definitely rule over quantity!
Let's go through 7 great ideas that will help you to make your small front garden a year-round showstopper.
1. Know Your Style
Before settling on jaw-droppingly gorgeous ideas from Pinterest, take a good look at your home. Even if you absolutely LOVE roses like I do, they may not be ideal if you don't have a lot of time to tend to them, or the front of your house regularly gets blasted by harsh wind and rain.
Also, check the style of your home. Decide if you would like a symmetrical, equal on both sides of the door feel or a more contemporary, offbeat look. There are three essential elements always to be aware of, no matter your style:
Repetition – Unless it is a feature plant in a planter, avoid having only one of any specific plant type. It instantly makes a garden appear bigger if there is more than one of everything.
Height – Choose plants of varying heights, but always keep the scale of your home in mind.
Focal points – Decide where you want your focal points. If you have a brightly colored front door, you may need the garden to simply be the supporting act. Other focal points could be a birdbath or a colorful flower area.
When planning, carry the architectural style of your home through to your garden so that you can choose plants that complement the front of your house.
2. Plant For All Times Of The Year
Planning your front garden area can be an exciting summer project, and in full bloom, your home may look like it was professionally landscaped. However, it is wise to plant to avoid gaps during the cold season.
Unless you decide on a neat rock garden, always plant evergreens between your more delicate flowering plants. That way, your front garden will look alive no matter the time of year. Avoid planting trees that grow large – in a few years, they may look too big for your small front yard.
3. Use Pebbles, Pavers, and Planters
Using different materials adds texture to the design and will make your small space seem bigger. Interesting use of pebbles, pavers, or large planters in your front garden can make the area look homely and inviting. Tall planters can also add height and create focal points in the design.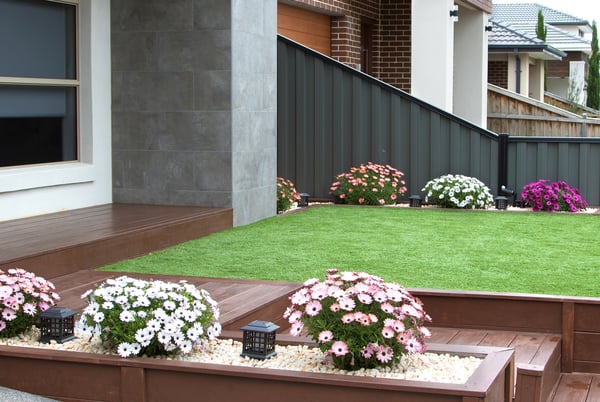 Use rocks to create a border or a little mini-fence to create an attractive little boundary to create a visual break before your front door. Don't be afraid to use a unique feature like an upcycled antique bathtub or a small garden bench that will add character to the front of your home.
4. Create A Rock Garden
One of the best ideas for any small space is a rock garden. Rock gardens don't have to be boring, and there are loads of gorgeous succulents that can give a designer touch. They also work really well for front gardens because they tend to be hardy and low maintenance.
Succulents come in a vast array of sizes and contrasting colors. They are an excellent choice for anyone with a small front garden and a busy lifestyle.
5. Widen The Path
The path to your front door may seem pretty standard, and you naturally want to plant on both sides. However, garden paths are sometimes quite narrow, making it look more like an alley, especially if you have a lot of gorgeous, flamboyant plants thriving during the summer months.
A really effective idea that will instantly transform the look of your front garden is to add width to the current path by adding contrasting color stones or pavers on either side. Then plant a hardy, enthusiastic plant like lavender to break any hard lines in the new section and make the leadup to your home look inviting.
6. Add A Trellis Or Floral Archway
Having a simple archway covered in climbing roses has always been a dream of mine. It is also a simple way to add a little privacy to your front porch area and will make the entrance look more inviting. However, this is sometimes not practically possible, but the next best thing is to add a trellis on the front of your porch.
A climber can add a different dimension to a small space. A beautiful climber on a trellis will make the house and garden areas seem more connected. It will give your area height as the long vines reach upwards and interact with the front of your house.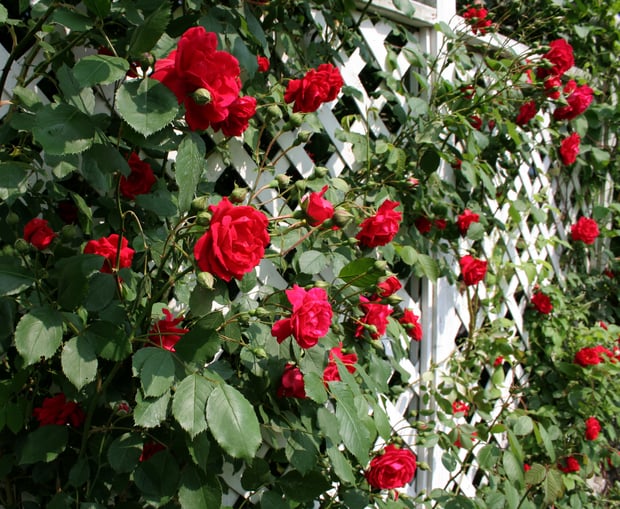 7. Create a Small Rose Garden
So I have saved my favorite idea for last – I bet everyone who knows me thought it would be first! Rose gardens don't have to be large sprawling spaces, and there are many ways to make your small front garden the envy of your neighbors. Believe it or not, some species can survive winters, and others are ideal for growing in shady outdoor areas in containers.
Tiny rose gardens can be highly effective and inexpensively created if you plan carefully. While planning your small rose garden, focus on color, height, and space. Use tall planters to add additional height, and remember to repeat colors in a few spots, so buy a few of each color so the overall effect is balanced.
How Do You Landscape A Small Garden For Cheap?
The first tip to keep a small font garden looking chic and landscaped is not to be too attached to your lawn. If you have a tiny piece of green grass, decide whether or not it is a feature you need or if the area may look better as a xeriscaped area.
Using what you already have will also save you money. If you have some lovely plants or a small tree, work them into the design so you don't have to splash out for everything new from scratch.
My favorite tip for my front yard is to take a walk around the neighborhood and see what is thriving and looks effective in other yards. Succulents can easily grow from slips, and often plant owners are only too happy to share little pieces of their favorite plant. By asking for slips, you can save a ton of cash on plants instead of buying them!
What Is Good To Plant In Front Of My House?
The front of your house sends a message about the rest of the property, so it needs to be chic and well maintained. Whether you choose lush greenery or a mini rose garden will depend on how exposed your front garden is and how much sun it gets.
Some great options for the front of a house are evergreen shrubs. Focus on different heights and textures and let them become the backdrop for splashes of seasonal color, like marigolds and petunias, which can be planted between the shrubs in the warmer seasons.
Some great options to plant in front of your house are:
Camelias
Holly
Boxwood
Bottlebrush
What Should I Plant In Front Of My Porch?
A porch in front of a house is a natural focal point where you can easily add pretty dabs of color in planters or hanging baskets. But there is often a pesky gap between the ground and your porch that you need to keep covered.
The trick to making your porch look welcoming is to add a showy border. If you live in a suitable climate zone, hydrangea is always a winner! Autumn is the perfect season to plant these magnificent shrubs; by spring, your porch will be surrounded by color.
If you want to keep the area in front of your porch super low maintenance but still want the gap consistently covered, a great tip is to add a trellis and grow a climber. That will create the impression of fullness, even when there are a few unexpected gaps in the garden below.
Add a screening climber like English ivy that can tolerate shade, or create a colorful flowery ground-to-railing cover with honeysuckle or sweet-smelling jasmine.