Wondering what to do with all those left over rose petals from your garden? Or just wanting to try a sweet and delicious addition to your breakfast? Rose petal jam has many health benefits and is delicious and easy to make! The best rose petal jam recipe has just three ingredients –  rose petals, lemon juice, and sugar, plus a little water.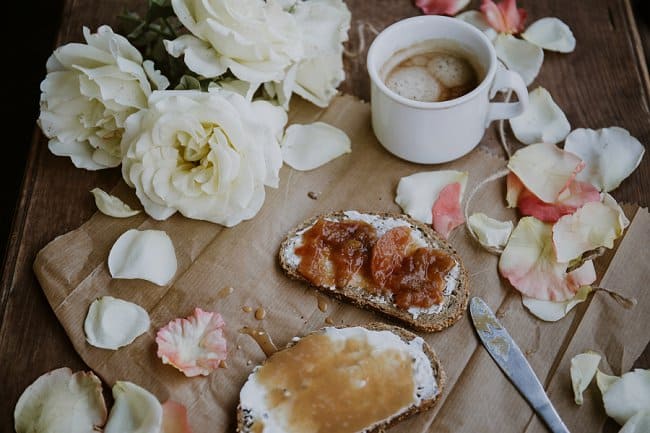 A treat beloved for millennia, rose petal jam is yet another simple recipe to make!
The Benefits Of Rose Petal Jam
The benefits of using rose petals for jam making are similar to the benefits of using rose petals for tea. Rose petals have been used for centuries to
*cleanse the blood
*as an aphrodisiac
*aid in weightloss
*combat stress and depression
Who could be stressed when brewing a cup of pretty rose petal tea?! And rose petal jam is similar, involving that meditative, feel-good absorbing baking activity while using one of nature's best healers to create a simple jam recipe you'll love!
Gulkand vs. Rose Petal Jam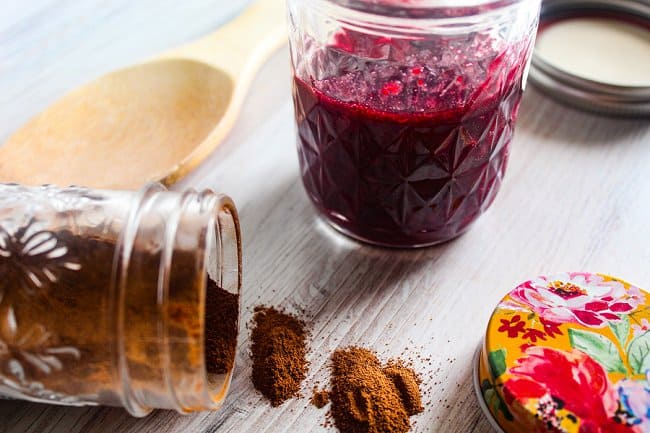 If you are an aficionado of all things rose, you have probably already come across a certain oriental treat called Gulkand. Gulkand is, traditionally, a sweet preserve of rose petals. Its origins trace back all the way from 1000 B.C., created by people of the Indo-Persian culture. Gulkand literally translates to "sweet flower" (Gul – flower, kand – sweet in Persian).
In the olden days, gulkand was perceived as a rare, seasonal delicacy reserved for the rich and very, very special occasions. The preparation process was especially difficult,
The main difference between gulkand and rose petal jam is in what ingredients you use besides rose petals and sugar.
Traditionally, gulkand also calls for cardamom seeds, powdered pearl, and coral calcium, to name a few additional ingredients. Additionally, gulkand is supposed to be exposed to the sunlight. This is done for a minimum of 6 hours every day for a month, to impart its particular flavor.
If you start your gulkand preparations straight away, you won't be able to taste the fruits of your labor for an additional month!
Unlike gulkand, depending on whether you choose to use a standard or traditional Turkish recipe (both below!), rose petal jam is ready to be enjoyed on sourdough bread in two days, tops.
The flavor isn't as complicated as that of gulkand; however, it has a much longer shelf life and much simpler preparation, while being equally pleasing to the taste buds.
What Roses Should I Use For Rose Petal Jam?
Traditionally, gulkand required a particular kind of a rose – the Damask rose.
However, Damask roses blooms only twice a year, once in summer and once in autumn. Traditionally, gulkand absolutely requires the use of Damask roses. However, you can use just about any organically-sourced or organically-raised rose.
They will have the same properties that make them so fantastic for your health, with Damask roses having slightly more quality essential oils to them. This shouldn't discourage you, as just about any rose has the potential to aid your body in looking beautiful and staying healthy and vibrant.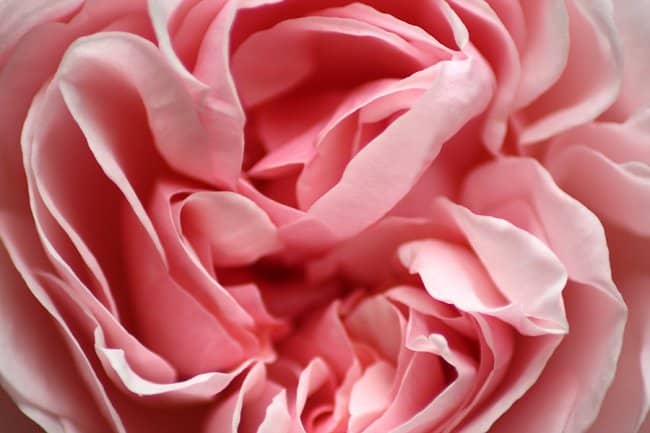 Preparing rose petals
Remember that rose petal jam color comes from the rose petals. If color is essential to you, make sure to pick fragrant varieties with pink and red rose petals. As always, with everything that you consume, mind that the roses are organic.

Pick the petals as cleanly as possible. Get your hand around the base of the petals and lightly tug in an upwards motion. Leave the stamen, stem, and leaves untouched if possible.

Cut the white part at the bottom of the petals, where they used to connect to the stem. Use scissors and lightly cut off all of the white and any leftover stems, as they will give a somewhat bitter taste to an otherwise perfectly sweet jam. Remove any yellowing, browning, or wilted petals, as these will provide an unsightly coloring to the overall jam mixture.

Gently separate rose petals with your fingers.

Place rose petals in a water bath. You can either use a big bowl, or clog a cleaned sink and fill it with lukewarm water. Either way, wash petals really thoroughly, sorting out any leaves, debris, and stems, looking out for any ants, critters or bugs that you DEFINITELY don't want in your jam.

Manually take out rose petals out of their water bath. Even if you used a bowl, don't strain them – it is better to allow dirt, soil, and debris to naturally sink to the bottom of the water bath and stay there.

Dry out the petals. Perhaps the easiest way to go about this is, while making sure that the petals are still moist, is to use a manual dehydrator/salad drainer. This is a simple but quite useful kitchen device, created initially to be used to dry out salads as it helps oil, vinegar and other condiments stick better. I got mine from Ikea for just under 5 dollars. Manual dehydrator works fast, relying on the principle of the centrifuge (YAY physics!). You simply spin the handle, which in turn rotates a netted container with your ingredients, wringing out water inside of a larger container. After you disassemble it, you will find the residual water collected in the bigger container, with your ingredients inside the netted container dried but still slightly moist.

Place dried petals in a bowl of your choice.
A good tip – the water from the rose bath is excellent to reuse as to water the other plants you might have in your household! Zero waste ahoy!
Preparing the rose petal jam
Once your petals are prepared, washed, and dried, you are ready to start making your rose petal jam. There are two ways to go about this. You can follow a more straightforward recipe, which will have your tasty rose petal jam ready to eat in just under an hour. However, you may also opt to follow a traditional Turkish recipe, which requires preparing a starter and leaving it to rest in the refrigerator for two days.
Both will yield equally tasty results, but I do recommend the Turkish recipe if you have more time to spare and if you like your jam stronger, as it incorporates the petals into the jam itself.
Simple rose petal jam recipe
Yields about 6 cups of jam.
Ingredients for the mixture
4 cups of fresh rose petals

2 cups or 400g organic cane white sugar

1/2 cup or 120mL freshly squeezed lemon juice
Ingredients for the rose petal jam
4 cups or 800g natural cane white sugar

6 cups or 1.5L of water
Tools
bowl

wooden spoon

saucepan

glass jars (1/2 cup glass jars are quite lovely and easy to store)

candy thermometer

ladle

(optionally but recommended) canning supplies, funnel and water bath canner
To a bowl of fresh rose petals, add organic cane white sugar and freshly squeezed lemon juice.

Use your hands to gently massage in the petals with the sugar and the lemon juice. As you are massaging it in, rose petals will soon start to have a paste-like consistency. This is the process during which most of the rose petal pigment will come out of the petals.

Once all ingredients are sufficiently combined, allow them to rest for some time.

While your prepared mixture is resting, take a clean saucepan. Place on the stove on medium-high heat, and to it, add 6 cups of water and 4 cups of sugar.

Combine sugar and water by gently stirring until it reaches a boil. 

While waiting for sugar and water to boil, prepare glass jars. Prepare a water and soap bath in the sink and immerse the glass jars in which you will store the finished product.

Rinse out the glass jars, spread them out on a cookie tray and put them into an oven for 20 minutes at 220 degrees Celsius. This will allow the jars to sterilize and be clean and ready for usage and storage.
Return to your rose petal mixture. Look through one final time to check any missed debris, dirt, or bugs and dispose of accordingly. You will know the mix is ready to be used when you notice the water and sugar being colored slightly with the color of the petals. Subsequently, petals should appear somewhat drained, soggy, and infiltrated with the mixture.

Once the water and sugar boil, add the mixture into the water. Give it a good stir and leave on medium to medium-high heat for about 10 minutes. Stir occasionally to prevent sticking to the bottom of the saucepan.

Additionally, use a candy thermometer. Jam should generally be cooked down to approximately 109 to 111 degrees Celsius, so adjust the temperature of your stove accordingly.

While the jam is cooking, fill up a water bath canner with tap water, cover with a lid, and put on high heat.

Have canning supplies ready and prepared. Take out the cans from the over after 20 minutes and attach a funnel to them.

Once the jam is finished, ladle it carefully into jars through the funnels to keep neat and prevent spillage.

Wipe the rim with a cloth and lid the jars. Twist on the jar ring and put your jars into boiling water in the bath canner for about 10 minutes. Keep the canner lid on.

After 10 minutes, take out the jars and allow to cool down before storing or refrigerating.
Traditional Turkish recipe
Yields about 4 cups of jam.
Ingredients for the starter
4 cups of fresh rose petals

1/4 cup or 50g of organic cane white sugar

1/4 teaspoon of citric acid
Ingredients for the rose petal jam
4 cups or 800g of natural cane white sugar

2.5 cups or 500mL of water

1/2 teaspoon citric acid
To make your starter, to a bowl of fresh rose petals, add organic cane white sugar and citric acid (previously crushed up in a mortar).

Use your hands to massage and knead the white sugar and citric acid into the fresh rose petals until it halves in size. Don't be gentle! Really massage it well and combine.
Once combined and smaller in volume, cover with plastic wrap and let sit in the refrigerator for two days. This will help color and taste develop better and result in a more robust, tastier jam. However, make sure NOT to keep it in the refrigerator for longer than two days, as the color of the rose petals might turn brown, which will ruin the color of the finished product.

After two days have passed, take your starter out of the refrigerator. In a saucepan, boil water over medium-high heat.

When water starts to boil, add the rose petal starter into the saucepan. Stir well, lid the pot, and cook for 10 minutes until rose petals turn soft. You will notice this by rose petals turning white. To test if a rose petal is soft enough, take one from the mix and eat it. If it is squeaky under your teeth, it is not soft enough and requires more cooking.

After 10 minutes, spoon out rose petals out of the saucepan into a bowl. Don't discard them! 

Add sugar to the saucepan. Stir the sugar in well and cook the syrup for 10 minutes.

After about 7 minutes have passed, add the rose petals back into the saucepan. The reason why they're not kept inside for those 7 minutes is that they quickly tend to overcook and spoil the taste and color of the jam. Therefore, add them at the very end.

Stir the entire mixture well and don't cover with the lid while the syrup is cooking.

To check if the jam is the right consistency, drip one drop on a plate. Blow on it to cool it down, and if it has honey-like texture, doesn't easily flow off the plate or wrinkles to the touch, you will know it is good.

After 9 minutes have passed, add citric acid to the mix. Citric acid will deepen the color of the jam. Stir well to dissolve and boil for another minute before taking off the stove.

After taking off the stove, stir gently to cool off. Transfer to sterilized jars and allow to fully cool down before storing or refrigerating.
If you have leftover rose starter, seal it in a vacuum bag and freeze in a freezer for future use. 
One final note – you can make rose petal jam without returning the rose petals back into the jam and cooking it to the end. However, traditionally, it gives for a stronger and sweeter taste, which is what this recipe is all about.
 There you have it! Enjoy your homemade rose petal jam on homemade sourdough bread.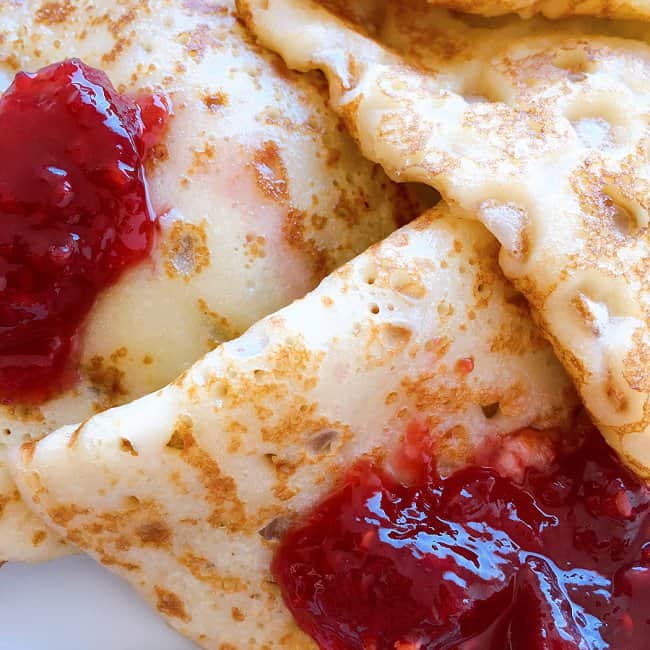 For a full Turkish experience, try it with kaymak on a piece of toast. Add to sweet dumplings, ice cream, use as a dessert topping or in drinks. The possibilities are endless and delicious!
If you liked this DIY recipe, make sure to check out this one on how to make your own nourishing rose petal tea!