There is no other flower quite as revered and loved deeply by gardeners across the world as our gorgeous Rose!
However, roses have so many other uses besides looking pretty! In 2005 an official clinical study in Taiwan showed that rose tea helped relieve period pain (YAY) and rose tea also contains high vitamin C content, antioxidants, and can help relieve stress, protect your immune system, and promote feelings of calm and wellbeing! It's even been reported to help cure UTIs! Basically, rose tea is like a women's win lol.
In this post, I'm going to help you make rose petal tea, as well as some additional beverages you can whip up at home with super simple ingredients you have lying around your kitchen.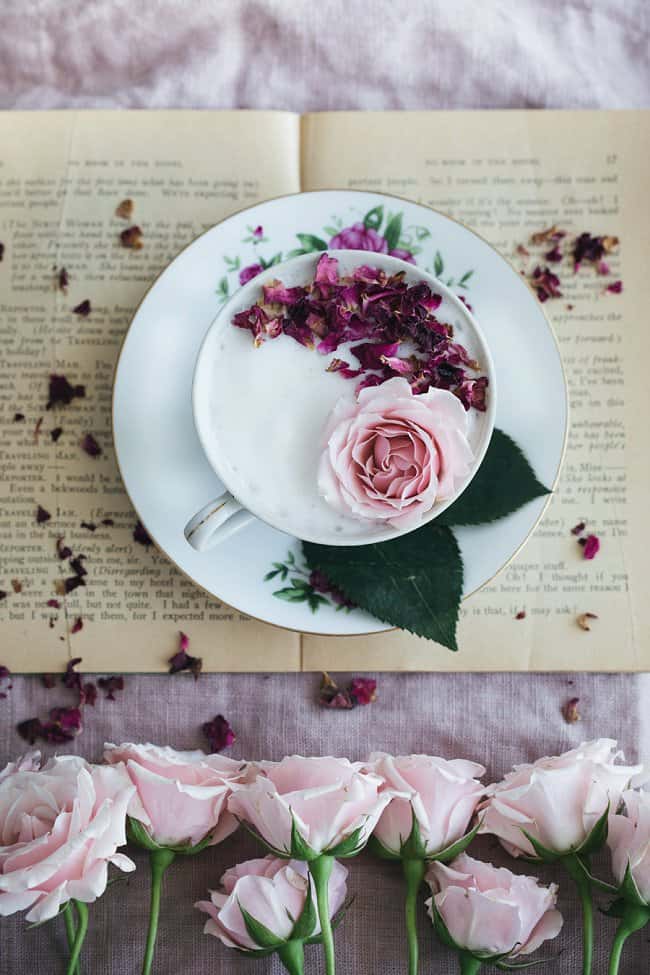 Preparing rose petal tea with fresh petals
A general 'safety rule' with rose petals or rose buds used for consumption is that you must make sure the petals are either organic, or grown yourself.
Roses in bouquets or ones you can buy off the market or from your favorite florist look charming, but odds are that they are either sprayed with chemicals or fertilized with inorganic fertilizers. 
Any chemicals left as a byproduct of growing might do more damage than good.
If you are lucky enough to have your own roses, at some point, you might be faced with the sweet problem of having way too many blooms on your rose plant.
If they're in full bloom, just about ready to start falling apart soon, the ideal thing to do is to gather fresh petals!
Collecting fresh rose petals
The best way to pick petals off a rose flower is to gently pinch at the white base of the flower where it meets the stem and pull upward.
You want to make sure to remove the petals off of the white base, which is usually bitter-tasting and might offset the fruity flavors of the tea you will be making.
Usually, it is better to use fresh rose petals if you are able during spring and summertime over dried ones, purely for their freshness and fuller flavor.
If you're not planning to use your fresh petals straight away, store them in an airtight container or freeze them, which should keep them fresh for at least a week.
Simple rose tea recipe, step-by-step
Place your fresh petals in a wire mesh strainer or a pasta strainer and run them under a gentle stream of water over a sink. Wash out any dirt, bugs, debris, and make sure they are rinsed well.

Place your petals onto a dry and clean towel and proceed to gently pat them dry. Avoid using paper towels for this, as they are prone to leaving lint on the petals.

When sufficiently dried, take a handful of fresh petals and transfer them to a smaller saucepan. Cover the petals with about 1 and ½ cups of water.

Place the saucepan onto the stove and turn on the heat. Set it to medium-high heat and stir the petals in the water to incorporate them.

Bring the mix to a boil. Once it has reached a boiling point, boil for about a minute, then lower the heat setting to medium-low and continue to simmer for about 5 minutes. The length of simmering depends on how strong you like your tea. For stronger tea, simmer longer and steep longer.

You will know that your tea is made when petals have lost their color. They might turn white or brown, depending on the sort, and the water will be colored with the original color of the petals.

Remove the saucepan from heat and allow the mix to simmer if you desire a more potent blend. If not, strain into a container using a wire mesh strainer covered by a coffee filter.

Discard used rose flower petals and compost them if you are of the composty kind!

Pour the tea into a teacup of your choice and add lemon juice or honey to enhance taste! as herbal teas can sometimes have a bitter quality to them.
Preparing Sun-infused rose petal tea with dried petals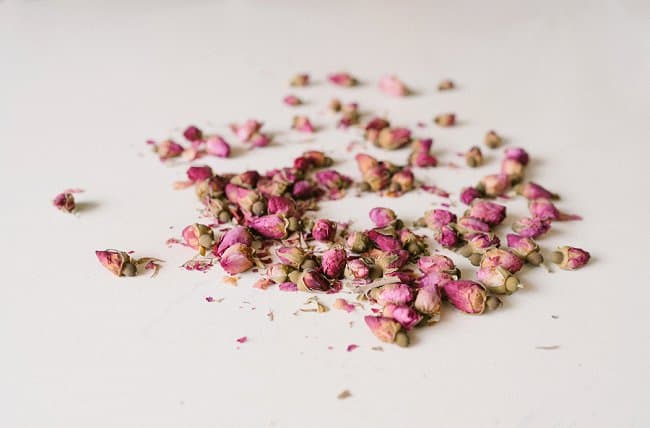 Preparation of tea with dried rose petals follows much of the same process as does the preparation of any other herbal tea.
This particular recipe was taught to me by a friend of mine, and it makes for some relatively strong rose petal tea. It also looks super pretty!
Fill a mason jar with water. Using boiling water is better, but you can use room-temperature water if you'd like.

Add 3 to 4 teaspoons of dried rose petals or rosebuds. Optionally, add a teaspoon each of dried peony flowers, dried butterfly pea flowers, dried hibiscus flowers. Top it off with a teaspoon or two of pure rose nectar.


Stir well to combine all ingredients and close the lid.

Leave the mason jar with the mix inside in direct sunlight for several hours.

After several hours, strain the remainders of the mixture with a wire mesh strainer into a glass and discard or compost the ingredients.

Add lemon or honey to taste and enjoy your rose petal tea with a touch of sunlight.
Rose petal syrup
Another thing you can make reasonably easily with a limited amount of ingredients at hand is rose petal tea syrup. The syrup can be made with either dried or fresh petals.
While not meant to be consumed as standalone tea, but rather as a sweetener for beverages and dishes, rose petal syrup can be stored in the fridge for up to 3 months.
With dried rose petals
Into a smaller saucepan, pour 1 cup of water, 1 cup of sugar, and ½ cup of dried rose petals.

Turn the stove on and set it to medium-high heat. Stir well to combine ingredients and allow the mix to reach boiling point. After boiling, set the temperature to medium-low and allow to simmer for about 15 minutes. Stir occasionally to prevent sticking and burning at the bottom of the pan.

After 15 minutes have passed, turn off the heat and add 2 dried hibiscus petals. This will amplify the color of the syrup. Keep the petals in the mix and steep for about 3 to 5 minutes, but no longer, as hibiscus petals tend to be tarty in taste. Optionally, you can also add beetroot powder as an organic coloring agent.

After 5 minutes, spoon out the hibiscus petals and discard.

Allow the mixture to completely cool down. As it is cooling, it will thicken to a thick, syrup-like consistency, and it will easily coat the spoon in a uniform, sticky layer.

Strain the syrup into a container using a wire mesh strainer and store in the fridge.
With fresh rose petals
To a medium saucepan, add 3 cups fresh rose petals and 3 cups of water.

Turn on the stove and bring it to a boil, after which immediately lower the temperature to a low heat.

Simmer the mixture for as long as necessary for it to reduce to yield about 1 cup of liquid. A good indicator that the mixture is nearly done (besides the reduction in volume) is petals browning and losing color, as well as shriveling up to half their size.

Turn off the stove and allow the mixture to slightly cool for about 3 to 4 minutes.

Once the mixture has cooled, strain it using a wire mesh strainer into a container of your choice, while gently pressing on the petals with a spoon to make sure to squeeze all the liquid out of them. Discard and compost accordingly.

Rinse the saucepan you have previously used and return the strained liquid back inside.

Return the saucepan to the stove, turn the heat to medium-high and add ½ cup of honey to the liquid. Make sure to stir well to incorporate the honey. Let it combine and cook for about 3 to 4 minutes.

After 4 minutes, turn the stove off and pour your syrup mixture into a labeled jar. When it cools down completely, store it in your fridge where it will last up to 3 months.
Rose tea latte
Rose tea latte is easily one of my favorite drinks. Light and summery, with the added touch of dairy, it is perfect for those with a sweet tooth. 
This is a simple recipe that uses rose petal tea syrup, which I have explained how to prepare in the previous section, combining it with black tea, milk, and whipped cream. For a vegan version, simply substitute milk and whipped cream with soy creamer.
Boil 1 cup of water in a smaller saucepan. Once the water reaches boiling point, turn the heat off and add 2 tea bags of regular black tea of your choice.

Allow the mixture to steep for 5 minutes.

Take out the tea bags, discard or compost them and transfer the tea into a container.

Warm 1 cup of milk of your choice in a smaller saucepan.

While heating, use a frother to pulse the milk for about 30 seconds. Create froth according to taste.

Turn off the stove and keep the saucepan with the frothed milk aside.

Pour about ½ cup of tea into a glass. Add 1 tablespoon of pre-made rose petal syrup into the tea and stir well to combine and sweeten thoroughly.

Pour milk to about 2 centimeters away from the top of the glass. Place 2 to 3 spoonfuls of milk froth on top of your latte.

Optionally, decorate the froth with chocolate, cinnamon, or dried rose petal powder.
Rose milk tea with cheese cream
This incredibly tasty beverage variation goes a long way to show you just how useful and versatile rose petals can be! This recipe might as well count as a dessert, due to its incorporation of cheese cream as an ingredient.
→ Ingredients
2-3 tsp dried rose petals or rose tea mix

1 cup hot water

1 cup milk

1-3 tbsp sweet condensed milk

ice
→ For whipped cheese cream
⅓ cup milk

⅔ cup whipped cream

100 grams cream cheese (salted or unsalted)

pinch of salt
Use dried rose petals to prepare tea by infusing 1 cup of hot water with 2 to 3 teaspoons of dried rose petals. Steep for 5 to 10 minutes, depending on the desired strength.

Using a wire mesh strainer with a coffee filter over it, strain your tea out into a container and discard the remains of the mixture.

Choose your favorite whipped cream and pour it into a mixing bowl. Add milk and cream cheese into the whipped cream. Add a small pinch of salt to bring out the sweetness and whisk with an electric mixer until you get a smooth and uniform mixture with stiff peaks.

Cover the mixture in the bowl with a plastic wrap and refrigerate until ready to serve.

Pour ½ cup of a milk of your choice into a microwave-safe bowl and microwave for 40 seconds.

Take the cup out of the microwave, add sweetened condensed milk and stir well to combine.

Fill a glass of your choice with ice, at least halfway through. Pour ½ cup of the condensed milk mixture over ice. Pour tea over milk and spoon 3 to 4 spoonfuls of whipped cheese cream mixture on top. Garnish with dried rose petal powder.
Other herbals and spices
When making rose petal tea, you might want to use other herbs and spices to amplify or change the taste, or maybe get additional health benefits.
Allspice is a great choice to use with rose petal tea. They have similar health properties such as immune-boosting, antioxidant properties. They are both fantastic for improving blood circulation, which speeds up the healing process within the body, good for dental health, heart health, and stronger bones. Among other things, both are energy-boosters, keeping depression at bay and promoting healthy mental function.
Allspice compliments the taste of rose petal tea well, as in taste, it is reminiscent of cinnamon, nutmeg, and cloves.
Another useful herb to add to your everyday cup of herbal tea is dandelion root. Dandelion root is a common plant that is incredibly widespread and simple to harvest.
Dandelion root is best picked in spring for taste, and best picked in autumn for medicinal properties, although it might be more bitter-tasting. When dehydrated, it gives off a mellow, woody and mild taste.
For a more exotic touch, choose organic mojito mint or pineapple weed – both are incredibly beneficial for women's health. Crush them up to help them release juices and flavors before steeping them with your rose petals.
Organic dried orange peel is also an excellent choice for sweetening up your cup of rose tea. However, if you crave just a touch of spice, choose to add fresh ginger or a small pinch of red pepper flakes.
Mix and match with various spices and herbs to create your unique blend – all with the rose petals grown organically from your own garden. I'm sure that you will keep making more of it when you notice the wonderful effects rose petal tea has on your skin, hair, and overall well being.
For more ways to raise organic roses for delicious drinks and desserts, check out this article!