If, like me, you're in love with climbing roses, you'll have read all the posts on growing them and caring for them. All of proclaim 'ensure at least 6-8 hours of sunlight'.  Which sounds fine, until you realise that your doorway or balcony faces north and spends half the day in the shade. Or that unsightly fence you dreamed of roses rambling over is actually pretty shady and cool for most of the day.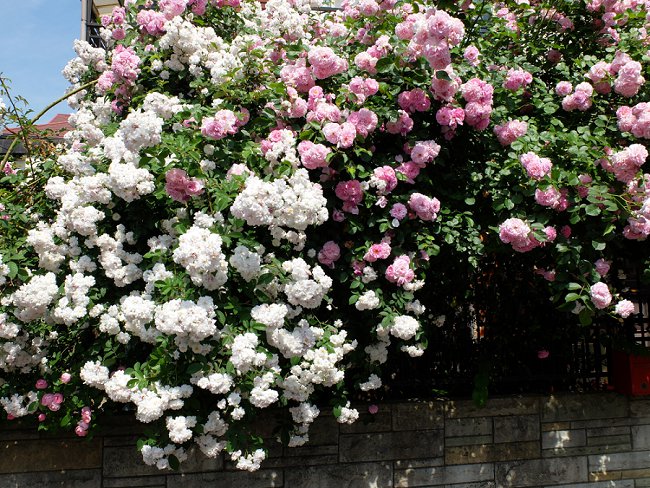 Oh no! Does that mean your climbing rose dream is over? That you're doomed to a boring doorway or ugly fence forever? Thankfully, there are several species of climbing rose that can thrive in shaded garden areas. These rose species will thrive on fences, along brick walls and up over your doorway too! So you can still transform your 'blah' fences and home areas, into rambling rose beauties.
What Is The Best Climbing Rose For Shade?
For finest fragrance:
The Generous Gardener
Paul's Himalayan Musk
Rambling Rector
For biggest blooms:
Félicité-Perpétue
James Galway
For best health:
Claire Austin
Mortimer Sackler
For prettiest colour:
Veilchenblau
Crimson Shower
Pilgrim

Best Climbing Rose for Shade – Best for Fragrance
Best for Fragrance are climbers which have selectively been bred to be absolute showstoppers, or rather, nose-stoppers. As these climbers and ramblers grow tall, they emanate scents that linger in the air and retain for whoever walks past.
The Generous Gardener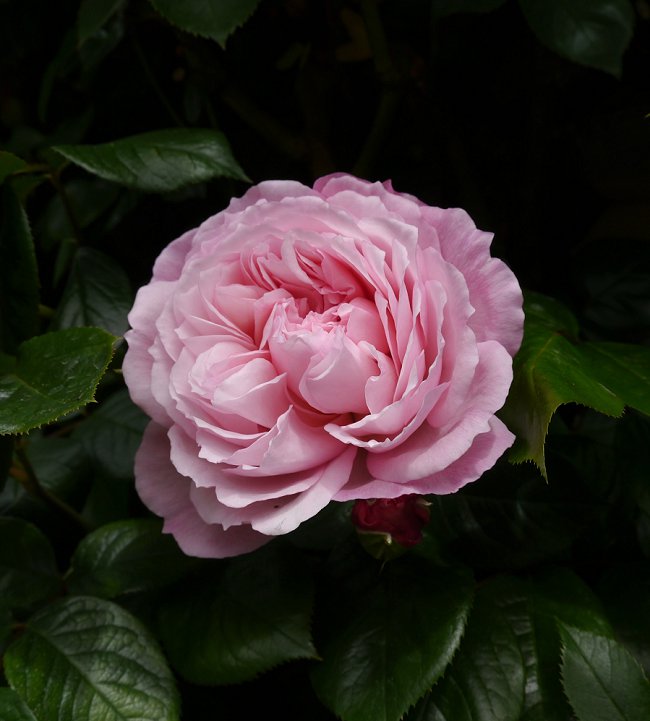 One of the most prized David Austin cultivars, this rose is named in observance of the 75th anniversary of the National Gardens Scheme, which is an event in the United Kingdom where thousands of private gardens open for the viewing pleasure of the general public, in the name of charity. To honour all those who have participated over three-quarts of the century since its inception, this lovely rose bears the name – The Generous Gardener.
A pale pink in colour, it is a persistent repeat-flowering climber, and one of the most fragrant English roses.
This rose yields very consistent blooms, and you will find it springing flowers all the way from very early spring to first frosts. It is very disease-resistant, winter-hardy and grows wonderfully in shade. This is in part to pale blooms which stand out in shade, instead of washing out in the sunlight.
The Generous Gardener easily grows over 2 metres in height and 1.5 metre in width. It is deliciously fragrant, mixing myrrh, musk and Old Rose fragrance.
Paul's Himalayan Musk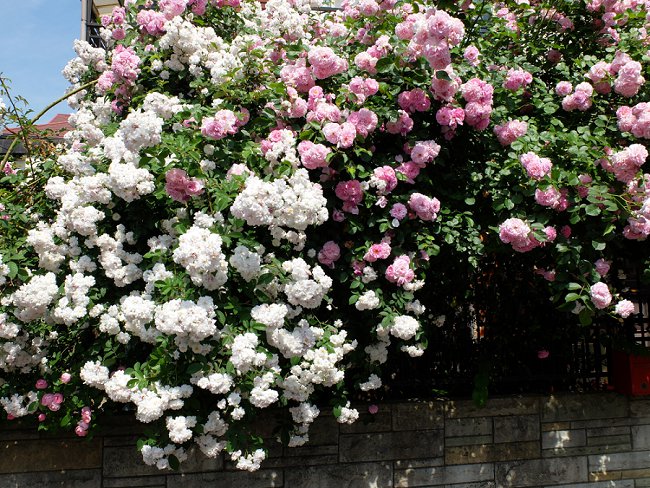 An older rose variety, this wonderful rambler is a true giant. It can reach top height of dizzying 10 metres, matching in it width. If you wanted a climbing rose to plant over an entire north-facing wall of your house or have it grow up a tall tree, this is a fantastic choice!
Paul's Himalayan Musk has elegant and cascading canes, and it is adorned by double-blooms of a lilac pink colour. The blooms have quite a bit of petals, up to 25, and the lilac pink fades to pure white with age.
As most ramblers do, Paul's Himalayan Musk blooms only once, usually in late spring or summer. However, it blooms so overwhelmingly and abundantly you will never notice the difference!
Oh, the scent? It's in the name! Musk as strong as a mountain!
Rambling Rector
This must be one of my favourite climbers, and that is precisely due to its blooms. When in full bloom, Rambling Rector is quite reminiscent of white cherry blossoms!
Rambling Rector is yet another rambler, but this one with flat flowers sporting creamy-white colour. It flowers once a season, in late spring or early summer, but it blooms in vigorous and abundant clusters, making it perfect for a cover-up of a fence or the unsightly part of your garden.
This bloomer is incredibly thankful, doing perfectly well in shade. It easily grows up to 6 metres in height, and it is very hardy and disease-resistant. The scent is able to spread far, very musky and long-lasting.
Once autumn comes around, Rambling Rector is well-known for its small and sweet-tasting rose hips.
Best Climbing Rose for Shade – Best for Blooms
Best for Blooms category brings climbers with the most astonishing blooms. Whoever was it that said you can't have stunning rose flowers growing on the north side?
Félicité-Perpétue
This award-winning rose is often considered one of the finest climbers to ever be bred. It's not so hard to see why – its blooms are straight from a 19th century romance novel.
Sporting semi-evergreen foliage, Félicité-Perpétue is renowned for pompom-like blooms that some liken to rosettes, which bloom in clusters. The flowers are creamy white to dusty pink, counting easily over 40 petals, which is a lot for any rose.
As a climber, it has shown great ease of training up a trellis, arch, or even the side of the house. Additionally, it is fantastic for shadier spots. All of this makes it a great beginner climber rose.
Félicité-Perpétue blooms once, usually in July, and it is lightly fragrant – reminiscent in scent to mountain flowers.
James Galway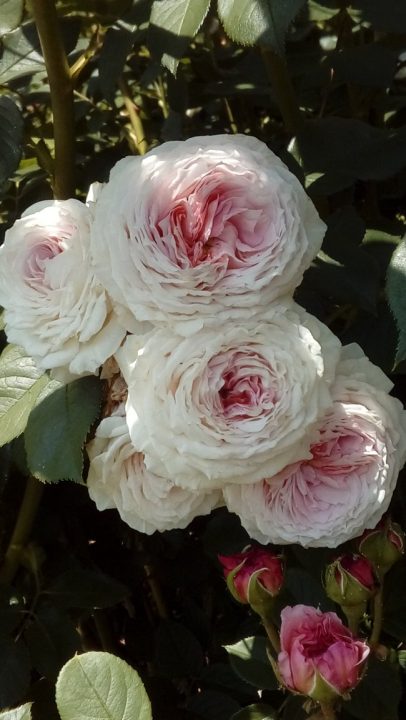 Another prime English rose specimen, James Galway is repeat-flowering, a true climber with huge bright to pastel pink blooms. The blooms are rich with petals, which seem to follow a concentric circle pattern. Likewise, the blooms seem to go from deep pink to pastel pink from centre of the bloom towards the edges.
For a climbing rose that loves shade, James Galway has atypically large blooms. However, rosarians bred this rose specifically to be vigorous, fast-growing, abundant-blooming and prolific. It is known for its versatility, allowing itself to be trained easily as a climber, but doing well growing as a shrub rose as well. Disease-resistant, winter-hardy and with a mild Old Rose scent, it is a true specimen of the romantic English rose as immortalised by the likes of legendary rosarians.
Best Climbing Rose for Shade – Best for Health
Best for Health is a collection of roses that rosarians bred for their longevity, durability, disease and frost resistance. If you want a hardy climber that you won't fuss too much about, these are our top picks!
Claire Austin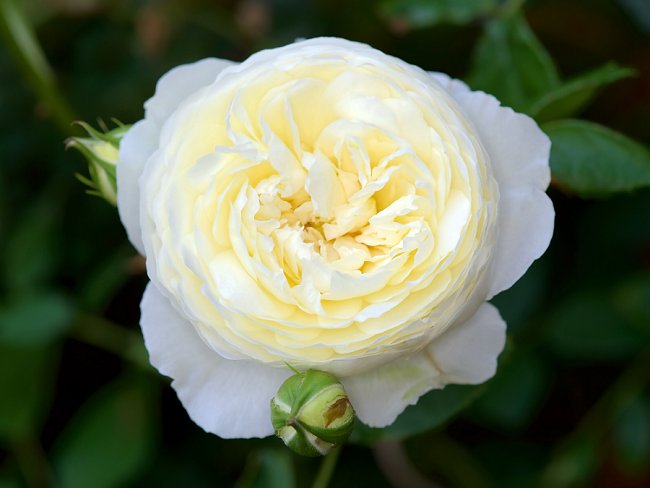 Claire Austin is, without a single shred of doubt, the most romantic English rose that David Austin has ever bred. Of course, it makes perfect sense that he would name such a lovely specimen after his own daughter.
While Claire Austin is our top pick for a hardy and healthy climber, it is a hard-hitter in just about every domain. It yields medium-sized cupped blooms that range in colour from pale lemon-yellow to pastel yellow, occasionally fading to creamy white. It boasts over 120 petals on a single flower rosette!
The blooms of Claire Austin might be attractive, but its scent is out of the ballpark as well, spreading a long-lasting myrrh-vanilla fragrance that lingers in the air.
Repeat-blooming from May to late autumn, this vigorous rose grows fast to almost 3 metres height, and it does exceptionally in shade.
Mortimer Sackler
A wife's gift to her beloved husband, Mortimer Sackler is another one in the line of strong climbing roses.
It flowers repeatedly, boasting delicate, elegant, light-pink blooms all throughout a very long season. It contrasts beautifully with medium-green foliage, and is exceptionally easy to train on just about every structure in the shade.
Mortimer Sackler might not look like an English rose. Trust me, though – it smells like one, and it is as hardy as one can be.
Best Climbing Rose for Shade – Best for Colour
Lastly, our favourite choices for washes of colour where you really need them!
Veilchenblau
With its name translating literally to "blue violet", Veilchenblau is perhaps one of the darkest coloured ramblers, but one of the most famous too!
This award-winning rose blooms in magenta-lilac-purple flowers. You would never even guess it is a rose! It flowers once a season, usually around June, and produces abundant, overwhelming clusters of flowers that fade from magenta to lilac to a blue-violet that it got its name from.
With its unusual orange scent and tasty rose hips it produces in late autumn, this rose is a fantastic choice for shade and north-facing structures!
Crimson Shower
A bloom to stop you dead in your tracks if I've ever seen one! Crimson Shower blooms crimson-red, with heavy and decadent big blooms. The foliage is dark in contrast, making it a variety sure to catch anyone's attention.
Crimson Shower is a once-flowering rambler rose, but once it blooms around July, the blooming season can extend occasionally all the way up to October. It is easy to train, tolerant of shade, and does well on just about any structure. It has a slight, but not overwhelming scent.
Pilgrim
Pilgrim is a true climber and it delivers a beautiful yellow shade to your garden, walls, fences or structures!
Mother Nature blessed Pilgrim with large yellow blooms, in large part reminiscent to cabbage-like blooms of James Galway. The yellow is the most striking at the centre of the bloom, dispersing into a pastel yellow at the edges of the petals.
Don't let the large blooms fool you, though. This climber grows into its height really fast, all the while blooming and producing new leaves and growth, making it ostensibly vigorous. It has a soft scent to it as well, very reminiscent of tea.
As you can see, if you choose a right variety, climbing roses can be grown perfectly in shaded areas of your garden, or even on your north facing balcony! Which shade climber rose is your favourite? If you're keen on a climber, but shade is not an issue, check out our list of climbing roses perfect for fences and walls!