I think I'm having a thing right now with climbing roses on fences and walls! I fell in love with roses when, during my past life as a photographer, I photographed a wedding at this venue, the gorgeous, rose-covered Norwood Park, in England.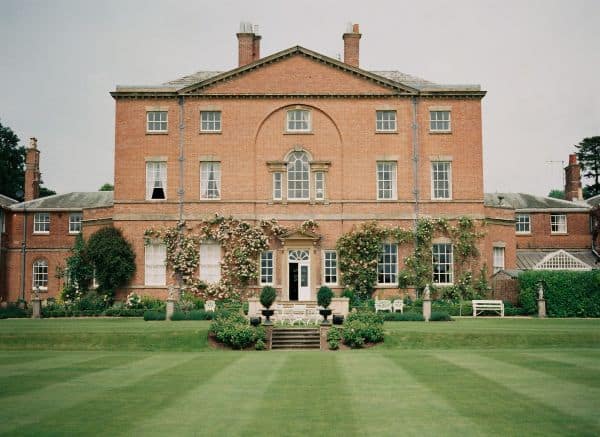 Here's another from the same day. Aren't those climbing roses on the walls just so insanely beautiful? So no wonder I've been writing and dreaming about growing climbing roses on fences and walls. Not that I've spent a lot of time browsing online estate agents dreaming of a rose covered home, or anything. Honestly. No, I definitely do not spend my work time doing that.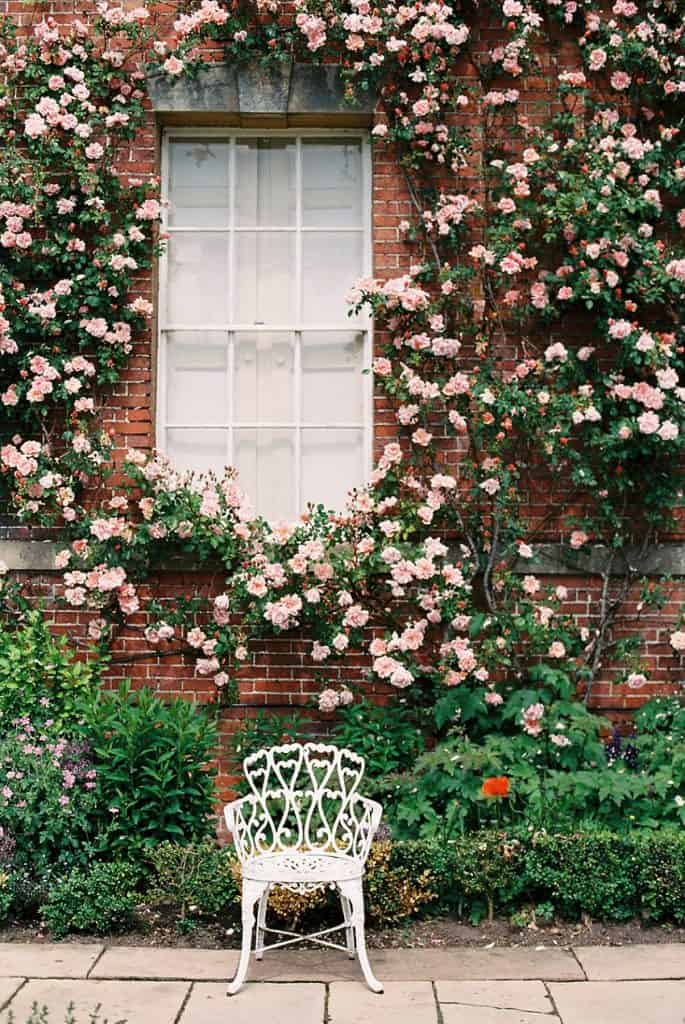 So while not doing that, I naturally began to wonder about the climbing rose. How do they grow up the bricks like that?? What is the best climbing rose to get that gorgeous country-house look?
Climbing roses provide an often colorful, fragrant, and beautiful vertical focus in a landscape or a garden. Surprisingly, climbing roses aren't natural climbers; to enable climbing roses to grow up over a fence or wall, you must tie the climbing rose on the support of your choice. Using a support for your climbing rose encourages it to grow in the desired direction. Once trained, a climbing rose will quickly grow upwards and around pillars, trellises, arbors, walls, and fences to great heights.  The best climbing roses can be sorted by scent and color, as almost all varieties of climbing rose can grow vertically, up walls or over fences. 
The Best Climbing Roses To Grow On Your Fences And Walls
Pierre de Ronsard
The double blooming, creamy pink climbing rose Pierre de Ronsard is very winter hardy (USDA zone 5b through 9b), pest and disease-resistant, surprisingly tolerant to both heat and rain. It is mostly thornless and very receptive to training on a support.

However, the Pierre de Ronsard rose isn't suitable for shade, needing full sunlight and frequent feedings for optimal blooming.
When grown as a climber, with proper care, it grows fast fast, reaching approx 300 centimetres of height within a year and a half of establishing itself as a young plant. Without a doubt, this rose just loves pruning, so if you choose to grow it in your garden, be diligent and prune often for best results.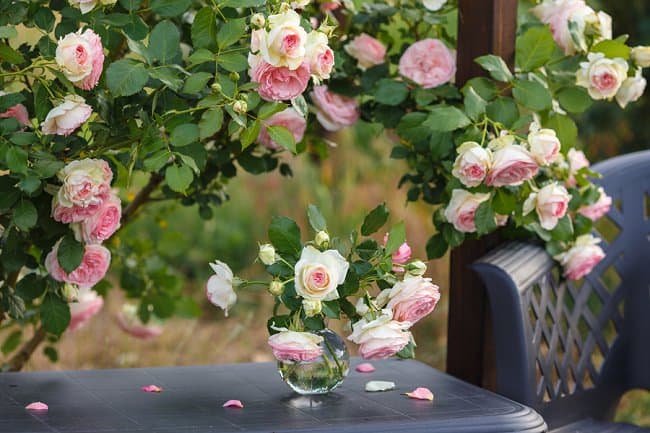 New Dawn
New Dawn was voted the most popular rose in the world way back in 1997. Rosarians worldwide agree that New Dawn is one of the best climbing roses of all time. Introduced in 1930, it is a modern climbing rose variety, uniformly pale pink in color. It gives off a delightful fragrance and gives blooms about 9 centimeters in diameter that easily reach 40 petals per bloom. On some blooms, the pink color deepens towards the center, fading to white as the flowers age. This is a nice contrast to its dark-green, glossy foliage. 

Rosarians recommend New Dawn for USDA zones 5 and above. It is a direct ancestor to a whole set of modern, non-stop bloomers famous today. For the most part it is quite disease-resistant, reliable, and low-maintenance.
Its properties make it perfect for beginner gardeners. It does best in full sunlight, blooming twice per season. In early autumn it yields spectacular, tasty, sweet, and deep red rose hips. With the right care and all of its necessities met, New Dawn can grow to dizzying 600 centimeters in height.
What are the best white climbing roses?
Masses of white roses climbing up a structure can look stunning, pure, and fresh like no other flower, adding an additional touch of light and airiness wherever you might need it.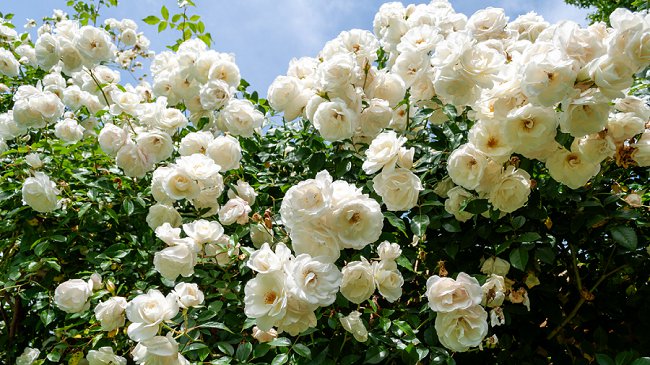 White Dawn
This incredible climbing rose variety spots large flowers, which can easily measure up to 8 centimeters in diameter. Ruffled and clustery flowers count up to 35 petals per flower. Introduced in 1949, White Dawn is actually a direct descendant of popular New Dawn, and a result of its crossbreeding with Lily Pons, a hybrid tea rose. The flowers are medium-sized, a beautiful clean, ivory white in color. It is known for being long-lasting, almost evergreen, and low-maintenance – another right choice for a beginner gardener. It blooms on old and new wood.

White Dawn gives off a subtle sweet scent, which isn't overwhelming. It is disease-resistant, especially against black spot disease, growing well in USDA zones 5a to 9b. Keep in mind that it needs full sunlight to reach its maximum height of 420 centimeters.
Iceberg Roses
A variety bred out of another Rose Hall of Fame inductee, Iceberg, this is a climbing version of the best white landscape rose in the world.

Introduced in 1968, Climbing Iceberg is very vigorous, blooming only on old wood on established plants. Flowers are medium in size, double and in clusters, reaching 25 petals per bloom. It is ice white in color, contrasting well with dark-green glossy foliage, with sweet, honey fragrance emanating from the blossoms. The stems are famous for their flexibility. Flexible canes aid the rose plant in fast growth and easy training up a support. It requires pruning often, just like a lot of climbing rose varieties. Good care will have it growing up to 450 centimeters in height in USDA zones 5 to 9.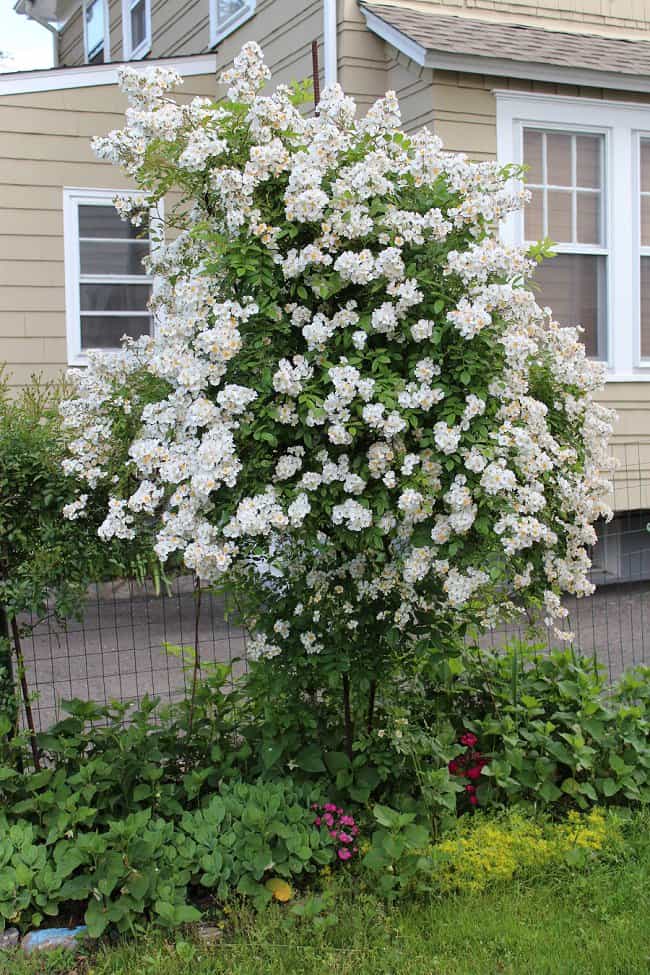 Sally Holmes
A hybrid musk class rose introduced in 1976, Sally Holmes is renowned for its substantial bloom clusters, opening up to flowers reminiscent of cherry blossoms with a smaller petal count (up to 8 petals per single flower in a large group). It blooms on new wood, with the flowers being white with a sunshine yellow center. Glossy, dark-green thick foliage is ideal for usage as a cover of unsightly places in your garden.

Touting wild rose ancestors, Sally Holmes is, without a doubt equally prolific when it's not in full sunlight. It is suited to a whole range of temperatures, and the flowers are long-lasting, despite a reasonably fragile look. This variety is vigorous, disease-resistant, and suited to USDA zones 5b through 9b. In optimal conditions, when trained as a climber, Sally Holmes quickly reaches 350 centimeters in height.
What are the best yellow rose climbers?
Yellow roses, especially up against trellises and arbors, can be every bit as charming as marigolds or tulips. Adding a splash of spring colors in whatever nook of your garden they're positioned in, yellow roses are an evergreen choice.

Golden Showers
An award-winning climbing variety introduced in 1956, Golden Showers sports clusters upon clusters of pure, deep yellow blooms against bright-green foliage. Blooms are medium to large, double, and abundant, growing up to 28 petals per flower. It is free-flowering, prone to bloom on both old and new canes, with a very fruity scent emanating from the flowers. Additionally, it has been found to grow in optimal size with most intense-colored blooms in colder weather conditions.

It is best grown in USDA zones 5 through 9 in full sunlight and well-drained soil, but has been found to perform very well in the shade as well, due to its disease-resistant properties. With care, it can reach 400-420 centimeters in height.
Peace
One of the most well-known and best-performing roses of the century, introduced in 1946, Peace sports huge blooms with a blend of colors on their petals reminiscent of watercolor paintings. From inside of the petals towards the edges, colors gradually turn from yellow to white to pink in a seamless blend. As they age, they are prone to fading white while retaining a pale pink color at the very edges of petals. Blooms are enormous, very full, counting up to 45 petals on a single flowerhead, contrasting against large, deep-green foliage. It has a very slight herbal fragrance.

Peace is a predominantly bushy rose, easily trainable as a climber, but not growing over 200 centimeters in height. It is versatile and pest-resistant, known for being incredibly hardy – suitable for USDA zones 4a up to 9b.
Yellow Lady Banks
This nostalgic variety, introduced in 1824, is well-known for its dreamy, clustered, pastel-yellow blooms. The flowers are small and abundant, with rich-green foliage in the background. Yellow Lady Banks is a vigorous climber and an even faster grower. Additionally, it has a slight vining habit to it, which means it is more receptive to training and more likely to do a part of the training job on its own. It is mildly fragrant and rustic in overall appearance.

With its improved disease resistance, Yellow Lady Banks is reasonably low-maintenance. Furthermore, it can grow to up to 600 centimeters with proper training and support. In milder climates, it is evergreen, thriving in USDA zones 6 through 9.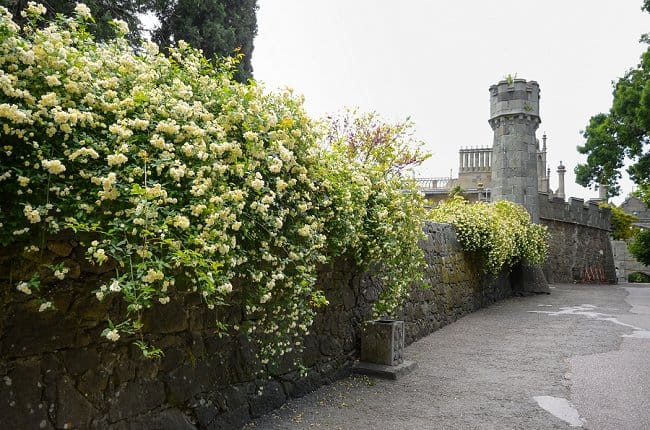 What are the best pink rose climbers?
Any girl's favorite, pink roses look playful, pristine, and charming in landscapes and gardens.

Blossomtime
Rosarians introduced this variety in 1951. It is well-known for its large and full flowers, reaching up to 40 petals per flower. Deep pink in the center of blooms washes out to a paler pink on the edges of the petals. Decidedly, it is a showy and vigorous variety, sporting thorns along with a bright-green foliage. It is the right choice if you want your climbers to emanate a strong smell. Blossomtime gives off a honey scent that can travel longer distances.

Suitable for USDA zones 5 through 9, it usually blooms twice a season, quickly opening to reveal soft petals. As a result, with proper care and full sunlight, it will have no problem climbing its way to 450 centimeters in height.
Madame Alfred Carriere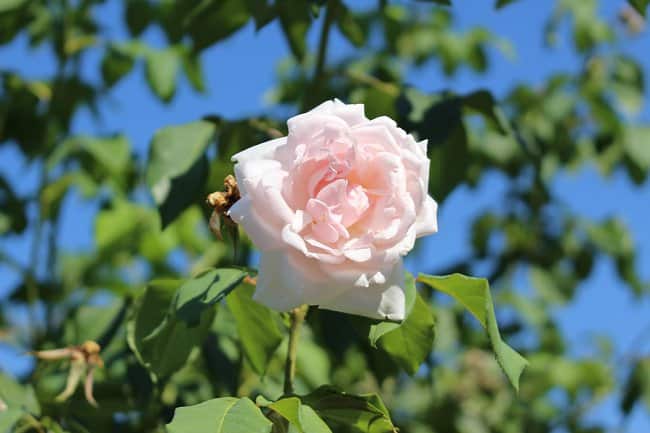 Another award-winning old rose, introduced in 1879, Madame Alfred Carriere has long been known for its fully double, creamy, pastel pink flowers. It is continuously blooming, with flexible stems ideal for training up arches and trellises. Really pest and disease-resistant, it thrives in full sunlight. However, it will do exceptionally well in the shade, owing to its genetics. The blooms, due to their pastel pink tint, look especially romantic and showy in shadier spots. In addition to this, it is renowned for its intense fragrance.

In perfect conditions, Madame Alfred Carriere has no problem winding up trees and walls to reach a staggering 600 centimeter in height. It is very hardy and tolerant of poor conditions, appropriate for USDA zones 5 through 9.
Zephirine Drouhin
A thornless climbing rose variety introduced in 1868, Zephirine Drouhin is of unknown genealogy. It blooms in large flowers, continuously all throughout the season, with the flowers bearing a cerise pink hue. It is a famous thornless rose and prolific in repeat-blooming, producing double blooms up to 9 centimeters in diameter.

Beginner gardeners won't have a hard time propagating Zephirine Drouhin from cuttings. Rosarians find it able to withstand cold admirably and tolerate partial shade. However, unlike other variations on the list, it requires some extra diligence as it is prone to fungal infections, especially black spot, if raised in rainier, humid climates. It has a slow growth up to 400 centimeters in height, needs as much sunlight as it can get, and performs best in USDA zones 6 to 9.
What are the best red rose climbers?
The most show-stopping, jaw-dropping roses of all must be the ones brandishing deep red blooms. The first thought of many non-rosarians and rosarians alike, red roses serve to show just how unique and mesmerizing nature's creations can be.

Blaze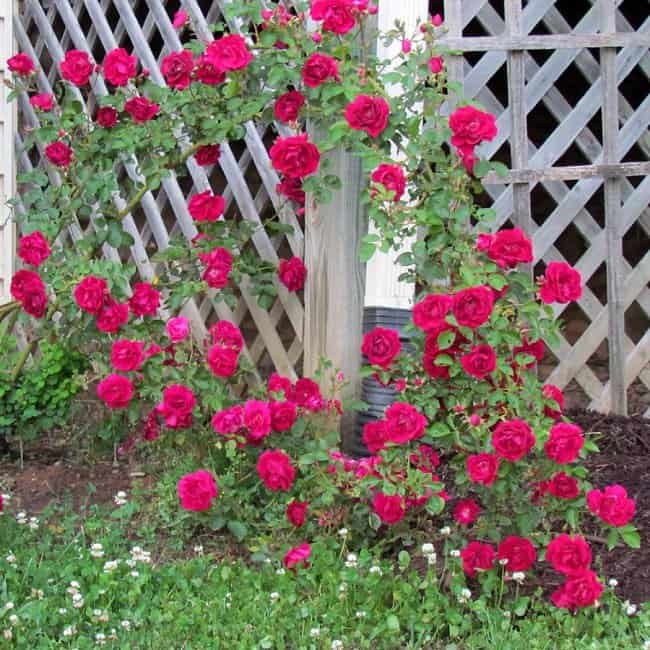 Introduced in 1932, Blaze is one of the most popular climbing roses for a good reason. The plant produced medium-sized, semi-double blooms in abundant clusters, tinted a bright scarlet-red color with up to 25 petals per single flower. It is incredibly well-performing, blooming both on old and new wood. Blaze has very flexible canes, making it one of the most natural rose climbers to train on pergolas and arches. It repeatedly blooms throughout the season, emanating a light, unobtrusive fragrance.

Suited for USDA zones 5 through 10, it is one of the better disease and pest-resistant varieties, quickly climbing its way to 450 centimeters in height.
Don Juan
One of the best-smelling red roses, introduced in 1958, Don Juan is famous for its extremely fragrant double, vibrant and abundant blooms. Moreover, the flowers are full and shapely, counting up to 35 petals per bloom, contrasting with dark-green glossy foliage. It is a high-performer, blooming on old and new wood alike, with warm night temperatures aiding the deep petal color.

The fragrance of Don Juan is reminiscent of fruity tea and spreads easily over more considerable distances. It is continuous blooming and suitable for USDA zones 5 through 10, hardy and pest-resistant. At its peak, it easily reaches the height of 400 centimeters.
What are the best orange rose climbers?
Westerland climbing rose
Westerland is a relatively new variety, introduced in 1999. However, it quickly gained its renown for its large, peach-colored blooms and an intoxicating scent. Blooming and reblooming all throughout the season on both old and new wood, this rose can sport some huge blooms in warmer climates. Ruffled blooms count up to 25 petals per flower, blending well with shiny green foliage for a romantic, rustic look.

Highly disease-resistant, gardeners love Westerland for its exceptional natural hardiness. With this in mind, it is extremely vigorous, proliferating to reach 300 centimeters and above in height. Suited for USDA zones 5 through 10, this rose is one of the most popular varieties of the now, so much so that it is sometimes in short supply as propagators keep busy to satisfy demand.
What are the best purple rose climbers?
Quicksilver Arborose climbing rose
A very new variety that was only introduced in 2016, this rose climber is simply a stunner. It is completely unusual in its rare deep-purple to lavender bloom. Boasting large, fully double flowerheads in small clusters with easily up to 50 petals per flower, it blooms in flushes throughout the entire season. Quicksilver Arborose emanates a sweet and mild fragrance. It was bred to be disease-resistant, robust, and fast-growing.

Best suited for USDA zones 6 through 9, this climbing variety is an excellent choice for just about any support. Therefore, Quicksilver Arborose will stop anyone passing by your garden dead in their tracks. 
I hope you found your favorite among our assortment of the best rose climbers! Need some help training your climbing roses after selecting your favorite variety? Check out our post on growing roses on an arch!