I have a really tiny, unsightly space just behind my house that recently has me thinking hard about how to design, plant and grow a small rose garden.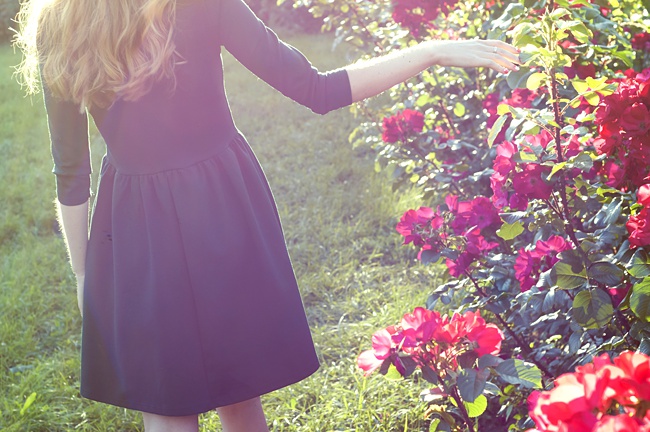 Disclosure: This post may contain affiliate links, we earn commission from qualifying purchases at no extra cost to you. Learn more.
I was amazed to discover that you can design, plant and grow a small rose garden of your own in a week! To get started, you can begin with just two rose plants- this is enough to start a rose garden in a small space. The smallest rose garden can be about 2.5 x 2.5 metres in size. 
If you want to plant your own rose garden, sketching out your plan first can help you decide what your rose garden might look like. The best way to do this is to use pen and paper or your favorite tablet, and begin planning your small rose garden by roughly sketching out the boundaries of your space. Include any immovable objects such as concrete, trees, pathways or other immoveable features – barriers, walls and occupied parts of the garden. This will help you understand where your roses might go – they'll need easy access to water, and you'll need to be able to reach them for feeding. 
You'll want to consider which rose varities work best in a small space garden when planning.  Good examples of roses for small spaces are varieties such as Malvern Hills and Lady of The Lake, rose types which don't grow too wide or tall. 
When planning the style of your rose garden, using a color wheel can help you to find roses with complimentary colors. You will also need to consider shade, how much sunshine your space receives (your garden will need 6 to 8 hours of sunshine), and budget. 
You can plant and grow a small rose garden starting with a budget of just 250 to 300 dollars. This will include plants, soil, potting, rose feed and water considerations.
If you want to make your rose garden truly beautiful, you can DIY some really cool decorations!
Finally, your rose garden requires continuous care. Remember to water two to three times a week, fertilise during flowering seasons, prune and deadhead regularly.
How much space do you need for a rose garden?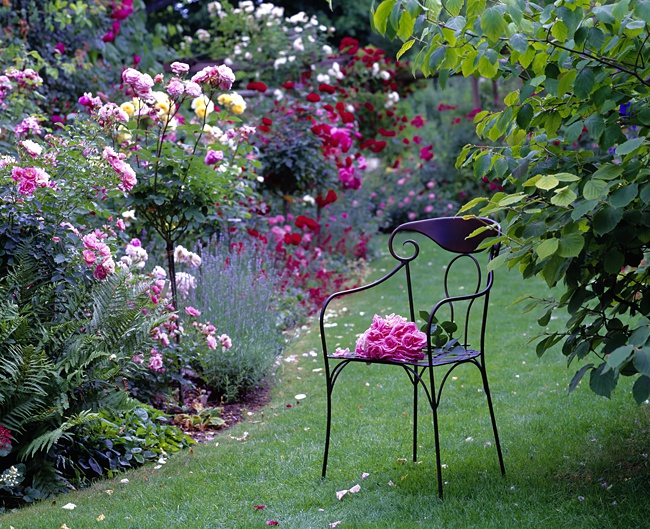 If you can fit 2 – 3 roses in your space comfortably, that is a rose garden! Therefore, the smallest rose garden is a space that is minimum 2.5 x 2.5 metres in width and length.
I'll be perfectly honest with you – a small space means tradeoffs. Yes, you absolutely can have a lovely little rose garden with just a rose plant or two! However, this means that you will have to give up beautiful, bushy roses like the Summer Nights variety, which can cover up an entire lawn's (10 metres by 10 metres) worth of space at maturity. (Yeah, I know, it's hard!)
In general, every rose planted in your garden should have a circle of dirt as wide as the widest part of the bush belonging to it. This is known as the drip line, and holds true for all woody shrubs and trees. An immature rose may be only 2 – 3 feet (0,5 – 1 metres) wide right now, but by year four or five, it'll spread out to 5 – 6 feet (1,5 – 2 metres) wide!
Planning on the space that can accommodate a rose therefore requires you to think hard and well about which roses you want to plant.
Climbers such as Iceberg or Constance Spry are great, if you have enough space for a support or your garden naturally borders a wall or a fence.
Note – It's ok to allow the roses to intermingle with each other. Roses can touch provided they have space to breathe, and it's incorrect that spacing them out far staves off diseases!
How many rose bushes go in a small rose garden?
Two bushes are already enough for the smallest of small gardens. For an ideal small-size garden, you should be able to fit four to five small to medium-sized shrub roses (60 to 125 cm tall and 60 to 125 cm wide). The roses should have enough space to breathe, but avoid making them look like standalone plants.
If you want to plant climbers and ramblers such as Mortimer Sackler or Rambling Rector, take care that a support is available or that there is enough space to affix one sturdily enough to take on years' worth of rose growth.
These rose varieties are particularly great for rose gardens limited on width and length but not height, as they tend to take up little space at the base and fan out high up, creating a wonderful show of flowers.
If you prefer hybrid teas, grandifloras, floribundas and other shrubby roses that are heavy at the base, the most important factor you should care about is size at maturity.
Google, use Pinterest or consult old gardening magazines to your heart's delight to find the varieties you hold dear. With a list of names you want decorating your garden, head on over to HelpMeFind. This wonderful website is a rosarian-approved repository hosting facts on dozens of thousands of different roses. You can easily find your favourites and check their size at maturity! This is a wonderfully hassle-free way to make sure a variety fits your space before putting it into the soil.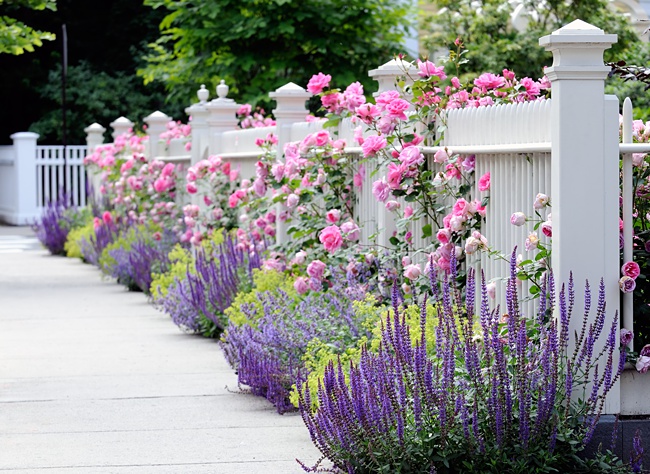 How much does it cost to create a small rose garden?
When I was just beginning to get into gardening, I thought that in order to design, plant and grow a small rose garden from scratch, you have to spend a small fortune. I was pleasantly surprised to find out that you can get create a small rose garden on a budget as low as 200-250 dollars! 300 dollars includes the tools, rose plant soil, rose varieties, companion plants, supports and watering supplies you need for a small space rose garden.
Tools are definitely the biggest expense for a beginner gardener. I will go ahead and assume you have absolutely not a single thing and that you are a completely novice gardener. If you already have some tools in your shed, gardening will be a much cheaper hobby.
Support systems for roses, such as a trellis or arch, are singled out of calculations, as they aren't 'essential items'. You can make your own by following this DIY rose trellis guide! A rose trellis can be made for under 15 dollars and purchased for about the same price. But if you want a truly stunn
Irrigation systems such as sprinklers cover a certain area size. For the smallest rose gardens, only one sprinkler will do. For larger spaces, three or four sprinklers will cover the entire rose garden. Finally, this will ensure the roses get a very regular bi-weekly drink of water.
Here is a full breakdown of all costs, tools included!
Which general gardening tools do I need to design, plant and grow a small rose garden?
Total price for general gardening tools: 192 dollars for the whole set.
gardening gloves (durable ones for roses will run you about 7-10 dollars)
hand trowel (stainless steel ones last long and cost about 12-15 dollars)
garden hand fork (3-5 dollars)
heavy duty shovel (20-30 dollars)
rake (20-30 dollars – make sure to get the one for raking soil, not leaves!)
short secateurs (13-15 dollars)
long secateurs (30-40 dollars)
pruning saw (30-40 dollars)
garden shears (15-20 dollars)
flowerpots (anywhere from 1 to 100 dollars depending on size, materials and brand)
garden hose (8-15 dollars)
watering can (4-5 dollars for about 10 litres/3 gallons)
gardening hoe (10-12 dollars)
Which necessities do I need to make my own rose soil mix?
Total price for rose soil mix necessities: 77 dollars for the mix.
1 kg of organic perlite/vermiculite (15-20 dollars)
60 litres of well-rotted compost (10-12 dollars)
50 litres of peat moss (10-12 dollars)
10 kg bone meal (10 dollars)
4 kg lime (5-10 dollars)
10 kg cottonseed meal (15 dollars)
1 litre epsom salts (5-7 dollars)
1 litre organic mulch (7-10 dollars)
How much do rose plants cost?
Total price for rose plants: 50 dollars for a minimum of two roses for a rose garden.
1 bare root rose plant (20 to 25 dollars)
1 potted rose plant (25 to 30 dollars)
How much do companion plants for rose gardens cost?
Total price for all companion plants: 50 dollars (from seeds) to 100 dollars (grown plants and bulbs).
thyme (about 50 cents for seeds, 2 dollars for a grown plant)
basil (20 cents for seeds, 1 dollar for a grown plant)
oregano (1 dollar for seeds, 3 dollars for a grown plant)
rosemary (2 dollars for seeds, 5 dollars for a grown plant)
chives (20 cents for seeds, 1 dollar for a grown plant)
garlic (1 dollar for seeds)
lavender (3 dollars for seeds, 15 dollars for a grown plant)
alyssum (50 cents for seeds)
fleabane (1 dollar for seeds, 15 dollars for a grown plant)
cerastium (2 dollars for seeds, 15-20 dollars for a grown plant)
grape hyacinths (10 dollars for 30 bulbs)
scilla (10 dollars for 50 bulbs)
alliums (20 dollars for 10 bulbs)
How much do rose support systems cost?
trellis (10 to 50 dollars)
arch (20 to 200 dollars)
panel (10 to 50 dollars)
obelisk (30 to 100 dollars)
How much does an irrigation system cost?
1 sprinkler (usually about 10 dollars)
deep irrigation system (can be acquired for as low as 15 to 20 dollars for small soil surfaces)
Best rose varieties for very small spaces

For lazies among you, we have a list of roses that vibe well with the smallest of spaces! The best rose varieties for small space gardens are types that don't grow over 1.2 metres in height and 1 metre in width, such as 
Desdemona (icy white colour, white colour visually makes your garden look bigger)
Molineux (sunny yellow colour, doesn't grow over 1 metre in height or width)
Windermere (pastel yellow fading to white, brightens up small spaces)
Scarborough Fair (light dusty pink with white centres, tops out at 80 cm in width)
The Alnwick Rose (deep peach-pink, good for rose borders due to shallower roots)
Harlow Carr (fuchsia-coloured, tops out at 90 cm)
James L. Austin (deep pink to lilac colour, tops out at 1 metre)
How to design a small rose garden
How To Choose The Best Rose Colors For A Small Garden
Choosing a color scheme for a rose garden always makes me feel so giddy – maybe it's the girly girl in me!
To choose the best rose colors for a small garden, it is perfectly ok to just choose colours you like! But if you have an overly shaded garden area, then pastel coloured roses such as Gertrude Jekyll will are the best colors for a small garden. The best rose colors for a small garden than is bright and sunny are bold bright colors, such as the Don Juan variety. 
The abundance and quality of incoming light is important to have your roses stand out. Not every area of your garden will get equal lighting (and this is quite normal!). Roses of strong colours are best for spots where bright and strong sunshine reaches, while pale shades will look quite washed out in direct sunlight.
Plant your pastel color roses in shade, as they are most beautiful in early morning light, during dappled afternoon shade and before nightfall.
You can also add more color to your small rose garden by adding companion plants.
Companion plants are those plants which can grow with roses in the same space, without competing for nutrients or light. These are often plants which have similar needs to roses (lots of sunlight, water twice a week) but with a much lower intensity. Some companion plants like primroses and molinias will not flower at the same time as your roses. This will enable your garden to be flush with color every month of the year.
How do I create color schemes for a rose garden?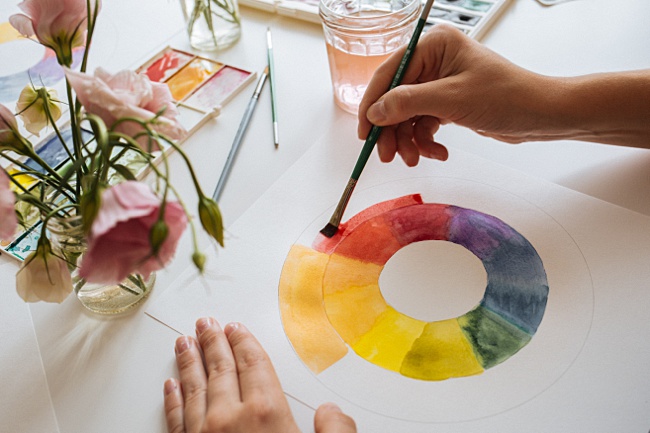 Looking at a color wheel, you can easily create different color schemes in your garden. A Color wheel is a 2D flat wheel shape, (in case you didn't do art at school)! which helps you plan out color schemes. They are great fun to use and can help you plan your rose garden. A color wheel includes both warm and cool colors. Colors that are in harmony are close to each other on the wheel, while contrasting colors are on the opposite sides from each other.
A colour wheel is simple and fun to use – find one here! Here are some examples of color schemes for your small garden.
create a monotone colour scheme by planting roses with different shades of red, such as Red Eden Climber with Benjamin Britten and Cinco de Mayo
a complementary colour scheme can be achieved by planting orange and purple roses together, such as Lady of Shalott with Ebb Tide
for a rich analogous colour scheme, choose colours close together, such as the red of Don Juan and the violet of Reine des Violettes
What Color Roses To Plant Together In Small Spaces
If you are looking to make your small space garden feel bigger, the best color roses to plant together are those with cooler color tones such as white and pastel pink.
If you want your small space garden to feel luxurious, and you have a lot of sunshine in your garden, bold red roses and dark purple color varieties work well together.
Contrasting colors like red-green, yellow-purple and blue-orange are a fantastic choice to plant together in a small space garden! Planting red roses against a green foliage backdrop can intensify the redness of roses, making them look bigger, brighter and more noticeable and this will make your garden look bigger, brighter too.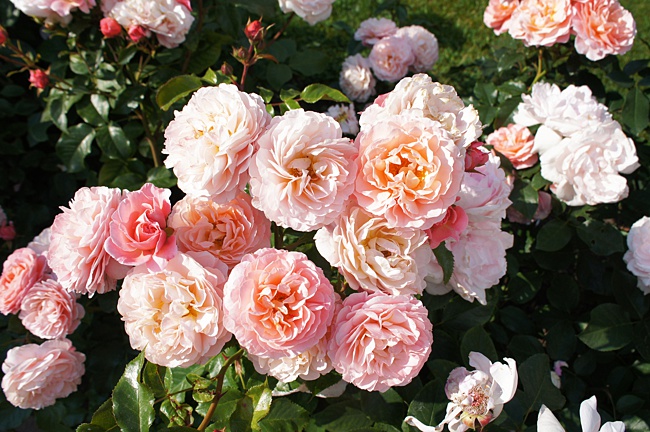 How to position roses for optimal sunlight
A good general rule of thumb to remember when planning your rose garden is that every rose needs about 7 hours minimum of direct sunlight every day. If your garden space faces north, you will need to plant shade-tolerant varieties. For small gardens that are surrounded by high walls, assess how the light hits the spot throughout the day and plant only if and where you are sure your rose can get full sunlight.
My no-stress planning involves this wonderful website called SunCalc. Type in your address and observe how sunlight falls depending on where your house is located and how it is oriented! This is the best way to know whether your sun-needy varieties can grow in your small space garden.
To be certain that your roses will prosper, choose shade-tolerant varieties. There is a plethora of sorts to choose from that will take much less sunlight than you think!
Best Shrub Roses For Small Spaces
Kew Gardens (white simple flowers, does well in partial shade)
Lady of Shallot (deep yellow, thrives with 5 hours of sunlight)
Gertrude Jekyll (perfect pink shade and GREAT for rainy and overcast climates like Seattle)
The Poet's Wife (stunning yellow colour, needs 2-4 hours of sunlight)
What To Plant With Roses In Small Spaces
Everyone needs friends, and so do your roses! Planting roses with other plants helps fill in 'gaps' in your garden design, helps protect your roses by protecting against aphid attacks (aphids dislike plants such as sage and thyme), and add scent and color to your small space garden.
Thyme, oregano, rosemary and chives are all fantastic herbs to plant with roses in small spaces, because they don't need many resources to be able to grow. This means your roses don't need to compete for nutrients. These rose companions also keep away aphids and smell great too! 
Lavender adds a dash of pastel purple to your rose garden, and will look great with pastel rose varieties.
Fleabane and cerastium are also a good, subtle choice for background low-shrub companions. These lovely plants both sport simple white blooms. Cerastium is a bit more ornate, adding an elegant touch. However, both make for a great neutral backdrop for a lively, warm-coloured rose garden allowing your red roses to hog all the spotlight!
For a healthy small space rose garden, plant alliums. Not only are they the cutest, most inconspicuous companion plant, but they are known to be hated by funghi! This will keep your rose garden healthy and fungus-free for a long time.
How to design a pathway in a small rose garden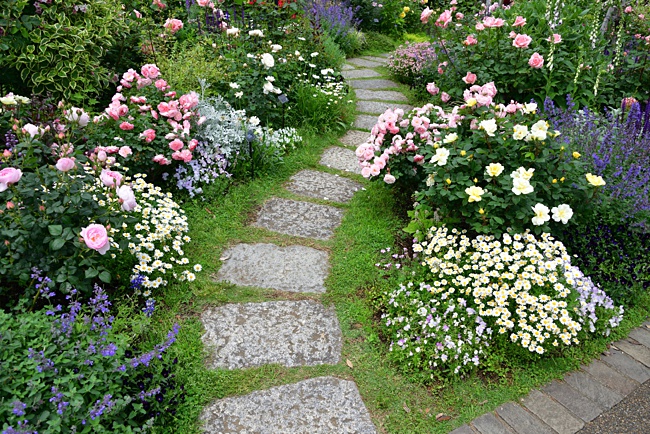 I LOVE the idea of having a pretty pathway in a garden, winding between rose bushes – even if I just have a few of them! Not only that, having a pathway in your rose garden is needed in order to ensure your roses have adequate water and you can feed them easily.
You can use mulch, garden tiles, stone, rubber, concrete, brick or gravel to create a garden path. When designing your path, you'll want to make sure you can access all of your roses, it reaches your water supply, and that it's easily accessible. Other considerations for your pathway might include it being anti-slip, accessible for others (if you have toddlers for example you'll want to make sure that your pathway is anti-trip), and aesthetically pleasing.
How to water a small rose garden
Your small rose garden will need watering at least once weekly, and possibly daily in very hot weather.
So having easy access to water is an important matter. Is your garden in close proximity to a water hose? Otherwise, elongate the one you have already with hose add-ons.
At very best, your garden should be in close proximity to your house so that filling up your water can is efficient, and not a hassle. While watering, the garden hose must have a designated place in your garden, rather than dragging along your garden and damaging your plants.
Finally, if your garden isn't close to a garden hose or a short walk to fill up the watering can, install irrigation systems such as drip irrigation. Sprinkler systems are a great easy water access choice, and are often cheaper and suitable for small gardens. You can usually cover the entire small space rose garden with just a few sprinklers.
Roses prefer a slow and deep drink of water, and automated systems will aid you long-term to prevent under-watering or overwatering.
What soil is best for a small rose garden?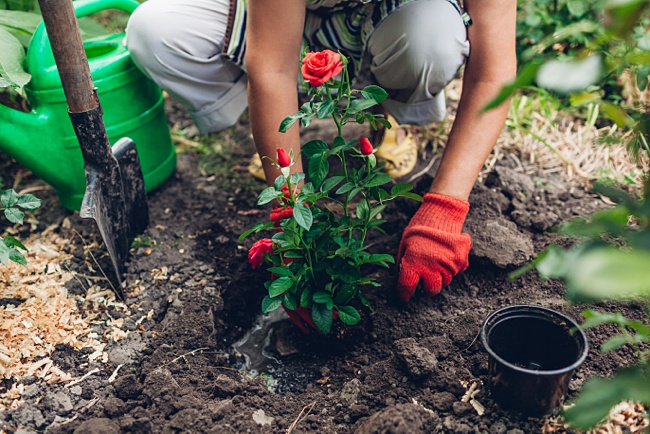 The roses and companions you plant require a specific type of soil. Just any old garden soil won't do!
Roses need a well-draining soil, with a pH of 6-6.5 This is the optimum level of nutrition for most plants, although roses do prefer soil on the slightly acidic side. Before planting, look to incorporate some well-rotted compost or dig in plenty of manure into the soil. This will give it nutrients needed for roses to grow.
If well-draining is not the word you would use to describe your own garden soil, grow your roses in a raised bed instead, where you can fully control the soil type and enhance drainage! Read more about how to DIY a raised rose bed in your garden, here. 
If you are 100% set on planting your roses in the garden, but the soil is not fitting, you can remove and change your soil. However, this can affect flora that is already growing and thriving in the soil you have in your garden.
If you are just starting a fresh garden and want to focus on growing roses and suitable companions, create or buy your own rose mix.
A great rose soil mix is the one where organic materials, air and water are all incorporated. Mix 1/3 perlite/vermiculite, 1/3 well-rotted compost, 1/3 peat moss and add two to three fistfuls of lime, cottonseed meal and bone meal to improve the soil. This is an ideal soil mixture, which will retain enough moisture for roses not to go thirsty, but aid good drainage and prevent over-watering, waterlogging and root rot.
Small Rose Garden Styling Ideas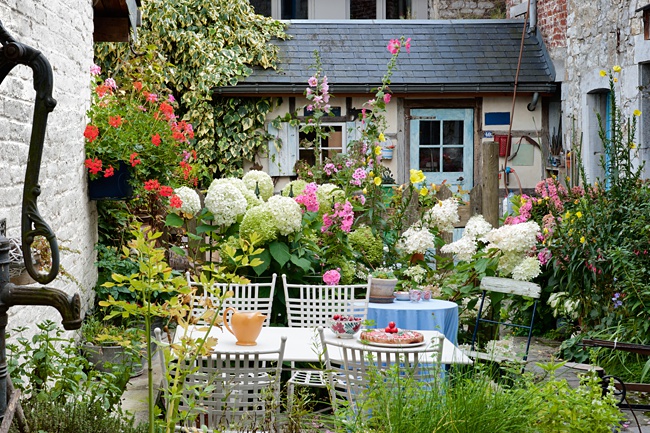 Remember your personal style. If you love clashing colour and mad prints, go wild in your rose garden too! Add clashing colors and varieties.
Consider the style of your home. If you have a cosy cottage, you'll most likely want that dream cottage garden vibe! But that wouldn't suit a modernist building.
Add interest. You don't have to be stuck with roses in the ground. Use containers, pots, painted walls, fences, trellis', arches and other elements to give your garden visual 'wow'. (Check out these amazing arches)!
Add companion plants. The herbs mentioned are perfect for adding color and scent to your garden
Add aesthetic elements. Adding elements such as statues, bird baths, bird houses, small pathways, hanging baskets and pergolas can make even small spaces look stunning and really enhance your rose garden and make it pop.
How do I grow a rose garden if I have no space?
If reading this article made you realise you have no space to grow even a small space rose garden, don't despair!
For garden spaces extremely limited on space, miniature roses such as Cupid's Kisses or Liberty Bell are a great choice. They won't grow over 15 centimetres tall, making them ideal for even the smallest of spaces. If you have space for artificial support (or already have natural support in the form of fences and walls), opt for tall ramblers and climbers such as Kew Rambler or Open Arms which will not take up a lot of space at the base.
If you don't have a garden or it is a bad fit for roses of any kind, creating your own garden on your balcony out of potted roses is a wonderful idea. Potted roses can transform a space equally well as their garden-based counterparts. Creating your own balcony rose garden is very simple – discover a haven just outside your balcony doors!
How to plan a small rose garden on paper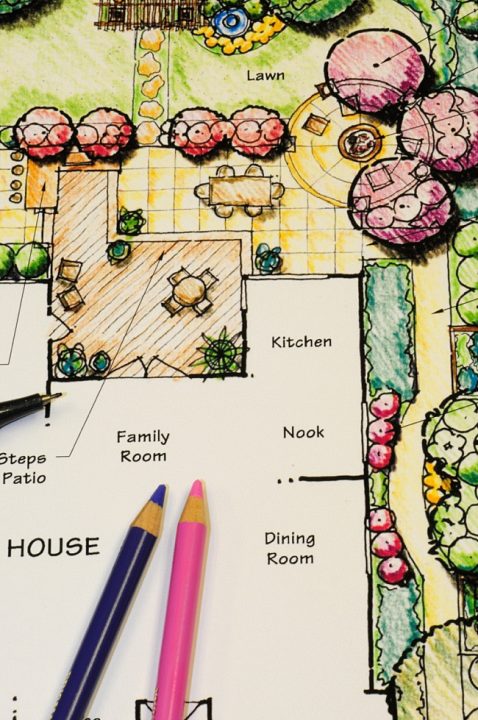 The easiest way to plant a rose garden is to design one on paper first.  This prevents costly mistakes later down the line and helps you plan what you need to purchase and do.
Measure everything you deem relevant in your garden – trees, hard borders, walls, fences and other immoveable objects. On your drawing, you will need to include borders, maximum heights and widths of pathways, any existing features such as fountains, how big your borders are. Remember  to draw in paths, pergolas, arches, other roses that might just be reaching maturity. Take note of the maturity heights and widths of the future roses you want to plant. Draw out where you want to plant them in your garden on the paper.
Your drawing doesn't need to be perfect, and you don't have to have an art school degree. A plain sketch will do just fine, as the objective is to allow you a better (and free) overview of your available space and how well that correlates with the roses you want to plant. Get a feeling for your garden as you sketch it out. It will be much easier to plan once you have a bird's view of what is going on in your space in the first place!
Tips for Rose Garden Design
Plant your roses so that they elegantly spill over paths. Roses that spill over when they mature such as Green Snake are a good choice. The spill-over effect helps you appreciate the smell and appearance of blooms much better.
Keep your roses at about 50-60 centimeters apart. This allows groups of roses to intermingle and create the effect of a single rose with many different blooms. This beats featuring multiple separate roses with empty space between them. In order to create "single rose effect", choose disease-free and hardy roses such as Susan Williams-Ellis, Roald Dahl or The Mayflower.
Keep your lawn and garden tidy. Tidy surroundings make your garden stand out and look bigger. Additionally, trim the rose bush to a perfect round or oblong shape as this complements the blooms.
Use your rose bushes as hedges. This will make your small space garden more interesting than planting non-flowering hedges.
Color block for maximum effect. Take colors opposite on the colour wheel and pair them together. Plant your orange roses such as Dame Judi Dench with purple perennials like allium for a snazzy look.
Blend big and small-blooming roses. Mix your small-blooming roses (Grouse, Kew Gardens) with large-blooming roses (Claire Austin, Silver Anniversary), in the same color but a different shade. This will highlight the individual beauty of different varieties.
How to start a small rose garden
What equipment do I need to get started with rose gardening?
garden soil (amounts vary, ratios are always the same!):

about 1/3 well-rotted compost
1/3 peat moss
1/3 perlite/vermiculite
fistful or two each of bonemeal, lime, cottonseed meal and epsom salts

fertiliser (go organic – try coffee grounds or rice water!)
mulch
irrigation system/sprinklers/watering can/garden hose
pruning shears
garden gloves
shovel
rake
roses
companion plants (Mediterranean herbs, grape hyacinths, alyssums, fleabanes…)
decorations (stepping stones, patio furniture, statues…)
containers (optional)
trellis/arches (optional)
raised bed necessities (optional – see here)
Best rose varieties to design, plant and grow in a small rose garden
The list features some of the more popular roses you can easily find and that are tried and tested with tiny gardens. These roses won't grow over 1.5 metres tall and 1 metre wide and are hardy and disease-resistant, making them the best rose varieties to design, plant and grow in a small rose garden. 
Reine des Violettes (rich lilac)
Excellenz Von Schubert (light lilac, great for vertical wall spaces)
Grandmother's Hat (deep pink fading to pastel, great for narrow spaces)
Pink Gruss an Aachen (romantic pastel pink, good front of the bed rose)
Pink Rosette (creamy pink)
Souvenir de la Malmaison (soft pink centre fading to white)
Golden Wings (yellow with simple blooms)
Golden Celebration (bright yellow flowers, great 1 metre wide bushy rose)
Gilbert Nabonnand (deep pink fading to soft pink)
Dudley Cross (yellow centre fading to white with pink edges, very hardy rose)
Marie Pavie (white to light pink, thornless and disease-free! great for tight spaces)
Baby Faurax (rich purple with yellow centres)
Alfred de Dalmas (light pink, very fragrant)
Camaieux (stripey white and purple with yellow centres, disease-free)
Hermosa (perfect creamy pink)
Midnight Blue (very dark purple)
Purple Buttons (dark crimson)
Opal Brunner (peachy to white with atypical, asymmetrical blooms, disease-free)
Renae (clusters of soft pink blooms)
Mr. Bluebird (deep cool pink-purple blooms)
Elina (deep yellow fading to light yellow at the edges)
Peter Mayle (bright uniform pink rose)
Mrs. John Laing (soft pink rose)
Ulrich Brunner Fils (deep red-pink flowers)
How long does it take to design, plant and grow a small rose garden?
I've been concerned myself with how long it takes to design, plant and grow a small rose garden on your own (tbh it seems like a whole lot of work).
However, it would actually take you about 3-5 days to have a 4 metre x 4 metre rose garden planted and ready to flourish. If you want to add some DIY projects, creating a small rose garden can take up to two or three weeks to finalise. Creating a raised rose bed, cleaning up and replanting the roses, as well as decorating will all add on to the time necessary to finalise the project. My rule of thumb is one whole day equals one DIY project start to finish.
How To Plan A Small Rose Garden Step By Step
Step One.
In the first step – draw and design the layout, measure your garden, pH-test your soil and decide on the roses and companion plants. Time required – 1 hour based on the smallest rose garden of 2.5M x 2.5M. If your space is bigger or you are very thorough in the planning process you might take up to a day, or longer!
Step Two
In the second step – acquire gardening materials, purchase rose roots or containers from your rosarian retailers, buy or mix up the potting soil and decide on watering method. Time Required; 3-4 hours
Step Three
Finally, in the third step, it's time to prepare the garden space, lay out the soil, plant your roses, water or set up irrigation, set up support if necessary and decorate.  Time Required; This can be done in approximately four hours or less. Although if you really enjoy it and / or take your time, it can take around a day.
Step Four
Admire your hard work, add in any additional features, and maintain!
How to prepare your garden for a small rose garden
After the design is complete, the rose garden is ready to plant and grow! However, your terrain might need some prep beforehand. Uneven ground shouldn't be used as a rose garden site, but clearing and tilling your terrain will make it ready for rose planting.
What do I do with uneven ground when planting a rose garden?
How to clear the terrain for a rose garden
The first thing you should do to deal with uneven garden ground is get rid of all of the grass. Get on all fours and pluck away every single pesky weed you can find! Remove any rocks, branches and roots left over in the ground. Finally, for good measure, use an organic weed killer based on clean ingredients to make sure the weeds will not grow back.
How to use a tiller to deal with uneven rose gardens
A rotatiller is an electric tiller or a cultivator designed to break up big and uneven chunks of soil into flat and manageable terrain. Buy or rent a rotatiller to help you flatten uneven ground. An electric tiller has spinning blades – all you have to do is walk with it over terrain you want to transform, and it will do the work for you by breaking the chunks of the soil up. 
Tillers can be quite pricey. However, you can find one for as low as 100 dollars for baseline models that perform well in cramped spaces. Alternatively, you can get the manual tiller, but in case your garden is really uneven you might not be able to get the perfect effect you would get with an electric device.
Buying is a better option as tilling your garden is very healthy for the soil if you grow flowers, fruits or vegetables alike. In my homestead, we bust out the tiller every planting season and have seen some big improvements so far! Rotatillers are great for turning over the soil. This is very important, as it allows oxygenation of the soil which will make it MUCH more quality for growing plants in it long-term.
Finish flattening the soil by raking and adding new topsoil
After tilling the soil, spread it out evenly with a rake. Additionally, make sure to break up any remaining lumps that the tiller missed and flatten the soil gently and evenly.
Finally, after the topsoil is gently spread out by raking, add a thin layer of fresh topsoil over it. Fresh topsoil is abundant with new, fresh, un-utilised nutrients and this is a great way to enrich the garden before any roses are planted.
What do I do if my rose garden is really uneven?
If buying a rotatiller is not an option and manual tilling doesn't sound very fun, build a raised rose bed instead. A raised rose bed is a little garden of its own on top of a pre-existing garden. This will eliminate, or rather, hide your soil issues. Simultaneously, it will aid with better drainage.
Should I use raised beds, flower pots or plant straight into the ground?
The dilemma of whether to plant roses in raised beds, flower pots or straight into the ground is REAL. All of these choices have their pros and cons. If your garden soil is adequate, it is always the best and first choice. If you have issues with bending during gardening or irrigation, choose raised beds. When you are space limited, flower pot gardens come to the rescue.
Planting into the ground: pros & cons
If your garden gets full sunlight and it's breathable, the soil is naturally loamy, well-draining and rich with nutrients – you can plant roses straight into the ground. If your natural garden bed fits all the necessities a rose is looking for, you should save yourself the huge fuss of choosing other options.
However, planting roses in a garden, and especially so over a support, limits you quite a bit if you like changing things up often. When planting very tall climbers along a support, ones like Cécile Brunner can easily reach 8 metres tall. Therefore, once you plant it, you can't dig it up and replant elsewhere without causing breakage. Moreover, if your garden has a lot of the sandy, gravel or clay component, add a thin layer of organic compost and peat moss to improve the quality. However, changing innate characteristics of a garden soil is a long process that isn't always successful, and you will likely need to build a raised rose bed or garden using rose flower pots.
Raised rose bed gardening: pros & cons
To design, plant and grow a rose garden in a raised bed takes more resources and effort than planting in a pot or into the ground does. However, once you DIY a raised bed and fasten it to the ground, the work around it is actually minimal. A garden bed allows you to regulate the soil, drainage, content and layout to a very high degree. This is great, as you can switch things up until you create an ideal environment to grow your lovely roses in. Irrigating a raised rose bed is easier and gardening in it is easier itself, as you don't have to bend down so much to tend to your prized roses.
The downside is that raised rose beds still require a very regular amount of weeding and careful watering. Weed the raised rose beds as soon as you notice foreign growth! The soil has to be regularly mulched and composted, at least once during growing season and almost constantly during the winter. Otherwise, you will find the blooms lacking in size and colour.
Flower pot gardens: pros & cons
Finally, pots are a great solution if you don't have room for a raised rose bed, or the location where you would build one doesn't get full sunlight. The limited space can work in your favour in order to design, plant and grow an ideal rose garden. Flower pots allow growing roses in the ideal spots where they can get 6-7 hours of sunlight, instead of having to negotiate on rose varieties or provide less ideal conditions. Container rose gardens are easy to keep free of weeds, pests and debris.
On the other hand, container rose gardens are quite prone to drying out and need more frequent watering. However, balance watering, as overwatering will lead to root rot more easily. Watering rose pots three to four times a week is just right. Nutrient loss is also common for containers, so fertilising more often from April to June is a given as well (every 4 to 5 weeks instead of every 8 weeks).
How to prepare the soil for rose gardening
How to measure the pH of your garden soil
Roses like a slightly acidic soil. This means a pH from 6 to 7, which is observed in quality rose potting soils. You can find out if your soil is slightly acidic by purchasing a fairly inexpensive measuring device which you can stick straight into the ground for an accurate reading (this one there is just 15 dollars).
The pH of the soil will directly affect how well your roses will grow. This is because pH balance governs the nutrient uptake from the soil itself. If the pH is misfitting for the rose, there is nothing you can do to make them thrive until that problem is resolved.
If the soil proves to be very alkaline or very acidic, grow your roses in garden beds or pots instead. You can fix the pH by liming and similar methods, but it is otherwise a long-term process that requires dedicated adjusting and testing and isn't suitable for beginner gardeners.
What soil quality is good for roses?
Roses like a well-draining, loamy soil. This means that the soil drains well, but holds moisture for quite a while! This can be any soil which has at least a third of organic material (manure), a third of fibrous material (peat moss) and a third of lightweight material with a natural draining component (perlite/vermiculite).
Remove any large rocks from your soil. If the soil is very dense or has a too much of a clay or sand component to it, add organic matter in the form of well-rotted manure/compost. This will quite improve water retention AND drainage of your soil.
How can I enrich my soil with nutrients?
If the other plants in your garden are rich, green, flowering abundantly or fruiting, don't enrich your soil with nutrients. This step is unnecessary for your garden, and your soil is likely nutritious enough for an average rose plant.
Otherwise, if your soil is lacking nutrients and your plants tend to yellow or be stressed and diseased, add nutrients to the soil. You can do this by feeding it with minerals before planting your roses in the ground, using an organic fertiliser. Combine this step with organic well-rotted compost and mulch and you will not need to fertilise often!
What equipment do I need to prepare for planting a tiny rose garden?
Once you have your design at ready, it's go time – plant and grow your small rose garden!
For weeding, garden gloves, a hand trowel and a garden hand fork will do just fine. The latter two will help you fight and persistent weeds. Short secateurs might help out in removing deep branches and roots.
Otherwise, for removing deeper roots, stones or rocks – get a sturdy heavy duty shovel and a gardening hoe.
Finally, for turnover of the soil, a manual tiller or an automatic rotatiller and a garden rake for the soil will be all you need.
How to plant a small rose garden
It's very straightforward to plant a small rose garden that is innovative, charming and transforms the tiny space into something out of a magazine! After you design your rose garden, to plant it and grow it with care is the natural next step.
Add some organic time release fertiliser. This will make sure that, as you're planting your rose garden, the fertiliser will very slowly fertiliser over the coming weeks and months, avoiding burning the roots of the rose plant.
Plant your roses outside after the danger of the last frost has passed. Generally, this is the last time your area has freezing temperatures in the spring and very much depends on your hardiness zone. Planting before this time of the year will almost always result in the lost of your prized (and expensive…) rose plants.
Dig out holes for your roses. Take your rose plant out of their containers and gently separate the roots apart. Dig holes that are just about the size of the root at its widest point. Furthermore, make sure to adhere to your own design and space out the holes appropriately!
Place the rose plant and companion plants into the ground into their respective holes. Set the rose into the hole you have just dug and gently tap the soil in around until it is level with the soil of the transplanted rose.
Water the ground thoroughly once all of your roses and companion plants are firmly in the soil.
How to care for and grow your small rose garden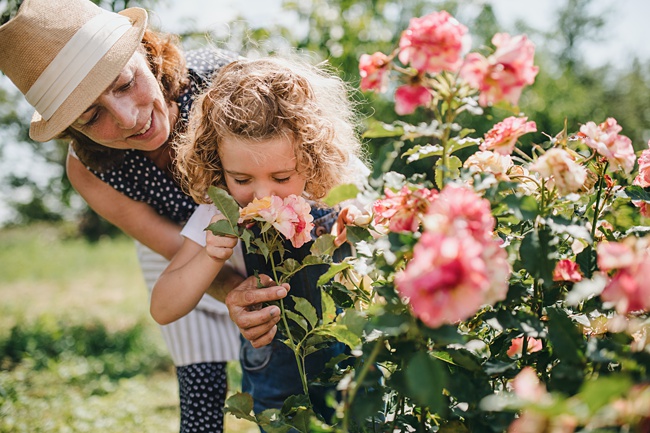 A small rose garden requires continuous care to grow and prosper. Follow our best tips to see your own wonderful plant design rose garden grow to its full potential!
Fertilise your roses regularly. If you want gorgeous blooms, organic fertilisers will provide the necessary nutrients that slowly and steadily feed your rose bush. Apply compost, composted manure, coffee grounds, rice water or other organic fertilisers about once a month throughout the flowering season.
Water your rose as needed. This is usually 2-3 times a week, but can be up to 6 times a week for container roses, raised bed roses and garden roses in summertime.
Prune your rose. Prune any dead, diseased, dry or damaged canes. Your rose will be sure to look more professional and be much healthier. Prune majorly in early spring and continue throughout the entire blooming season as necessary. Discontinue in the last month of true summer (August for north hemisphere, February for south hemisphere). Do this in order not to force new growth into the oncoming frost.
Deadhead your roses. Remove old and spent blooms in order to make space for new ones! This is very healthy for the rose and should be done semi-frequently.
Finally, keep your roses healthy by choosing disease-resistant varieties such as Freedom or Harlow Carr. Preventing disease in roses is definitely better than curing it.
Best ideas to design, plant and grow a creative rose garden – favourite rose garden projects
add a backyard swing (hang it from a tree, or construct a small wooden swing!)
provide lighting (wireless garden lights, or otherwise, pull the wire through your window if your garden is close to your home)
arrange seating (small patio chairs, otherwise, a couch patio where chairs can be pushed into the table to save space!)
add a love seat (if you have a SO who loves gardening as much as you do, this is a must)
add an arbor to the entrance of your garden (if your garden entrance is a tight space, adding an arbor and using it as a rose arch is a fantastic idea)
attract wildlife into your small rose garden (attract bees, birds and butterflies by building butterfly hotels, planting roses bees like or leaving out bird baths and feeders)
add pots (empty spaces in your garden can be filled up with pots containing colourful and fragrant small flowers as a focal point)

DIY glass stepping stone

– my favourite!!!
Okay, someone get me away from Pinterest. Ban me, take my laptop away, I don't care, otherwise I spend SO MUCH time just making boards with all the DIY's. Not just the pinning – I actually make all of these little things, but the thing is…my garden can only take so much! OMG, it's like an addiction nowadays, especially as we are home so often and tending to a garden is much easier than just waiting for the weekend. I hope you enjoyed this comprehensive guide on how to design, plant and grow a small rose garden and that you are ready to go!