In gardening, like in life, variety and creativity are essential, and I recently spotted some tropical garden ideas that I couldn't get enough of. Of course, I will never give up any of my precious rose space, but with my collection of all types of pot plants snowballing, I hadn't realized that by grouping them cleverly, it was possible to make a small tropical garden space.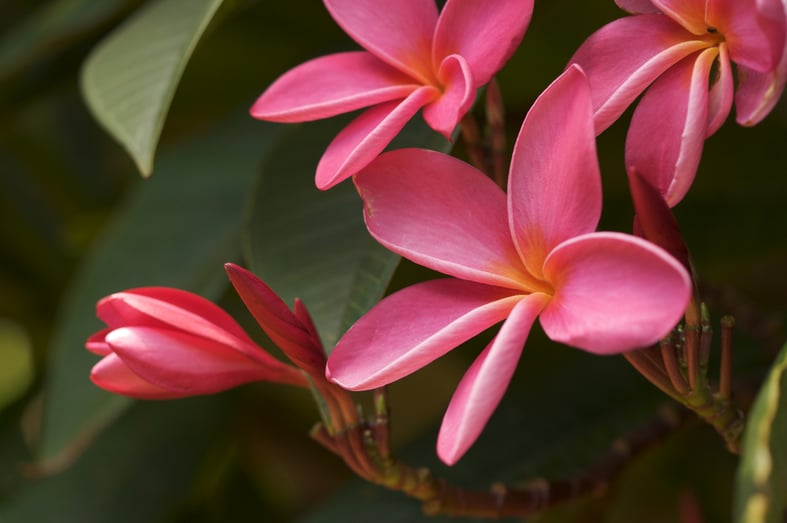 Making a small tropical chill zone is easier than you think, especially if you already have loads of plants in pots. So, gather your ferns, spider plants, palms, umbrella trees, and anything else you have handy to add texture and give a lush tropical feel and let's get creative!
12 Small Tropical Garden Ideas
I love making my girls' homeschool curriculum come to life while they learn. We recently learned about tropical climates, which (besides Pinterest) was the inspiration for our small tropical garden. For once, my beloved roses were not the center of attention!
With a bit of creativity, we managed to recreate an inexpensive yet pretty convincing small tropical garden in one corner of our concrete patio. It was so easy, and the result is really relaxing. Corner spaces work well when making a tropical garden since it is easier to create the effect of a full jungle in a small area, and it is easier to keep the humidity inside.
There are loads of amazing ideas online that you can try, but each setup needs to fit your space. Our little tropical nook isn't big enough to entertain, as we only used an umbrella overhead to shield our mini tropical setup from the dry Mediterranean air. But I do have one wicker chair in our tiny 'jungle,' and we are all super proud of our effort.
Let's go through 12 clever ideas that you can use to create a small tropical garden no matter where you live. If you stay in a cooler climate, you can even use some elements to make a little tropical space inside your home.
Making a small tropical garden is a fun project, and once you start, you will get hooked (guilty!) and want to keep adding.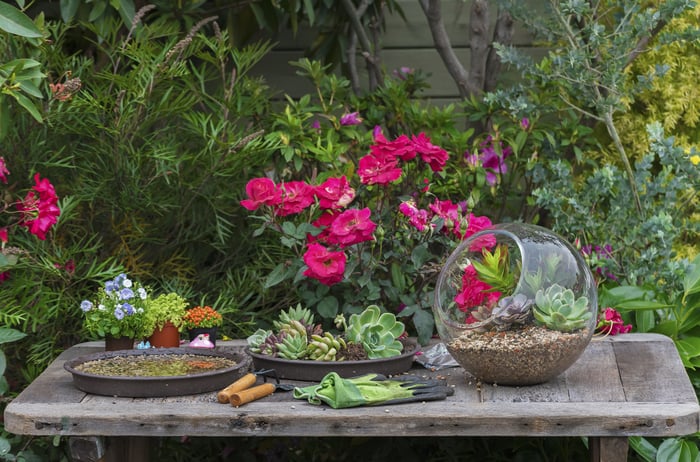 1. Create A Backdrop
Surprisingly I didn't own enough pot plants to give the illusion of fullness when we started our tropical garden project. Also, working against two white walls didn't provide an authentic jungle look since the whiteness of the wall behind overpowered the green plants.
Since we are renting, I can't paint the walls in shades of camo green and brown, so I did the next best thing and rolled out a natural reed fence and attached it to the wall. The space instantly felt more like a tropical zone! The backdrop also helped to clearly define the size we were working in so our project didn't get out of hand!
2. Create Depth Using Pots
Making a small tropical garden area does not need to be a major landscaping undertaking. All you need is plenty of pots in different sizes. This does not have to cost a lot if you know how to upcycle some common household goods into planters.
Arrange them randomly and work in layers. The different plant sizes, textures, and colors stand out against each other to create an illusion of lush growth. You will need plenty some tall ones at the back.
A good tip is to spray paint all your containers a uniform color so the lush greenery of the plants stands out and it's not a mix-mash of colorful pots. Black works well as it blends into the background.
3. Add Shade Cloth Or Umbrella To Keep Humidity Inside
In some climates, you may not require any overhead cover to hold humidity in your tropical garden space. On the island where we live, we needed to protect the plants from getting too dry outside. Since it is only a small area in a corner, a large garden umbrella is working well to protect our rising jungle.
You may need to attach a shade cloth overhead to make a slightly larger tropical garden in a dry climate. The plants may not need overhead cover if you have a protected area or are working under a big shady tree.
4. Add Some Hanging Baskets To Create Height
If you don't already have large plants that will tower overhead to create a shaded canopy, the tropical garden can look a little bottom-heavy. Hanging some pots overhead adds eye-level greenery without needing to purchase large, expensive plants.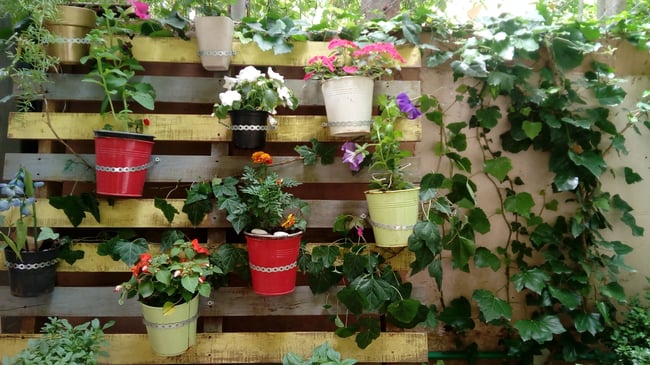 Since our little garden is in a corner in a spot where there are two side walls, we were able to place a beam across the corner to provide hanging space for baskets. Some of my indoor collection of trailing succulents are now enjoying some time outside in the tropical garden.  
5. Use An Assortment Of Textured Plants
Tropical gardens are about lush, abundant greenery. To give your space an authentic look, use an assortment of lush plants of all shapes and sizes. Only avoid those that won't like the added humidity in your topical space, like cacti and roses.
Many plants that thrive in a garden room are perfect to group together to create a small tropical garden. Arrange your pots so plants with larger leaves, like tropical elephant ear plants, take center stage and set the scene for smaller 'filler' plants.
6. Make A Living Wall
If you don't have a lot of tall planters with established plants, a practical small tropical garden design idea is to use the pot plants you already have but attach them to a wall. That way, instead of looking like single, small plants, the rich colors and textures will blend and give the illusion of lush tropical growth.
Since we used a reed screen for our tropical garden background, it was easy to attach hooks through it and into the wall behind. Ensure all the planter's colors are uniform and blend with the overall effect.
7. Add A Water Feature
You don't need an elaborate or expensive water fountain to make your small tropical garden feel like a lush oasis. A simple idea is to grow a waterlily inside a concrete container. Situate it among your large leaf plants for an instant tropical feel.
8. Add A Pop Of Color
To add color and contrast to the jungle of green color, add some pops of color. We used easy-to-grow, brightly colored flowers, including impatience and geraniums, among the leafy green plants.
If your outdoor tropical garden gets more sun and you live in a temperate climate, try plumeria to add pops of color and gorgeous fragrance. For a dramatic effect in a sunny tropical garden, bird of paradise is always a winner.
9. Create A Focal Point
A small tropical garden space will simply feel like a lush corner in your garden unless you create a focal point. In our little tropical corner, it is my outdoor wicker chair with a bright yellow cushion.
The cozy outdoor chair instantly gives the setup impact and makes the area look homely and comfortable. It is also the perfect place for me to relax and enjoy the space.
10. Use Log Slices As The Walkway
When you are looking for small tropical garden design ideas, don't forget the ground cover. No matter how lush and gorgeous your plant collection is, if you are creating a beautiful plant space outside, start the theme from the ground up.
I created a uniform effect around the pot plants using dark pebbles interspersed with log slices. If I keep the tropical corner as a more permanent setup, I will probably replace the log slices with an eco-friendly rubber material because wood slices may not last very long in the damp conditions. 
11. Add Palms
Palms instantly give a garden a tropical look, and many types are surprisingly hardy. There are lots of varieties to choose from, and most grow well in pots. Dwarf fan palm (Chamaerops humilis) is a great choice for a small tropical garden space that will provide excellent cover and is cold hardy up to 10F.
12. Use Self-Watering Pots
While some plants, like rosemary, will never be healthy in a self-watering pot, most tropical plants will love them. In addition to packing on the mulch and letting your thirty plants drink as much as they need without ever overwatering, these nifty planters will save you time.
Self-watering globes work well for hanging baskets. Another tip is to keep a spray bottle close at hand so you can regularly mist plants in your tropical zone.
What Plants Make A Tropical Garden?
Use lush broad-leafed plants with various heights and textures to give a tropical effect: mix palms, bamboo, philodendrons, lilies, ferns, and clivias. Emphasis should be on texture and fullness rather than specific plants. Even a well-placed hardy yucca plant can fill a gap if required.  
For a touch of color in a small tropical garden space, add bromeliads or impatience. The effect must be of lush plant growth, so ensure that there are plenty of plants at every level from the ground up.
What Is The Fastest Growing Tropical Plant?
Bamboo is undoubtedly the fastest-growing tropical plant – in fact, it is the fastest grower out of all plants. Of course, it can get out of hand and is considered invasive in some regions, but if it is kept in a pot, it is a great way to give a small tropical garden a head start.
What Type Of Soil Do Tropical Plants Like?  
Use well-draining soil that contains plenty of compost for most plants in your small tropical garden. However, if you are borrowing plants from other spots in your house to fill gaps in your themed space, keep them in the potting soil specific to their type.
The magic of plants is that with a bit of creativity, you can mix and match to create the feeling of a tropical garden just by cleverly grouping plants. The trick is that while most plants need fast-draining soil, many like an extra bit of humidity, so keep your spray bottle close each time you visit your little tropical enclave. The new tropical corner has become one of my favorite places for some one-on-one time in nature. Recently a little frog has made itself at home among the pots and stones, and I consider that a huge sign of success!