Lavender is traditionally thought of as a garden plant. But you can also cultivate it right in your apartment to have that divine smell following you. But since lavender wasn't meant for the indoors, it will require some special care to thrive and bloom. 
However, if you are fairly new to these herbaceous flowering plants, I have some easy tips to help you grow these beauties indoors. And for those of you who are avid gardeners who need a few pointers in moving your lavender from outdoors to indoors, my "how-to" condensed guide is something you'll find helpful.
Is Lavender An Easy Plant To Grow?
In general, yes. Lavender is a rather resistant plant. As long as you provide it with enough direct sunlight and regular watering, you should be able to keep it healthy and thriving, both outdoors and indoors.

Popular Types Of Lavender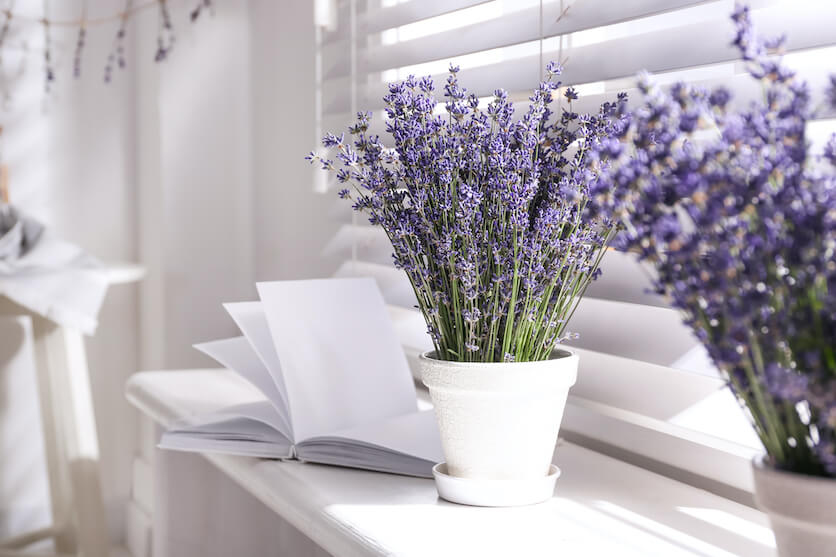 Lavender comes from the genus Lavandula, which is native to the Mediterranean regions of the world. There are four main species of lavender.
English Lavender (Lavandula angustifolia) 
Lavandin (Lavandula x intermedia)
Broadleaf Lavender (Lavandula latifolia)
French Lavender (Lavandula stoechas)
Here in the U.S., English Lavender is the most common lavender species grown. This species produces the well-known fragrance we know. I love this species because there is nothing that comes close to the beautiful purple flowers that emit one of my most favorite fragrances, perfect for making a sachet to lay upon my pillow (roses are also another one of my favorites as you probably know!)
Which Lavender Smells The Most?
I don't know about you, but I'm partial to the fragrance of English Lavender (Lavandula angustifolia.) We all have our own preference in what we perceive to be the best and strongest smelling species of lavender, but if you look at it from a scientific standpoint, the results are interesting!
A study on various constituents in the essential oils of each species It's these constituents that are responsible for how lavender smells. Lavandin, Broadleaf/Spike, and French Lavender all have a camphor-like fragrance, whereas English Lavender is much more floral. 
English Lavender contains a higher amount of terpenes and terpene oxides, which dictate the sweet, floral smell that we are familiar with. The other lavender species are higher in cineole which is what makes them have a dominating camphor fragrance.
Can Lavender Survive Winter In Pots Outside?
If you happen to live in zones 5a to 9b, most lavender plants are pretty hardy if left outdoors. However, for those who live where the chill goes to the bone with temperatures dipping into the negative range, bringing certain species from your small lavender garden indoors makes sense. 
Here's how different types of lavender behave in colder climates: 
English Lavender (Lavandula angustifolia) 
Zones: 5-8
Temperature Hardiness: -20 degrees (F) (-28 C) to 15 degrees (F) (-9 C)
It's best to bring your English Lavender indoors if you live in a zone where temperatures dip below -20 degrees (F) (-28 C). Conditions in winter can easily become some of the harshest extremes that the northern parts of the U.S. experience.
Lavandin (Lavandula x intermedia)
Zones: 6a-9b
Temperature Hardiness: -10 degrees (F) (-23 C) to 25 degrees (F) (-3 C)
It's best to bring your Lavandin Lavender indoors if you live in a zone where temperatures dip below -10 degrees (F) (-23 C.) Winter conditions in these upper midwest/northern zones can become harsh as well, with freezing temperatures falling below zero.
Broadleaf Lavender (Lavandula latifolia)
Zones: 6-9
Temperature Hardiness: -10 degrees (F) (-23 C) to 25 degrees (F) (-3 C)
It's best to bring your Spike/Broadleaf Lavender indoors if you live in a zone where temperatures dip below -10 degrees (F) (-23 C.) Zones in the upper midwest/northern part of the U.S. experience harsh winter temperatures that can fall below zero.
French Lavender (Lavandula stoechas)
Zones: 8a-9b
Temperature Hardiness: 10 degrees (F) (-12 C) to 25 degrees (F) (-3 C)
It's best to bring your French Lavender indoors if you live in a zone where temperatures dip below 10 degrees (F) (-12 C.) Areas within the upper south regions do not have as harsh winter conditions as their northern counterparts, but temps have been known to be quite cold.
Which Lavender Is Best For Indoors?
I love sitting my lavender in my kitchen window where I can enjoy the lovely fragrance while doing dishes or cooking. I know some of you who dabble in the culinary world like to have lavender readily available when cooking for flavoring. A cup of hot tea is superb with a pinch of fresh lavender added to steep.
Regardless of species, lavender is an outdoor herbaceous plant not intended to be grown inside. It's especially challenging to dig up established in-ground lavender as they can be a bit cranky transferring to a pot. Moving a potted lavender indoors is much easier and puts less of a shock on the plant than uprooting one and transferring it. So, there really isn't any certain species of lavender that does best indoors.
If you want to try your hand at an indoor lavender during the winter, a dwarf cultivar might surprise you as well as perhaps cultivars of French Lavender. 
Growing Lavender Indoors: How To Care For Lavender Plants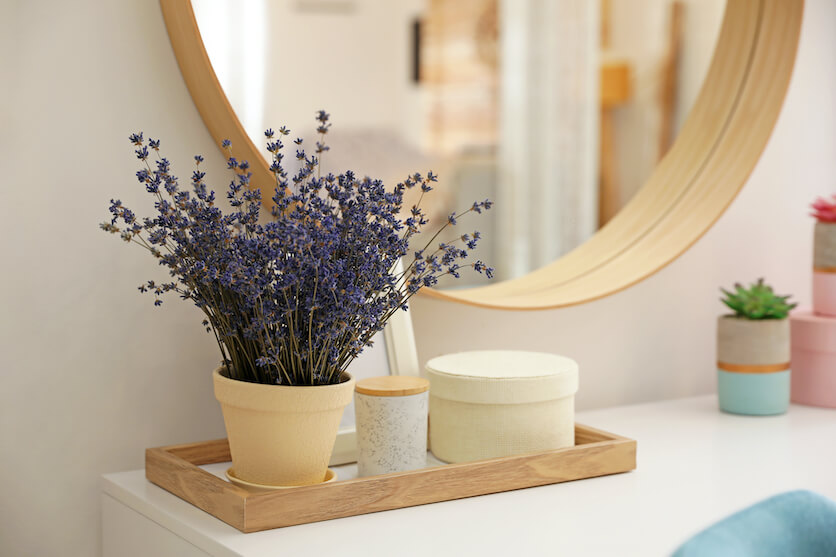 Caring for a lavender plant indoors should come with the expectation that the plant will not be as robust as it would be outdoors. Without the presence of the full sun, growth may be stunted. Flowers will most likely be non-existent while foliage may be somewhat paler. 
1. Choose The Right Size Of Container For Lavender
Select a container that is 1-2 inches larger than the root ball of the plant. Too large of a container, the plant easily develops root rot from watering the soil rather than the plant. The more soil, the more likely we are to overwater. 
One of the most important things to look for in a container is it must have a hole for drainage. Without drainage, the plant can succumb to root rot. Also, avoid placing the container in a water-filled tray. The container should be elevated with "feet" (risers) to allow ample air circulation underneath the container for root health.
2. Select The Right Potting Soil
To prevent root rot, it's best to put an inch of limestone gravel in the bottom, followed by a succulent potting mix rather than a regular potting soil. Lavender plants do best with a pH of about 6.5-7.5, so adding a spoon of lime or sulfur helps balance out the soil alkaline.
4. Put Your Lavender In The Right Place
Your lavender plant should be placed in a south-facing window that gets the most sun. If you're unable to do this, supplemental lighting is a must for the plant to thrive. Fluorescent lights (T5) hung 6-12 inches above the plant are ideal. 
5. Give Lavender The Right Amount Of Water
Lavender does not do well with overwatering. They are drought tolerant and do better with dry to moist soil—only water your plant when the soil is dry to touch. Add enough water to moisten (not saturate) the soil.
Indoor plants inherently develop fungus gnats because of overwatering leaving soil wet. There's nothing more inviting than wet soil for these pesky tiny flies to set up home. Avoid overwatering, and you prevent the problem.
6. Stay Ahead Of Debris Buildup With A Cleaning And Trim
Decaying, dead debris either on the soil or still attached to the plant not only invites disease but pests such as the fungus gnat. A very important part of caring for a plant is removing dead plant matter building upon the soil. Trim away any dead or decaying foliage or spent flowers.
Paying attention to pruning undergrowth is essential for air circulation. Too dense of a plant and the air cannot pass through; this can lead to disease or decay. Ample air circulation also helps keep the soil in check from staying wet for too long from watering.
How To Grow Lavender Indoors From Seed
An indoor lavender plant can be grown from seed to plant with just a few simple steps. So, how long does lavender take to grow indoors? Well, I can tell you it will be a slow process that requires a lot of patience. Lavender seeds can take up to several months before they germinate. 
You will need a seed tray, a potting mix with a vermiculite blend, and the perfect location. Place a tad bit of potting mix into each seed receptacle. Follow the directions on the seed packet as to how many seeds to place into the soil. Once you have your seeds planted, gently water the entire tray, being very careful not to overwater. 
Place the tray in a south-facing window with the most sun. The room should be 65-70 degrees (F.) Water as needed. Once the seedlings develop a few leaves on each plant, you can transfer them to a container. 
Pro Tip: Lavender and Pets Don't Mix
If you happen to have a cat or dog who likes to nibble on plants, English Lavender (Lavandula angustifolia) is considered toxic according to the ASPCA. When ingested, pets can develop nausea, vomiting, or lack of appetite. So don't let your furry buds near your indoor lavender pots! 
Please check out my blog for even more articles and tips on gardening!