With the new year around the corner, my newsfeed has recently been filled with loads of tempting gardening items that will soon be on sale. There are so many nifty items that I'd love to try, but one that caught my eye is a set of gorgeous plant shelves, complete with grow lights. However, I am a little torn about whether it is worth the investment or if it will become a white elephant after the novelty has worn off.
Plant stands with lights are a practical and attractive method to keep plants anywhere indoors without needing sunlight from windows. It is also an excellent method to maximize growing space. A plant stand with grow lights is a good investment for indoor areas where sunlight is limited.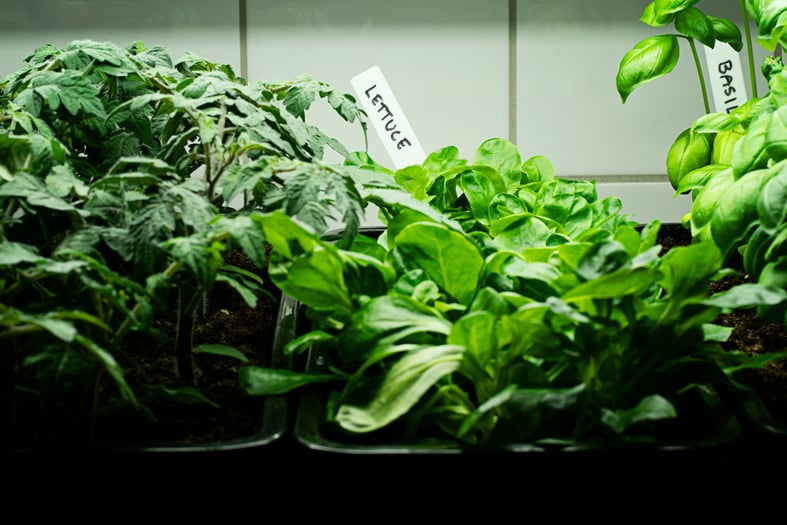 Many plants benefit or, like indoor plumeria, absolutely must have a lot of light to survive. There are plenty of grow light options, like grow light tripod stands or hanging lights, so what are the advantages of having a specific plant stand with grow lights?
Are Plants Stands With Grow Lights Worth The Investment?
Grow lights are a major bonus for indoor gardeners who may not get enough sunlight through their windows. Maybe your apartment faces the wrong direction, or it's winter, so sunny hours are limited, or you want to set up an indoor garden in the basement or windowless room.
Since I live in a sunny climate, it's not so much the lack of sunshine that is making me take a second look at these plant stands but that they look so convenient and attractive. I would no longer need to assemble all my indoor plants around the windows, especially in my kitchen, where my herb pots are starting to pile up and look haphazard on every available window still and counter.
Plant stands with grow lights can be as simple or as complicated as you need them to be. There are setups for every setting, from small single layers where you can buy one light array and set it up under the kitchen counter to large multilevel plant stand trolleys that could look attractive in any part of the house.
Here are three of the plant stand models that stood out for me:
Large 4-Tier Grow Light Shelf From Bstrip: This is the big daddy of plant stands with grow lights! It can hold six adjustable plant trays, and the entire thing is on wheels. You could keep your entire plant collection perfectly healthy even in the darkest side of your house!
Bamboo Home LED Grow Light Garden: I admit it. I absolutely LOVE this plant stand with grow lights. It has a warm natural wood appearance and will be perfect for growing all my herbs, including sun-loving varieties like thyme and rosemary. The bottom shelf is also much higher, making it ideal for anyone with slightly larger indoor plants.
2-Tier Grow Light Stand – Although this is a much smaller plant stand with grow lights than the other two models, I love the classic, clean lines and adjustable height trays. It is perfect for starting seeds or keeping an indoor collection of small houseplants happy during winter.
A bonus with this plant stand is that a clear humidity tent can be purchased later, so the temperature and humidity inside the plant stand can also be adjusted. This would be a great feature for temperature-sensitive plants or seedlings.
Whenever I struggle to decide about something, I find that it helps to list the pros and cons. Do I need a plant stand with grow lights, and is it worth the investment?
| Pros | Cons |
| --- | --- |
| It maximizes plant space, so it is ideal for anyone who doesn't have a lot of indoor space for plants. | They can be expensive. |
| Can place the plant stand anywhere without needing to be near a window | The size of plants may be limited on plants stands |
| Some plant stands with grow lights are mounted on wheels so they can be moved easily. | Lighting needs to be monitored to ensure that plants do not receive too much light, which can be detrimental to their health. |
| Can get spring seedlings started ahead of time | Lack of airflow when plants are grouped indoors can cause an increase in pests like spider mites. |
Are LED Grow Lights Good For Plants?
There are very few plants that don't need a lot of light. In fact, I explored this topic a few months ago and realized that sunlight is like oxygen to plants. Although some plants need less light than others, only a few fungi and parasites can grow without any light at all.
LEDs are a popular choice for plant grow lights because:
They usually offer a fully customizable light spectrum range
LED grow lights are extremely energy efficient
They don't produce much heat.
They are slightly more expensive than incandescent grow light bulbs, but the outlay quickly gets recouped in energy savings.
They are also more user-friendly than other grow light alternatives.
Can Grow Lights Burn Plants?
LED lights create very little heat; therefore, it is unlikely that your poor plants will get sunburned to death. However, some grow lights produce heat, so proper placement is a factor, especially with tall plants with long leaves or flowers close to the bulbs.
There is usually a bit of trial and error involved when you first start using grow lights. Of course, you want your plants to enjoy every moment of tropical sunshine you provide, but too much of a good thing may cause them to dry out or become scorched if they are too close.
Like humans, plants have cycles, and too much continuous light can cause stunted growth or poor health. Plants need to be placed according to their specific light requirements, and periods of darkness are usually also required.
How Close Should LED Grow Lights Be To Plants?
Plants are usually set out 12 – 30 inches below to get the maximum effect from LED grow lights. However, this is quite variable as it will depend greatly on the wattage of the LED lights being used and the type of plants being grown.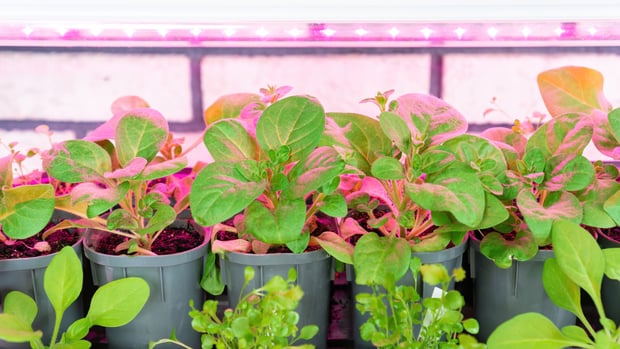 The lower the wattage, the close the lights can be to the plants without causing any damage. That's why I like the plants stands with adjustable height trays. As the plants grow, the gap can be widened.
Do Grow Lights Use Lots Of Electricity?
LED grow lights used on a small scale, like on a single plant stand, do not use a lot of electricity. Changing all light bulbs in a home to incandescent or fluorescent light bulbs is an excellent way to save electricity costs.
In multi-plant households where electricity costs are a major consideration, a plant stand with grow lights for indoor plants is an excellent investment. Many plants can be grouped on the plant stand rather than having multiple lights scattered around the house. Plant stands with grow lights are becoming increasingly popular, not only for people wanting to give their vegetable seedlings ahead start before spring, but they can also be an attractive feature in a home. I may need a few more days to decide which plant stand with grow lights to order, but I am already thinking about how much fun I will have arranging my indoor plants!