Winter can be a drag for gardeners who love flowers, but fortunately, there is a trusty solution that will make it feel like springtime indoors. A vase of sprouting paperwhite bulbs is a popular solution that provides sophisticated-looking green foliage and clusters of sweet-smelling white flowers even during the coldest months.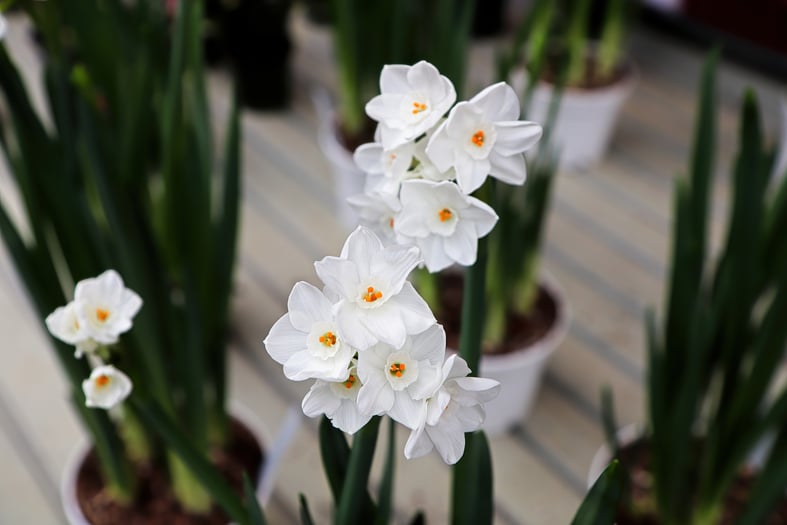 A bowl of tall Paperwhite narcissus is a spectacular winter showpiece in any home. Bulbs grow readily with or without potting soil and produce a showy display of white blooms in less than four weeks. Unlike many other bulbs, paperwhites will grow readily from bulbs without being chilled.
Growing paperwhites may seem complicated, but it turns out that they are absolutely ideal for beginners. A few bulbs in a pretty vase is also a perfect gift since they are almost magical in their reliability – you don't even need soil to keep them alive!
How To Grow Paperwhites Indoors
If you want a bit of plant life in the house during the festive season, but don't want the commitment of long-term plant ownership, paperwhites are perfect! They are inexpensive, grow quickly, look great, and when grown indoors, it only grows once.
Now is the right time to look out for paperwhite bulbs at your local retailers. They are usually readily available from October through to the end of the year. You can also stock up online and get a supply of paperwhite bulbs to last through winter.
Unlike most other bulbs that need to spend a long, hard winter freezing unground to look their best, paperwhites sprout readily indoors during winter. All it takes to get them to spring to life is a mild temperature (which is why they will grow indoors during winter but not outdoors in the garden) and water.
Once you have your bulbs, it's as simple as giving them water, and voila! The entire gorgeous green plant and flowers are just waiting to emerge from the plain-looking bulb.
I have summarized the process of growing paperwhites indoors into four easy steps:
Choose a container – it must NOT have drainage holes if you are using the water and stones method. You can also use a regular pot with soil, in which case it must have drainage holes, as usual.
Place 1 – 2 inches of stones on the base of the container. You can use anything from marbles to fish tank aquarium substrate! Position your bulbs on top, with the pointy side facing up. Add more stones to cover the bulbs, so only the top bits stick out.
Add only enough water so that it touches the bottom of the bulbs. Keep the water level constant – top up if necessary, but never submerge the bulbs.
 Keep the bulbs in a cool place for a few weeks but top up the water when necessary. When you see roots emerge (usually in about three weeks), move the container to a sunny spot.
What Can I Plant Paperwhites In?
Paperwhites aren't fussy about their growing medium or the container. You can grow them in soil like regular bulbs or just use plain water. A popular method is to 'plant' the paperwhite bulbs in a shallow layer of pebbles, marbles, or gravel inside a glass jar or vase.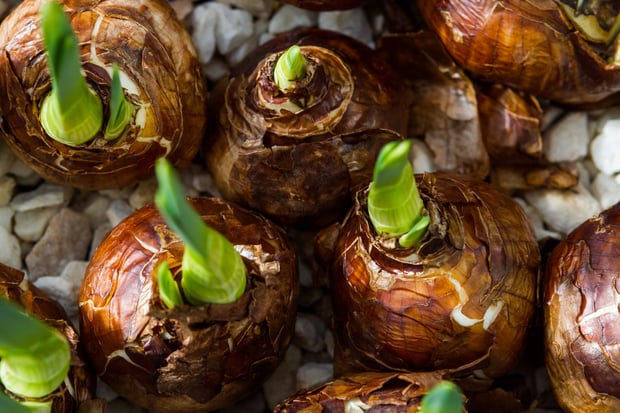 If you are using a pot with soil, you must be careful to keep the bulbs well-watered and ensure that they don't dry out. This can be a bit more tricky to estimate since you can't see the bulbs like when you use the water growing technique.
How Do You Care For Paperwhite Bulbs?
Paperwhites (Narcissus papyraceus) are relations of normal daffodils. This fragrant white variety is popular because it is fuss-free and can easily be coaxed to grow indoors, even during winter.
Whether you put the bulbs in soil, pebbles, or just a bit of water, they will reward you with delightful flowering blooms – even in mid-winter. Growing paperwhites can also be a rewarding indoor kids gardening project – task the youngsters with 'growing' your Christmas centerpiece this year!
The beauty of paperwhites is that they are so easy to care for and deliver the most delightfully fragranced, delicate flowers indoors. Paperwhite bulbs make a lovely gift, and unlike more fussy bulbs like tulips, they are even perfect for people living in apartments since no soil is required.
Once you have started your bulbs, either in plain water, in a bed of pebbles, or soil, you need to control the amount of light the container receives. Also, ensure the bulbs get enough water.
How Long Do Paperwhites Take To Bloom Indoors?
Paperwhites take between four and six weeks to bloom. Whether you plant them in soil or water, the expected time until they bloom will be the same.
To be sure of your timing, it's a good idea to buy a bag of paperwhite bulbs and start them in small batches every two weeks. They have become synonymous with Christmas, so try to get some bulbs started before Thanksgiving to have a continuous supply of the magical little blossoms throughout the festive season.
What To Do With Paperwhites After They Bloom Indoors?
 A lot of people compost the plants once they start to deteriorate. Once they have been 'forced' (tricked into growing outside their regular seasonal pattern), they will not grow again indoors.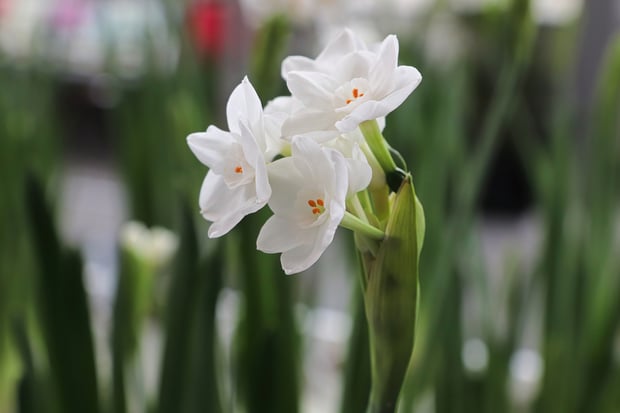 If you live in a mild climate, bury them in a flower bed. They may be able to recover, but it will take at least a season, or even longer if you grew them in plain water, before you may notice any of the familiar white blossoms poking out above ground.
Do Paperwhites Only Bloom Once?
Paperwhites only bloom once, and each flower lasts a week or two. To get a continuous supply of pretty white flowers, stagger the start of the bulbs and get new batches started every two weeks.
The delicate white flowers will last longer if you move the plant out of direct sunlight once the flowers have formed. This will extend the lifespan of the blooms slightly. Spent flowers can be pinched off to keep the paperwhites looking fresh for as long as possible.
Can I Reuse Paperwhite Bulbs?
Once paperwhite bulbs have been tricked into growing indoors during winter, they cannot be grown indoors again. You will need to buy new, fresh bulbs next season.
All the energy stored in the bulbs gets used during the growing and flowering process. The bulbs are therefore entirely spent once they have flowered.
Throw the spent bulbs in the compost or plant them in a sunny spot in your garden. You may be rewarded with some unexpected flowers in a few seasons, but it is not worth storing them as they can't be tricked twice!
Troubleshooting Paperwhites:
Because paperwhites are so easy to grow, it may seem like nothing could go wrong. However, while browsing the reviews of bulbs bought from a popular online retailer, I could instantly see a few pitfalls where novice growers had gone wrong.
To save you time, I have made a list of some of the apparent errors gleaned from review comments:
The bulbs must never be submerged in water!
Even if you only grow your paperwhite bulbs in a few pebbles and water, the waterline must only ever reach the bulb's base. Any higher and the whole thing will rot.
Paperwhite bulbs have a relatively short above-ground shelf life. Once you have purchased paperwhite bulbs, they must be used within two months.
When planting the bulbs, the pointy sides must stick upwards.
Only move your paperwhites to a sunny position after the roots have developed.
The flowers take four to six weeks to appear – if you want white paperwhite flowers at Christmas, get them started a week before Thanksgiving.
Paperwhite stems may be long and floppy, especially if forced using water. This can be remedied by tying the long stems onto a support. Another hack is to stunt the growth of your plants by adding alcohol to the water. This step should be done carefully so you don't accidentally kill your Christmas plants!
Paperwhites add a fresh touch of life to the winter holiday décor. While our roses are getting some well-deserved beauty sleep during winter, these simple white flowers add a cheerful touch of life and remind us that spring is never too far away.