Just when gardeners think they have acquired a unique plant, something with a sense of rarity makes its appearance. It's eye-opening to find out there's far more worth discovering about ourselves just by caring for a plant. Japanese indoor plants are the doorway to making those new discoveries.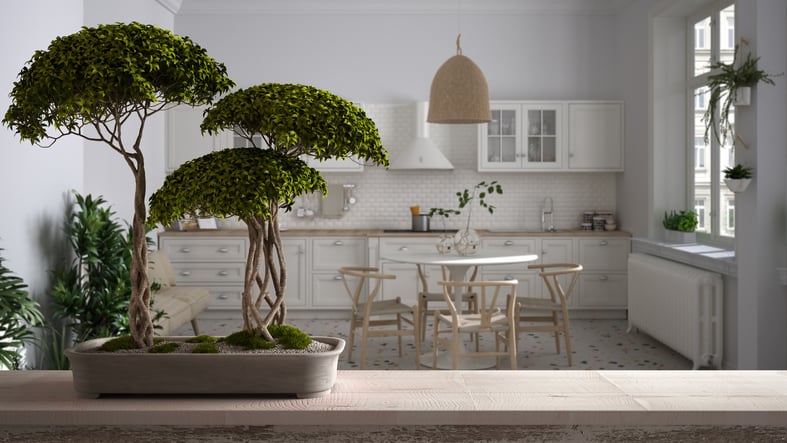 The Japanese Gardening Culture
For the Japanese, gardening is enrobed with more than the opportunity to grow something. The act of working with a living form provides a time of intentional meditation. The quiet time spent nurturing a plant is anchored in the foundation of one's faith association (such as Buddhism, Taoism, etc.) 
Plants represent inner growth and strength and lend to the longevity of life. Time-honored gardening traditions are passed from one generation to the next. Other Japanese practices such as Feng Shui are also incorporated into an overall indoor plant garden.
One doesn't have to be Japanese, Taoist, or Buddhist to enjoy an indoor plant garden with Japanese plants. However, when it comes to growing indoor Japanese plants, the essence of capturing cultivation and caring for any indoor plant is done through a minimalistic approach. A great example of how Japanese indoor plants differ from their western counterparts is through a "less is more" approach. 
Minimalism In Japanese Indoor Plants
In Japan, an indoor plant's size is much smaller than that found in the homes of westerners. I had to admit it, but I am guilty of having large indoor plants, and at one time, the bigger, the better. The amount of indoor plants in the homes of westerners are not typically found in the home of a Japanese indoor gardener. For there, the plants are small (dwarfs) and are sparsely arranged in such a way that it touches the soul. 
The bonsai tree is a perfect example of this gardening philosophy. It's small and compact, simple, meticulously groomed, and has a very organic appeal. More importantly, the bonsai exudes life that flows outward.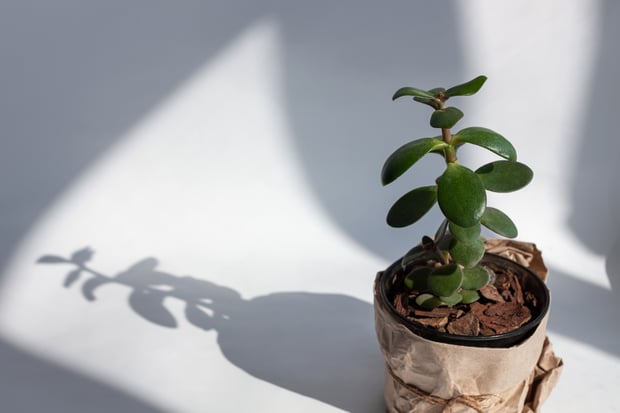 I discovered that by introducing the Japanese style of indoor plants into my home, there was an element of mindfulness that accompanied them. Each time I pass by my beautiful Japanese Red Maple bonsai, I am amazed at the beauty and peaceful presence such a small plant provides to me and my home.
What Houseplants Are Popular In Japan?
Indoor Japanese plants include many of the same species commonly grown in other homes around the world. It's not unusual to find spider plants, snake plants, dieffenbachia, and other common houseplants in Japanese homes. 
There are, however, indoor plants with Japanese origins that are very popular among the indoor gardening community in Japan. These plants may include numerous ones that we would not ordinarily grow in our own homes.
'Leslie' Japanese Birdsnest Fern 
Japanese Bird's Nest (Asplenium antiquum) is a lovely ruffled, wavy fern. Its name references a bird's nest-like appearance. 'Leslie' is a dwarf cultivar that is compact in size.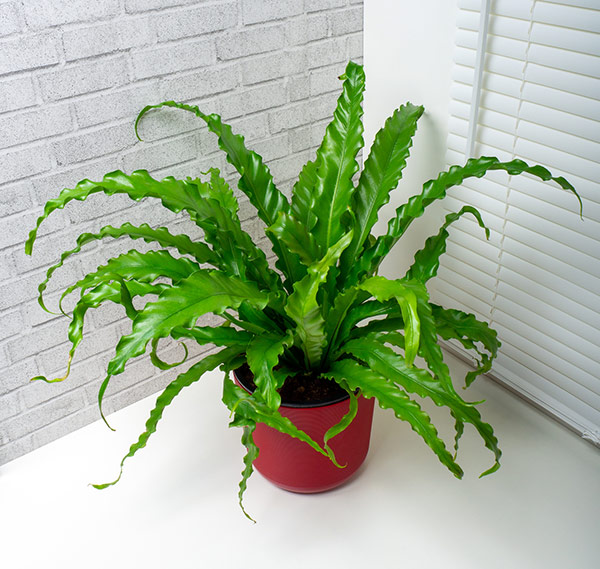 Aralia
For a larger indoor plant, the Fatsia japonica (Aralia) is more tree-like because of its size. The large leaves can be up to 8″ wide. This plant prefers cooler areas within the home.
Sprenger's Asparagus
This lovely, airy fern is a cultivar of Asparagus densiflorus ('Sprengeri'), and it's often planted as a hanging specimen. It's found on the balconies of apartments and patios where some shade is provided. 
Feng Shui Plants
Feng Shui has Chinese origins; however, it thrives within the Japanese culture. Numerous indoor plants are grown in Japanese homes that practice Feng Shui. These plants are selected, placed, and cultivated in specific ways, so a home achieves harmony and balance. Once achieved, peace and prosperity ascend upon the home.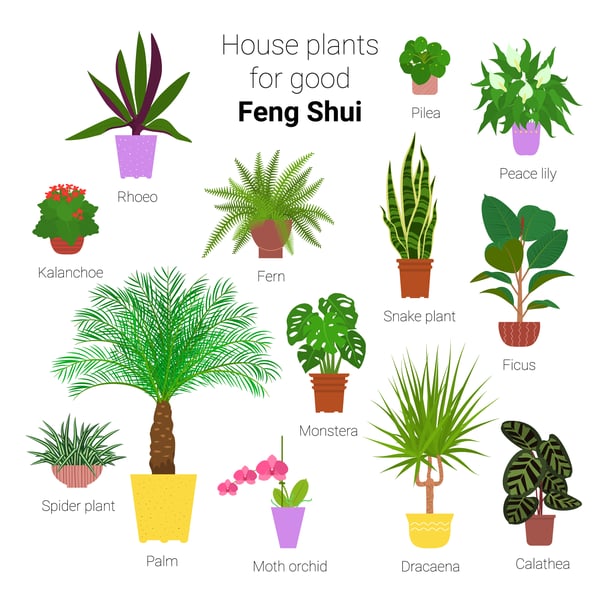 Indoor plants must fit within the five elements of Feng Shui; metal, wood, water, fire, and earth. "Qi" within spaces of a home are nourished by plants and flowers through the symbolic growth and development plants provide. The color green (plants) promotes a sense of tranquility to a space. A Feng Shui home uses plants to help soften sharp corners and angles impeding Qi flow, such as a stairwell. 
Some plants grown in Feng Shui homes include ferns, snake plants, peace lily, aloe vera, and money trees.
Money Tree 
The money tree plant (Crassula Ovata) is popular in Japan because it's thought to bring prosperity and wealth. Although this plant's origins are said to have begun in Asia, its native region is Central America. In Japan, the money tree is typically grown as a bonsai specimen.
What Are Some Unique Plants In Japan To Grow Indoors?
Many plants considered unique to Japan may require meticulous care. What lends to the uniqueness of some Japanese indoor plants is the painstaking patience and care that goes into cultivating them. Let's take a look at some gorgeous Japanese indoor plants that are not the "run of the mill" houseplant.
Bonsai
The ancient art of growing bonsai trees began thousands of years ago in China and found its way into Japan. The unique beauty of bonsai trees comes from a perpetual state of trimming the plant's foliage (and sometimes the roots.) Wire training is also used to guide the plant's growth into the desired shape. Is bonsai popular in Japan only? The practice of bonsai is something many gardeners enjoy all over the world.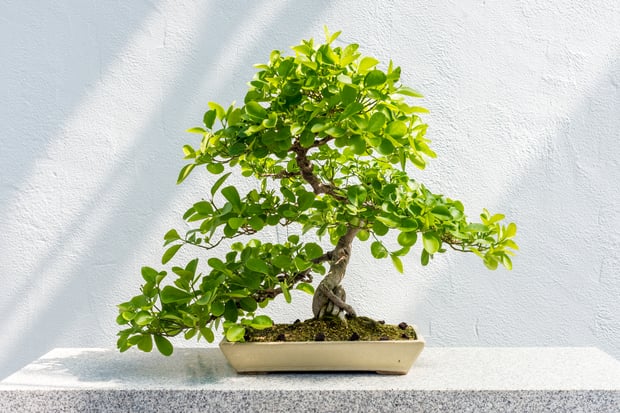 Kokedama Ball Plants
The Japanese have harnessed the ability to grow a plant within the confines of a small moss ball. Not only are Kokedama plants unique, they are living art forms that add a peaceful, beautiful presence in any home.
Bamboo
Bamboo is synonymous with Japan and China, and many Japanese homes have one of these indoor plants. Lucky Bamboo has a high ornamental value and is often trained to grow in twisted forms. Bamboo is symbolic of prosperity. It definitely offers a simplistic beauty as a statement plant.
Bringing The Outdoors Indoors 
I have some fascinating flowers which are grown outdoors in Japan; however, many indoor gardeners are bringing these beauties inside and cultivating them as a houseplant. The Toad Lily (Tricyrtis affinis) is a spotted-looking orchid-like flower. How about the boldness of a black grass for an indoor plant? Black Mondo Grass (Ophiopogon planiscapus) is certainly a plant that is a conversation piece.
Miniature Indoor Garden
I fell in love with a miniature plant garden that featured three small trees set within a park scene. I felt drawn into the tiny little garden. Japanese indoor gardens marry various textures such as rocks, wood, water, and Indoor Japanese garden plants (similar to Feng Shui) to create a scene. I have one of these little gardens on the horizon as a planned project. My roses (and caring for my indoor plants) have required a bit more care here of late, so hopefully, I can get started on a miniature garden soon.
Plant Culture With Intention
There are no words that can justly describe how passionate the Japanese are when it comes to caring for plants. Their respect, symbolism, and self-discipline inspire gardeners around the world to adopt similar practices in caring for living organisms. Plants serve as a mirror for their caretaker to see growth both in the plant and themselves.