There's nothing better than adding a fresh mint sprig to a cup of tea or as a garnish on that favorite salad. Having a fresh supply is as easy as growing mint plants right in your home.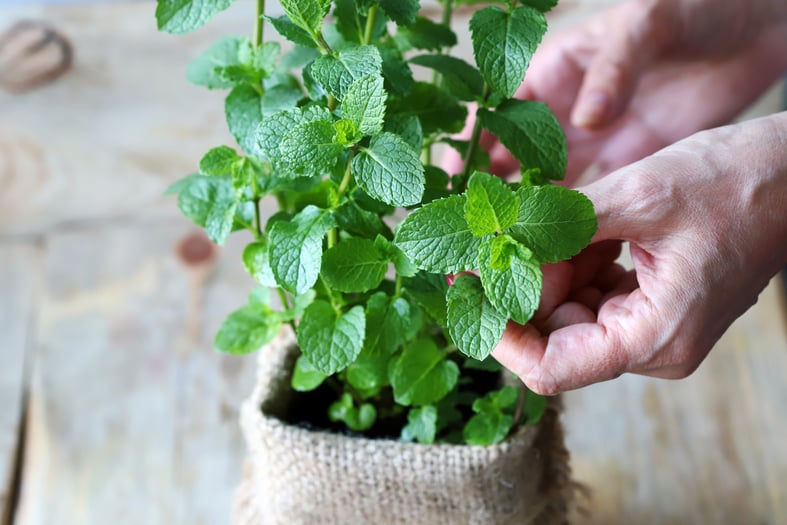 Disclosure: We may earn commissions for purchases made through links in this post.
Valuable Tips To Know About Growing Mint
When shopping at my local garden center, I happened to find a small potted mint plant that was calling my name. I knew nothing about this plant. In hindsight, I wished I had done my research because if I did, that little fella would be alive today. 
Before acquiring mint, it helps to know more about the specific plant. 
Tip #1: Become Familiar With The Different Kinds Of Mint
It helps to know ahead of time what mint plant I want to grow. Then I try to learn as much as I can about that specific species. There's an overwhelming number of Mentha (mint) species, and subspecies. Online plant profiles of a specific species lists exactly what the plant needs to thrive. 
Tip #2: Give A Mint Plant Plenty Of Sun
Mint needs 6 hours of direct sun. Without ample sun, a mint plant tends to develop leggy runners that are unattractive and somewhat bare looking.
Tip #3: Get Creative With Different Mediums To Grow Mint In
Mint can be grown in soil or water. Its shallow root system does fine in a jar of water on a window sill or in a container of soil. 
Tip #4: Use Soil Covers To Deter Runners
To keep runners at a minimum, it helps to use a soil cover to keep the rhizomes from becoming established. 
Tip #5: Harvest At The Right Time
Mint leaves should be harvested at the right time and at the right stage of the plant's life.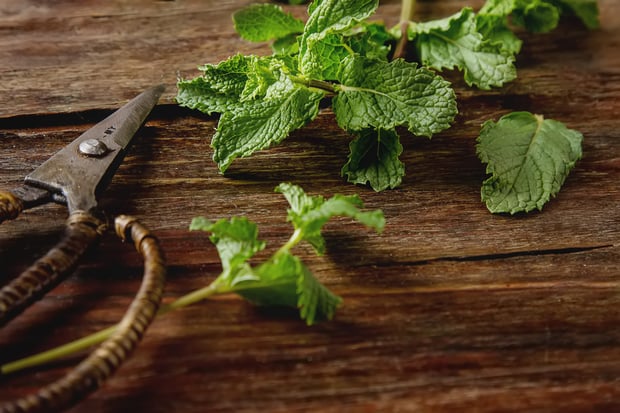 What Is Mint?
"Mint" is a term used loosely when talking about a plant species belonging to the Lamiaceae family or Mentha genus. Other herbaceous plants most are familiar with that belong to the same family as mint include rosemary, sage, basil, catnip, and thyme. 
"Mint" may refer to any Mentha or one of the numerous genera' that happens to have "mint" in its name. This is why it's very important to know what's what, especially in the gardening community. 
Varieties Of Mint
There are two main species of mint that are cultivated and used worldwide. These two mints include peppermint and spearmint. I have included a few cultivars of each that are lovely to grow indoors. Cultivars offer distinctive tastes, fragrances, and physical attributes.
Mentha piperita (peppermint) 

'Chocolate Mint'
'Candy Mint'
'Citrata Mint"
Mentha spicata (spearmint)

'Moroccan Mint' (also known as nana mint)
'Strawberry Mint'
'Crispa Mint'
Peppermint Vs. Spearmint: Notable Differences
Peppermint is not the same as spearmint, although they belong to the same genus (Mentha.) Knowing what sets the two apart from one another is very important. Otherwise, indoor gardeners may find themselves with a mint plant that is a bit overpowering in a cup of tea or as an herb for cooking.
Peppermint (Mentha piperita)
Peppermint is a hybrid created from spearmint (Mentha spicata) and water mint (Mentha aquatica.) Essentially, spearmint is one of the parent plants of peppermint. The menthol content of peppermint is 40% making it much stronger tasting and smelling. I like to grow peppermint to use in making desserts that call for peppermint flavoring. 
As far as physical attributes, peppermint leaves and stems are uniformly green in color. The flowers are conical and purple-colored.
Spearmint (Mentha spicata)
Spearmint is a bit tamer in taste and fragrance than peppermint. The spearmint leaves impart a sweet, minty flavor and subtle fragrance, whereas peppermint tends to be overpowering. My spearmint is grown for tea since it's not overpowering. The menthol content of spearmint is a mere 0.5%.
Spearmint leaves are green with purple veining, and that same purple color shows up in its stems. Its flowers are conical but much lighter in color compared to peppermint.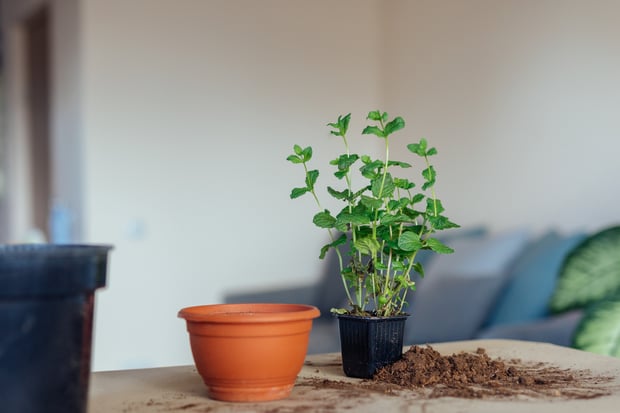 Where Did Mint Come From?
There's no data pinpointing the exact origin of Mentha (mint.) Evidence is indicative of its use in Egypt, Greece, and ancient Babylon (now southeast Iraq.) According to the National Library of Medicine, mint's origins are thought to be within the Mediterranean basin.
Records of mint "Mentha" date as far back as 1550 BC. Ebers Papyrus (an Egyptian) mentions the use of mint for digestive issues in the world's oldest text bearing medical records. Papyrus' recordings are evident on the walls of an Egyptian temple (Edfu.) 
Dr. Pedanius Dioscorides, a physician and herbalist attempted to classify mint; however, his attempts were futile for centuries later, another botanist (Carl Linnaeus) officially identified Mentha.
Peppermint (Mentha piperita) was developed by John Ray (an English botanist) in 1696. This herb's origin is said to have been in a garden in Bedfordshire, England. 
Spearmint (Mentha spicata) is noted in The Economic Botany Journal as being native to some of Turkey and the Balkan Peninsula. It has since naturalized through introductions to Europe and North America. In Greece, spearmint grows wild.
Uses Of Mint
The National Center for Complementary and Integrative Health notes peppermint as one of the most common go-to treatments in traditional medicine for relieving digestive and gastrointestinal ailments such as irritable bowel syndrome and upset stomach. 
This herb is made into tea to help with inflammatory conditions and headaches. I harvest some of my peppermint leaves to make a tea that helps when I have a full-blown cold and can't breathe from sinus congestion. 
Many indoor gardeners, such as myself, also grow peppermint indoors as a repellent for mosquitoes!
Is Mint Easy To Grow Indoors?
Mint is relatively easy to cultivate outdoors, and in some places, it is considered invasive due to its aggressive growth habit. However, does mint grow well indoors? As with any other plant, to be successful in getting it to grow indoors depends on whether or not its needs are met. 
How Do You Keep Mint Alive Indoors?
Mint will only thrive if it's getting the proper nutrients from the sun, water, and soil. When one of these plants begins to look scraggly, I go through a mental checklist to ensure I am giving it everything it needs. Avoid overwatering, underwatering, too much or too little sun, and closely monitor it for root rot or other pests or diseases.
Can I Grow Mint Indoors All Year?
Mint continues to grow year-round indoors. I am careful to harvest my mint under the right conditions. There's always a fresh supply of mint in my house, whether it's summer or winter!
A Quick Overview Of Mint
How long does a mint plant live indoors? I have outlined the lifespan and requirements of a mint plant. Here's a snapshot of what to expect.
Lifespan: up to 4-5 years indoors
Sun: direct sun (6 hours)
Soil: well-draining, loamy, clay, organic
Water: medium
Maintenance/Care: moderate
Growth Rate: fast
Height: 1-3 feet (30-91 cm)
Spread: 1-2 feet (30-81 cm)
Temperature: 70-80 degrees (F) (21-26 degrees C)
Hardiness: zones 5-9
Bloom: July to August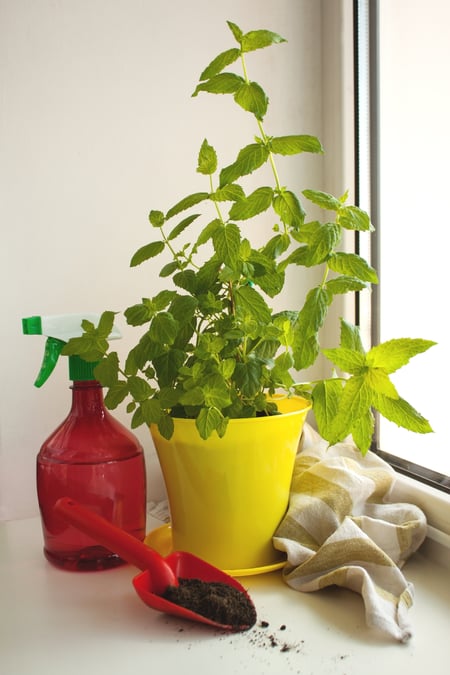 How To Grow Mint Plant Indoors
I have a few pointers on the best way to grow mint indoors. 
Caring For Indoor Mint Plants
One of the most important essentials in indoor gardening is my indoor garden tool kit. I have everything I need to maintain and care for my mint plants.
Container Size
Mint should be planted in a container about 12″ wide and is well-draining. Because mint likes to have wet (not overwet) soil, I avoid using terra cotta containers because of their ability to absorb water intended for the plant. Ceramic or plastic containers are best.
Click here to see some terra cotta containers options on Amazon
Light
How much sun does a mint plant need? I give my mint plants 6 hours of sun in front of a bright window. They can tolerate indirect sun, providing they have a full 6 hours of direct sun. For indoor gardeners that don't have a bright sunny window, there are grow lights that supplement the sunlight. For every hour of sun, supplement with 2 hours of light from a grow light.
Environment
Mint is a bit persnickety when it comes to being placed in areas of the house that are too cool or too warm. Ideally, putting them in a room where temperatures are 70-80 degrees (F) (21-26 C.)
Soil
A good-quality organic potting mix should do just fine. Mint prefers a certain pH, so it's important to keep an eye on the alkalinity. A good pH range is 6-7.5. To keep runners from becoming established in the soil, I use a soil cover.
Water
Mint plants should have moist soil at all times. Be careful though not to overwater, especially in the winter. I typically water mine about 2-3 times a week. I rely on a 3-in-1 soil meter that tells me when I need to water. This prevents any watering issues.
Harvesting
Harvesting mint (or pruning) is a must to prevent runners from taking off. Mint is notorious for its rapid ground cover capability and won't hesitate to mimic this growth habit indoors..
How To Grow Mint From Seed Indoors
Propagating mint indoors poses a challenge. Propagation is dependent upon sourcing vegetative roots or shoots to plant. The commercial mint industry cultivates mint plants propagated from vegetative sources and forgoes investing time trying to mess with seeds. 
My preferred method to getting new mint plants going indoors is to acquire a cutting from my neighbor, who has it growing outdoors. A 6-8 inch root cutting can easily be planted in soil (horizontally) or in a jar full of water. 
For those die-hard gardeners who want to try their hand at seeds, there are numerous seed retailers who sell peppermint and spearmint seeds. Just how successful those seeds will be is a hit-and-miss type of situation.
How to Harvest Mint
I learned that being overzealous in harvesting my mint can kill a plant. So, I harvest according to outdoor harvesting guidelines even though they are indoor plants. A mint plant is optimal for harvesting when it blooms and during the morning hours. Ideally, a 2-3-year-old mint plant yields the best-tasting leaves. 
To harvest, simply make a cut to the stem just above the leaves. 
Mint Is Meant To Be Enjoyed!
Indoor mint plants are easy to grow. I learned that having a bit of patience in allowing them to fully mature before harvesting provided the best tasting mint. There's nothing better than enjoying a cup of iced tea with a few sprigs of my mint!