If you are like me, I just love having a bit of the outdoors inside, especially during winter. My indoor roses are a joy to care for! I also have patio container plants that I bring in once temperatures begin to dip dangerously low. Whether you have houseplants, an indoor garden with microgreens, herbs, or seasonal plant houseguests, I have the perfect indoor gardening tools for you!
There's a lot of advice out there about things you should and shouldn't have, but I am here to tell you, less is more with a few tweaks. So, let's dive in and see what those must-have indoor garden tools and items are that will help you have a green thumb indoors.
Indoor Gardening Tools 101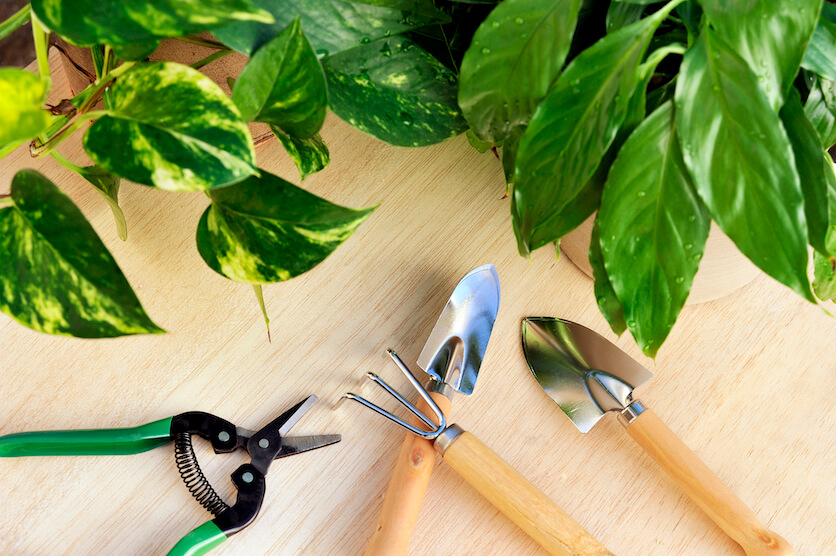 Disclosure: as an Amazon Associate we may earn from qualifying purchases. Learn more.
Indoor plants are more than decorative elements. They require the same care and attention that outdoor gardens receive. When it comes to purchasing indoor gardening tools, you won't spend as much on them because indoor plants require fewer tools. Succulent gardening tools are ideal for indoor plant care.
So, what exactly will you need to do to maintain your indoor plants? Well, if you think about what the basics are that indoor plants require to thrive, you can gauge what tool fits the task. 
The basic needs of an indoor plant are:
Water
Access to sunlight
The right size and type of container 
The right soil conditions 
Routine preventive maintenance
First aid if disease or pests strike
The right environmental conditions
Watering 
Believe it or not, the type of watering you use makes a world of difference in ease of watering and to prevent overwatering. The traditional watering can that has a showering spout tends to disguise the amount of water you are actually giving to your plant. Showering or sprinkling type water cans tricks us into thinking that there is less water coming out, so we add more than we should.
The very tool you use for watering is important. A watering can with a long angled neck, and small open spout is best. Something super convenient I love using is the plastic squeeze water bottle (can) designed for succulents. I often use mine when watering my smaller indoor roses.
Trimming 
How many times have you reached for a pair of household scissors to trim away dead parts of your plants? Once done, most of us put them back into the drawer. Guess what? Those scissors used over and over on your plants harbor and transfer disease from plant to plant. Dull blades also damage your plant. 
The best tool to have for proper plant trimming is a pair of sharp garden shears. Indoor garden shears are typically smaller than their outdoor counterparts. Now comes a bit of advice that is a must with your garden shears. After each use, they should be thoroughly washed with soap and warm water and then dried before putting away or using another plant.
Cleaning Dead And Decaying Plant Matter
A small forked garden tool(typically part of a succulent or fairy gardening kit) is essential to help clean out dead foliage trapped among the lower base of the plant and also helps to rake out any debris laying on top of the soil. 
Maintaining Good Soil
Now, I have something too good to pass up as far as a tool for keeping your soil conditions at the right levels. A 3-in-1 soil tester measures the pH, amount of moisture in the soil, and whether or not your plant is getting enough sunlight. It's as easy as sticking this tool into the soil and reading the result on the meter display.
Indoor Gardening Toolkit Storage and Organization
Keeping your gardening tools organized in a storage container helps you to be much more efficient in routine plant maintenance. There's nothing more frustrating than having to hunt down tools stored in various places. 
For a storage tool to keep your garden tools readily available, there are a few options. A clear shoebox storage bin with a snap-on lid is inexpensive. A gardening bag offers attractive styles, fabric patterns, and sizes. Carrying one of these bags around the house makes it easy!
Maintaining Temperature
If you happen to have a plant that requires a particular temperature, a digital hygrometer thermometer takes the guesswork out of whether or not a room in the house is too cold or too hot. It also tells you how humid or dry the air is. 
Maintaining Light
Sometimes during winter, access to sunlight through windows just isn't enough. I would love to have a garden room with a glass ceiling and walls to harness the sun for my plants; however, most of us don't have a space in our home such as this. 
This is when you have to pull another tool out of your gardening armor! Supplemental lighting helps to give your plants a boost in light that's essential for their growth and overall health. A full spectrum LED grow light provides the right amount of exposure to light.
Protecting Your Hands
Those of us who are privileged to have an array of indoor plants find that after doing routine maintenance, our hands take a beating. A very simple tool to have in your indoor gardening toolset is a pair of gardening gloves. 
Tool Maintenance 
Whether you use shears, a hand rake, spade, or any other object in your arsenal that comes into contact with a plant, it's vital that you keep them free from contamination. Disease is spread between plants with dirty tools. Dish soap and warm water does the job and ends up being yet another great tool to have.
Can I Use My Outdoor Yard Tools As My Indoor Gardening Set?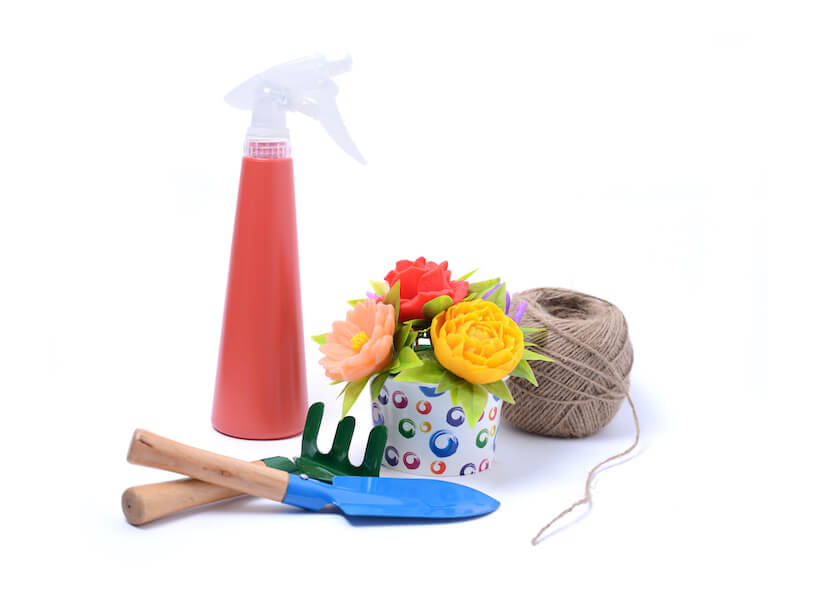 Indoor gardening tools are generally smaller and more compact than outdoor tools. Our plants indoors are not as vast in size in area coverage as the outdoors. A perfect example is a rake. We use a long, wide rake for the ground outside, whereas indoors, we use a small hand rake because there is far less soil area that requires cleaning.
What Tools Do I Need For Houseplants?
Basically, we have covered several good tools to have for your indoor gardening. To summarize, here are my suggestions to make your gardening indoors easy and successful.
Succulent squeeze watering can/bottle
Sharp garden shears
Small hand rake
Soil tester
Tool storage bag
Hygrometer
Grow light
Gloves
Soap and water
Cleaning Your Indoor Garden Tools
Lastly, we want to be sure that we give as much love to our gardening tools as we do our plants. As we noted earlier, cross-contamination of plant disease easily occurs when using dirty tools. When using your gardening shears to trim even the tiniest part of a plant and putting them back without cleaning them is risky because all it takes is that slim chance of spreading disease from one plant to another.
If taking the time out to wash your tools with soap and water is too time-consuming, a convenient and fast way to clean your tools is with alcohol or disinfecting wipes. Train your brain to use a wipe on your tool after every single use. 
So, there it is, everything you need to know about maintaining your plants indoors! Keep in mind that tools don't take care of themselves, so maintaining them and keeping them clean and free from the disease will not only prolong the life of your tools but protect your plants.