Quietly growing on darkly shaded forest floors is a potent plant whose treasures hide down in the soil. These treasures bring the fortune that many seek to acquire. Greedy seekers end up crossing the law and further endangering the plant species.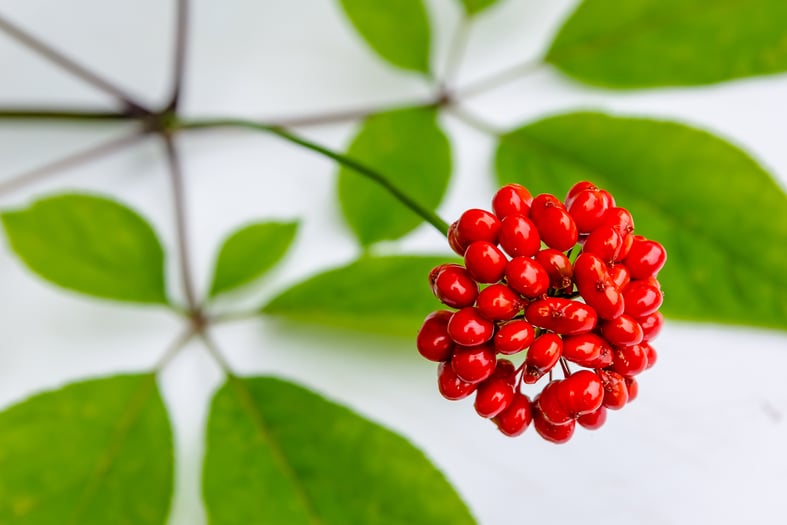 Valuable Tips For Knowing & Growing Ginseng
Tip #1: Know The Different Varieties Of Ginseng
When sourcing rootlets, seedlings, or seeds from retailers or hobby gardeners, be sure to ask what species it is. If it's not one of the species we've listed further below, odds are it's not ginseng. 
Tip #2: Read Up On Your State's Ginseng Laws And Regulations
Pass on the temptation to dig up plant starters from wild ginseng. Digging up wild ginseng in some U.S. states can cost a person dearly in fines or time in jail! 
Tip #3: Be Prepared To Exercise Diligent Patience
Ginseng germinates and grows at a snail's pace, which helps to know ahead of time. Expecting too much too soon can be disappointing. 
Tip #4: Indoor Ginseng Plants Prefer The Cold
Indoor ginseng plants don't do well in warm houses. Ginseng requires a rather chilly environment.
Tip #5: To Harvest Or Not To Harvest
The moment the roots are harvested, the ginseng plant is done. However, unharvested ginsengs live for a very long time. 
Varieties Of Ginseng
Ginseng is an herbaceous plant that is cultivated and harvested for its roots. Ginseng root is highly prized for its medicinal properties. It is especially popular in Asia and even considered the most precious herb.
There are six officially recorded species of ginseng according to the Integrated Taxonomic Information System. Five species fall under the Panax genus. One species falls under the Eleutherococcus genus.
Genus Panax
Panax pseudoginseng (known as simply "ginseng," Nepal, or Himalayan ginseng)
Panax ginseng (known as Chinese, Korean, Red or Asian ginseng)
Panax trifolius (Dwarf ginseng)
Panax japonicus (Japanese ginseng)
Panax quinquefolius (American ginseng)
Genus Eleutherococcus
Eleutherococcus maxim (Siberian ginseng)
Cultivating Ginseng Indoors
When I started my first ginseng container plants, I had no idea where to start, when to plant, or what the care of one entailed. I found that growing ginseng indoors proved to be challenging because I had to maintain an environment as close to their native habitat as possible.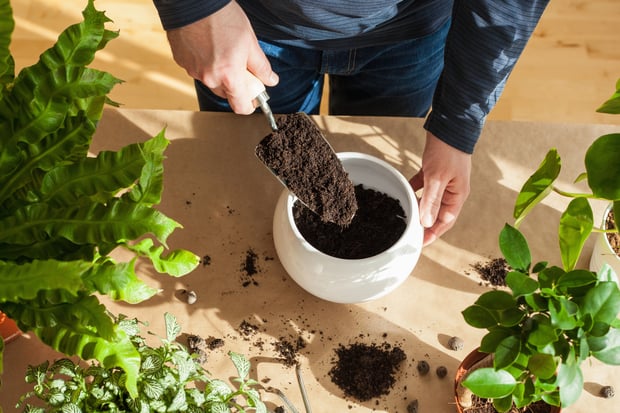 Oh, and by the way, when I bring a new plant indoors, I have a great stash of upcycled plant containers and planters to use. My ginseng plant found a home in a beautiful vintage mint green hospital enamelware bowl. 
Is there a ginseng season for harvesting? When forest-farming or commercially cultivating ginseng, the harvest season is usually September – October. Indoor ginseng plants will more or less be on their own timeline without regard to specific seasons because they are out of their preferred environment. 
So, how long does ginseng take to grow indoors? It took mine about 5 years, and that was from seeds. Planting rootlets (from a ginseng grower) is the quickest way to go.
Can I Grow Ginseng Indoors Year-Round?
Any indoor plant typically becomes a year-round grower. If ginseng were planted outdoors, it would grow according to seasons where it thrives during the spring, summer, and fall and goes dormant in the winter.
A Quick Overview Of Ginseng
Lifespan: up to 50 years
Sun: shade
Soil: well-draining, moist
Water: medium
Maintenance/Care: low
Growth Rate: slow
Height: 12-24" (31-61 cm)
Temperature: 50 degrees (F) (10 degrees C)
Hardiness: zones 4-8
Bloom: June – July
Harvesting: Early fall
Caring For Indoor Ginseng Plants
Aside from the fact that ginseng needs to be placed in a cold area indoors, caring for one is fairly straightforward. Routine watering and monitoring it for potential pests are about the only things I had to do for mine. 
Pests such as spider mites are very common with indoor plants. Once one hitches a ride from the outdoors in and they take off. Quick action is a must, or the entire indoor plant community becomes infested.
When caring for indoor plants, having the right gardening tools are essential. To prevent cross-contamination of plant disease and pests, I always wash my tools in warm soapy water and dry them with a paper towel before proceeding to the next plant. 
Growing Ginseng Indoors From Seed
The best way to grow ginseng from seeds is to purchase stratified seeds. It's much easier and less time-consuming than DIY stratification. Beware that these seeds don't come cheap. It also helps to know ahead of time that the death rate of seedlings and young plants propagated from seed do not all survive.
Fall is usually the time to plant ginseng seeds. Germination can take as long as a year. Prepare a seed tray with a good potting mix. Place a few seeds into the potting mix and cover. Water thoroughly to moisten (not flood) the seeds. 
Place the seed tray in an area of the house where it's about 50 degrees (F.) I don't keep my house that cool, whether it's summer or winter, so I put my seed tray out in an enclosed sun porch in an area away from the sun. 
Continue to water as needed, and be prepared to do a lot of waiting! Seedlings should have 2-3 leaves before transplanting outdoors or in a container. So, how long does it take to grow ginseng indoors? I hate to admit it; this plant grows extremely slow, so a lot of patience is needed. Mine took at least 5 years to start looking like it was finally maturing, and by the eighth year, it was well on its way.
How to Harvest Ginseng
After waiting years for my little ginseng plant to "grow up," I was ready to harvest the roots. I almost felt like I was culling my pet chicken because it was difficult to say goodbye to my plant. Knowing that its roots would provide cups of much-needed tea made the process a bit easier.
In true fashion to ginseng's harvesting season, I harvested mine at the end of September. I gently pulled on the plant and loosened the soil around the roots. Next, the plant and roots had to be separated. I then gave the roots a nice cool water bath for cleaning.
I placed the harvested roots on a drying rack in my kitchen pantry closet, where it stayed for several weeks until it turned white. 
Being able to harvest "the fruits of my labor" (instead of fruit, its plants) is intensely rewarding. Whether I grow and harvest parsley, rose petals, or any other edible plants (including ginseng,) I always take the time to ensure my lifestyle and gardening habits are planet-friendly.
Where Did Ginseng Come From?
The ginseng plant comes from the Panax genus, which means "cure-all" in Greek. I never realized until it was pointed out that many ginseng roots look like a human body. It is complete with a head, arms, torso, and legs.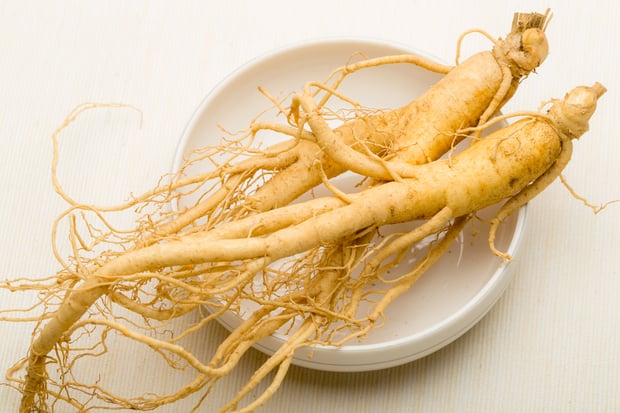 Asian Ginseng
The Journal of Korean Medical Science has an interesting article that mentions the symbolic association with ginseng. It's believed that ginseng is the patriarch of all herbs and embodies the mind, body, and spirit (hence the body shape.) 
The Journal of Advanced Research mentions China as the official origin of the use of ginseng thousands of years ago. Emperor Yan was said to be the founder of China's medicinal use of herbs around 5,500 years ago (around 3,500 BC.) He was somewhat of a test subject using himself to taste, observe, and record plants he deemed medicinally beneficial. 
Cultivation through transplantation of wild ginseng is said to have started even further back as far as 11 BC in Korea (as noted in the Journal of Korean Medical Science.) In 1122 AD, the propagation of ginseng through seeds is reported to have occurred in Korea as well. 
American Ginseng
American ginseng is synonymous with the Appalachian region of the U.S. Ginseng is a precious commodity for those who scour the forest floors in the upper northwestern regions. A mere pound of ginseng fetches a whopping $600 (USD.) Daniel Boone (a famous frontiersman) relied on ginseng to provide an income and often used it in trading during the colonial era.
Today, wild American ginseng is heavily regulated in the U.S. and even illegal to harvest in some states. To harvest ginseng plants, many of the 18 states have laws and regulations requiring a ginseng plant to be at least 10 years old and have a minimum of four leaves. Harvesting is prohibited on state-owned lands such as state parks or forests.
Once ginseng's roots are dug up, the plant is no more, which puts it right up there with other endangered flora and fauna. The Convention on International Trade in Endangered Species (CITES) lists ginseng as a protected plant genus.
Uses Of Ginseng
Ginseng has been a vital component of traditional medicine for thousands of years. Westernized medicine is beginning to recognize the medicinal benefit ginseng provides. This herb comes in many forms that include powder, supplements, dried, or fresh. Teas are often made with ginseng to help with certain ailments.
Although the roots of ginseng are typically harvested, many often wonder what becomes of the vibrant colored berries on the plant part. So, can you eat ginseng berries? Ginseng berries are highly edible and carry their own weight in benefits, according to the EXCLI Journal.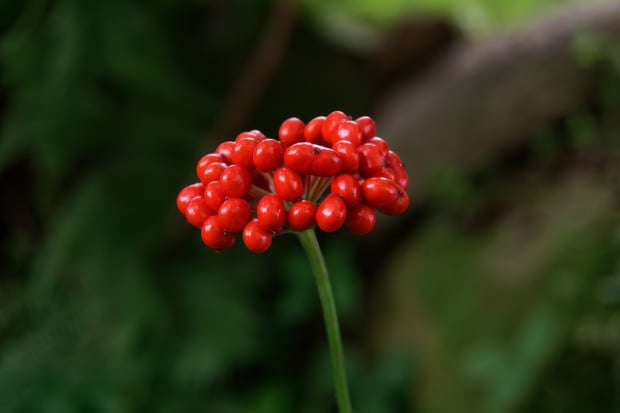 A Cup Of Tea Is Only A Root Away
I dearly love indoor gardening and came to cherish my ginseng I nurtured indoors. The harvested roots are the evidence of my hard work and the plant's sacrifice.