The fresh, robust taste of cilantro isn't for everyone. While most people love the tangy flavor, others claim it tastes like soap! But whether you love it or hate it, it is an attractive, fast-growing herb that is great for garnishes, and in the right conditions, it does well indoors.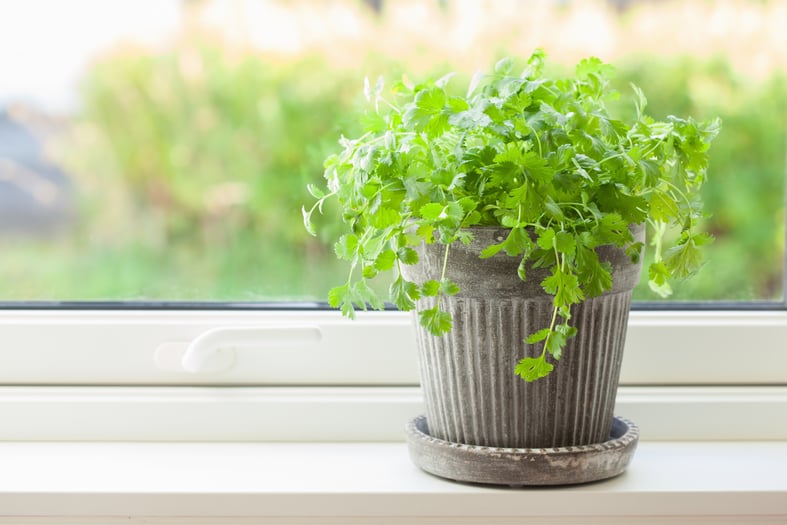 Cilantro grows well in deep, fast-draining soil that receives plenty of moisture. When grown indoors, it tolerates bright, indirect light. The herb bolts easily, so conditions should remain as consistent as possible to extend the leafy phase of the plant. Leaves can be harvested from around 4 weeks.
Because it grows so quickly, you will be able to harvest in just a few weeks – the only downside is that plants don't last very long. But if you know what to do and keep restarting seeds, you can have a constant supply of this citrusy, tangy herb at your fingertips, thriving in your kitchen.
Cilantro And Coriander – What's The Difference?
Before we move on, we must clear up a point that confuses many people. Cilantro and coriander are different parts of the same plant! So while you will start off with leafy green cilantro plants, they will eventually sprout long, stalky stems topped with flowers that become the seeds that we know as coriander.
Fresh cilantro is the green parsley-looking leaves of the plant that delivers the distinctive strong, fresh taste to dishes. Coriander is the aromatic seed produced on tall stems when the plant is in its final stage.
How To Grow Cilantro Indoors – 8 Easy Steps
Growing cilantro isn't difficult, but it has a few quirks you must be aware of to keep it in the green leafy stage for as long as possible.
Let's go through what you will need to get your cilantro thriving among your kitchen herb collection.
Seeds – If you don't already have seeds, ask among your gardening friends. Cilantro is a heavy seed producer, and once you have a few plants, you are sure always to have coriander seed – unless you use them all while cooking! If you don't, cilantro seed is available inexpensively, and if you work carefully, one packet will yield a lifetime supply.
An indoor plant pot that is at least 12 inches deep and 18 inches wide. The container must have plenty of drainage holes. If you have a bust schedule and can't keep checking the moisture content of the soil, cilantro is a herb that does well in a self-watering pot.
Fast draining potting mix –  Garden soil from outside is too heavy for cilantro so opt for a light, quality potting mix.
Although any liquid fertilizer will do, since cilantro is an herb that I will be putting into my family's food, I always use an organic fertilizer. You only need to fertilize cilantro every few weeks. You can also use compost.
Step 1: Start With Seeds
Cilantro doesn't like being moved, so don't try to move established plants indoors from the outside garden. They will either die immediately or bolt. You can use seeds or small starter plants from a nursery.
I prefer to start with seeds; my girls love helping me gently split each seedpod into two halves before planting. This is not essential, but each pod contains two separate seeds. Splitting them also seems to make them germinate faster.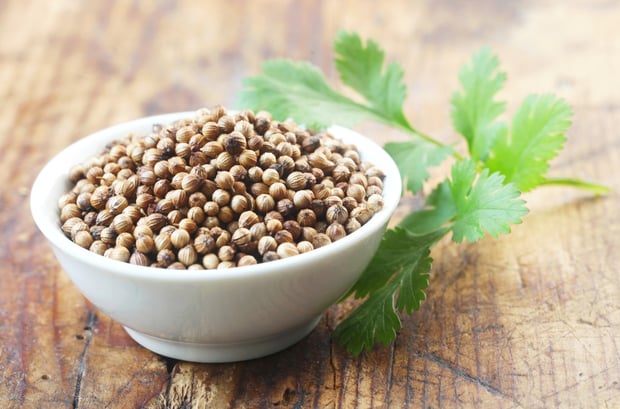 Step 2: Plant Seeds
Some people like to soak their seeds in water for a few hours before planting, but I don't usually do that. Plant the seeds 1/2-inch-deep and 2-3 inches apart. Don't worry if you feel like you're putting too many seeds into the ground – you can thin them out later.
Step 3: Keep The Soil Moist
Cilantro is one of the most satisfying plants to grow because it springs to life quickly.
I use a handy spray bottle to keep the top of the soil damp. Keep the surface moist but not waterlogged; you should see your cilantro sprouting in about 7 days.
Step 4: Thin Out The Cilantro Plants
If you planted too many seeds, wait for the plants to get a few green leaves before thinning them out.
Step 5: Regularly Pinch Off Leaves To Encourage New Growth
If left unchecked, cilantro has a tendency to develop long, spindly growth. You can encourage the plant to fill out and become bushier by pinching off the growing stems – all that means is that you occasionally gently snap off the top shoots near the very tip to encourage the plant to send up new shoots around the sides of the stem.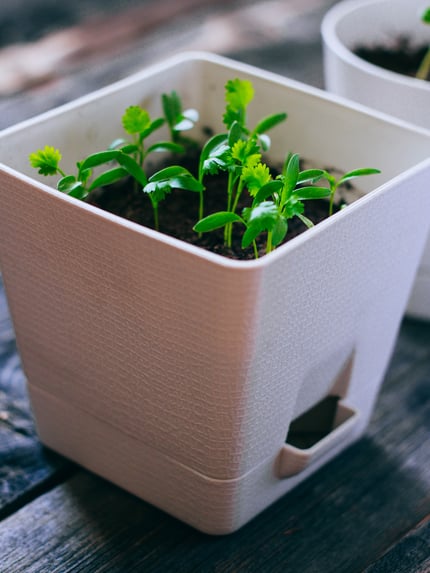 Step 6: Watch The Temperature
Although cilantro does well in direct sunlight, it often bolts prematurely if it gets too hot. Many indoor cilantro growers have been able to extend the life of their plants by keeping them in a position where they get plenty of light but not a lot of direct sunlight.
During the cooler months, you can move your cilantro pot to a sunnier position as the sun will be less intense and the indoor temperature will be cooler.
Step 7: Harvest Regularly
The plant should be about 3 to 4 inches tall when you start harvesting. You can cut fresh leaves from the bottom of the plant, but avoid cutting off more than a third at a time.
Step 8: Save The Seeds
Despite your best efforts to keep cilantro green and bushy, it is a short live annual herb. Once flowers start developing, the remaining leaves get an uncharacteristic bitter taste. Coriander seeds will soon form that you can harvest to repeat the cycle.
Is Cilantro Hard To Grow Indoors?
Cilantro isn't particularly difficult to grow indoors, but it does tend to be a little more finicky than herbs like parsley or dill. It has a long tap root (like a carrot), so it is best to grow this herb from seed rather than trying to transplant it.
If you have a pot that is at least 12 inches deep, provide a quality fast-draining potting mix and give the seeds enough light and moisture, growing cilantro can be simple. The herb is also highly rewarding because it continues to provide ample coriander seeds that can be used as a seasoning in food or planted to form new cilantro plants.
What Is The Trick To Growing Cilantro?
There are two tricks to growing cilantro. The first is to avoid getting its leaves wet when watering the plant as it is prone to diseases like powdery mildew and bacterial leaf spot. Aim to only water the soil around the plant or use a self-watering globe to keep this herb happy.
The next tip when growing cilantro is to prevent the plant from bolting! Cilantro is an excitable plant that goes into panic survival mode the moment anything changes. Once that happens, it sprouts flowers, and the leafy herb part of the plant dies off.
Of course, your green cilantro plant does still go on to produce coriander seed, so even if you lose the race, you will still end up with a delicious addition to your herb rack. You will also have plenty more seeds to start a new batch of plants.
Growing cilantro indoors is one of the best ways to prevent it from bolting, as you will be able to control the setting and the temperature.
How Long Will Cilantro Grow Indoors?
Cilantro can be grown indoors year-round since there aren't any extremes in temperature. Just be sure to put it in a sunny position during winter, as the plant does need plenty of light.
Remember that cilantro is an annual, so you will need to keep planting seeds continuously to ensure a steady supply of the fresh herb.
Does Cilantro Need Full Sun?
When cilantro is grown outside in the garden, it can do well in places where it gets direct sun. However, if it is grown indoors, the plant will last longer if it is grown in bright, indirect light.
During the cooler winter months, you can let the plant enjoy a few hours of direct sunlight if you have a sunny windowsill, but anytime the temperature rises above 75F, it is likely to bolt. Once cilantro develops flowers, the flavor of the leaves becomes bitter tasting.
Does Cilantro Regrow After Cutting?
To get your cilantro plants to last as long as possible indoors, pinch off new leaves at the tips to encourage the plant to become fuller. Once the plant is 4 inches tall, you can start harvesting leaves from around the edges – just be sure not to overdo it. Each time you snip off a few stems, rotate the pot, so the plant gets light from a different side.
Cilantro is one of the best plants to use if you want to grow your own microgreens. Although you can keep recutting the tender shoots as they regenerate, the taste may change after the first few harvests.