A feisty competitor is showing up in indoor herb gardens. The fragrance is very familiar. It just may cause one to go looking for that favorite canned cukes.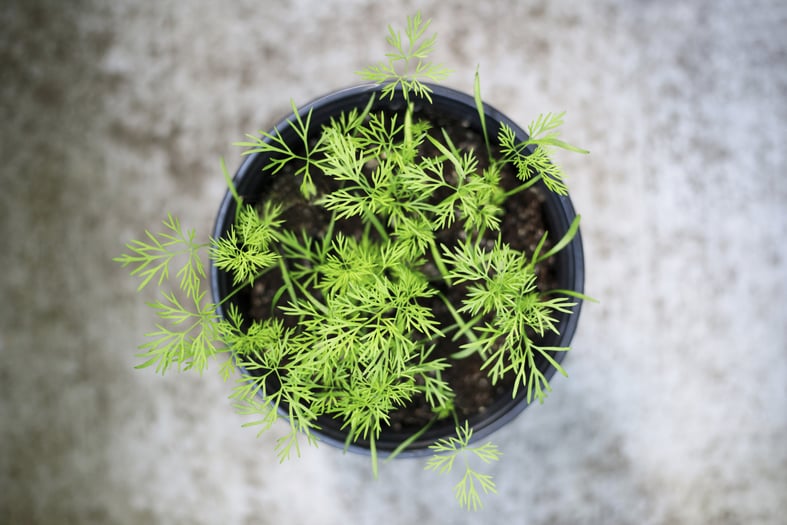 Considering Dill For Indoors
In gazing at my indoor herb gardening, I wanted to add something different. I have lavender, parsley, oregano, lemon verbena, and rosemary. I mulled it over a few days, and it hit me. My grandma always added freshly picked dill to her chicken salad (which was to die for!)
Why not grow some indoor dill? Before I put my plan into action, I had to do a bit of research on dill and find out how it does as an indoor plant.
What Is Dill?
Dill is synonymous with pickles as it is what gives pickles their mouth-watering flavor. However, dill is more than a mere seasoning for raw cucumbers. This potent quintessential herbaceous fern bears seeds and leaves that find their way into dishes in various global cultures. 
European Vs. Indian Dill
There are numerous references online claiming dill is one of two species; European dill (Anethum graveolens) or Indian dill (Anethum sowa.) The Integrated Taxonomic Information System does not recognize Anethum sowa (Indian dill) as a species. It is, however, a synonym used when referencing Anethum graveolens (dill) that is cultivated in India. 
Dill (Anethum graveolens) belongs to the genus Anethum which is Greek for "strong smelling." Anethum is part of the same family as fennel, parsley, carrot, and parsnip. Many gardeners grow dill to harvest its leaves and/or seeds for cooking and canning. Others may grow it to deter pests or to enjoy its lovely fragrance. 
Carvone is a compound in dill plants that emit its familiar fragrance and taste. Dill grown in India produces less carvone (20%) than dill grown in other parts of the world (30-45%.) This is where the references of European and Indian dill come into play as numerous studies mention the two. The same plant grown in different terroirs, conditions, and elevations have the capability of tasting and smelling different.
Varieties Of Dill Ideal For Indoors
Traditional dill plants are notorious for bolting. The last thing any indoor gardener needs or wants is an herb plant getting out of hand. I have a few dwarf cultivars that do well indoors. 
Dukat
Size: 12-24" (30-60 cm)
Light: Direct sun / 6 hours
Maturity: 60-70 days
Taste: Sweet, mellow
Fernleaf
Size: 12-18" (30-45 cm)
Light: Indirect / 6 hours
Maturity: 40-60 days
Taste: Mild, sweet
Where Did Dill Come From?
The Handbook Of Herbs And Spices mentions that the earliest record of Anethum graveolens (dill) was back in 700 BC. Around 1500 BC, references of Egyptians using it medicinally (for pain) were discovered. To keep a growling stomach in church quiet, Puritans chewed on dill kept between the pages of their bible.
Dill has a fascinating history. The Herb Society of America guidebook on dill reports the Mediterranean region as the origin for this herb. Its cultivation in Babylonian gardens dates way back to 3,000 BC. 
Dill was considered so valuable that England's Edward I taxed imported dill to help repair London Bridge. Dill was thought to ward off hexes, spells, and curses of witches during the Middle Ages. Dill is brought up in the Pharmacognosy Review as a means of inducing sleep for Greeks.
Throughout the years, dill has managed to find its way to countries worldwide where it has become naturalized, growing in the wild. It's common to see this herb growing along roads in the U.S. in hostile, dry conditions.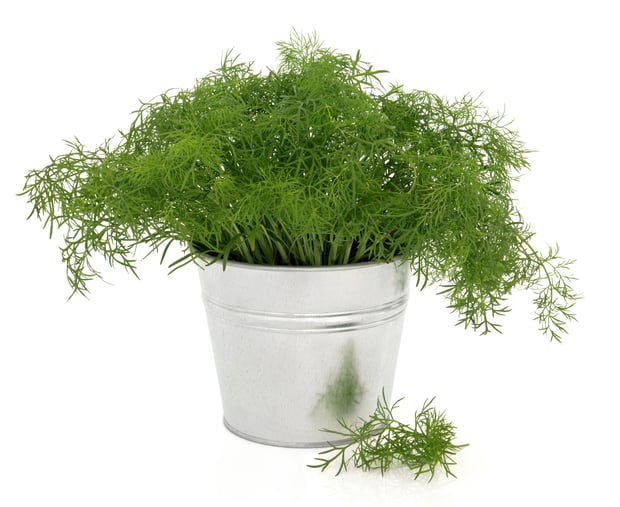 How Well Does Dill Grow Indoors?
So, is dill hard to grow indoors? Dill can thrive indoors, providing its requirements and needs are met. This includes a deep container, direct sun for 6 hours (or the use of artificial lighting,) proper watering, the right soil, and care. 
How Long Does Dill Take To Grow Indoors?
Dill maturity takes anywhere from roughly 35-70 days. The Dukat cultivar doesn't reach maturity until 40-70 days, whereas Fernleaf takes 40-60 days. 
Can You Grow Dill Indoors Year-Round?
Outdoors, a dill plant's lifespan is about two years. Indoors, dill may have a shorter lifespan, especially if the stems are harvested. Should a dill plant be allowed to flower for seed harvesting, the plant will be spent and begin to wilt and die.
Can You Transplant Dill From Outside To Inside?
Dill is extremely sensitive to transplanting. I tried numerous times to bring my outdoor dill indoors as cold weather approached, only to have my plants die. Likewise, transplanting seedlings from indoors to outdoors often proves unsuccessful.
Propagating dill indoors and transplanting it to a container (for indoor growing) is also risky. Not too many indoor gardeners have luck in doing this. It's better to sow the seed directly in the soil of the intended container. 
A Quick Overview Of Dill Plant Parameters
Dill plants have certain needs to grow and thrive. Knowing what these are makes it easier to grow your own dill indoors. Beware that dill is notorious for bolting. 
Lifespan: 2 years (outdoors,) (indoors the plant is spent once the seeds are harvested)
Sun: full sun, partial shade
Soil: well-draining, organic, pH 5.0-8.2
Water: moderate
Maintenance/Care: moderate
Growth Rate: fast
Height: 3-5 feet (91-152 cm)
Spread: 2-3 feet (81-91 cm)
Temperature: 42-79 degrees (F) (6-26 degrees C)
Bloom: yellow flowers (August – September)
Germination: 2 weeks
How To Grow Dill Indoors: Step-By-Step
Things Needed
As with any other indoor plant, I make sure that I have everything I will need before starting my indoor dill endeavor.
Seeds
I use dill seeds that I have harvested from previous dill plants. I avoid buying dill seedlings because I know they don't tolerate transplanting. 
A Deep Container
A regular dill plant grows tall and develops long roots. For one to thrive, it would need a well-draining container that's about 15-24" (38-60 cm) tall and about 12-15" (35-56 cm) wide. Dwarf cultivars are smaller, so a 12" (35 cm) wide, 12" tall (35 cm) container will suffice.
Organic Potting Soil
A light organic potting mix with a pH of 5.0-8.2 should be used. Fertilizer is not necessary for indoor dill plants.
Water
I use my 3-in-1 soil tester to gauge not only the moisture in my soil but also the pH. This device tells me when I need to water and prevents overwatering. Does dill like lots of water? Well, I will say that if the dill is allowed to dry out, it will bolt, so it's essential to keep it watered.
Indoor Gardening Tools
Every gardener (indoors or outdoors) should have the appropriate indoor gardening tools. I have everything I need to maintain and care for my indoor plants.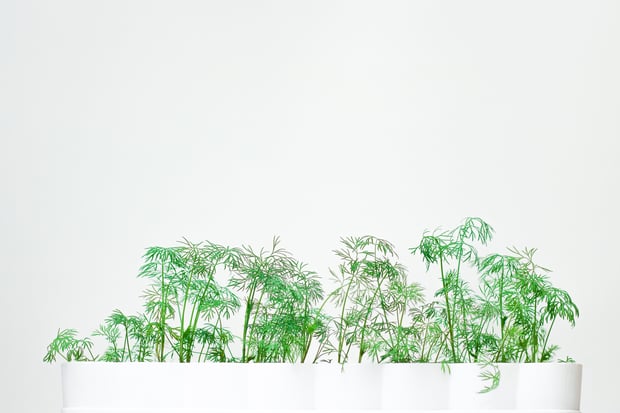 Planting Dill
Dill does best when planted indoors from October to March. 
Fill the container with the potting mix.
Push the seeds down into the potting mix about ¼" deep. Space the seeds out 3" (7 cm.)
Cover the seeds with soil.
Lightly mist the top of the soil daily until the seeds germinate (about 2 weeks.)
Once they germinate, be careful not to overwater or underwater.
Position the container of new seedlings in front of a bright window that gets 6 hours of direct sun. In the absence of sunlight, a grow light can be used (12 hours of light: 2 hours for every hour of sunlight.)
After 8 weeks, the dill should be ready to be harvested.
How To Grow Dill From Seed Indoors
Dill does not transplant well, so sowing seeds directly in the soil is best. I take the seeds I harvested and simply put them into potting soil in a deep container, and in a few weeks, they begin to peek up out of the soil.
Harvesting seed from my dill plant was a breeze! I knew that once I took those seeds, the plant would die; however, in thinking about it, the plant continues in rebirth as a new plant from its own seeds. Knowing this made the process a bit easier.
Indoor gardeners who don't have a dill plant to harvest seeds from can purchase seeds from a seed retailer or at the local garden center. 
I found out the hard way that a dill plant with flower buds releases (shatters) seeds to resow. I woke up one morning to find seeds all over my floor. By not harvesting seed, a dill plant is capable of reseeding itself. Although this is a great way to have new dill plants, the nearby indoor plants may also become seeded with dill. Not something I want!
Harvesting Seed From A Dill Plant
I don't sow all of the seeds I harvest because I like to use them in cooking. Harvested seeds stay viable for up to ten years. There are a few things to consider when harvesting seeds.
Harvest before the flower buds open.
Harvest in the early morning.

The moisture content is the highest compared to late morning, afternoon, and evening.
The taste is more intense.
Seeds are less prone to shatter.
To harvest seeds, I prefer the easier method of cutting the heads (flowers) off and placing them into a paper bag. All I have to do is wait a day or so before I give the bag a vigorous shake to release the seeds.
Dill Is A Big Deal!
I am so glad I planted dill indoors. During the cold winter months, as I brushed my indoor dill plant, I was taken back to my grandma's, where she and I sat eating chicken salad sandwiches. Dill is definitely a keeper to grow indoors.