Living in the Mediterranean means rosemary is a common plant in almost everyone's garden. This tough, woody herb thrives on its own in this sunny climate. Besides the delicious aromatic flavor that rosemary gives food, these evergreen perennial shrubs produce masses of pretty flowers that make it feel like summer all year round.
Rosemary needs plenty of sunlight and well-draining soil to grow indoors. Plants do not adapt well when brought inside from outdoors, so the transition needs to be gradual. Although rosemary tolerates a wide temperature range, it is temperamental about humidity, air circulation, and watering.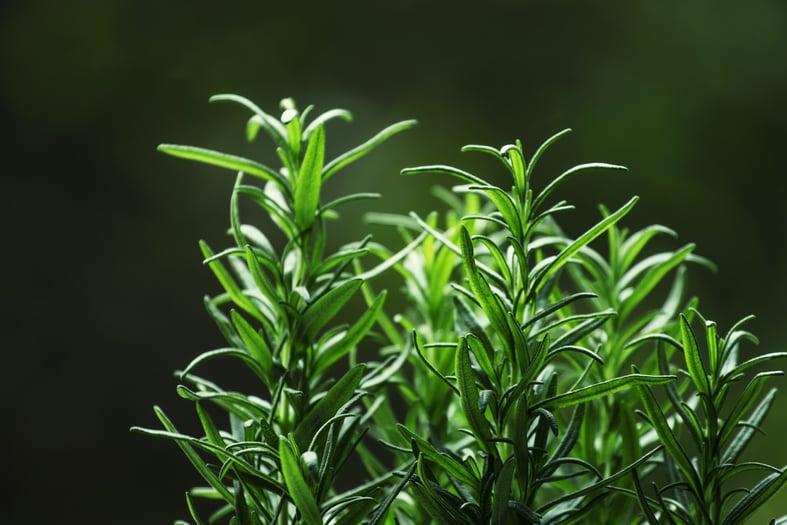 No outdoor garden in the Mediterranean would be complete without rosemary. However, move rosemary indoors, and this tough, no-fuss shrub suddenly becomes a diva of note! While it isn't impossible to grow indoors, it is one of the more difficult herbs to keep happy – let's go through what you need to keep in mind to grow rosemary indoors.
Best Tips To Grow Rosemary Indoors
Salvia Rosmarinus, commonly known as rosemary, is a hardy, fast-growing herb with needle-like foliage. It is popular for its culinary uses and delightful fragrance. It also adds a lovely carefree feel to sunny outdoor spaces where you want to attract butterflies and bees.
Naturally, you may want to bring this useful herb indoors and keep it close. However, this must be carefully planned as this outdoor toughie often experiences lockdown stress if it is suddenly moved indoors.
Five must-know tips things to grow rosemary indoors:
Light – Rosemary needs a lot of sunlight. If you don't have at least 6 hours of sunlight, you will need artificial LED grow lights to keep it healthy indoors. If you have sunlight coming from one specific side, like on a windowsill, it helps to rotate the pot regularly so that it gets sunlight from all sides.

Soil – Rosemary absolutely must be potted in fast-draining soil as it cannot tolerate having wet roots for a prolonged period. A sandy cactus blend works well, or mix some sand into your regular potting mix.

Humidity – Strangely, rosemary doesn't seem as concerned about the ambient temperature as it is about the inside humidity. So long as it gets enough light, it can tolerate temperatures as low as 50F. However, your indoor rosemary may decide to throw in the towel if the air gets too dry.

An excellent way to get around the humidity challenge is to place your rosemary plant on a pebble tray. Just make sure that the pot can still drain completely when you water, so the roots stay dry.  

Watering – These shrubs need to keep their feet dry. Indoor rosemary should only be watered when the soil feels dry.

Container – No matter what planter you use, ensure that it has plenty of drainage holes. When you water your indoor rosemary, excess water must be able to drain through.
 Terracotta planters work well for rosemary since they wick moisture well. The container should be at least 12 inches deep to accommodate the roots.
Does Rosemary Grow Well Indoors?
Rosemary can grow well indoors if you can mimic conditions outside in a sunny garden. Unlike parsley or cilantro, which will thrive indoors, rosemary is one herb you should keep outside if possible.
Even with limited space, if you only have a Juliet balcony, your rosemary will be easier to keep outdoors during the warmer months. Besides needing plenty of light, these Mediterranean herbs appreciate the airflow outdoors.
However, it's not all gloom and doom, and if you have the right conditions, your rosemary plant can successfully adjust to an indoor lifestyle. Once it gets used to being a doted-on indoor houseplant, you may have to trim and repot your indoor plant regularly to keep up with its growth!
Does Rosemary Need Direct Sunlight?
Rosemary plants need plenty of light – direct sunlight is the best, but you can also use LED grow lights if you don't get enough sunlight. The best place for your indoor rosemary plant is in a spot where it will receive bright light throughout the day.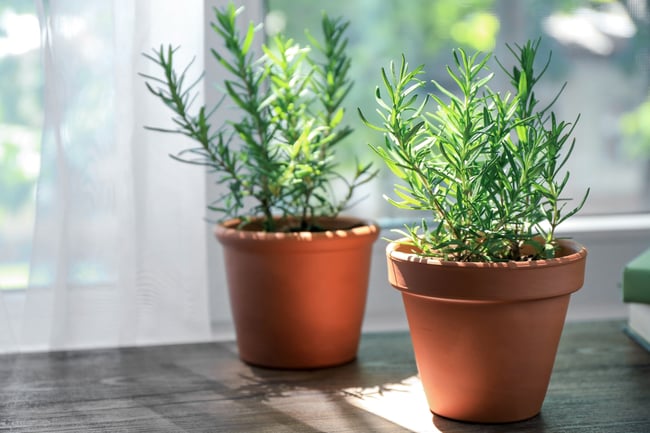 If you have moved your rosemary plant indoors, you must be careful to give it the same amount of sunlight it had when it was outside. If you can, move the potted rosemary indoors for a few hours each day to gradually get it used to getting less sunlight than when it was outside.
Why Is My Indoor Rosemary Turning Brown?
The most common reason for indoor rosemary turning brown is overwatering. The result is root rot or fungal disease, which is fatal for these woody plants.
To keep rosemary healthy indoors is a careful balancing act between correct watering and sufficient humidity. Of course, this is in addition to providing the right soil medium and enough sunlight.
As convenient as self-watering pots and self-watering globes may be for many of your other indoor plants, they are not suitable for rosemary. Soak the soil thoroughly each time you water the herb, then let it dry out completely before adding water again.
Should I Mist My Indoor Rosemary?
Surprisingly, misting your indoor rosemary is a great idea every fortnight or so as long as it receives enough sunlight so that it doesn't stand around with damp foliage. Rosemary is known as an upside-down plant because it is usually better to let the roots dry out occasionally and give the plant the benefit of extra humidity on the above-ground section. 
Also, add a fan or open a window to increase airflow around the plant to prevent powdery mildew from setting in. If you do spy any tell-tale white dust on your shrub, give it a spritz with neem oil spray before it gets a foothold.
Should You Trim Rosemary Plants?
Your indoor gardening tool kit will come in handy once you have persuaded your rosemary plant to grow indoors! They can get big and become gangly-looking very quickly, so regularly snipping off pieces will keep the size in check and encourage the plant to branch out to look fuller.
Trim off sprigs of rosemary to add to your favorite recipes or as garnishes on food. You can also hang bunches as pretty dry herb decorations.
Can You Grow Rosemary From A Cutting?
Growing rosemary from cuttings is hands-down the easiest way to increase your collection of this herb. Rosemary can be readily propagated with cuttings taken from an established plant.
Snip cuttings of about 4-6 inches off soft wood sections of your healthy rosemary plant during the active growing season – usually spring or early summer. Trim the bottom needles and pop the cuttings into water or directly into a moist potting medium.
After a few weeks, roots should have formed, and the new little plants can be transplanted into their permanent container or garden. Because it is a hardy shrub, rosemary does well even in rock gardens, and you can never have too much of this versatile herb!
Although I have heard of some gardeners painstakingly growing new plants from seeds, I haven't done it myself. I am far too impatient as it is painstakingly slow. The process must start at least 2 to 3 months in advance, and the germination rate is notoriously low.
Are Coffee Grounds Good For Rosemary Plants?
Since you want to add the herb to your recipes, using safe, natural fertilizers are a priority. Coffee grounds are an excellent natural fertilizer for rosemary plants. However, it should be used in extreme moderation because rosemary doesn't require much in the way of fertilizers, even if the plant is indoors.
Coffee grounds are an excellent, gentle source of nitrogen, so you can work some dry coffee grounds into the surface of the soil around your rosemary plant. Like roses, adding coffee grounds can have a beneficial effect, especially at the start of the growing season. Once you find the sweet spot in your home where your rosemary plant will thrive, you will love having a constant supply of the fragrant herb so close at hand. It is like having your own little Mediterranean garden all year long!