You're probably here because you've heard a florist or green thumbed friend telling you to add lemonade to your bouquets, right? I know, it sounds so weird! Well, call me weird but I LOVE lemon (and all citrus fruits actually, and have spent many an evening horrifying friends by eating all the lemon slices in their cocktails)! Yep, I love lemon so I was certain that this old florist's garden tip was probably a true one when I heard it!
So, is it true? is lemonade good for roses? And is it just for bouquets, or can it help our beloved roses too??
It just so happens, roses love lemons, lemonade and all citrus fruits and juices! This is one of the best fertilisers for amplifying the yield and intensity of rose blooms. Lemon peels simply have the kind of amount and ratio of nitrogen, phosphorus and potassium that roses love.  In fact, homemade lemonade contains many of the components you would find in a store-bought, commercial flower feed. So lemon juice and lemonade can be used to prolong life of cut roses, to level out the pH of the soil your rose bush lives in, and as a natural insecticide.
If you have trouble with cats attacking your roses, lemons and lemonade will keep them out too. Lastly, undiluted lemon juice can be a perfect weed killer, keeping any parasitic plants around your rose at bay!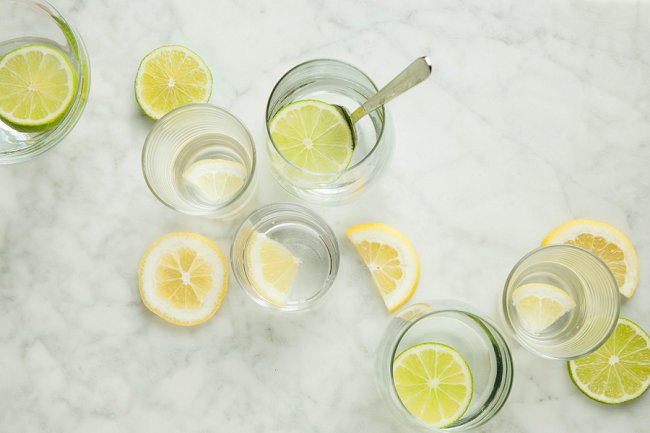 Why do roses like lemons?
Just like with all of the natural remedies we like to write about, there is quite a bit of chemistry behind why roses like their lemonade.
Long story short, the affinity of roses towards citrus fruits lays in the chemical called citric acid. Lemons, oranges and other citrus fruits are chock full of citric acid, and it is equally good for humans as it is for plants!
Citric acid works its magic to aid rose stems in opening up, which in turns allows the roses to more efficiently and swiftly uptake water and nutrients from the soil.
In fact, there are several research works connecting citric acid to better root development, more abundant roots, quicker rooting processes in cuttings and aiding in keeping cut roses fresh for a long time.
Can I Use Other Fruit Juices In My Garden? 
However, roses don't only like lemons! You are welcome to try and use orange juice, lime juice, tangerine juice or grapefruit juice, as they all contain citric acid.
It just so happens that lemon is the most acidic out of all of these fruits, so adjust your usage appropriately depending on what end result you want to achieve.
How do I use lemon peels as a fertiliser?
Lemon peels are one of the better natural fertilisers you can try in your rose garden. Quite a bit of the concentration of citric acid can be found in the lemon peels, and not only in the edible lemon fruit.
Lemon peels are just one out of the long line of A Prettier Petal-approved sustainable, organic fertilisers (read more about coffee grounds, rice water and tomato feed!)
If you know a thing or two about how gardening works, then you have definitely heard of NPK fertiliser. Nitrogen in the fertiliser helps to promote growth of fresh, healthy rose foliage. Phosphorus helps the rose make the roots strong, while potassium serves to boost the immune system.
Compost The Lemons First, Where Possible
In order to prepare lemon peels for use as a fertiliser, choose to compost them. You can compost lemon peels alone, or along with the rest of your citrus fruit leftovers for best effect. You can also combine lemon peel compost with organic manure, if your rose calls for more fertiliser.
Do not add lemon peels straight onto the topsoil or bury them straight into the soil. While roses do like acidic surroundings, very fresh citrus peels might prove to be just too much and work way too intensely. This might alter the pH of the soil permanently, but it also might hurt the rose.
After composting, you should be left with dried lemon peels which are then easy to grind down to powder. Scatter lemon peel powder liberally or bury it in the soil. Re-apply several times during the blooming season, but not more often than once a month.
How do I use lemonade to fertilise my roses?
Of course, lemon peels aren't the only thing you can use to give your roses a boost of NPK. You can quite simply make lemonade. 
Lemonade is good for roses that are in a vase, but also for rose bushes that are very much thriving. However, the difference is that you must make sure you are using very diluted lemonade!
The Best Lemonade For Use On Your Flowers
The first recipe is to select the best lemon peels. Put those peels in a jug of water that is about 1 litre in volume. Make sure you have about 100 grams of lemon peels to about 1 liter of water.
Allow the rose lemonade to steep for 5 days, preferably in the sunlight.
After 5 days, strain the mixture, remove the peels and offer to your roses as a regular drink. Make sure to keep off the leaves!!! Lemonade is good for roses, but leaves are a no-no, as they can burn easily due to the lemonade acidity!
The second recipe is to juice best-looking organic lemons to get lemon juice. Mix together 2 to 3 tablespoons of lemon juice with about 2 litres of water.
Avoid adding sugar as you would in a real lemonade, as sugar doesn't do much good if your rose is livin' it up in the ground. Microbes and other little critters quite like feasting on all of that sugar!
Mix your lemonade well and offer to your roses as a regular drink, keeping it away from all that foliage!
How do I use lemonade to prolong the life of my cut roses?
Picked up a bouquet from the florist they left out the part where some flower food keeps your roses going for a while? Yeah, it happens to the best of us.
Luckily, flower food is not at all that different from what you can find in a good lemonade, anyway! Flower food is, after all, nothing but citric acid, sugar and anti-fungal agent. If you are trying to preserve your cut roses, sugary sweet lemonade is your best bet.
Make a lemonade that incorporates 2 tablespoons lemon juice, 1 tablespoon of sugar and 1/4 teaspoons of bleach. Sugar will do well to provide the carbohydrates and bleach will serve us as an agent against microbes. Its job is to keep any fungus away, disallowing the premature RIP of your cut roses, as it will also slow down the stem degradation. Mix the lemonade well and incorporate into the water already in the vase.
Some gardeners seem to have figured out that sparkling lemonade (mixing the concoction with some flavourless fizzy water) is the most effective in prolonging the life of cut blooms.
How do I use lemonade against pests?
Lemonade will serve you great if your issue are insects. Surprisingly, it will also help you out if your main problem are cats!
D-limonene is a component often found in lemon and orange peels. It is a hydrocarbon often found in food flavouring. It is also a natural insecticide, as it will fully destroy nervous systems of any insect. Simply line the base of your rose with lemon peels, and remember to switch them our before they begin naturally composting. Otherwise, use lemonade as a fertiliser and enjoy your rose being insect-free!
As for cats, they simply hate citrus fruits! Any citrus fruit remains scattered around your rose will surely keep your pet cats and any other ones out of your prized blooms.
How do I use lemonade against weeds?
Earlier we were waxing poetic about how diluted lemonade is fantastic rose fertiliser. But, did you know that undiluted lemonade is a fantastic weed killer? Lemonade has truly got it all, fertilises, nourishes, kills weeds, keeps both pests and pets out…truly a wonderful jack-of-all-trades mixture!
Simply use three parts lemon juice to one part water. Combine in a spray bottle, mix well and spray all over the foliage of the weeds, without spraying the soil.
Hope you enjoyed our bitter little article! Lemonade comes in so many flavours, even roses are drinking it! How about you? Have you already tried using lemonade on your roses? Let us know all about it!