You like rice – don't even try to deny it! In stir fry, takeout, Chinese, with beef or chicken or leafy greens…mmm! And the varieties, too – basmati, white, long, brown, lemon… Well, if you're cooking rice, and if you're washing rice, then by default – you have rice water left over! If you hang out on Pinterest quite as much as I do, then you full well know that rice water is a wonder for skin and hair care –  but – is rice water good for rose plants?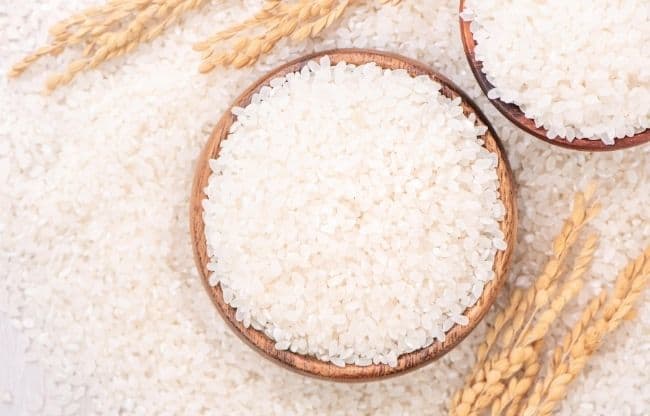 In short, rice water is good for rose plants! It's a gentle fertiliser for your roses, filled to the brim with protein, fibre, amino acids and just enough minerals not to give your rose plant a fertiliser burn, while still feeding them well.  It is easy to make, waste-free, sustainable AND increases bloom and leaf production, to top it all off! So, yes, rice water is good for rose plants!
Use cooked rice water, rather than rice water from washing the uncooked rice to boost good bacteria and fungi in the rose soil. You can use diluted rice water up to three times weekly, more often than any other fertiliser!
What is rice water?
Rice water comes in two different flavours. It is either residual water that remains after you have cooked or boiled your rice for a meal in it, or residual water that remains after you have washed your uncooked rice.
Rice water is milky white in colour, doesn't exactly taste the best, with a neutral scent to it. While it might not be all that for you, your roses are going to love it!
Can You Use Rice Water For Potted Roses?
If you have potted roses, you can rest easy knowing that rice water is good for your rose plants – both in containers and in the garden! So – if you have a balcony or container garden or even just a solo potted rose, make sure to benefit from this great natural fertiliser!
How To Prepare Rice Water For Roses
Preparation of rice water is quite simple! If you have ever made rice, you can skip this step. 🙂 I will leave it out in case any college girls and boys who can't cook are reading (been there with both rice and pasta, trust me!).
Wash rice clean in water from all pesticides and impurities that might be lurking.
Cook the rice according to the packaging instructions. (Avoid adding salt at this stage!)
Take your rice out and enjoy! Allow the rice water to cool down and set for several hours. Never give your roses hot water to drink!!!
Mix 1 part of rice water with 3 parts of fresh water. That is about 1L of rice water per 3L of fresh water. Offer it to your roses as a drink two or three times a week.  Alternatively, freeze the concoction into ice cubes in your freezer. Place rice water ice cubes directly on soil for controlled and slow release of the organic fertiliser.
Should I Use Cooked Rice Water On My Plants?
Uncooked rice water might benefit your hair and skin. However, we do not recommended using it for roses or other houseplants.
Rice water that is a leftover of washing / soaking uncooked rice is very high in starchy carb content. While this might be good for some things, adding too many carbohydrates, starches or sugars to a soil is not the best idea. When the content of sugar is way too high, it causes the appearance of bad bacteria and fungi. They will feed on the sugar until they overwhelm good soil microorganisms. Not just that, but high content of sugar can also block roots from taking water and necessary minerals from the soil. Very soon, you might begin to see rot and fungi infestation develop on your prized roses.
Additionally, opt not to use salted rice water, as roses do not appreciate the additional natrium chloride kick, either.
To avoid this, use cooked rice water. The process of boiling and cooking will thoroughly sterilise rice water. Sterilising the rice water eliminates any pre-existing bad bacteria and won't feed into the appearance, spread and development of bad bacteria in the soil. Instead, it will only encourage good fungi such as mycorrhizae to flourish and strengthen your rose's roots!
The rice water you use for gardening should, ideally, be fairly clear or light-coloured. Avoid using it if it contains too many additives from cooking, or otherwise.
How To Use Rice Water In Your Garden
You can give your roses up to two or three doses per week of rice water. However, you shouldn't use it as standalone fertiliser, as it might be too weak to deliver all of the nutrients that a rose needs throughout the flowering season. On the other hand, it is still a fertiliser, so don't forget to dilute it with water even though it's made of water!
It can serve as a great substitute for other fertilisers for a month or two on average, depending on your growing conditions and soil quality. If you have nutrient-rich soil, you might be able to use it for even longer.
The best way to tell if rice water suits your roses, is to use it and then simply look for the results! Is your rose thriving and healthy? Or is it starting to droop, not blossom, or develop signs of diseases?
To apply rice water to your rose plants, avoid those sensitive rose leaves and apply around the roots. The chemical compounds contained in rice milk work to keep the roots super healthy and disease-free, so you want to make sure it reaches the root – however, aim to avoid direct application. Apply it about a hands width away instead, to give the soil and the roots both time to absorb and process that starch.
Why is rice water good for rose plants?
Just like potato water or pasta water, rice water is good for rose plants because it also contains valuable nutrients. Using it is also a wonderful way to conserve water and a great way to take some worry out of over-fertilising.
Starch
Rice is filled with starch, and that is what makes the water the rice has been in opaque and white. This is something you will notice when washing or cooking any sort of starchy foods or steaming vegetables, such as pasta – they will always tint the water milky white.
Starch is a carbohydrate naturally produced by roses, as it is used as plant's energy storage – it is all but required for photosynthesis to occur.
Starch is incredibly beneficial to roses and plants in general, as the glucose in the starch improves, enhances and balances healthy bacteria growth in the soil and roots, which in turn feed the good fungi that directly impact faster and more intense growth of roots and foliage of your rose. This is important not only for the growth of your rose, but also the overall soil quality.
Additionally, rice water has a pH of around 6, which levels the acidity of the soil to a point which roses naturally enjoy, as they are acid-loving plants!
Minerals
Starch is not just all of the goodies that rice water has to offer! In fact, rice water is packed with nitrogen, potassium and phosphorous. These minerals are definitely beneficial to roses, which you probably know if you are a seasoned gardener. One of the most preferred commercial fertilisers is exactly NPK fertiliser (N for nitrogen, P for phosphorous, K for potassium).
While rice water does contain NPK in ratios similar to inorganic fertiliser, it is important to note that these amounts are not overwhelming for your sensitive rose plant. In fact, coffee grounds, another common rose fertiliser, are far more likely to contain more intense amounts of nitrogen, phosphorous and potassium! What this means is that you can use rice water as a great fertiliser, and you can use it often. 
Is this just another Pinterest trick that doesn't work?
While, yes, you might find Youtubers and Pinners raving, ranting and raging about the benefits of rice water for plants, skincare and haircare, it certainly doesn't mean it is a bunch of hogwash. In fact – we have science on our side!
There is a small, but fully-fledged scientific study proving rice water's effectivity close to that of a separate, inorganic, commercial fertiliser (the ever-so-popular NPK fertiliser I mentioned earlier!).
In the study, the scientist chose water spinach as the test crop to treat. They made three testing groups. One water spinach group got NPK fertiliser with 15:15:15 ratio. One got rice water and one remained as a control group, with nothing additional given to it.
Turns out that, all things considered, rice water diluted in fresh water and used as fertiliser has been shown to promote a noticeable production of fresh foliage, plant growth, higher plant biomass in general as well as more blooms! In fact, the study also shows that much higher levels of potassium overall were delivered from rice water to both the plant and the soil of the plant, as compared to standard commercial fertiliser.
If scientists say that we can use rice water as an almost fully-fledged replacement for chemical fertiliser, then who are we to argue?!
Bonus tip
Psst…do you have a freshwater aquarium in your home? When switching out the water, make sure to keep some for your roses! Used freshwater aquarium is good for all the same reasons that rice water is good for your rose plants! The ammonia that fish create in the tank is converted into low levels of nitrogen in the soil. This is a real feast for the roses!
One more natural fertiliser for the books! Read about the other organic fertilisers we wrote about – coffee grounds, tomato feed, aspirin – and never even think about store-bought brands ever again!